These pumpkin coconut flour muffins are fluffy and delicious. The recipe is so easy and only takes 30 minutes from start to finish. A wonderful breakfast or afternoon treat.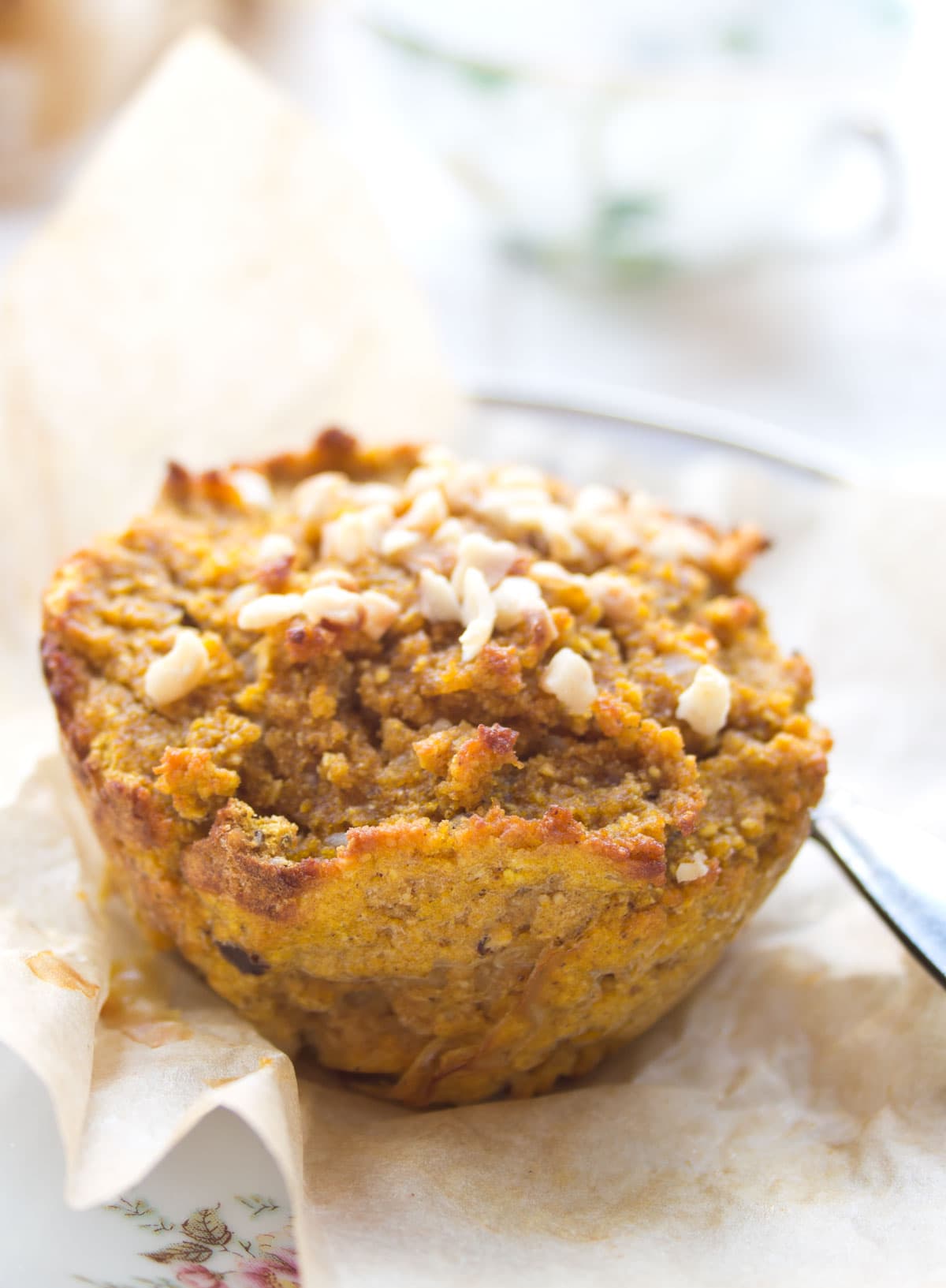 "Excellent recipe and freezes well. I've added sugar free chocolate chips as well as toasted pecan pieces. Since ¾ cup of pumpkin is half of a can, I double the recipe which uses a full can of the pumpkin." (Jenny)
I get so excited every autumn because I LOVE pumpkin season! Pumpkin puree is an amazing addition to bakes. Not only does it have a wonderfully mellow taste, but it also creates a moist texture without having to use large amounts of fat.
These pumpkin muffins with coconut flour are on my to-make-list every year, alongside these healthy pumpkin bars and my pumpkin brownies.
My daughter likes to take them to school as a snack and I adore them slightly warmed for breakfast, topped with a dollop of sour cream.
Jump to:
Why This Recipe Works
Delicious muffin texture. Coconut flour pumpkin muffins have a crunchy top and are delightfully light and fluffy on the inside.
So tasty. They taste of all the wonderful flavours autumn has to offer - warm spices, the earthy sweetness of pumpkin and roasted hazelnuts.
Versatile and kid-approved. You can enjoy them for breakfast or pack into school lunches. They are filling!
Freezer friendly. These muffins keep well in the fridge and you can also freeze them.
Suitable for many diets. Satisfying and just 2.7g net carbs per muffin, the recipe is gluten-free and naturally low carb and keto. Yes, these are keto pumpkin muffins!
Ingredients
You only need 7 simple ingredients to make coconut pumpkin muffins: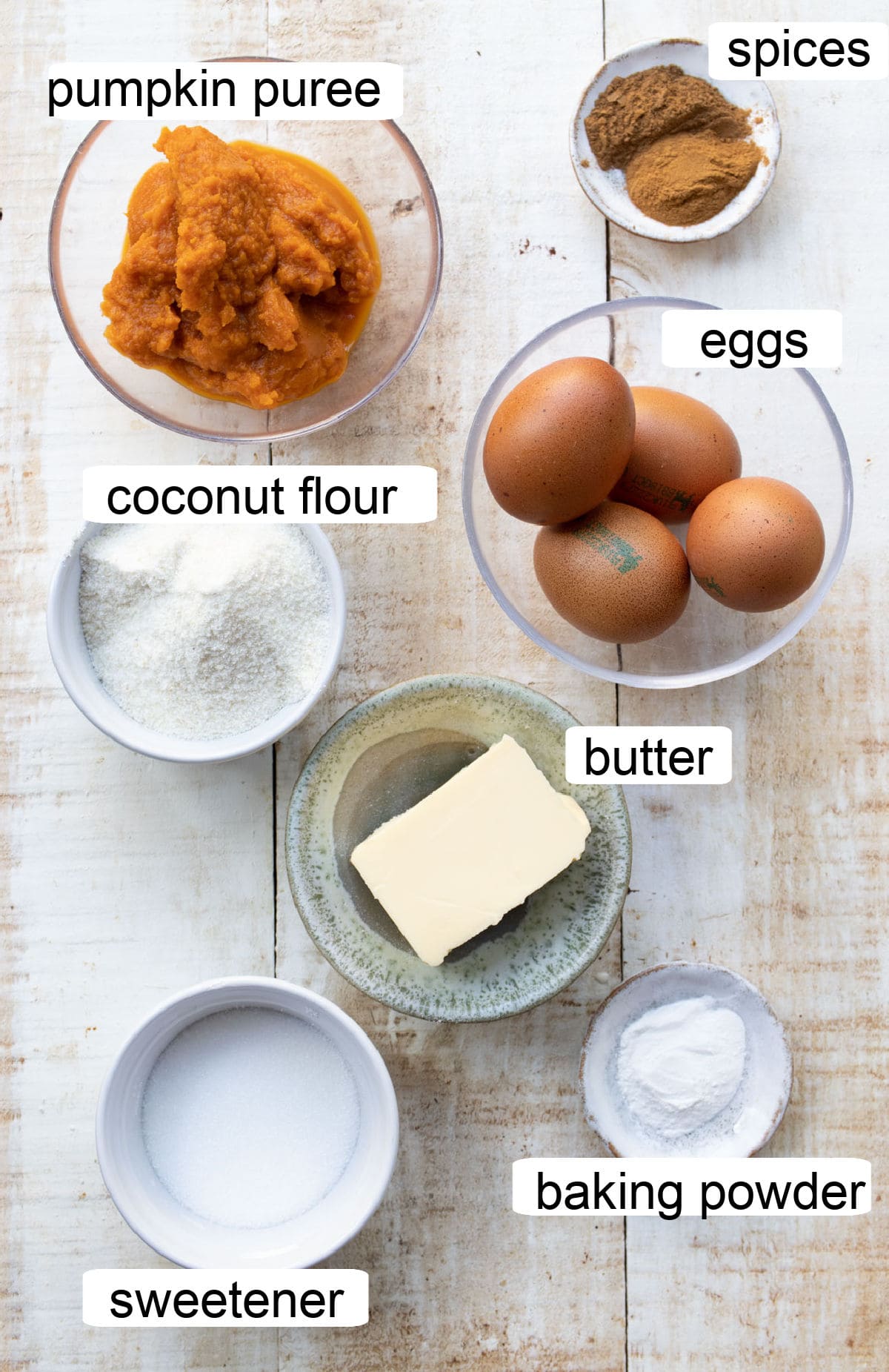 Pumpkin puree. I used canned pumpkin puree. Make sure that it is unsweetened and not pumpkin pie filling.
Eggs. Should be large and room temperature.
Coconut flour. I love baking with it because it is nutrient-dense, high in fiber, low in carbs and cheaper than almond flour. The subtle sweetness of coconut flour works really well in this recipe. If possible, measure it in grams. Coconut flour absorbs a lot of moisture, so every additional gram will change the outcome. Using kitchen scales here will guarantee best results.
Butter. Should be melted and cooled.
Granulated sweetener. I used an erythritol monk fruit sweetener blend. You can also use erythritol blends with stevia, or another sugar substitute of your choice such as xylitol or allulose. If carbs are not a concern, feel free to use honey or coconut sugar instead.
Spices. I added pumpkin pie spice mix and ground cinnamon.
Baking powder. Always check that it is fresh to get a good rise.
Hazelnuts. Totally optional. Toasted chopped nuts add a nice crunch to the muffins.
Instructions
This section contains step-by-step instructions and photos that show how to make this recipe. See the recipe card for full information on ingredients and quantities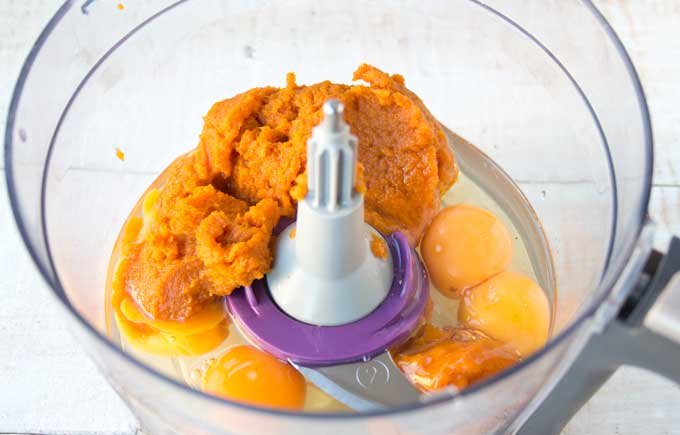 Step 1. Blend the pumpkin puree and eggs until fluffy and smooth. Use a food processor or a large mixing bowl and an electric mixer.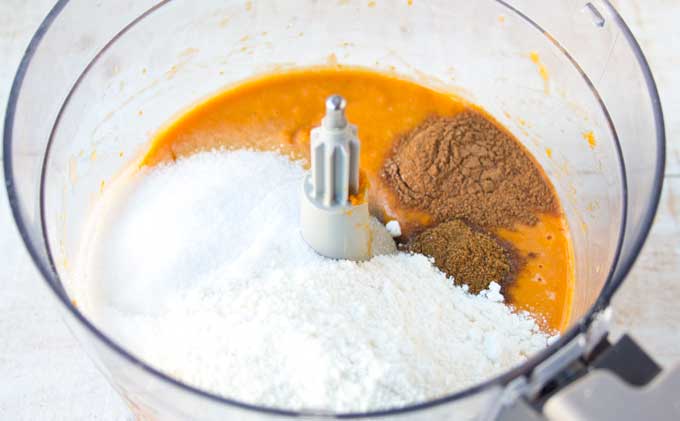 Step 2. Add all other ingredients apart from the hazelnuts and mix until you have a smooth batter.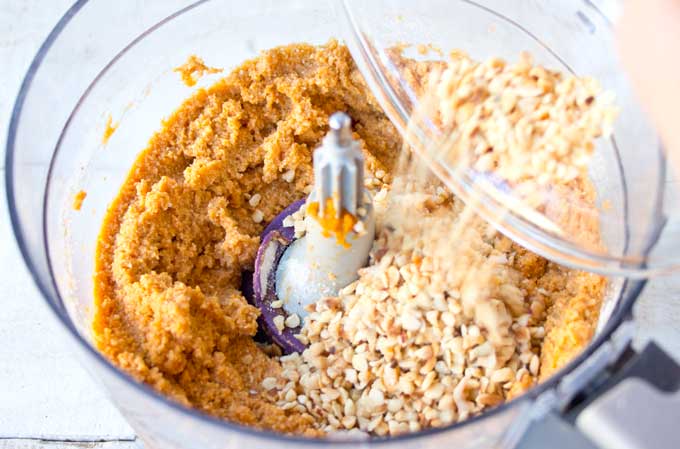 Step 3. Add the optional nuts, keeping a little for the topping.
Step 4. Spoon into a prepared muffin tin. Flatten the tops and scatter over the remaining hazelnuts.
Step 5. Bake in the preheated oven until golden or until a knife inserted comes out clean without any batter sticking.
Expert Tip
Let me show you how to make cafe-style paper liners for muffins!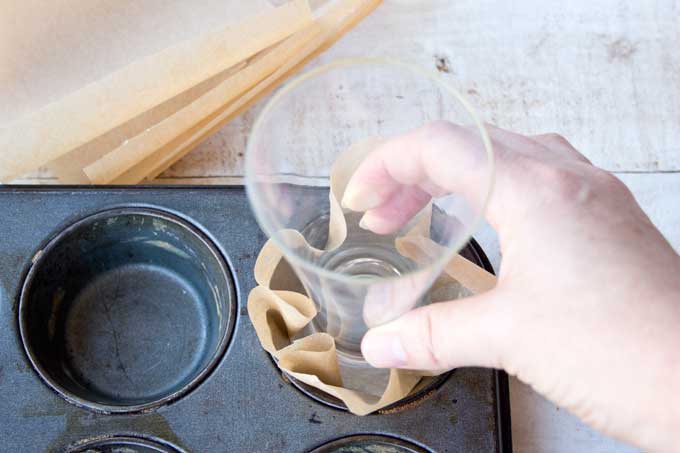 Simply cut 5 inch squares of baking paper and press them into the muffin pan. They look pretty and are so cheap to make.
Coconut flour muffin batter does not stick to these as it does to regular paper liners.
Variations
Below are suggestions how you can change up the recipe to suit your diet and preferences.
Use a different flour. You can replace the coconut flour with 1 ½ cups of almond flour. Or, try 1 cup of sunflower seed flour and top it up with ½ cup of sesame seed flour.
Dairy-free. Use coconut oil in place of the butter.
Nuts and seeds. Substitute the hazelnuts with pecans, walnuts or pumpkin seeds.
Check the sweetness. Always taste the batter and adjust the sweetness to taste! If needed, add 4-8 drops of liquid stevia. You can get caramel or cinnamon flavours! Or, use up to 2 additional tablespoons of your sweetener of choice.
More flavor. Option to add vanilla extract or a pinch of salt.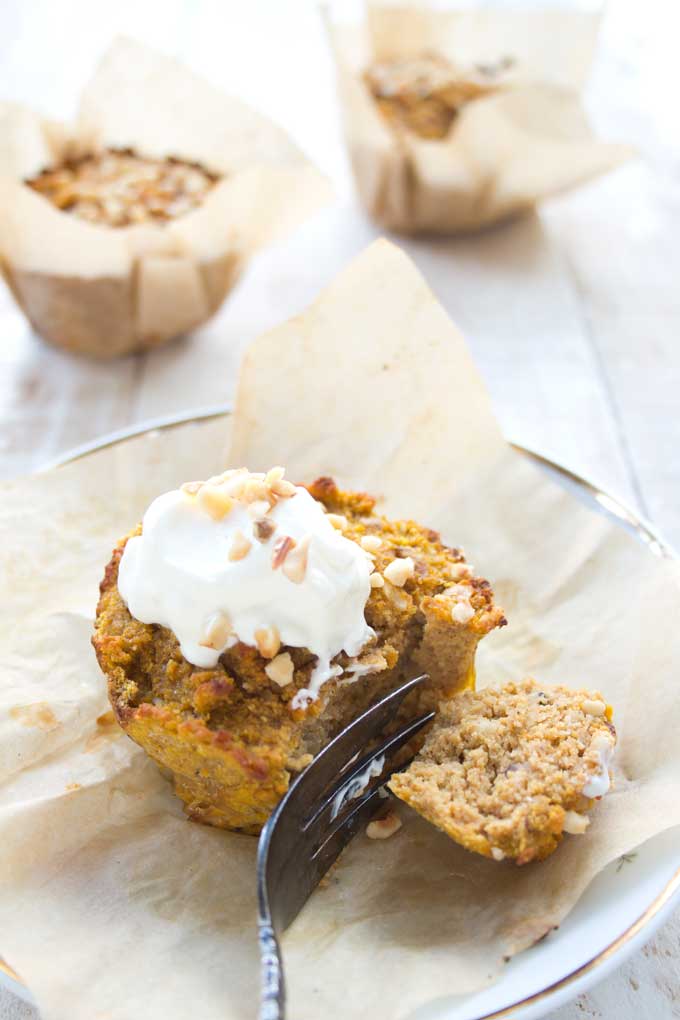 Recipe FAQs
Where can I get canned pumpkin?
In the UK, you can buy it at supermarkets such as Waitrose and via Ocado or Amazon.
Can I use homemade pumpkin puree?
Of course! Here is a simple recipe: Cut the pumpkin in half, scoop out the seeds and lay the halves flesh-side down on a baking sheet lined with parchment paper. Roast at 200 C / 400 F for 30-45 minutes (time will depend on the pumpkin size). Let cool, then scoop out the flesh and puree.

How do I make homemade pumpkin spice mix?
1 Tbs ground allspice
1 Tbs cinnamon
1 Tbs nutmeg
2 teaspoon mace
1 teaspoon cloves
1 teaspoon coriander
1 teaspoon ginger
Put in a jar, shake and use for cookies, cakes and autumn bakes.
Serving Suggestion
These healthy pumpkin muffins taste great with sour cream. You could also add whipped coconut cream.
Want to pull out all the stops? Try these Pumpkin Cheesecake Muffins. It's the same base recipe plus a sugar free cream cheese frosting.
Storage
Refrigerator: Store them in the fridge for up to 5 days. Let them come to room temperature before serving or heat them in the microwave for 10 seconds.
Freezer: You can also freeze keto pumpkin muffins for up to 3 months. Simply defrost on the counter or in the microwave.
More Healthy Pumpkin Recipes
Take a look at this selection of healthy pumpkin recipes from my website:
Tried this recipe? Give it a star rating below!
★ STAY IN TOUCH on FACEBOOK, PINTEREST and INSTAGRAM  for more great food and join my NEWSLETTER for the latest updates and a FREE EBOOK.★ 
Recipe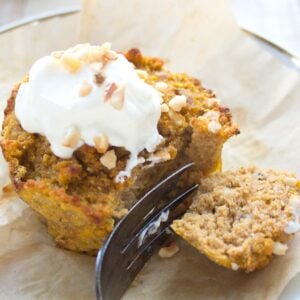 Pumpkin Muffins with Coconut Flour
from Sugar Free Londoner
Pumpkin coconut flour muffins taste of spice and all things nice! These fluffy muffins are a wonderful grab & go breakfast or healthy sweet treat. Only 5 minutes prep and ready in 30 minutes!
Note: The servings slider only changes the first amount in each line and not any subsequent amounts. Please make your own calculations where necessary.
Instructions
Preheat the oven to 180 Celsius / 350 Fahrenheit (electric) or 160C / 320F fan. 

In a food processor or in a bowl with a hand-held electric blender, mix your pumpkin and eggs until smooth.

Add the all other ingredients except the hazelnuts and blend until smooth. 

Last, add the hazelnuts, if using, and blend briefly. The hazelnuts are optional and not essential for the recipe, but add a lovely crunch.

Let the batter sit for a couple of minutes so the coconut flour can absorb the moisture. Then scoop into a muffin pan lined with paper cups and sprinkle with hazelnuts.

Bake around 25 minutes or until lightly browned on top and a knife inserted comes out clean.
Notes
2.7g net carbs per muffin (without hazelnuts). 3.1g net carbs including hazelnuts. Makes 7 muffins. 
Use 2 heaped tablespoons of muffin batter for each muffin. The muffins do not rise very much. Therefore, be sure to fill the batter to the top of the muffin cases. 
See the post how you can make your own cafe-style paper cups. 
Can't get hold of pumpkin puree? Instructions on how to make your own are in the post. 
Serve on its own or with either whipped cream or sour cream. 
Nutrition
Calories:
167
kcal
Total Carbohydrates:
5.5
g
Protein:
5.8
g
Fat:
13.2
g
Fiber:
2.8
g
Sugar:
1.6
g