Crunchy and incredibly cheesy: These gluten free and low carb cheese thyme crackers are made with coconut flour. Perfect as a satiating snack or as a grain free side for a salad or soup.
How wonderfully versatile is coconut flour?
Until recently, I had only used it for making sweet dishes such as these low carb waffles and another family favourite, coconut blondies. Apart from tasting great, coconut flour is fantastically healthy – it is grain free, gluten free as well as high in protein and fibre, which makes it very filling indeed.
When I was browsing the net a few days ago, I came across this delicious and very easy coconut flatbread recipe by The Coconut Mama which I knew I had to test. I grated some cheese on top and sprinkled it with the fresh thyme that is currently growing in my garden. This detail is important because after the last pot plant died in our house this summer, I am feeling incredibly smug that there is a plant that is still thriving even though we are around. We also have bamboo and a few bushes, but I'm told that does not count. Bamboo and bushes, apparently, grow anywhere.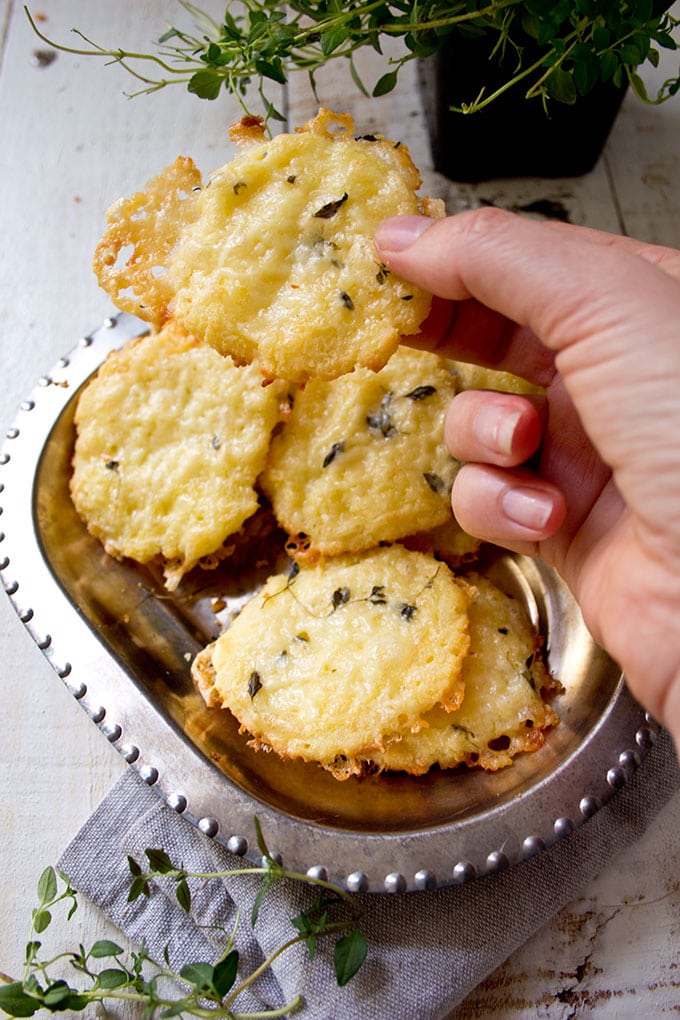 I like the taste of coconut and thought the flatbreads made a great low carb alternative to a slice of bread. However, my youngest (and most critical tester) thought it was just too coco-nutty, despite the melted cheese on top.
Tinkering time! First of all, I decided that if something does not taste like bread, it should not look like bread – at least, if you have kids in the house who prefer things to remain the way they have always been. Secondly: Coconut flour is VERY filling. Decision: it had to be cracker size. All kids like crackers. They are treats, after all! And lastly: Cheese. Lots of cheese. Strong English cheddar and Parmesan can overpower the taste of coconut with ease.
These cheese thyme crackers are
incredibly cheesy
crunchy
easy to make
satisfying
grain free
gluten free
low carb
just lovely with a glass of wine and
rather handsome
got the approval of a 10 year old.
We had them for lunch with this spinach mint soup. The kids thought it was quite cool to eat soup with cheesy crackers. Crackers are so much more interesting than bread!
Here's a video showing how to make cheese thyme crackers: 
(This post contains affiliate links. If you click on one of these links and purchase a product, I make a small commission – at no extra cost to you. Thank you for supporting Sugar Free Londoner!) 
Sugar Free Londoner
Yields 8 crackers
Cheese Thyme Crackers (gluten free / low carb)
5 minPrep Time
15 minCook Time
20 minTotal Time
4.6 based on 13 review(s)
Ingredients
3 tbsp coconut flour (I used this UK brand , a good option for those of you in the US is this one )
2 tbsp butter, melted
1/2 cup (50g) strong cheddar, grated
1/4 cup (25g) parmesan, grated
1 egg
thyme leaves
Instructions
Pre-heat your oven to 180 Celsius
Mix the coconut flour, melted butter, egg and 1/4 cup of the grated cheddar plus the 1/4 cup of grated parmesan until well combined.
Let the mix rest a few minutes
Form 8 balls and place them on a baking sheet lined with baking paper.
Press them with your hands into little flat discs and sprinkle the remaining cheddar on top. Decorate with thyme leaves or dried thyme
Bake for ca 12-15 minutes until the edges are nicely browned
7.6.7
269
https://sugarfreelondoner.com/cheese-thyme-crackers-low-carb/