This easy Keto crackers recipe is made with coconut flour and topped with sharp cheddar and fragrant, fresh thyme. Perfect as a satiating low carb snack or as a crunchy, grain free side for a salad or soup.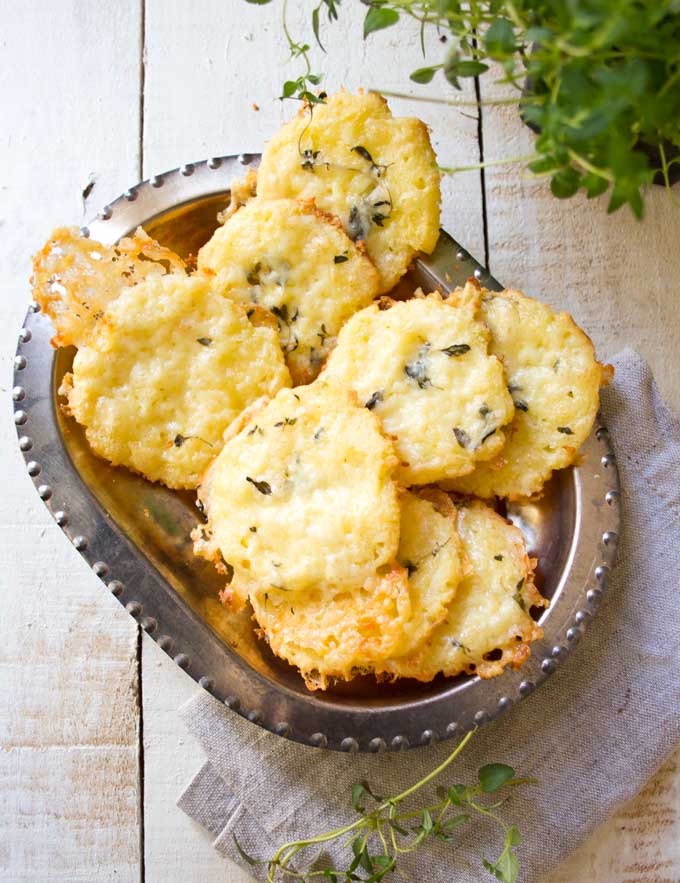 These coconut flour crackers have been a staple in out kitchen for several years. Actually, it's one of the first Keto crackers recipe I created when I started eating sugar free and low carb. We've served it at dinner parties and I've even made it at a yoga retreat where I was cheffing and it always gets the thumbs up. Friends, EVERYONE likes cheesy crackers!
Most low carb crackers recipes are made with almond flour, like these equally yummy almond low carb crackers. Some people cannot tolerate almond flour though, so these coconut flour crackers are the perfect alternative!
Coconut flour is, of course, astonishingly good for you. Read more about the health benefits of coconut flour here. The only thing is that it DOES have a gentle coconut taste, which is why it's a favourite for sweet recipes.
I can assure you that this Keto crackers recipe does not taste of coconut AT ALL.
How? Well, this recipe contains a fair amount of cheese - a mix of cheddar and parmesan. Combined with the thyme, these flavours are so prominent you'll have NO IDEA there's even a sliver of coconut flour in these crackers!
How to make cheesy Keto coconut flour crackers - step by step:   
1.) Combine the coconut flour, butter, egg, cheddar and parmesan in a bowl and mix until you have a smooth dough. You can do this by hand or with an electric mixer / food processor.
Let the mixture rest for a few minutes so the coconut flour can absorb the moisture.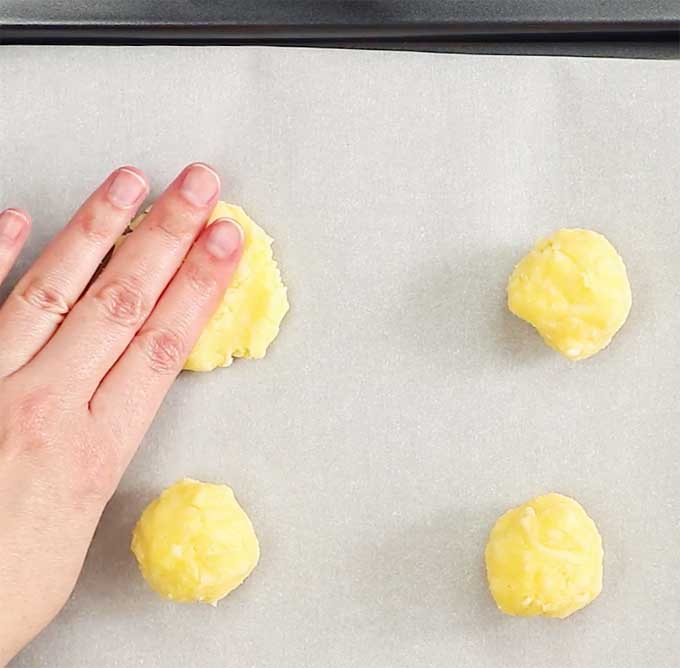 2.) Form 8 balls and press them down on a baking sheet lined with parchment paper.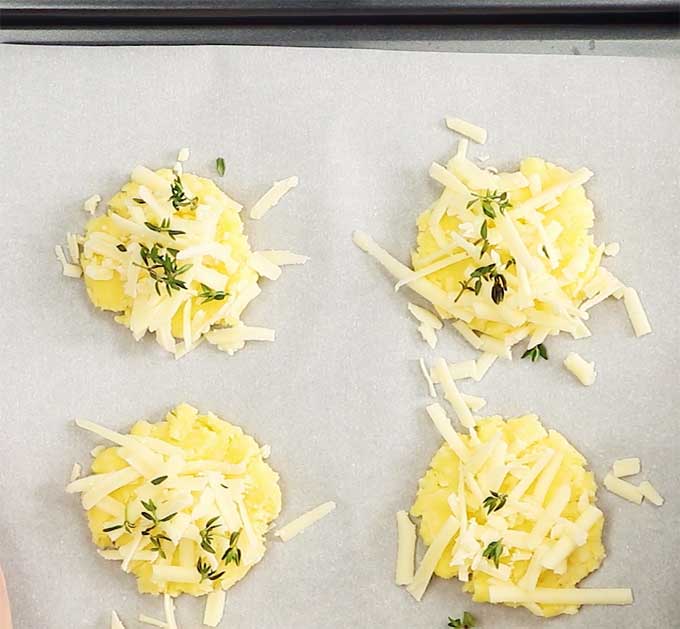 3.) Top with the remaining ¼ cup of grated cheddar and fresh thyme leaves. Bake for 12-15 minutes until the low carb crackers are nicely browned and the cheese has melted and crisped up. That's it!
Tips and tricks to make this Keto crackers recipe taste the way you love
Make sure you flatten your crackers properly. The flatter they are, the crispier they will become.
You don't need to use fresh thyme (although it tastes divine). If you have dried thyme in your kitchen cupboard that will do nicely too.
Feel like tweaking the recipe? Try using different spices such as rosemary or make spicy Keto crackers by adding paprika and a pinch of chilli or cayenne pepper.
You can sub the parmesan for pecorino if you prefer, it gives a saltier, very tasty touch to the recipe.
If you are NOT after a crispy texture, you could adapt this recipe and make Keto cheesy biscuits instead. Simply add 1 teaspoon of baking powder and form 4 larger biscuit shapes instead of the 8 crackers. They will be soft and fluffy on the inside!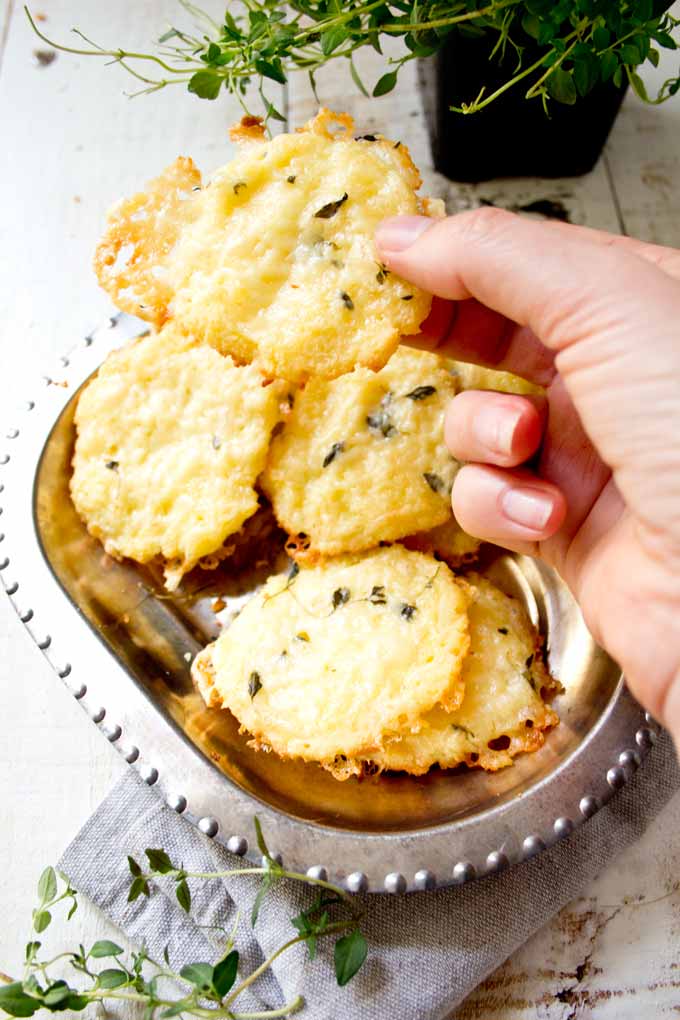 Don't miss these amazing cheesy snack recipes:
★ Tried this recipe? Give it a star rating below!★
STAY IN TOUCH on FACEBOOK, PINTEREST and INSTAGRAM for more great food and join my NEWSLETTER for the latest updates/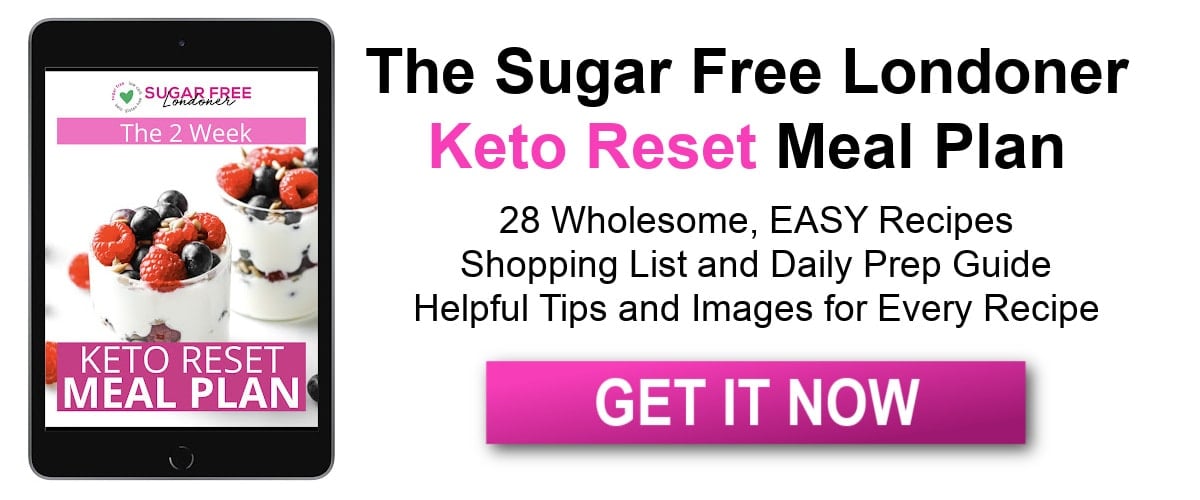 Cheese Thyme Keto Crackers Recipe
from Sugar Free Londoner
Bookmark this recipe for cheesy coconut flour crackers! They're easy, crunchy and come together in no time at all. Plenty of recipe variations in the post!
Note: The servings slider only changes the first amount in each line and not any subsequent amounts. Please make your own calculations where necessary. ***As an Amazon Associate I earn from qualifying purchases.
Ingredients
3

tablespoon

coconut flour

2

tablespoon

butter

melted

½

cup

50g strong cheddar, grated

¼

cup

25g parmesan, grated

1

egg

thyme leaves
Instructions
Pre-heat your oven to 180 Celsius / 350 Fahrenheit.

Mix the coconut flour, melted butter, egg and ¼ cup of the grated cheddar plus the ¼ cup of grated parmesan until well combined. You can do this by hand or with an electric mixer / food processor.

Let the mix rest a few minutes so the coconut flour can absorb the liquid.

Form 8 balls and place them on a baking sheet lined with baking paper.

Press them with your hands into little flat discs and sprinkle the remaining cheddar on top. Decorate with thyme leaves or dried thyme.

Bake for ca 12-15 minutes until the edges are nicely browned.
Notes
For a variation, leave out the thyme and add paprika, cumin or even a hint of cayenne.
The flatter you make your crackers, the crunchier they will be!
0.7g net carbs per cracker
Nutrition
Serving:
21
g
Calories:
83
kcal
Total Carbohydrates:
1.2
g
Protein:
3.9
g
Fat:
6.8
g
Sodium:
86
mg
Potassium:
25
mg
Fiber:
0.5
g
Sugar:
0.3
g
This post was first published in September 2016. It was updated with new recipe tips and details in March 2019.
(This post contains affiliate links. If you click on one of these links and purchase a product, I make a small commission - at no extra cost to you. Thank you for supporting Sugar Free Londoner!)