This applesauce recipe is so easy it is absolutely fool-proof and made with no added sugar whatsoever. I always keep a jar in the fridge – although it never lasts as long as I would like!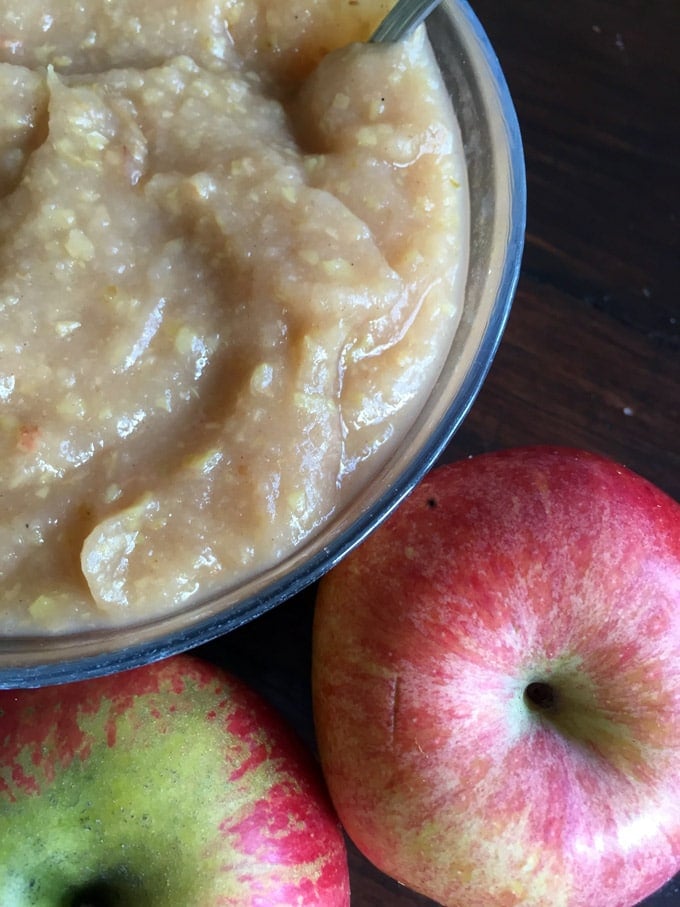 It is so incredibly simple to make homemade applesauce that, after whipping up a batch, you wonder why people don't make it more often. This condiment/dessert/ingredient for countless dishes is super-versatile and delicious and really can be made in no time at all. Most recipes recommend adding sugar, but this is absolutely not necessary. The fructose in apples alone will make your applesauce taste deliciously sweet.
The best thing about this super-healthy sugar free version is this: You do not have to peel the apples! Yes I know, there is a certain satisfaction in peeling an apple in one continuous coil, starting from the top, and when you manage to get to the bottom without ripping the peel you… will become famous, get a personal massage therapist, have a happy life, or something like that. I know, that is always fun.
Glad you know what I am talking about!
But, friends, you can still play that game elsewhere. Try to empty the dishwasher before the kettle finishes boiling, for example. One of my personal favourites. Works just as well!
Leaving on the peel when cooking applesauce actually has several benefits:
you buy yourself at least 15 minutes of valuable spare time
Apples, like many fruits and vegetables, have skin that's loaded with nutrients. For instance, the peel has six times the antioxidant power of the meat! So all those nutrients contained in the peel go straight into your delicious applesauce.
your applesauce tastes more apple-ly and has a lovely, rich colour
Now, let me remind you of all the beautiful ways you can eat apple sauce:
add a dollop to your Peanut Butter Granola and yoghurt in the morning
make applesauce pancakes or add a spoonful on top of your pancake
try it with pork chops. It goes so well together. Ask Jamie!
use it in your sugar free baking. Recipes to follow soon!
enjoy it chilled on its own.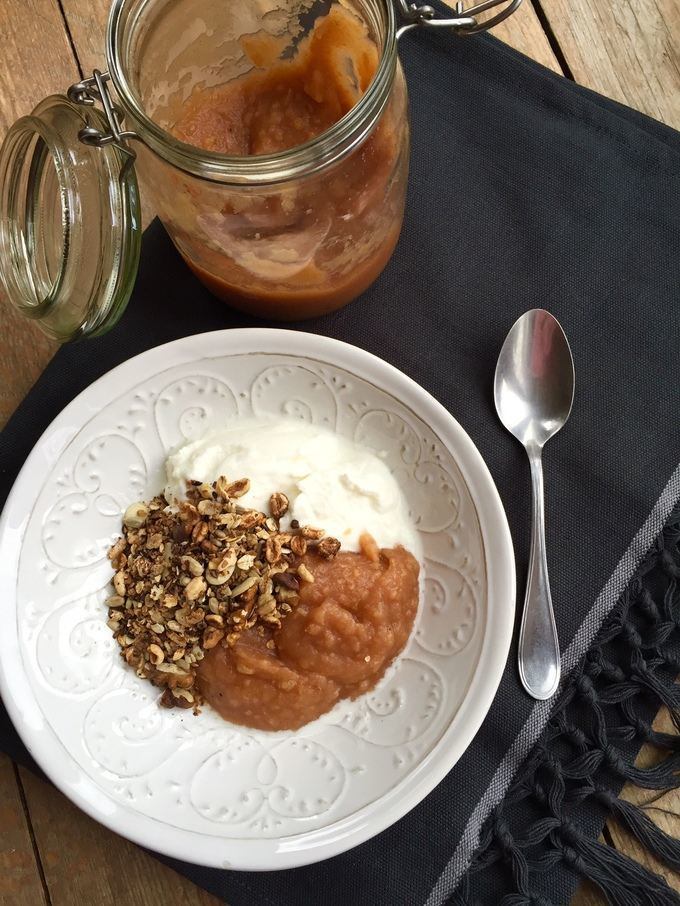 Homemade Applesauce rocks!

Katrin
Yields 10 portions
Homemade Applesauce (No sugar added)
This recipe is so easy it is absolutely fool-proof. I like to keep a jar in the fridge - although it never lasts as long as I would like!
5 minPrep Time
20 minCook Time
25 minTotal Time
Ingredients
2kg apples, or more, or less. You are the boss
1/2 cup of water
2 tsp cinnamon
nutmeg, vanilla or mixed spice (all optional, all lovely)
Instructions
Choose your apples. I normally use what's in my fruit bowl, so a mix of Braeburn and dessert apples with colourful skins. There is quite a bit of discussion out there about which variety yields the best results, but I would say: if you stay away from Bramley apples (too sour), you'll be ok.
Core and slice your apples. I have a handy tool which does both at the same time. Invaluable! Otherwise, 8 slices should work nicely.
Time to personalise: Add cinnamon (we are cinnamon fiends here, so like to use a lot) and other spices, if desired. This is the stuff that puts the wow in it!
Cook the apples with a splash of water on medium heat for 20 minutes (lid on!) until soft and mushy.
Puree with a stick blender or in your food processor to your favourite consistency.
Filled into jars, this applesauce will keep in the fridge for 1 week. Theoretically.
7.6.7
171
https://sugarfreelondoner.com/homemade-sugar-free-applesauce/