This unsweetened applesauce recipe is super easy and delicious. You make it with 3 simple ingredients - dessert apples, water and cinnamon. That's it! A no sugar added applesauce, ready in 25 minutes.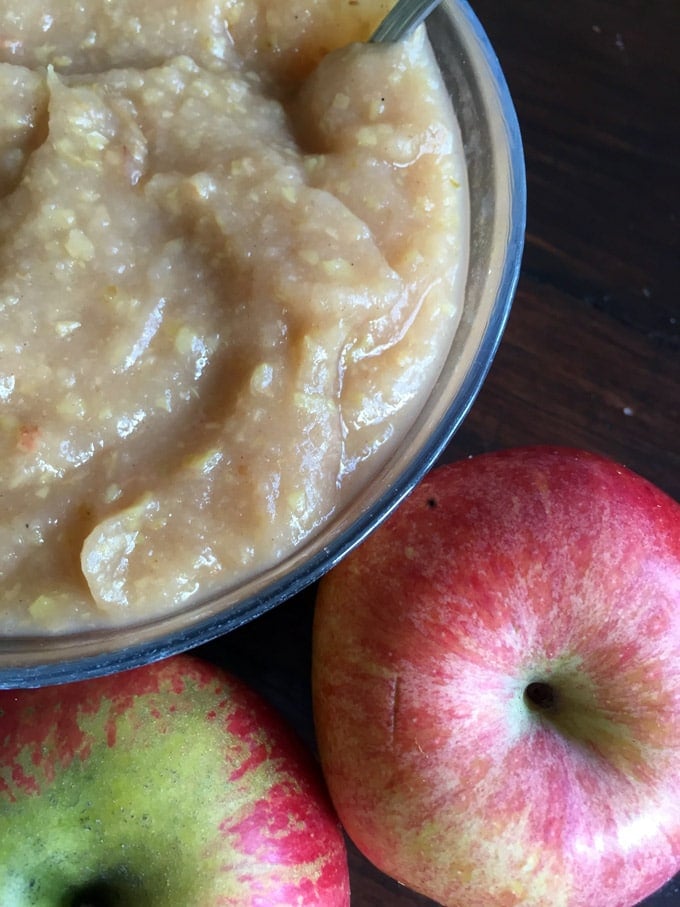 I have always wondered why people feel the need to add loads of sugar to their applesauce. As long as you choose naturally sweet apples, you don't need to add any additional sugar. The fructose in apples alone will make your unsweetened applesauce taste deliciously sweet.
When my kids were little, I used to make homemade applesauce for them all the time. When they were babies, I used to freeze it in ice cube trays so I always had a fruity sweet treat ready for them!
Now they are teenagers and they still request it on occasion, especially when the weather is cooler. Every time we're going into autumn and winter, they start asking for it. My daughter loves it on yoghurt topped with this crunchy Low Carb Granola. And my son likes to pair it with whipped cream.
The best apples for sugar free applesauce
As with all recipes that require minimal ingredients, it all depends on choosing the best you can get. In this case, we need to use naturally sweet apple varieties.
Any dessert apples will work well for this no sugar added applesauce. A few of the most widely available sweet apple varieties are Braeburn, Golden Delicious, Fuji or Gala. You can get these in most supermarkets throughout the year.
If in doubt, ask your greengrocer. There are hundreds of local apple types around, and he or she will point you in the direction of the right variety. Or look our for apples with red skin. From my experience, these are sweeter than the green ones. Not a very scientific observation, but it does tend to be true!
Definitely stay away from Bramley apples. They are too sour without the added sugar!
Does unsweetened applesauce have sugar?
There's no added sugar in this recipe. But of course, technically there is no such thing as a true sugar free applesauce.
Golden Delicious apples, for example, contain 11.2g net carbs and 10 grams of sugar per 100 grams. To put this into perspective, one small apple weights around 100 grams.
In this recipe I have calculated ¼ cup / 50g of applesauce per portion - about half an apple. This means there's 5 grams of sugars / net carbs per portion. Yes, homemade applesauce can be a low carb dessert!
How to make no sugar applesauce  from scratch:
1.) Don't peel the apples. Simply core and cut them into 8 slices.
2.) Add them to a saucepan with ½ cup  / 120 ml of water.
3.) Add 2 teaspoon of cinnamon. Option to add a pinch of nutmeg and / or a squeeze of lemon juice. 1 teaspoon vanilla extract also works well here.
4.) Place a lid on top and bring to the boil. Then simmer for 20 minutes until the apples are soft.
5.) Using an immersion blender or a food processor, blend the apples. You can go thick and chunky here or super-smooth - whichever you prefer! Personally, I like my applesauce with a few bits.
Why we're not peeling the apples
Leaving on the peel when cooking homemade applesauce actually has several benefits:
Firstly, apple skin is loaded with nutrients and vitamins. For instance, the peel has six times the antioxidant power of the meat! All nutrients contained in the peel go straight into your delicious applesauce.
Secondly, your applesauce will have a fruitier, more intense taste and a lovely, rich colour.
And last but not least, you buy yourself at least 15 minutes of valuable spare time! Peeling apples takes ages - we have better things to do, right?
A substitute for oil or eggs
I think we can agree that applesauce makes for a great dessert. But did you know you can use it in baking as a substitute for both oil and eggs? Note - the consistency of your baked goods will be softer (and sweeter).
Generally, you can swap the oil in recipes 1:1 for unsweetened applesauce. If you don't want to change the end result too much, consider swapping out half the amount of oil or butter. This way, you're lowering the calories, fat and cholesterol content considerably. ¼ cup applesauce contains 22 calories, compared to 400 calories for the same amount of butter!
If you are vegan or can't have eggs, simply substitute each egg for ¼ cup applesauce. Note that this will work best in recipes containing no more than 3 eggs.
How to enjoy homemade applesauce
- add a dollop to your Peanut Butter Granola and yoghurt in the morning
- spoon it on top of your pancakes, crepes or waffles
- try it with pork chops. It goes so well together.
- chilled all on its own.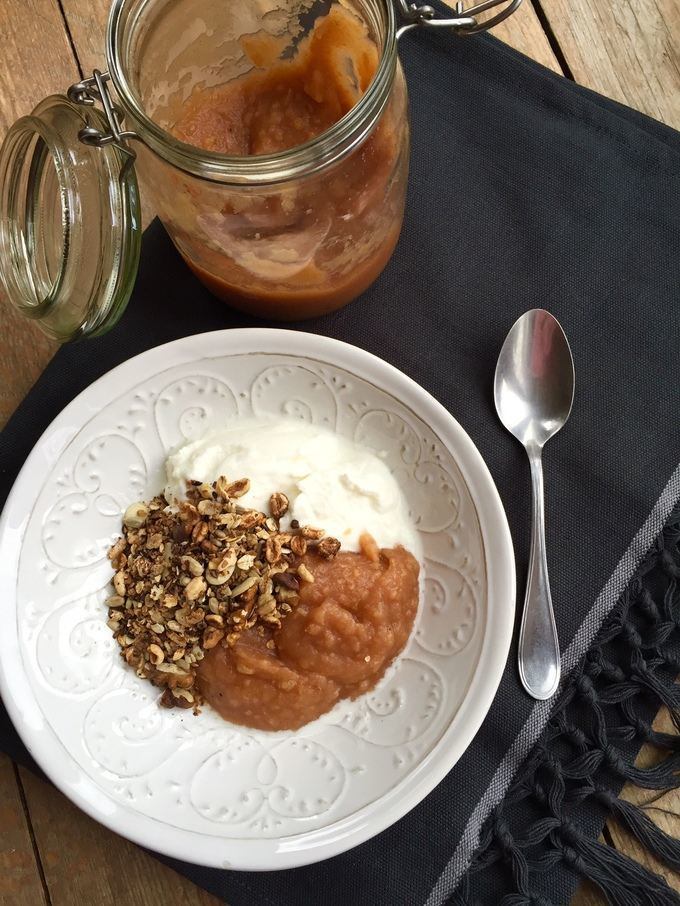 Storage
You can store your unsweetened applesauce in an airtight container in the fridge for up to 7 days. Alternatively, freeze for up to 3 months.
Tip: If you know you only use small amounts, consider freezing in an ice cube tray!
And last but not least - if you make this recipe and you think it's JUST NOT SWEET ENOUGH, just add a tablespoon of erythritol. It's a polyol (sugar alcohol) and my go-to natural sugar alternative. The carbohydrates in erythritol are not absorbed by our bodies. This makes erythritol zero carb and a popular low carb sweetener.
★ STAY IN TOUCH on FACEBOOK, PINTEREST and INSTAGRAM for more great food and join my NEWSLETTER for the latest updates and a FREE EBOOK.★ 
Recipe
Homemade Unsweetened Applesauce (No sugar added)
from Sugar Free Londoner
This recipe for unsweetened applesauce is so easy, it is absolutely fool-proof. Apples are so sweet on their own - there's no need for extra sugar!
Note: The servings slider only changes the first amount in each line and not any subsequent amounts. Please make your own calculations where necessary.
Ingredients
2

kg / 4.4 pounds

apples

½

cup / 120ml

of water

2

teaspoon

cinnamon

pinch

nutmeg

or vanilla or mixed spice (all optional, all lovely)
Instructions
Choose your apples. I normally use what's in my fruit bowl, so a mix of Braeburn and dessert apples with colourful skins.

Core and slice your apples into 8 slices.

Add cinnamon and other spices, if using. This is the stuff that puts the wow in it!

Cook the apples with 120 ml water on medium heat for 20 minutes (lid on!) until soft and mushy.

Puree with a stick blender or in your food processor to your favourite consistency.
Notes
I calculated 1 portion to be 50g / ca ¼ cup. 
Makes 15 servings. 
5g net carbs per serving. 
Nutrition
Serving:
50
g
Calories:
22
kcal
Total Carbohydrates:
5.6
g
Protein:
0.1
g
Sodium:
1
mg
Potassium:
34
mg
Fiber:
0.6
g
Sugar:
5
g