Warming, comforting and hearty: homemade keto chicken soup is like a hug in a bowl! This easy low carb soup recipe is packed with tender chicken, vegetables, fresh herbs and plenty of flavor.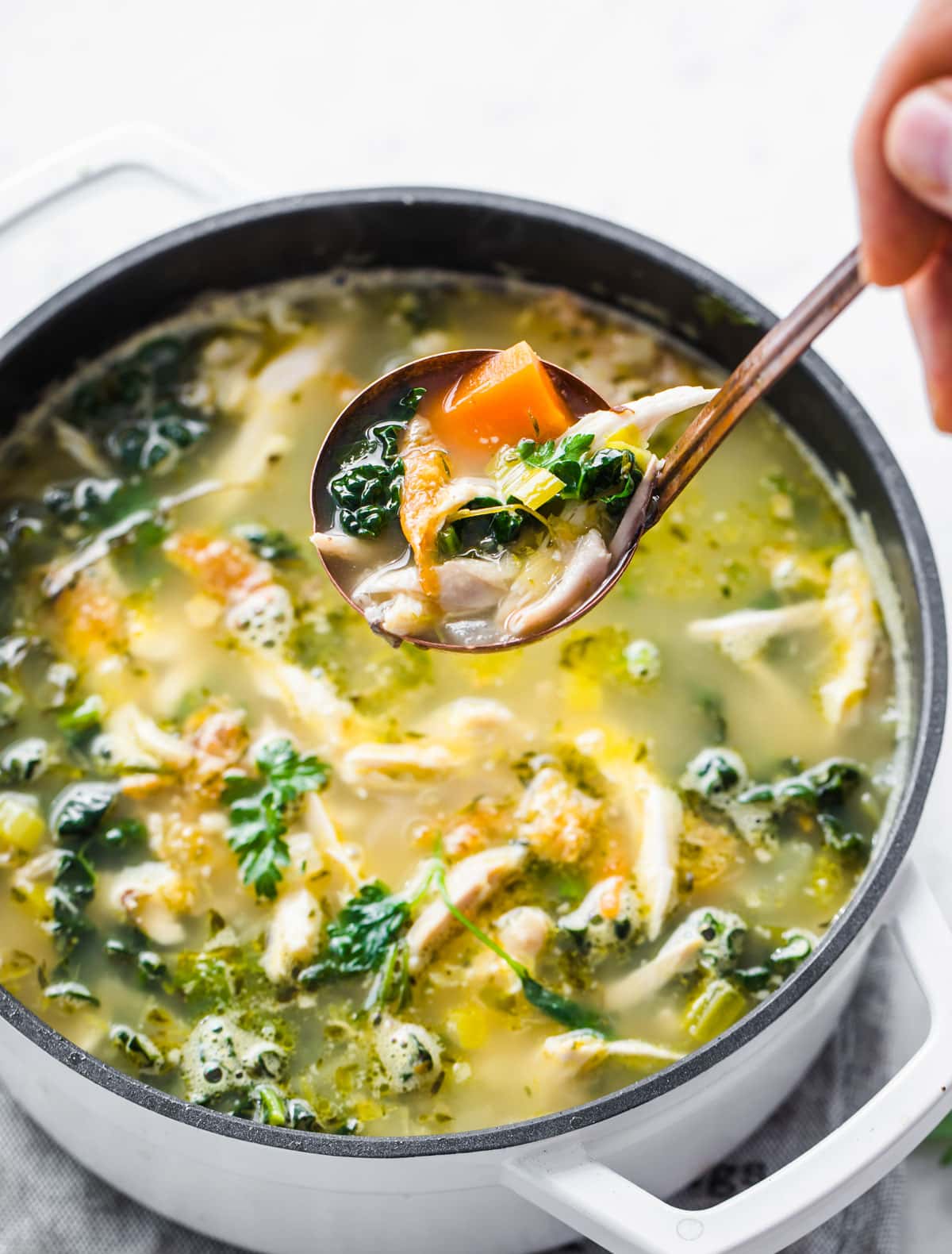 There's nothing quite as good as wholesome chicken soup. This is my keto version, still loaded with veggies and flavor but low in net carbs.
This keto chicken soup recipe is wonderful comfort food and great for a quick and easy dinner.
It is also my secret remedy for when I'm feeling tired and run-down. I am a firm believer that chicken soup has medicinal properties!
It is filling and hearty, packed with vitamins and protein.
You'll also love to hear that it's ready in just 40 minutes!
Jump to:
Ingredients
You only need a handful of ingredients to make a delicious keto soup: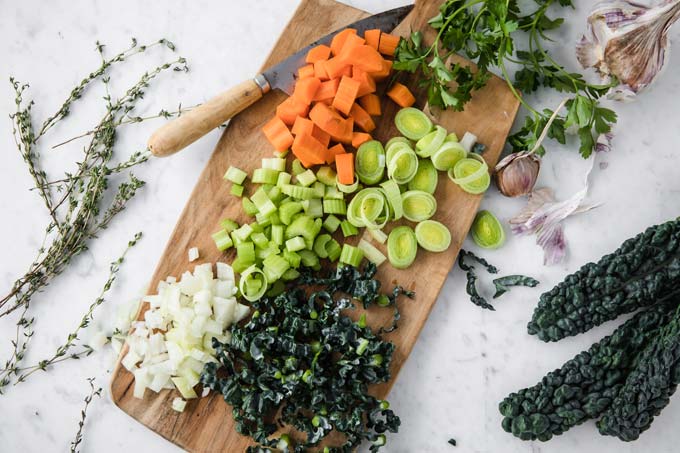 Chicken. I am using shredded roasted chicken. This means the soup is ready quickly because the meat is already tender. It just needs to be heated and not cooked. You can use a shop-bought rotisserie chicken or leftover chicken from a homemade roast. Option to use raw chicken breast or thighs - instructions are further down the post.
Vegetables. Most great soups start with a mirepoix, which is a classic French flavour base from diced vegetables - chopped onion, carrot and celery. In addition to this, I add leek and cavolo nero or kale.
Chicken Broth. This can be a homemade chicken bone broth or a stock cube.
Herbs and spices. Fresh is best! I use thyme, parsley, a garlic clove, salt, pepper and bay leaves. You can use also use dried parsley and thyme.
Instructions
This section contains step-by-step instructions and photos that show how to make this recipe. See the recipe card for full information on ingredients and quantities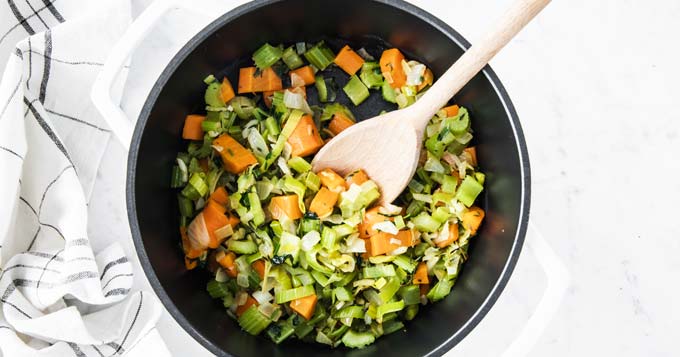 STEP 1
Sauté the onion, carrots, leek and celery with the chopped thyme and parsley until they begin to soften. Add the garlic and fry another 2 minutes.
STEP 2
Pour in the chicken broth. Add the bay leaves and season with salt and pepper. Bring to the boil, reduce to a low heat and let the soup simmer with the lid on.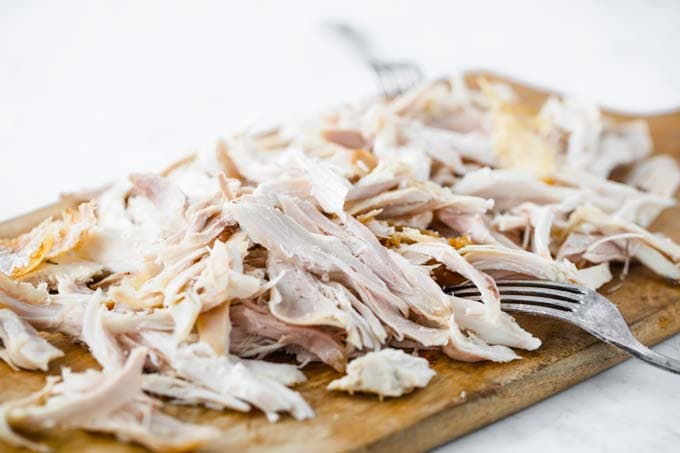 STEP 3
Remove the bay leaves from the soup and add the shredded chicken.
STEP 4
Pulse half of the soup with an immersion blender or in a food processor. This way you thicken the soup and add extra flavour.
If you don't like the idea of blending chicken meat, simply blend half the soup with only the vegetables.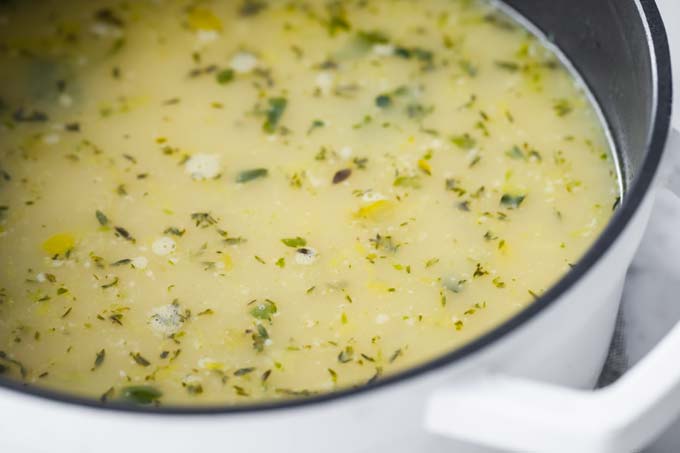 STEP 5
Add the other (un-blended) soup half back into the pot, along with the cavolo nero or kale and simmer until the greens soften.
Variations
Below are suggestions how you can tailor the soup to your personal taste and preference.
#1 Change up the vegetables.
Most vegetables taste good in Keto chicken soup. The time you add them depends on how long they need to cook:
broccoli
cauliflower florets or cauliflower rice
bell peppers
zucchini
spinach (add right at the end)
mushrooms
green beans
tomatoes
If you miss potatoes in chicken soup, try celery root. It is low in carbs, has a mealy texture just potatoes and tastes similar to parsnip
#2 Use different herbs and spices.
This keeps your chicken soup forever interesting. Here are a few ideas:
For a fresh kick, try adding chopped lemongrass stalks into the broth or grate some lemon zest into your soup.
If you're a fan of all things Italian, add basil, rosemary, marjoram and oregano to the seasoning mix and grate over parmesan cheese before serving.
To go full-out Mexican, replace the carrots with bell peppers and add spices such as chili powder, smoked paprika, oregano and cumin. Serve with a handful of freshly chopped coriander / cilantro.
For richness and depth, add a bit of ginger, star anise and couple of cloves to the broth. I love the taste, but it is not for everyone, so only use if you're sure you like cloves!
#3 Make it creamy.
Add heavy cream, a splash of sour cream or cream cheese to taste. For a creamy chicken soup recipe, take a look at my keto turkey soup (the turkey can be substituted with chicken, of course!)
Serving Suggestion
Just before serving, mix lemon juice with olive oil and swirl into into the soup. To make it even more delicious I like to stir in a little butter at the end before serving (omit this if you prefer keeping it dairy-free).
Fill into bowls and top with fresh parsley.
Here are some gluten-free bread recipes that go well with soup:
Expert Tip
Use a good chicken stock
This is the secret to a really tasty soup. The more concentrated it is, the more flavoursome the soup.
I roast a chicken at least twice a month and I always keep the bones and make bone broth from them. You can also go to your butcher and get chicken carcasses - you might even get them free!
How to make a chicken bone broth?
It's so simple! All you need is a bit of time: Cover 2-3 pounds of chicken bones with water in a large pot. Add pepper, salt, 1 tablespoon of apple cider vinegar, an onion and optional herbs (such as thyme or parsley).
For more flavour you can also add a carrot and a few of stalks of celery. Bring your chicken broth to the boil and simmer for 4-12 hours. Remove the bones and vegetables.
Recipe FAQs
Is chicken soup keto?
Regular chicken soup often contains high carb ingredients such as potatoes, noodles or parsnips. This means it is not keto friendly. My keto chicken soup is low in carbs because we are omitting those ingredients.
Can you make a zero carb chicken soup?
Most of the net carbs in this soup come from the carrots. You can reduce or remove these, but the soup won't be as tasty. Personally, I loathe to leave out carrots when I make soup because they add a wonderfully rich flavour. For this chicken soup, I have calculated the nutrition on the basis on four GENEROUS main course servings and the net carb count is 7.6 grams per serve.
Can I use raw chicken?
Of course. You can use chicken thighs or chicken breast meat, either whole or chopped. Simply add it to the soup and cook for around 20 minutes or longer - until it falls off the bone.
Can I add noodles to a low carb chicken soup?
Yes, as long as they are keto-friendly pasta alternatives that are low in carbs! You can add shirataki noodles or kelp noodles. This is what I did in my Keto Ramen recipe. Other options are zucchini noodles, shredded cabbage, cauliflower rice or shredded spaghetti squash. Just make sure you cook the spaghetti squash separately and don't add it in until right before serving.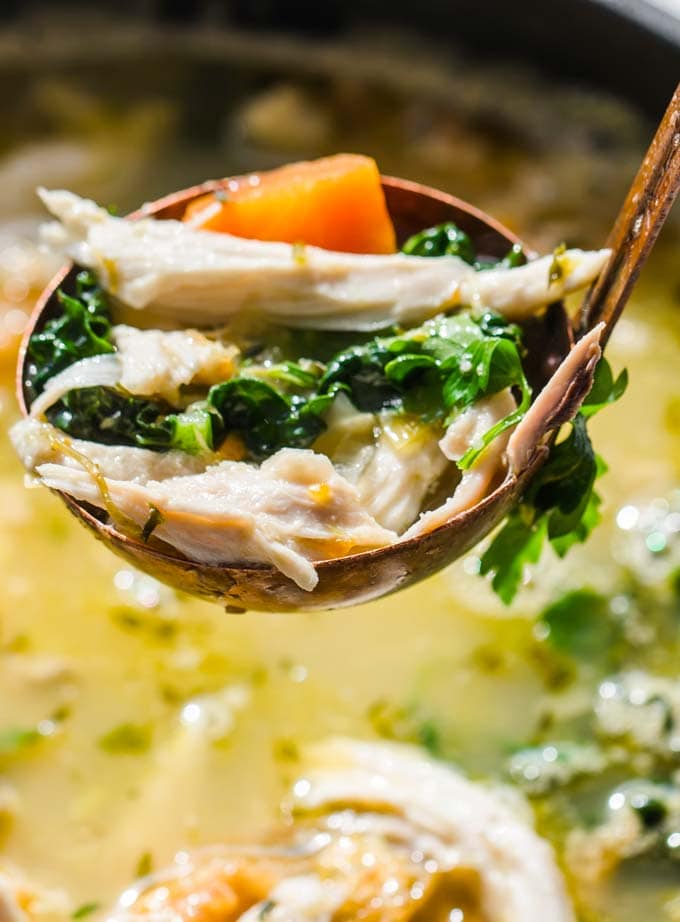 Cooking Methods
I made this recipe on the stovetop. However, you can also make it in the Instant pot or pressure cooker or in a slow cooker!
Instant Pot Instructions
Use the saute setting to soften and brown the vegetables. Add the rest of the ingredients and use the soup setting.
Cook for 20 minutes, then do a pressure release. Option to proceed with the recipe and puree half of the soup to thicken it.
Slow Cooker Instructions
Sauce the vegetables in a pan. Then, add them to the slow cooker together with the chicken and pour over the broth. Cook on high for 4 hours or on low for 6-8 hours.
In a slow cooker, you can even add a whole chicken. Remove it after cooking, pick out the bones and freeze any chicken meat you don't need for the soup.
Storage
Store in the fridge for up to 3 days.
Alternatively, freeze the soup for up to 3 months. I like to portion it into single-serve containers. This way, I can defrost one portion at a time.
More Keto Soup Recipes
Tried this recipe? Give it a star rating below!
★ STAY IN TOUCH on FACEBOOK, PINTEREST and INSTAGRAM for more great food and join my NEWSLETTER for the latest updates and a FREE EBOOK.★
Recipe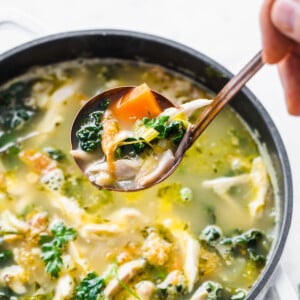 The Best Low Carb Keto Chicken Soup
from Sugar Free Londoner
Make this flavourful keto chicken soup from scratch in 40 minutes! It is great for a quick and easy dinner or to put in a soup flask and take to work. It contains only 7.6 grams of net carbs per generous serving.
Note: The servings slider only changes the first amount in each line and not any subsequent amounts. Please make your own calculations where necessary.
Ingredients
1

tablespoon

butter or extra virgin olive oil

1 ¼

small yellow onion

finely diced (87g)

2

medium carrots

peeled and chopped (122g)

1

small leek

chopped (67g)

3

medium stalks celery

chopped (120g)

1

tablespoon

thyme leaves

chopped

8

g

fresh parsley

1

garlic clove

minced

1.5

quarts

chicken stock

1.5 litres

2

bay leaves

½

teaspoon

salt

or to taste (dependant on how salty your stock is)

¼

teaspoon

black pepper

or to taste

2.5

cups

cooked shredded chicken

300g

1

cup

chopped cavolo nero or kale

50g
To serve
Squeeze of lemon juice

1

tablespoon

olive oil

1

teaspoon

fresh parsley
Instructions
Heat 1 tablespoon of butter or olive oil in a non stick soup pot and sauté on a medium heat the onion, carrots, leek and celery with chopped thyme and about ⅔rds of the parsley for about 5 minutes until beginning to soften. Add the garlic and sauté for another 2 - 3 minutes.

Add the stock, bay leaves, season and bring to boil. Reduce to a simmer and cook with lid on for 15 minutes.

Add the cooked chicken. Remove half mixture and bay leaves and pulse with stick blender. This thickens the soup and adds flavour.

Add the rest of soup back into the pan along with the greens and simmer until they soften (about 1 minute.)

Mix the lemon juice with olive oil and swirl into the soup and top with fresh parsley. Adjust seasoning to taste and enjoy. To make it even more delicious I like to swirl through a little butter at the end before serving too!
Notes
I've calculated 4 GENEROUS and filling main course portions. You could easily stretch this soup to 5 or even 6 people. 
Net carbs: 7.6g per serve
Storage: Fridge for up to 3 days or freezer for up to 3 months.
Nutrition
Calories:
286
kcal
Total Carbohydrates:
10.2
g
Protein:
29
g
Fat:
14.9
g
Sodium:
395
mg
Potassium:
1131
mg
Fiber:
2.7
g