It's simple to make keto taco seasoning at home! This easy spice mix recipe is low carb, sugar free and much cheaper than store bought taco seasoning packets!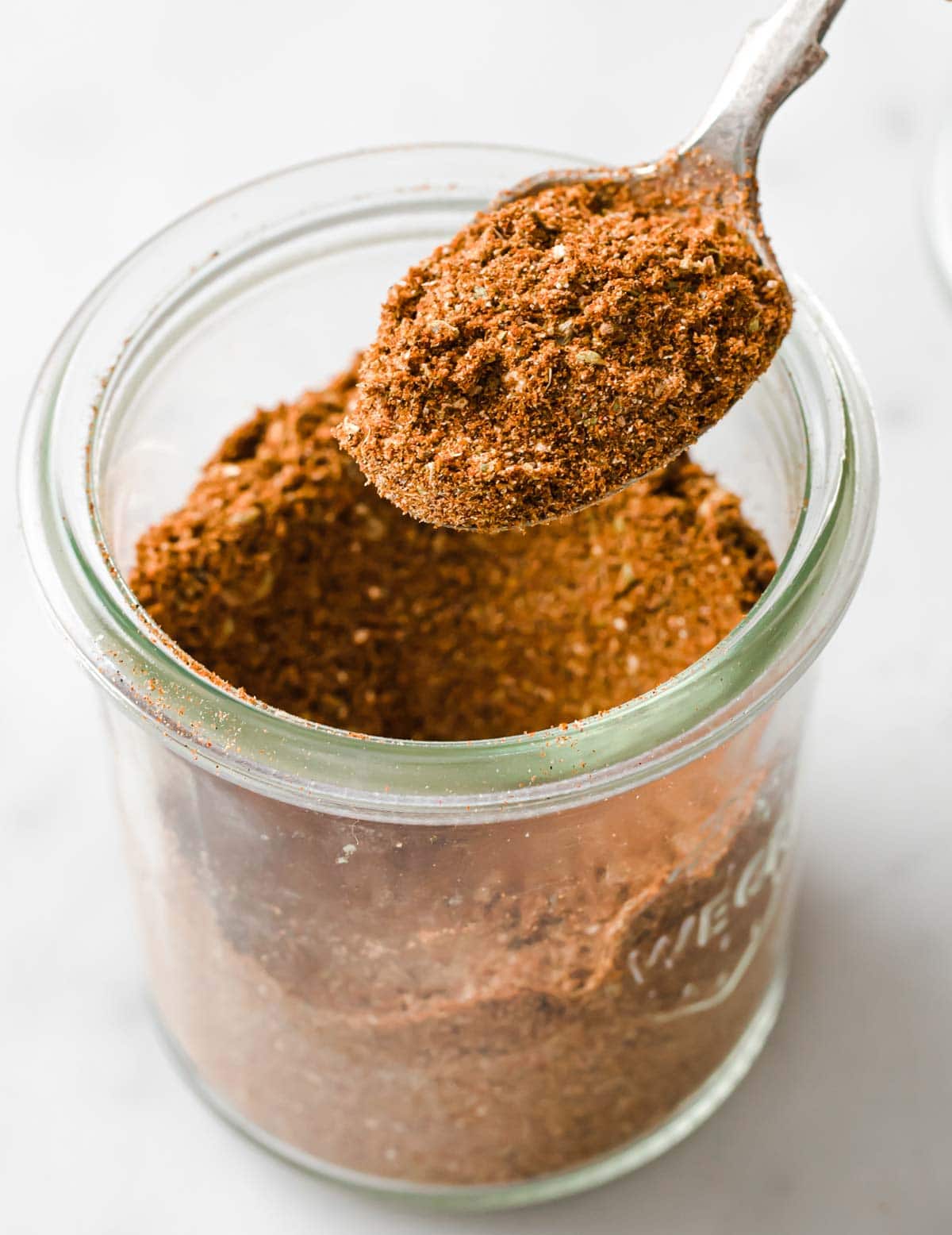 I was introduced to tacos when I spent a year in South Carolina as an exchange student back in the 80's. What excitement for a 16-year-old German palate! My host mom used to brown some ground beef, add a packet of taco seasoning and serve it in bright yellow ready-made taco shells. We'd add sour cream and shredded cheese on top and sometimes lettuce. It was a quick dinner she'd make regularly and I loved it.
Ever since my time in the US, I've enjoyed the flavour of Mexican foods. And just my US mom, for years I bought spice mixes and seasoning packs when I wanted a taco night.
Is taco seasoning keto?
The spices used in taco seasoning are keto friendly. It's the fillers that are not.
It wasn't until I started a low carb diet that I began to read labels on products. And I discovered that most ready-made taco seasoning mixes are full of sugar, starch, preservatives and are not gluten free.
The Old El Paso Taco Seasoning Mix, for example, contains maltodextrin (a sugar) and starch. And the Schwartz Fajita Seasoning, which I used to season chicken as well as beef, lists maltodextrin as the first ingredient and sugar as the third. Neither of these store bought taco seasoning options are keto friendly.
On top of using sketchy ingredients, seasoning mixes are expensive. That's why I now make my own mix at home! (Note - the only sugar free taco seasoning I have found in the UK is by Bart.) 
How to make keto taco seasoning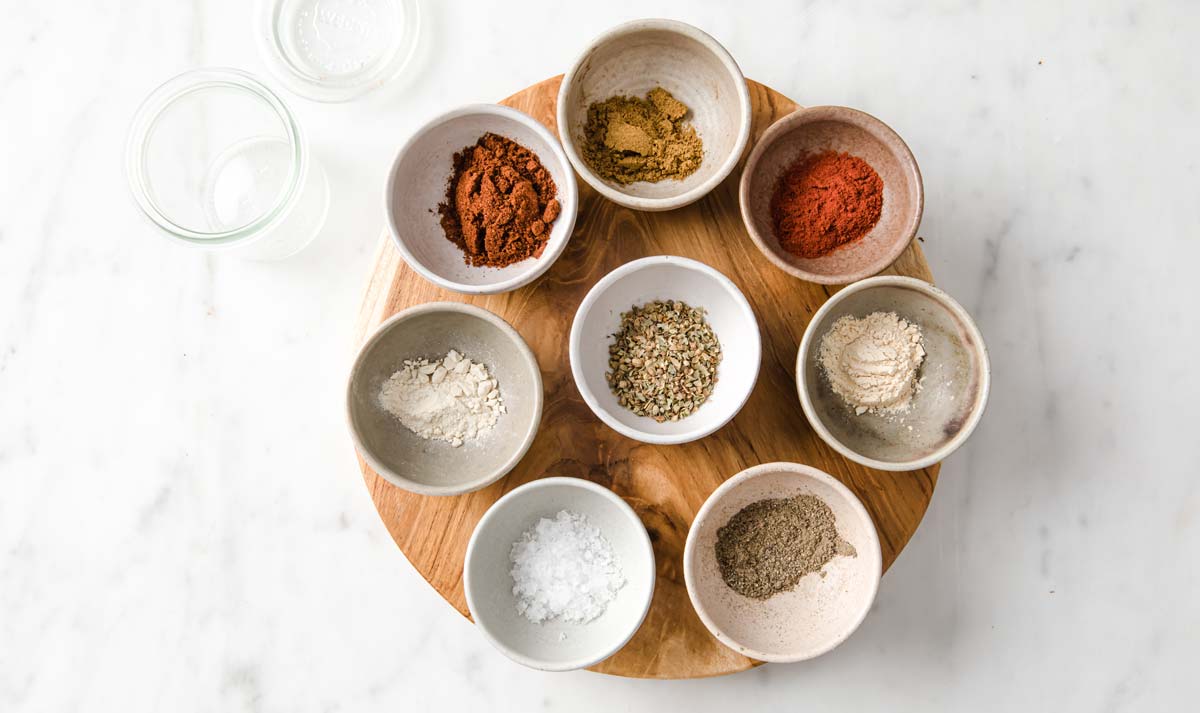 In the image above are the herbs and spices I'm using. The most important spice in this seasoning mix is chile powder or chilli. We're also adding cumin and paprika, garlic and onion powder, oregano, and salt and pepper.
To make the keto taco seasoning, all you need to do is combine the spices in a mason jar or a ziplock bag and shake or stir. That's it!
Do spices have carbs?
All spices contain carbs, so there will never be such a thing as a carb free taco seasoning or no carb taco seasoning. Just like the keto diet is not a NO carb diet, but a LOW carb diet! But by omitting the additional sugars and starches we're reducing the net carbs and making this homemade spice mix perfectly low in carbohydrates.
Adjust the spiciness
Feel free to adjust the spiciness to your palate. If you love the heat, opt for a medium / hotter chilli or you can add a pinch of cayenne or red pepper flakes. I personally prefer a milder chile powder and lots of paprika. Adding smoked as opposed to sweet paprika also adds a beautiful flavour.
Sugar Free Taco seasoning 
I like my taco seasoning without any sweetener. But I know that some of you have a sweet tooth and that's perfectly ok! If you like, just add 1 teaspoon of erythritol to the mix. The sweetness does help to counteract the heat of the chile powder. A golden erythritol such as by Lakanto would work well here.
How much seasoning per pound of beef
I use 2 tablespoon of seasoning per pound ground beef (or beef strips). This is enough meat for 4 people (½ tablespoon of seasoning per portion).
And here is how to use the mix:
Start by frying the beef in olive oil until it is browned. This takes about 5 minutes.
Then, add the keto taco seasoning mix, 2 tablespoon of tomato puree and ½ cup or 120 ml of beef broth to the pan.
After that, simply give it a stir and simmer until the liquid has evaporated.
Of course, this is just a guideline. If you prefer a spicy finish, add up to twice as much of the taco seasoning. I won't hold it against you!!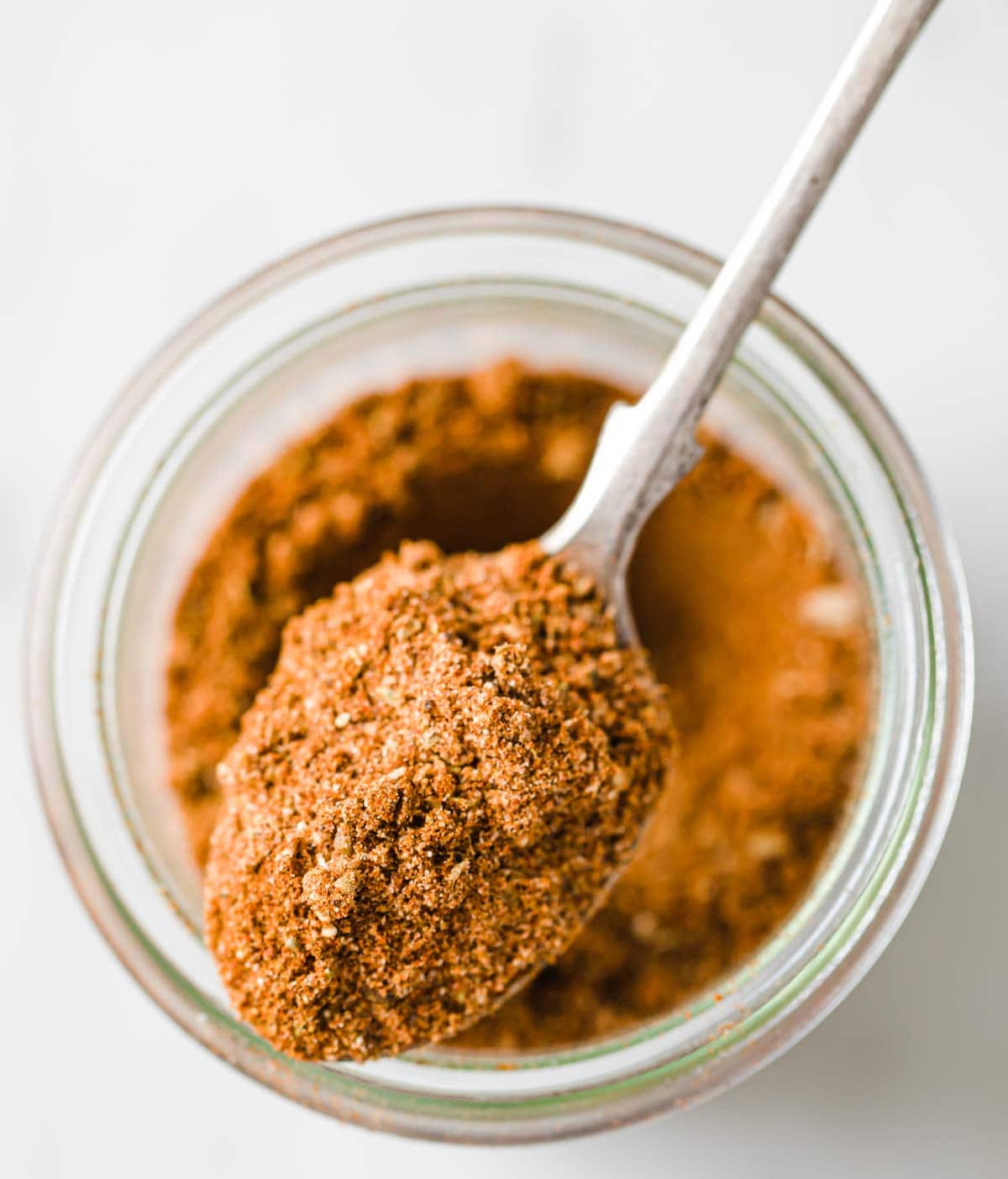 Where else to use the mix
This low carb taco seasoning is versatile! It's great for ground beef, chicken, turkey or fish tacos. It also works in keto taco soup, chilis, fajitas, quesadillas, enchiladas or even in Mexican scrambled eggs.
We love it in this Easy Keto Taco Casserole Recipe. And when I make a simple portion of ground beef with it, I like to serve it with either these Crispy Low Carb Keto Taco Shells or my 4 Ingredient Low Carb Tortillas.
You could also make nachos with my Keto Low Carb Tortilla Chips!
How to store low carb taco seasoning
Homemade taco seasoning lasts just as long as the spices would last if you stored them separately. Store it in a closed mason jar in your kitchen cupboard for about 1 year!
Once you've tried out the mix and decided it's right for you, why not double or quadruple the recipe? That way, you have your very own spice mix waiting for you when the need for a Mexican dinner strikes.
★ STAY IN TOUCH on FACEBOOK, PINTEREST and INSTAGRAM  for more great food and join my NEWSLETTER for the latest updates and a FREE EBOOK.★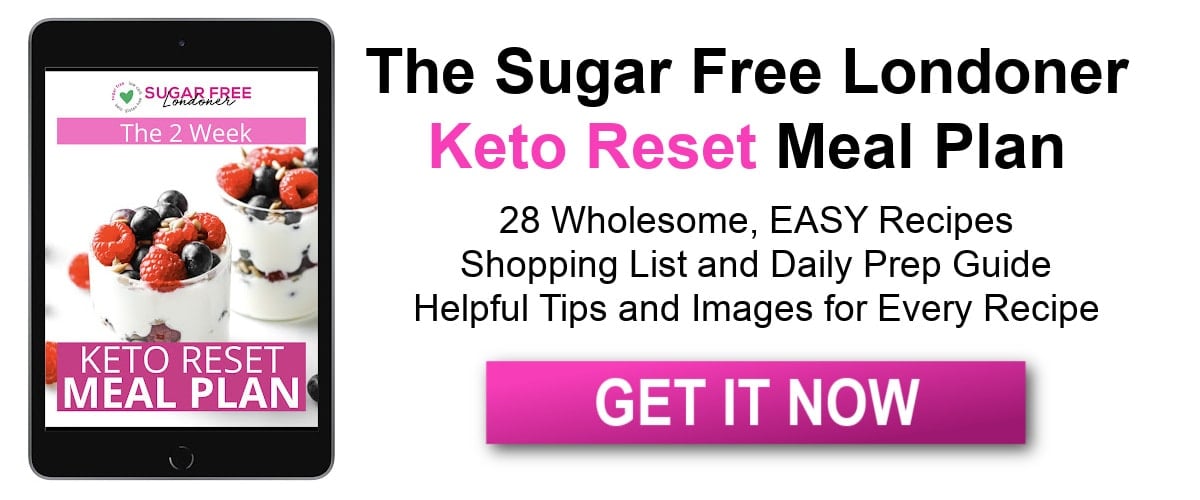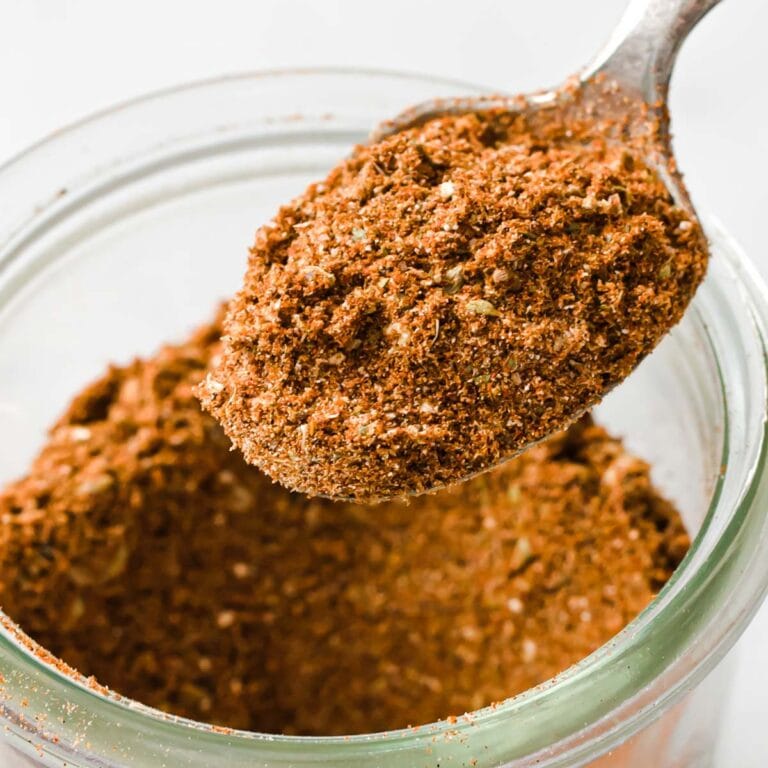 Low Carb Keto Taco Seasoning
from Sugar Free Londoner
If you love Mexican food, here's a staple for your kitchen cupboard: This homemade low carb taco seasoning is a versatile spice mix that works for ground beef, chicken, turkey or fish tacos. It is also great in keto taco soup, chilis, fajitas, quesadillas, enchiladas or even in Mexican scrambled eggs.
Note: The servings slider only changes the first amount in each line and not any subsequent amounts. Please make your own calculations where necessary. ***As an Amazon Associate I earn from qualifying purchases.
Ingredients
2

tablespoon

chile powder (chili)

use mild or medium depending on your heat level (16g)

2

teaspoon

ground cumin

4g

2

teaspoon

paprika

sweet or smoked is nice too (4g)

1

teaspoon

flaked sea salt

6g

1

teaspoon

garlic powder

3g

1

teaspoon

onion powder

3g

2

teaspoon

dried oregano

2g

1

teaspoon

cracked black pepper

2g
Instructions
Add all the spices to a small mason jar. Close and shake until fully combined.

Store in airtight glass jar for up to 1 year.
How to use the seasoning (serves 4)
Heat 1 tablespoon of olive oil in a pan. Add 1 pound of ground beef and fry until browned, about 5 minutes.

Add 2 tablespoon of the taco seasoning and 2 tablespoon of tomato puree plus ½ cup / 120ml of beef broth / chicken broth. Stir, then simmer until the liquid has evaporated. Adjust seasoning if you prefer a spicier finish.
Notes
1g net carbs per portion of ½ tablespoon spice mix. 
This recipe makes 5 tablespoon of seasoning.
I recommend that you use 2 tablespoon for 1 pound of ground beef. If you prefer a spicier mix, just add more - up to double the amount!
The nutrition facts are calculated on a basis of ½ tablespoon taco spice mix per person (10 portions in total). 
Use ½ tablespoon to season an individual serving of ¼ pound of beef mince. 
Nutrition
Calories:
10
kcal
Total Carbohydrates:
1.9
g
Protein:
0.5
g
Fat:
0.4
g
Saturated Fat:
0.1
g
Fiber:
1
g
Sugar:
0.2
g
This post contains affiliate links. If you click on one of these links and purchase a product, I may earn a small commission, at no extra cost to you. Thank you for supporting Sugar Free Londoner.