These are the best easy keto coconut flour cookies! With only 5 basic ingredients, this fail-safe low carb coconut cookies recipe is ready in just 20 minutes. We're talking soft, moist sugar free cookie heaven with a gentle crunch. Simple, mouthwatering snack-time goodness!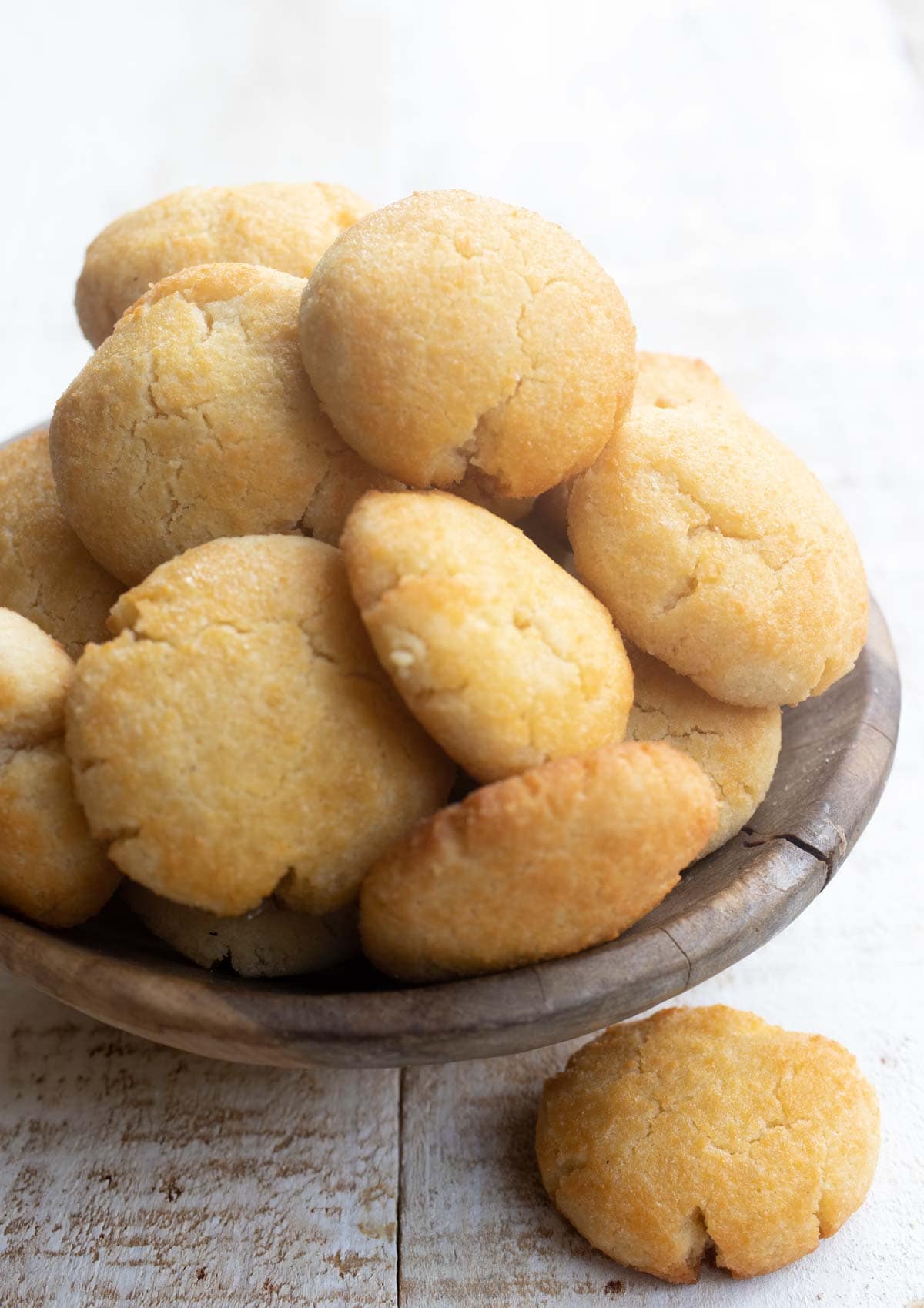 I have a lot of popular cookie recipes that use almond flour, such as these Keto Sugar Cookies or this Keto Chocolate Chip Cookies recipe. There's also this delicious Low Carb Shortbread Cookie recipe, which uses a mix of both almond and coconut flour.
However, some people just can't have nut flours. And it's always good to change things up a bit, right?
It was time to add pure coconut flour cookies to the repertoire!
Jump to:
Baking Cookies With Coconut Flour
Coconut flour is very absorbent. Give it a few minutes and it will soak up liquids added to a dough and expand.
That's why you need to use a lot less of it than other low carb flours. As a rule of thumb, you only need about ⅓ of coconut flour when you replace it in a recipe.
Coconut flour is also more crumbly than regular flour. This is because it does not contain any gluten. It is possible to make coconut keto cookies without egg (more about this later), but here I have added an egg to bind the dough.
The cookies turn out soft and moist on the inside, with a gentle crunch on the outside. They have, unsurprisingly, a gentle coconut flavour.
Ingredients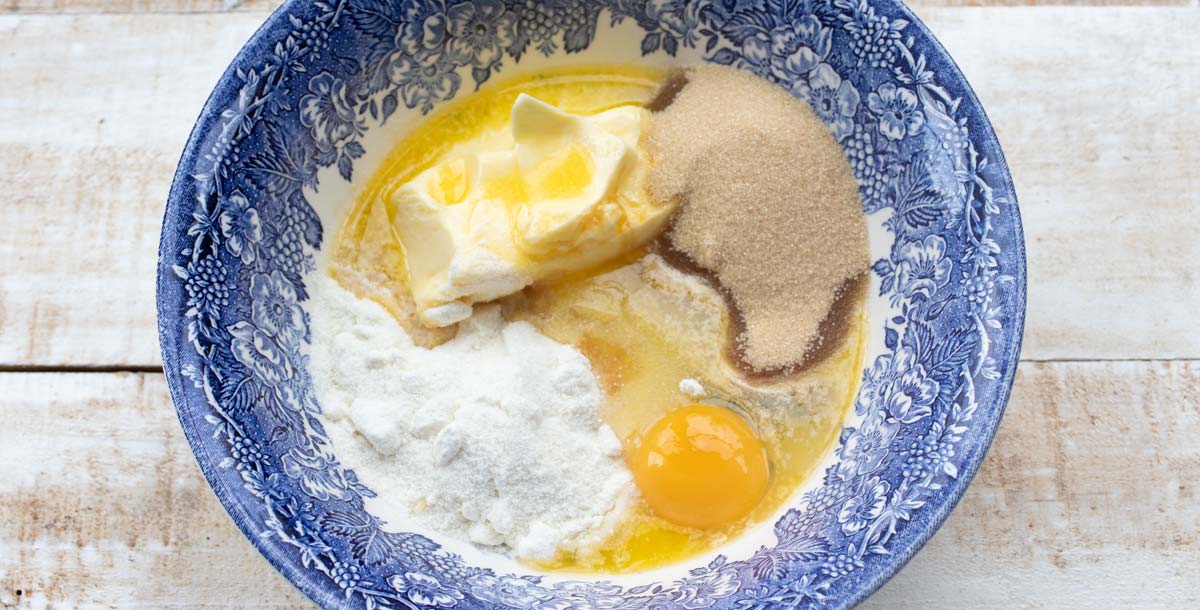 Here are the ingredient you'll need:
Coconut flour - Coconut flour brands can vary in texture. If your dough ends up too firm, loosen it with 1 tablespoon nut milk of your choice.
Butter or coconut oil - Must be very soft. I microwaved my fridge-cold butter for 50 seconds to get it super soft, but not melted.
Eggs
Vanilla extract
Granulated sweetener - I used a golden erythritol and monk fruit mix. It tastes a bit like brown sugar and lends a lovely caramel flavour. However, any granulated sweetener will work.
See the recipe card for full information on ingredients and quantities.
How to make dairy-free coconut flour cookies?
You can make these cookies with either coconut oil or butter (or a mix of both). Using coconut oil will increase the coconut flavour!
Instructions
It is so easy to make keto coconut flour cookies. Here are the basic steps.
For detailed instructions scroll down to the recipe card.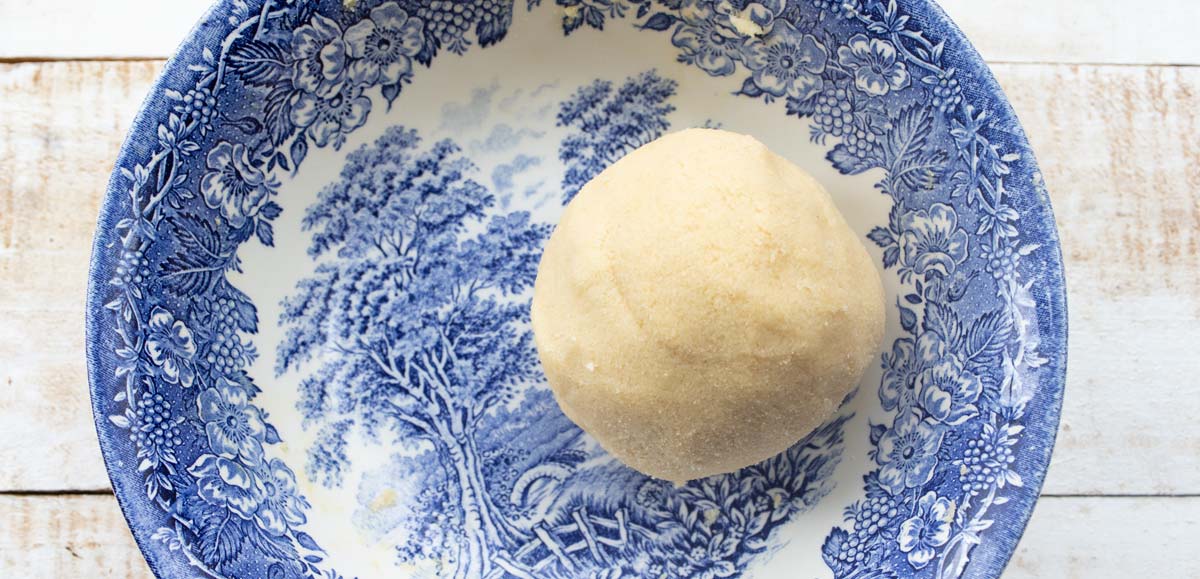 Step 1: Put all ingredients in a mixing bowl.
Step 2: Mix with a fork until combined, then use your hand to knead the dough until it is smooth.
Step 3: Let it rest for a few minutes so the coconut flour can absorb the liquid. Then form a ball.
TIP: if your dough is too soft to form a ball, cool it in the fridge for about 20 minutes. This will firm up the butter again.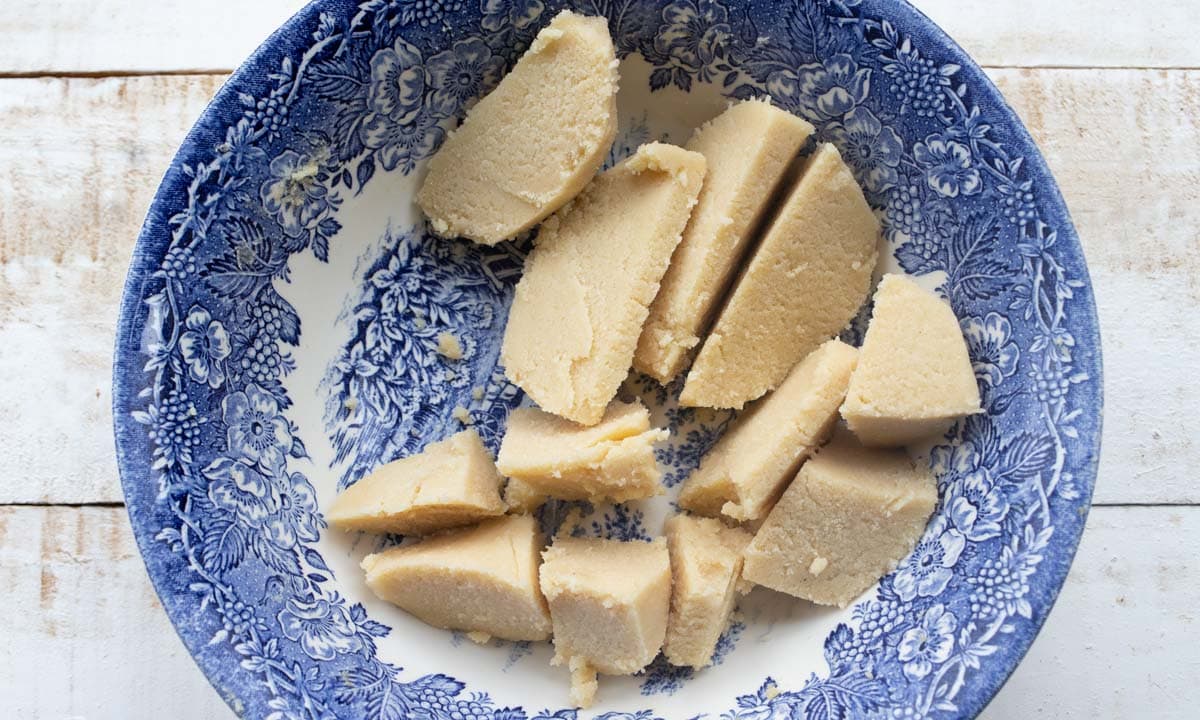 Step 4: Cut the ball into 8 slices and halve these. Now you have 16 dough pieces, which you roll into individual balls...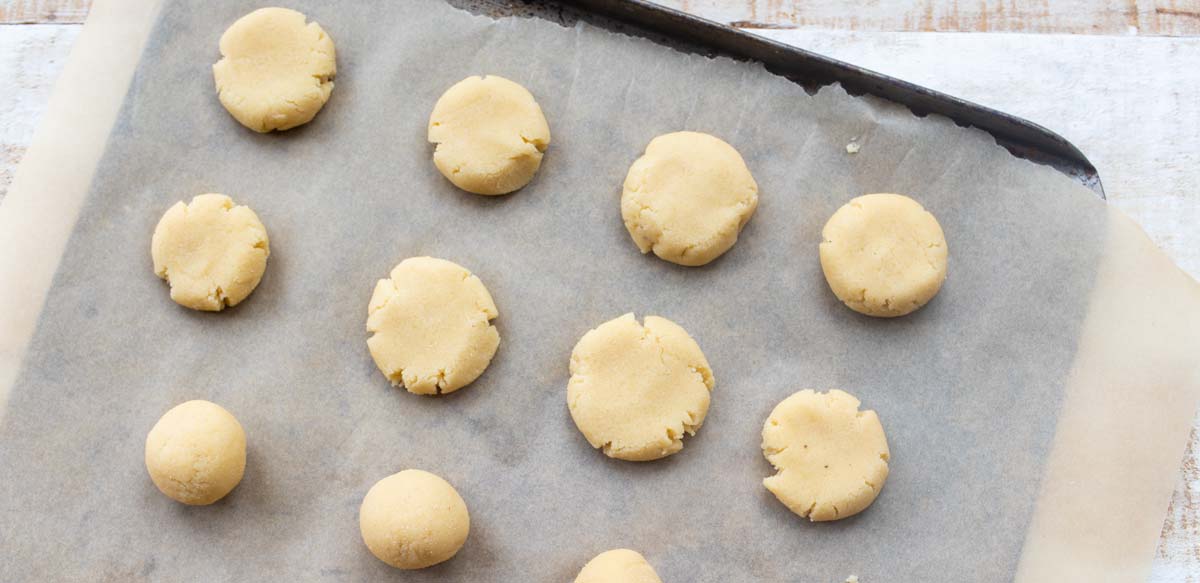 Step 5: ... and place on a baking sheet lined with parchment paper. Then, press the balls into a fat disc shape with the palm of your hand. Cookies should be about 4 cm in diameter and 1.5 cm thick.
IMPORTANT! Coconut flour keto cookies do not flatten during baking. Shape them exactly the way you want them to look.
Tip: A cookie scoop is another way of portioning the dough to make similar sized cookies.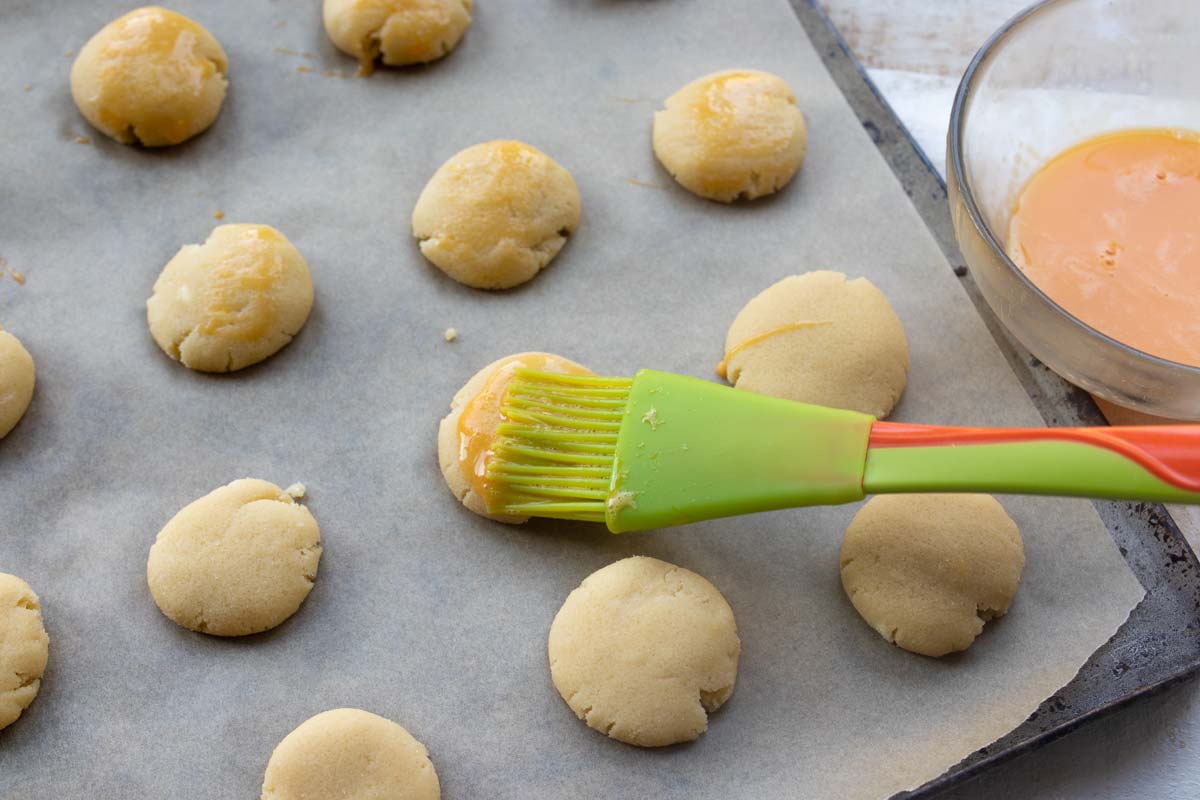 Step 6: Mix 1 egg with 1 tablespoon of milk of your choice. I used almond milk. Brush the egg wash over the cookies.
This step is optional, but makes the cookies look pretty.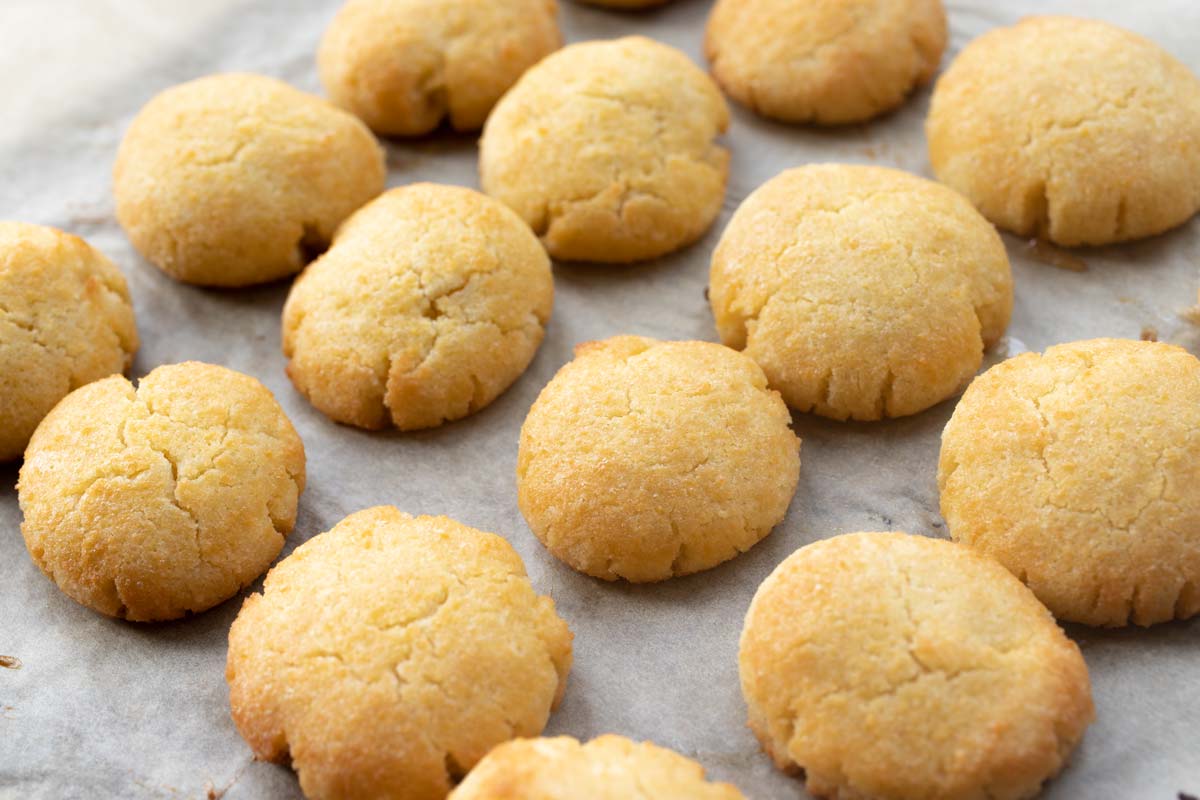 Step 7: And now bake your cookies for about 13-15 minutes until they are golden on top and show a few cracks. This means they are done!
Expert Tip
This is probably the most important tip to success with coconut flour cookies:
Do. Not. Touch. Them. When. Hot.
They are SUPER CRUMBLY when straight out of the oven.
So, let them cool completely on the baking sheet. You will see that they firm up nicely, but also taste much better once they are cold.
Recipe FAQs
How do I make them crispy?
Generally, if you make the cookies flatter and bake them for longer, you will end up with crispier cookies. Also, I recommend to leave out the egg yolk for a crispier result and use erythritol over any other sweetener.
Can I omit the egg?
Another way to crispy cookies is to leave out the egg altogether. For this, use 40 grams of coconut flour (⅓ cup) with 100 grams of butter and 1 tablespoon ground chia seeds, which helps bind them in place of the egg. Sweetener and vanilla extract remains the same.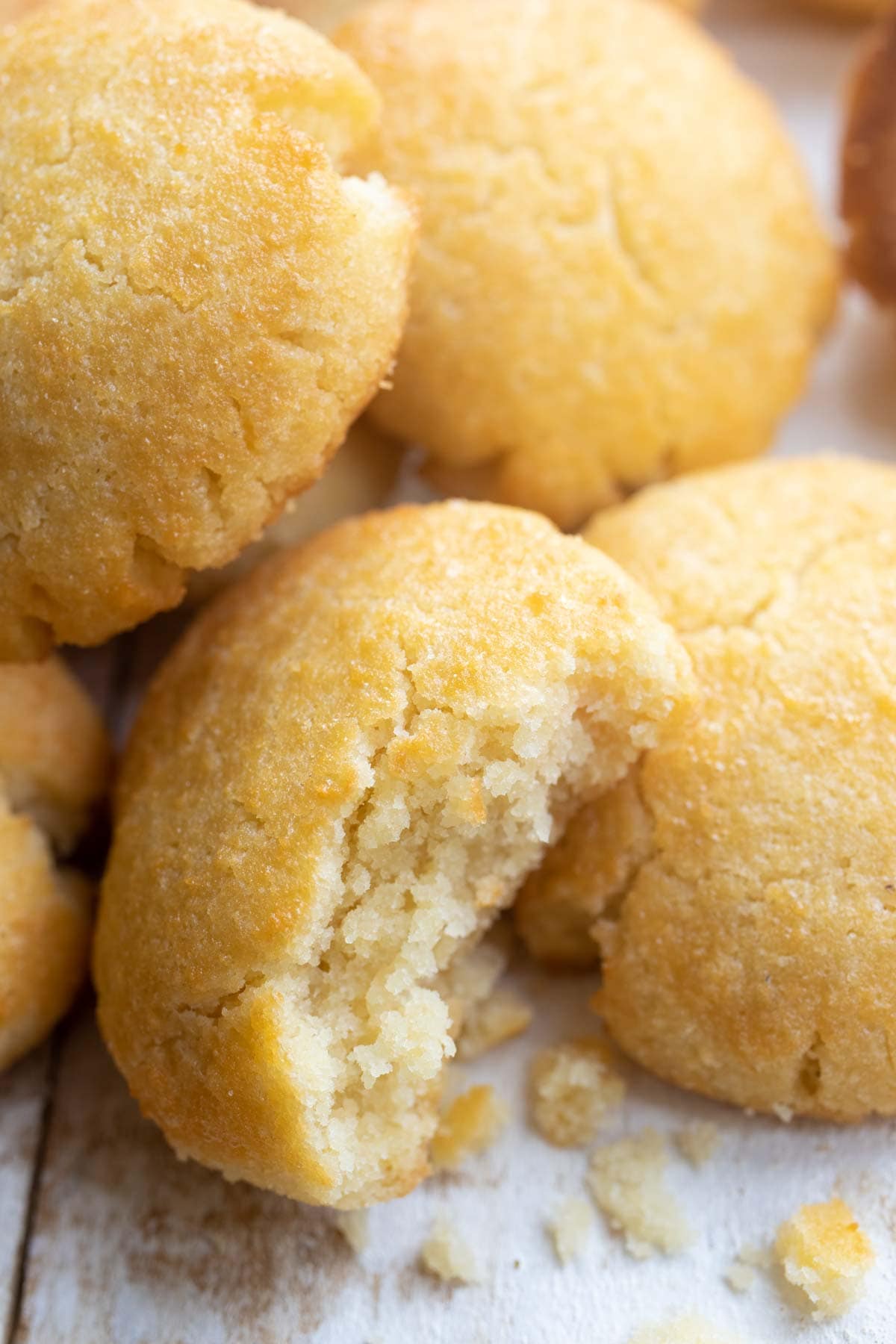 Variations
I wanted to keep this sugar free cookies recipe as basic and easy as possible. But if you have a bit more time or want to try something else, here are a few ideas:
Make cut-out cookies: Roll out the between two sheets of parchment paper. Chill it in the freezer until ALMOST frozen. Then, use cookie cutters! You need extra cold dough for this so it does not stick.
Top with sugar free icing: Mix ¼ cup of powdered sweetener with 1 tablespoon water / lemon juice. Brush over the cookies or dip them into the icing mix bowl.
Make a coconut glaze: Mix ¼ of coconut butter with 8 drops of stevia or 2 teaspoon of powdered sweetener. Warm until pourable and brush or pour over the cookies.
Dip in chocolate: Melt either dark chocolate with 90 % cocoa solids or use a sugar free chocolate. Dip or drizzle.
Change the flavour: Add orange extract and orange zest instead of the vanilla.
Add some bite: Top the cookies with coconut flakes or replace some of the coconut flour with desiccated coconut.
Storage
Store these cookies in a cookie jar for up to 1 week.
Alternatively, freeze them in an airtight container for up to 6 months. This is what I do with most of my sweet recipes. If they are not right in front of me, I think about them less (and they last longer)!
More Coconut Flour Recipes
Here are more easy recipes that use coconut flour.
Tried this recipe? Give it a star rating below!
★ STAY IN TOUCH on FACEBOOK, PINTEREST and INSTAGRAM  for more great food and join my NEWSLETTER for the latest updates and a FREE EBOOK.★ 
Recipe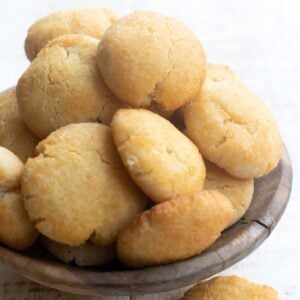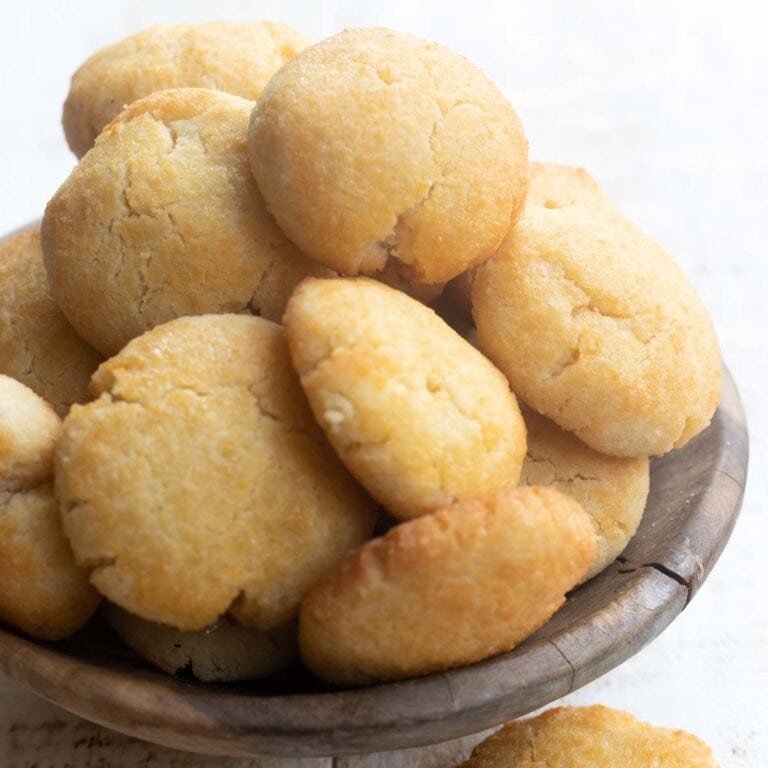 The Best Keto Coconut Flour Cookies
from Sugar Free Londoner
These keto coconut flour cookies are super simple and wonderfully buttery and soft. You only need 5 ingredients, which you stir together with a fork! Perfect if you're looking for a nut free low carb cookie recipe. It's one of our everyday sugar free sweet treats.
Note: The servings slider only changes the first amount in each line and not any subsequent amounts. Please make your own calculations where necessary.
Ingredients
Egg wash (optional)
1

egg

1

tablespoon

milk of your choice or cream
Instructions
Pre-heat the oven to 180 Celsius / 350 Fahrenheit.

Add all ingredients to a mixing bowl. Stir together with a fork.

Knead with your hands until you have a smooth dough. Let is rest for a few minutes to let the coconut flour expand. Then form a large ball. (If your dough is too soft for this, place the bowl in the fridge for 15-20 minutes first).

Cut the large ball into 16 pieces and roll into little dough balls. Place them on a baking sheet lined with parchment paper and press down with the palm of your hand into fat discs of circa 4 cm diameter (1.5 cm thick).

optional: mix the egg and milk of your choice (I used almond milk) and brush each cookie with the egg wash.

Bake in the oven for about 13-15 minutes or until golden.
Notes
0.4g net carbs per cookie. Makes 16 cookies (diameter 4 cm, 1.5 cm thick).
Weight: 15 grams per cookie.
I have not included the egg wash in the nutrition calculation because you won't use much of it. Save the leftovers for your next omelette 🙂
Let the cookies cool completely before you handle them. They are very soft and fragile when hot and firm up as they cool down. 
Store in a cookie jar for up to 1 week or freeze for up to 6 months. 
Nutrition
Serving:
15
g
Calories:
62
kcal
Total Carbohydrates:
0.9
g
Protein:
1.3
g
Fat:
5.6
g
Saturated Fat:
4.4
g
Fiber:
0.6
g
Sugar:
0.2
g