Comfort food at its best – a deliciously creamy fish pie with cauliflower mash topping that will make you come back for seconds! Low carb and keto-friendly.
Find the recipe card with ingredients and instructions at the bottom of the page. Don't miss the extra tips in the post! 
This recipe is for all of you who are getting the impression that I only serve sugar free sweets in this house and nothing else. Like, ever. That we munch on cookies, cakes, muffins over here day in, day out, with a couple of cheesy crackers thrown in. You're probably imagining that my poor kids are begging me for dinner, and I'll tell them to stop whining and finish off the pumpkin brownies. And that even the cat eats pancakes and chocolates, then licks off the 2 ingredient sugar free caramel sauce from our plates when no-one's looking.
Here is the big reveal. We do eat savoury foods, promise. Every day, actually. It's just that, well, by the time I've made supper, it's late and we're hungry. It's probably getting dark (= no yummy looking photos unless you've got pro equipment) and there's still friends to meet, good books to read, poems to write, Tangos to dance…. ok, TV to watch.
The thing is, I'm not a big planner. I know there are bloggers out there who shoot 3 amazing dishes on Sunday and then have food prepared for the rest of the week. Meal planning is a wonderful thing. It's clever and it's efficient. I want to be like these organised, roll-your-sleeves-up people, I really do. But part of growing older is to be comfortable with who you are, right? And I am a chaotic, messy last minute dinner maker. That's how I roll.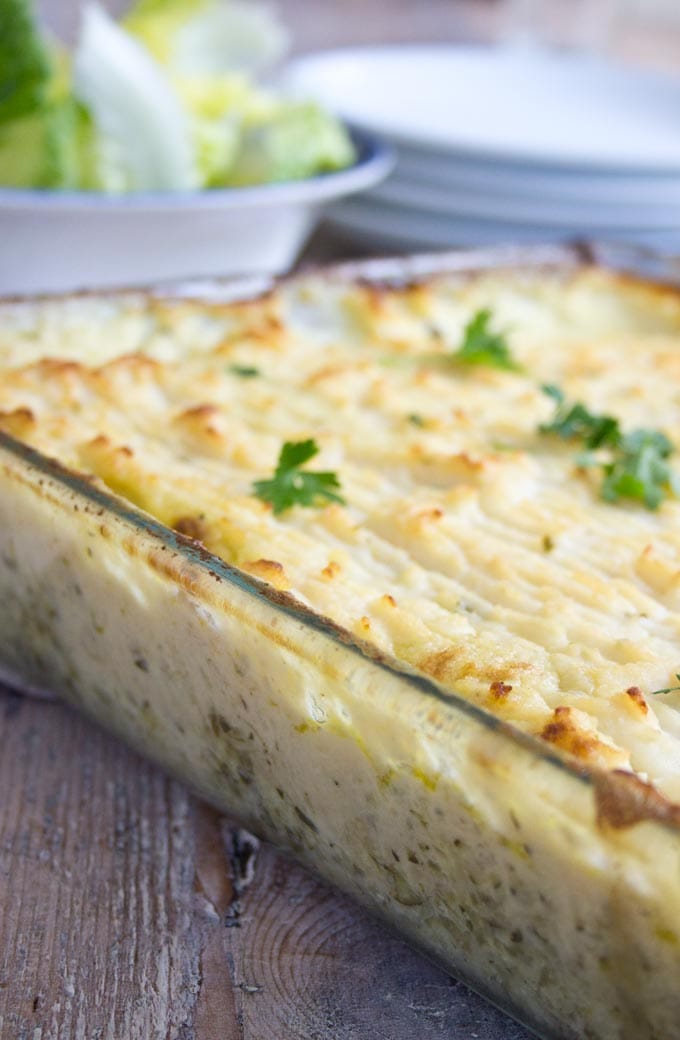 Now.
Just like the sun shines occasionally in London, sometimes a fish pie with cauliflower mash materialises before midday and an unforeseen photo opportunity presents itself.
Honestly, I don't know what came over me yesterday. Normally I have eggs and spinach for lunch. Or spinach and eggs. Or leftovers from the night before. If there's none of the aforementioned, it's anything else I can find in the fridge that I can throw in a bowl and mix up without cooking.
Fish pie? Gasp! It wasn't even Friday!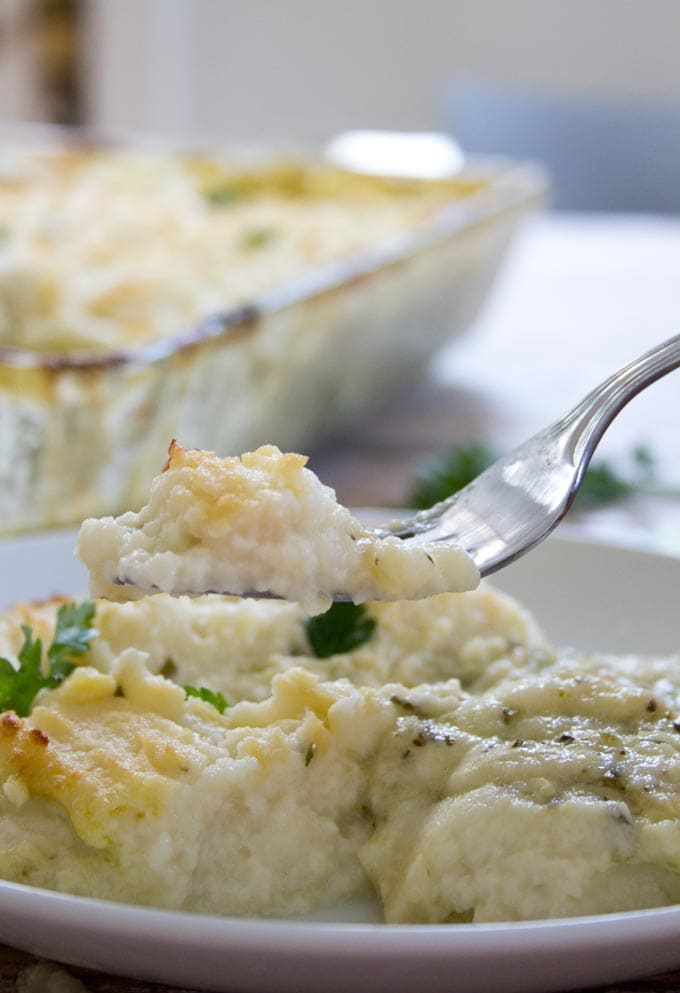 There you go. Life is full of surprises. And when inspiration strikes, just go with the flow and keep your forks at the ready.
Now, let's talk about this fish pie.
It's…
creamy
comforting
filling
fragrant thanks to lemon zest and fresh herbs
even more delicious because the sauce is made with white wine and white wine takes sauces to swoon level
warming your soul like a rare ray of sunshine
just like your Grandma used to make it only better, because….. it's low carb!
If you have not tried making cauliflower mash yet, let me tell you. IT FOOLS EVEN CHILDREN. Honestly. "I like the potato mash on top", announced my daughter. True story. Cauliflower is the one vegetable that benefits from being largely tasteless when cooked. It's like a blank canvas, a food chameleon. It can be anything you'd like it to be. Pizza crust, chocolate pudding base (I'm not making this up), "potato" mash. Just add some cream, spice, cheese… and let the magic happen.
As a guideline for this fish pie, I used a couple of recipes from Vickie De Beer's amazing Low Carb Diabetes Cookbook. It's one of my favourite cookbooks and I've tried and adapted many of the recipes, such as my almond cream cheese pancakes, which is to date the most popular recipe on Sugar Free Londoner. If you enjoy leafing through a cookbook for ideas, this is the one to get, whether you're diabetic or not.
As you can see, these the pics are as honest as they come. This fish pie was piping hot when I photographed it, because I WANTED TO EAT IT as soon as possible (and I did). One of the secrets in food photography is that casserole portions remain in beautiful photogenic rectangles when cold, and I admit, when I transferred the leftovers into a smaller dish at the end of the day, they looked rather perfect. Alas, this is exactly what your fish pie will look like when you serve it straight from the oven – a little messy, a little floppy and utterly delicious.
You can eat it with a green side salad, if you wish, or just tuck in. The pie is really filling, so you might have leftovers for a couple of days to come.
It sure saved me from having to feed my kids pumpkin brownies for dinner 🙂
Fish Pie with Cauliflower Mash (Low Carb)
20 minPrep Time
40 minCook Time
1 hrTotal Time
5 based on 6 review(s)
Ingredients
For the filling

1 onion, chopped
2 garlic cloves, chopped
1 cup / 250ml dry white wine
1 cup / 250ml double/heavy cream
3 medium zucchini/courgettes, grated
grated lemon zest from 1 unwaxed lemon
handful of fresh parsley and chives, chopped
800g hake and/or cod fillets

For the cauliflower mash

1 very large or 2 smaller cauliflower heads
3 tbsp melted butter
1/2 cup / 125 ml soured cream (or cream cheese)
1 cup / 125g grated cheddar
1 tbsp chopped chives
grated nutmeg
salt, to taste
Instructions
Preheat oven to 200 Celsius/390 Fahrenheit
Separate the cauliflower into florets and steam or boil until soft. Drain well!!!!!
Add the softened butter, soured cream, cheddar, chives, some freshly grated nutmeg and salt and mash or whizz in a food processor until smooth
In a separate frying pan, fry the onions and garlic in olive oil until soft, around 3 minutes.
Add the white wine and reduce by half.
Add the courgettes, cream, lemon zest and herbs and simmer for 5 minutes.
Season with salt.
Put the fish fillets in a casserole dish and pour over the sauce.
Spread the cauliflower mash on top and run a fork over the top to make lines.
Bake for 40 minutes or until the top is browned
Sprinkle with some fresh parsley and serve
Notes
You can use a mix of white fish or even salmon and add prawns. All work well. Adding celery and fennel to the sauce taste good, too. Don't miss out on the lemon zest. It really makes the recipe!! If you do not want to use wine, substitute with a good quality fish stock
7.6.7
361
https://sugarfreelondoner.com/fish-pie-cauliflower-mash-low-carb/