Easy low carb rolls are perfect for breakfast or as a burger bun. These gluten free keto buns taste soft and pillowy, toast well and are absolutely fail-safe.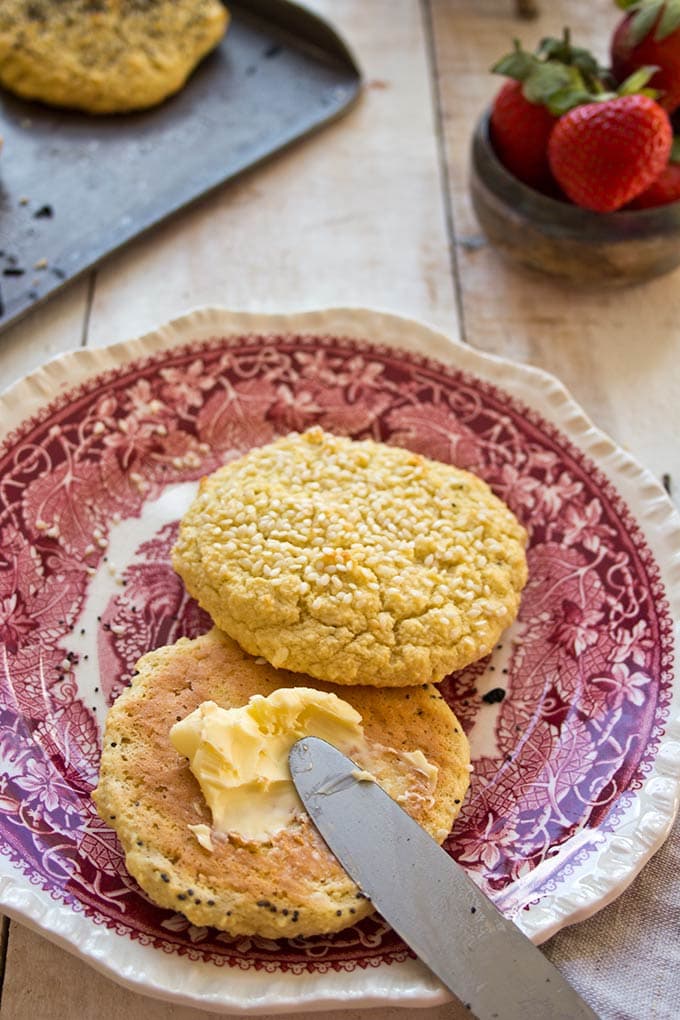 Do you know how much Germans like bread? We seem to be born with a gene that makes us crave it at least once a day. In Germany there is a bakery around every corner brimming with sensible wholegrain rolls and Pumpernickels as heavy as rocks. Our evening meal is suitably called "Abendbrot" - literally translated "evening bread" and in Bavaria snack time is "Brotzeit" - bread-time.
Now, since I went sugar free and subsequently reduced my carb intake, I also curbed my bread intake. I have written about the benefits of eating grain and specifically wheat free in this article about my low carb pizza bites. Carbohydrates get converted into glucose in our bodies, and especially wheat products send your sugar levels sky high.
There are plenty of delicious grain free breakfast options that do not involve bread, from nutty granolas to chia seed puddings. But, as a German, there remains that niggling desire for bread, tucked away under all that sensible thinking. Bread! Give me a slice of bread!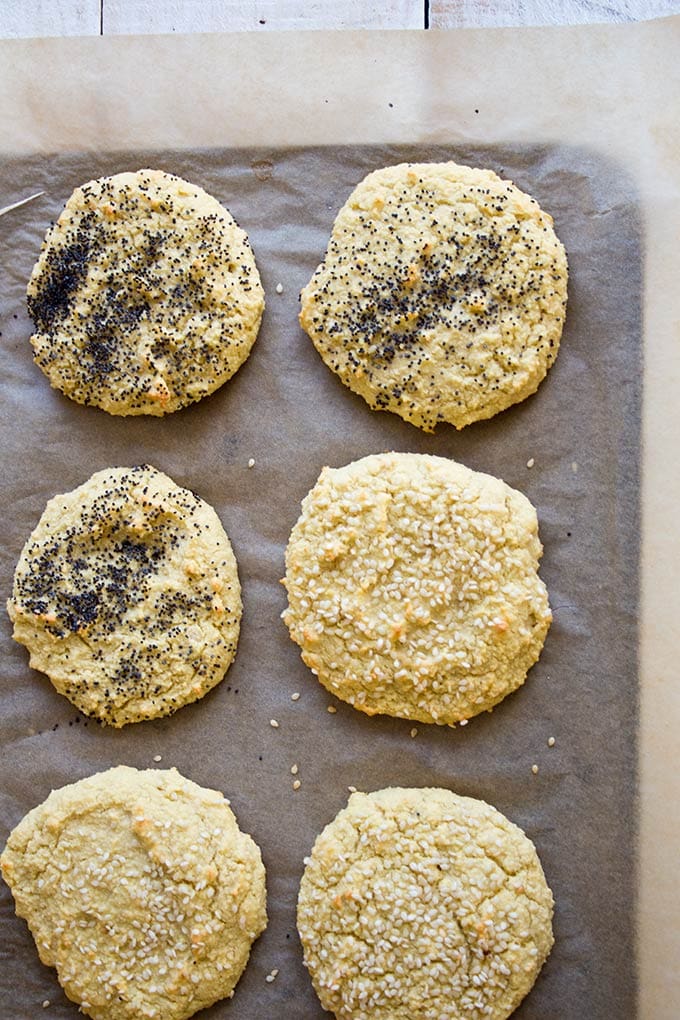 After exploring grain free cake/cookie/muffin baking - check out my low carb muffins or these coconut blondies - I have finally tackled low carb and gluten free bread making.
It's easy, friends! So easy that these are not just low carb rolls, but EASY low carb rolls.
I have tried quite a few recipes, but these low carb rolls are just the most simple, yum and fail-safe ones I have tested. I discovered the recipe a few months ago on a coconut recipe sharing site. It uses both coconut and almond flour, two pillars of low carb baking.
Almond flour on its own gives a fantastic fine grain texture, but it is costly. Coconut flour on its own has, as you can guess, a pronounced coconut taste. Both are fantastically healthy and I use them a lot. If you combine the two, you end up with the best of both worlds - a soft, relatively finely textured bread that does not scream coconut.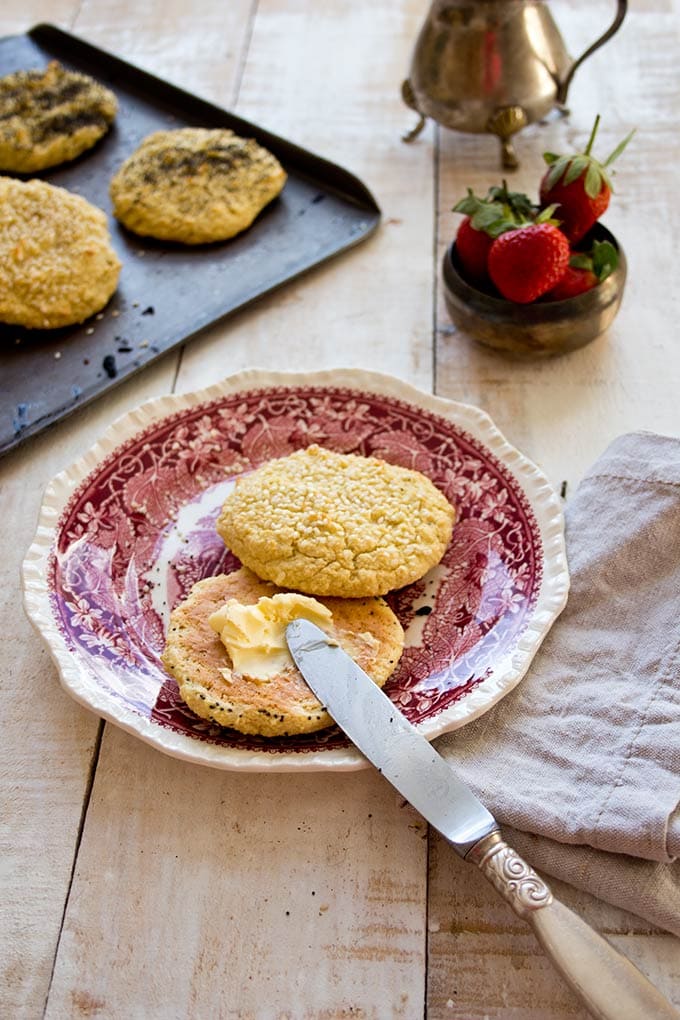 I have made this recipe in a muffin tin, which turns out well, but I think it's most versatile to just scoop spoonfuls of the dough onto a baking sheet and make little flatbreads, if you wish (think open sandwich!), or as two parts of a roll. This way, there is no cutting needed.
How's that for German efficiency!
These rolls (the recipe makes 4 rolls/8 little flatbreads) are also perfect as burger buns and you could even shape them into a bagel - I'm thinking cream cheese and salmon here. Don't be fooled by the size - they may look small, but are rather filling.
And not an empty calorie in sight:)
When I posted my raw raspberry vanilla chia jam last summer, I ended up eating it with yoghurt and granola. This combo was delicious, but, alas, is just not a bread replacement. These easy low carb rolls are basically begging to be eaten with a fruity sugar free jam for breakfast. Or add a savoury filling for a good old German Abendbrot.
★ Tried this recipe? Give it a star rating below!★
★ STAY IN TOUCH on FACEBOOK, PINTEREST and INSTAGRAM for more great food and join my NEWSLETTER for the latest updates and a FREE EBOOK.★
Recipe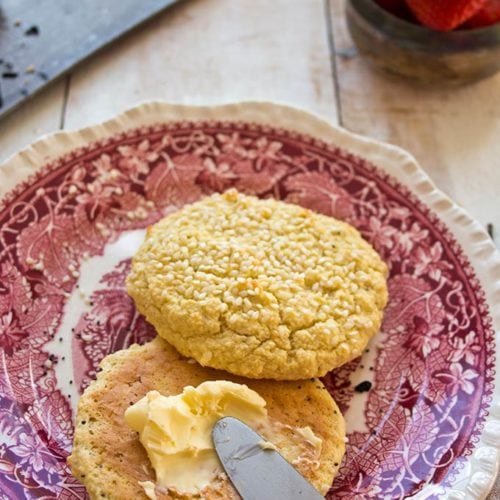 Easy Low Carb Rolls (fail-safe recipe!)
from Sugar Free Londoner
Easy low carb rolls are perfect for breakfast or as a burger bun. These gluten free, keto rolls taste soft and pillowy, toast well and are absolutely fail-safe.
Note: The servings slider only changes the first amount in each line and not any subsequent amounts. Please make your own calculations where necessary.
Ingredients
¼

cup / 4 tablespoon

almond flour

¼

cup / 4 tablespoon

coconut flour

4

eggs

4

tablespoon

butter

melted

1

teaspoon

baking powder

optional: sesame/poppy/nigella seeds
Instructions
Whisk all ingredients until you have a smooth batter. Season with salt

Let the mixture stand a couple of minutes to let the flours absorb the moisture

Spoon 8 heaps of batter onto a pan lined with baking paper and flatten into round shapes

Sprinkle with seeds, if using

Bake at 180 Celsius/356 Fahrenheit for ca 12 minutes or until slightly browned on top.
Nutrition
Calories:
244
kcal
Total Carbohydrates:
6.4
g
Protein:
9.7
g
Fat:
20.6
g
Saturated Fat:
9.5
g
Polyunsaturated Fat:
1.4
g
Monounsaturated Fat:
5.1
g
Cholesterol:
217
mg
Sodium:
80
mg
Potassium:
72
mg
Fiber:
4.8
g
Sugar:
1
g
This post contains affiliate links. If you click on one of these links and purchase a product, I may earn a small commission, at no extra cost to you. Thank you for supporting Sugar Free Londoner.