Thai chicken green curry is a quick, easy and tasty main meal. Great with cauliflower rice!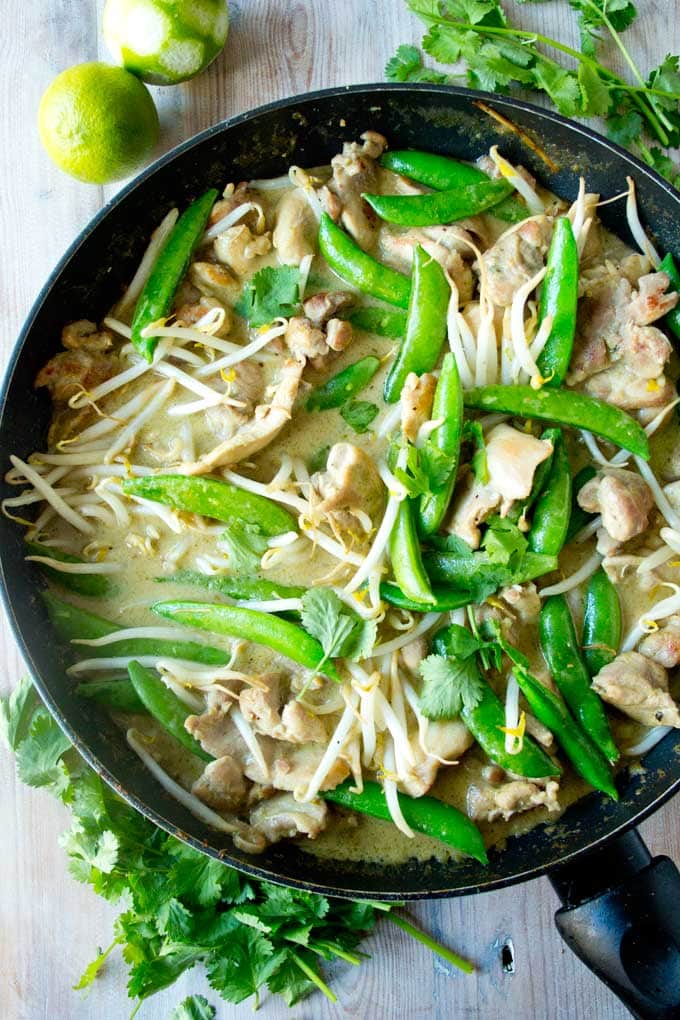 Do you sometimes get tired of your regular lunch and dinner recipes, however delicious they are?
I do.
Well, it may be an idea to take a break from your food timezone.... and try this Thai chicken green curry.
In this house, sausages, burgers, salmon, fish pie and roast chicken make almost weekly appearances. They are like trusted old friends and eclipsed in frequency only by scrambled eggs (which are eaten over here for breakfast, lunch and dinner). In the last few weeks, we've had quite a few turkey days thrown in - understandably, as it's just been Christmas.
Guys, we needed to mix things up with something more exciting. Green curry!
If you happen to be Thai yourself, green curry might be one of those dull weekly regulars chez vous. You've just had one yesterday and another 3 days before that and right now, you're suppressing a yawn. Dear Thai reader, I apologise. This chicken green curry recipe is for the rest of us who are in desperate need of a taste explosion.
Thai food is the most wonderful mix of spicy, fresh and tangy. And even better, it's so easy and quick to prepare!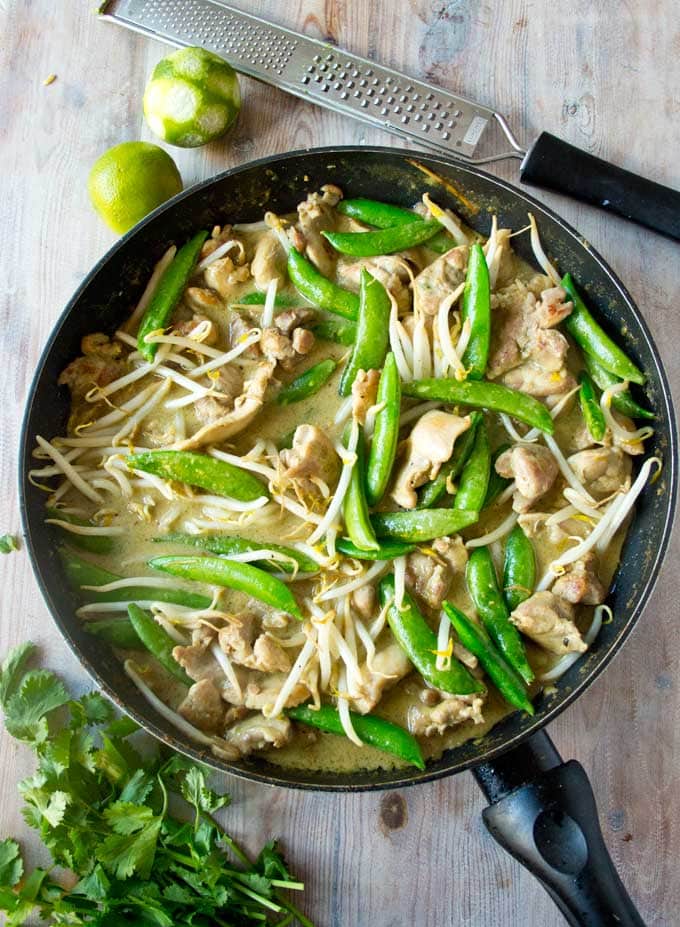 Red and green curry are my personal two favourites. The main ingredients you need to get hold of are meat or seafood, veggies, coconut milk and an authentic curry paste. You can make the paste yourself, of course, but to a palate relatively untrained in Thai haute cuisine, shop-bought is absolutely fine.
As a rule of thumb, green curry is milder than red curry, so if you intend to serve Thai curry to children, you may want to stick to green.
The rest is freestyle!
Meat: I used chicken thighs, cut into bite-sized pieces. Chicken breast tastes great here too - it comes up milder in taste and is softer, too. You could even use beef, pork or prawns.
Vegetables: I used sugarsnap peas and beansprouts, but I've made curry with green beans, broccoli, spinach leaves, green and yellow peppers, mushrooms, cabbage and cauliflower. Aubergine goes well with beef. I'm not saying these choices are authentic. But they work!
Coconut milk: No way around that. Next time you shop, stock a few cans next to your tuna and tomato tins. They always come in handy. Great for desserts, too!
And to finish: Get your paste. Some fresh chilli, if you like it hot. A bit of garlic. Get hold of some fresh lemongrass stalks. If you can't find those, use kaffir lime leaves. Most larger supermarkets stock them. You could add some Thai basil, or some fish sauce, as suggested in the recipe. Definitely add lime zest and juice (lime works better than lemon here). And don't forget a big handful of fresh coriander. Zzzzzzing!!!!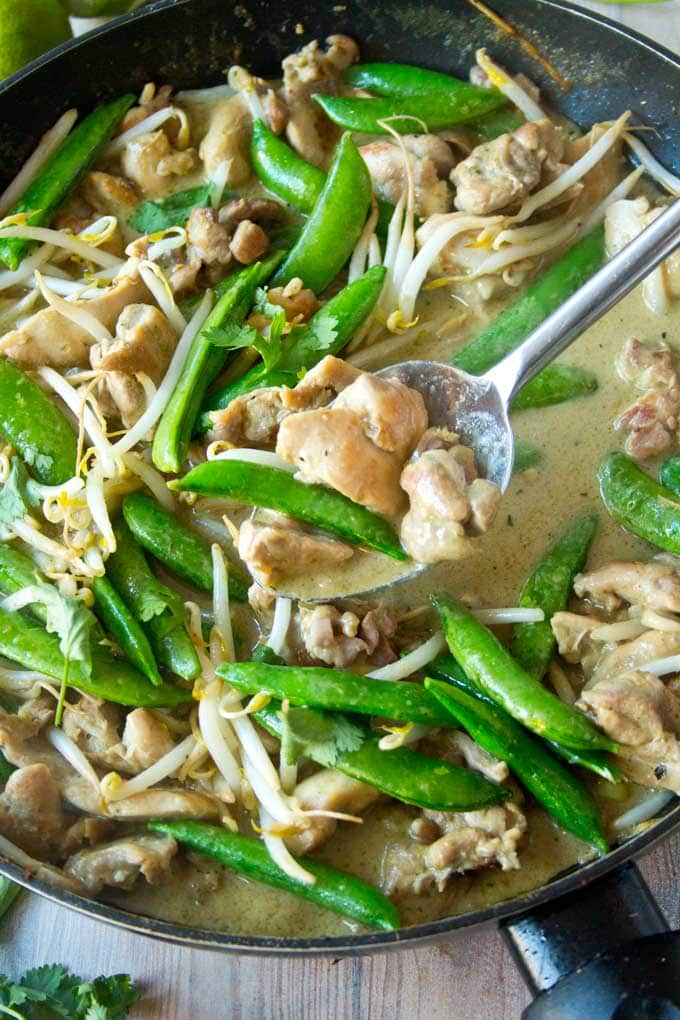 Chicken green curry tastes great over cauliflower rice - and it could be on your lunch or dinner table in 15 minutes.
Tried this recipe? Give it a star rating below!
★ STAY IN TOUCH on FACEBOOK, PINTEREST and INSTAGRAM for more great food and join my NEWSLETTER for the latest updates and a FREE EBOOK.★
Recipe
Chicken Green Curry Recipe (Thai)
from Sugar Free Londoner
Thai chicken green curry is a quick, easy and tasty main meal. Great with cauliflower rice!
Note: The servings slider only changes the first amount in each line and not any subsequent amounts. Please make your own calculations where necessary.
Ingredients
700

g

chicken breasts

(or thighs)

1

tablespoon

groundnut oil

2

tablespoon

Thai green curry paste

1

garlic clove

400

ml

coconut milk from a tin

(13.5 oz)

120

ml

chicken stock

(½ cup)

2

lemongrass stalks

chopped

juice of 1 lime

zest of 2 limes

200

g

sugarsnap peas

or green beans

150

g

beansprouts

handful of fresh coriander

to serve

1

teaspoon

Thai fish sauce

(optional)
Instructions
Cut the chicken into bite-sized pieces and fry until browned.

Remove the hard outer leaves of the lemongrass and discard. Chop lemongrass. Add together with the garlic, curry paste and lime zest and fry another couple of minutes.

Pour in the coconut milk, chicken stock and lime juice (and fish sauce, if using). Turn down the heat, cover with a lid and simmer for 10 minutes.

Add the sugarsnap peas and cook another 2 minutes. Then add the beansprouts and cook a further 1 minute (no longer, otherwise they become soggy).

Sprinkle with coriander leaves before serving. Great with cauliflower rice.
Notes
Check the post for recipe variations!
Nutrition
Calories:
452
kcal
Total Carbohydrates:
7.5
g
Protein:
61
g
Fat:
17.1
g
Saturated Fat:
7.6
g
Polyunsaturated Fat:
2
g
Monounsaturated Fat:
3
g
Cholesterol:
158.2
mg
Potassium:
504.6
mg
Fiber:
1.3
g
Sugar:
5.3
g
This post contains affiliate links. If you click on one of these links and purchase a product, I may earn a small commission, at no extra cost to you. Thank you for supporting Sugar Free Londoner.