These Paleo almond low carb crackers are great with dips and the perfect accompaniment to a cheeseboard (or a glass of wine). They are gluten free, Keto and use only 4 basic ingredients!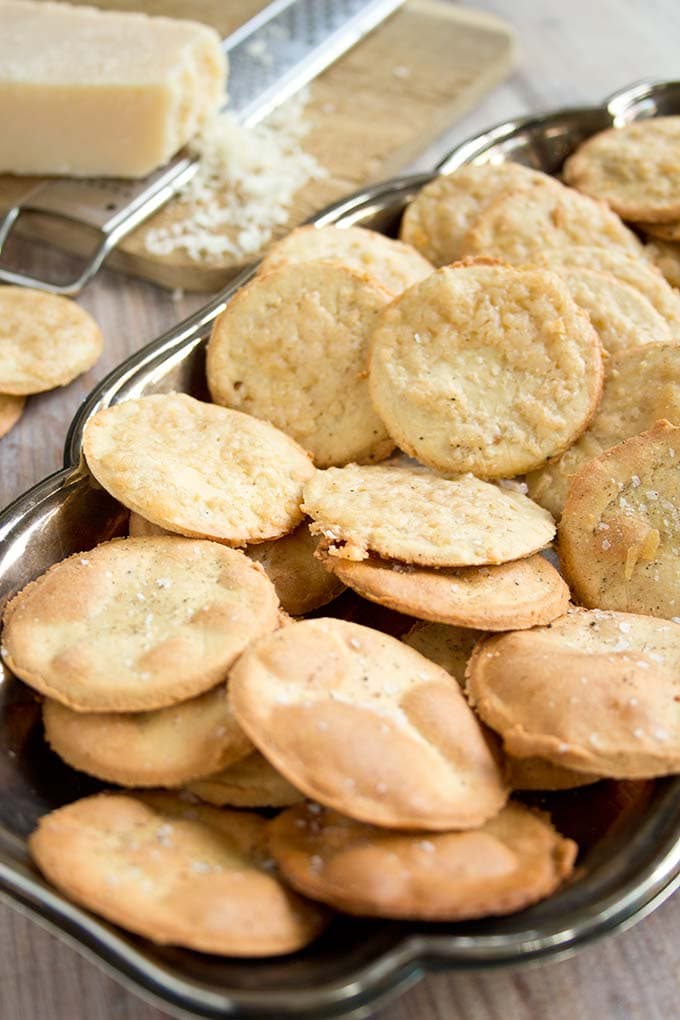 A good crunch gets me excited. When you bake grain free, a really decent crunch can be hard to achieve. But these paleo low carb crackers, they're so crunchy you can hear it next door. For reals!
Quite a few of you have been asking for more almond flour recipes, especially readers who liked the look of my cheese thyme crackers. These crackers are deeeeliciously cheesy and use coconut flour. Coconut flour has a whole range of health benefits and only a mild coconut taste which you can easily mask with a strong taste like cheddar. Unfortunately, some people are simply allergic to it.
This is exactly where these Paleo low carb crackers come in. You guessed it, they're made with almond flour!
Ever since I made the pastry for my low carb chocolate tart, which turned out to be super-crunchy, I have been meaning to adapt the simple crust recipe to make savoury low carb crackers. A little research online naturally revealed a host of almond flour cracker recipes, the earliest of which appears to be this one by Elana's Pantry.
The best recipes are so easy it's almost laughable. In this one, the basic ingredients are almond flour and eggs. You can then add sea salt and pepper, and, if you really want to push the boat out, sprinkle parmesan on top. That's it!
Here's the really important thing: you can make low carb crackers with either almond flour or with ground blanched almonds. Both variants taste great.
But!!!!!
You have to change the amount of egg you use. Almond flour requires 1 egg per cup of flour (or per 100g), ground almonds, which have a coarser texture, only need 1 egg per 2 cups (200g).
What is the difference between almond flour and straight-up ground almonds/almond meal?
Almond meal is made from almonds with skins left on. The texture is coarse and you'll see darker bits in it. The "ground almonds" you find in the baking section of British supermarkets are ground blanched almonds – almonds without their skins. The texture is still coarse. If you have a food processor, you can easily make your own.
Proper almond flour is much, MUCH more finely ground, which makes baked goods fluffier and resemble the texture you get from baking with wheat. There are big differences in the texture of the various almond flour brands, so try a few different ones to see which is your favourite.
In this recipe I used the almond flour by Sukrin, which is produced by cold pressing the almonds. During this process they extract 80% of the fat, which makes the flour taste "lighter" whilst retaining high levels of protein, fibre, vitamins, minerals and antioxidants. (
NOTE TO MY US READERS:  in the US both almond flour and ground almonds are referred to as "almond flour". There are brands that call their products "super-fine" – that's the good stuff you should be looking out for! Bob's Red Mill is a favourite among US based bloggers.
Basically, the only downside of good quality almond flour is that it does not come cheap.
In the picture below, the round crackers are made with almond flour. The ones on the left have melted parmesan added on top, the ones on the silver bowl are with cracked black pepper and sea salt only. The square (or diamond-shaped) crackers are made with simple ground almonds. I grated some pecorino cheese over them.
Both varieties came out really crunchy. You must try to roll out the dough as thinly as possible though – if it gets too thick, you'll lose crunch.
I think the round crackers look prettier, but they obviously take a bit longer to make. If you feel you don't need to impress, just roll out the dough between two sheets of parchment paper. Remove the top paper. Then run a knife or pizza cutter over it before baking to form the cracker size you like. Once the crackers come out of the oven and have cooled down, you can easily separate them. Voila!
My 2 cups of almond flour mix made 40 round low carb crackers weighing in at ca 5 grams each. I did not bother to count the number of ground almond crackers – they came in all kinds of sizes because I cut them in a hurry! Therefore, I've calculated the nutrition for the almond flour version only. If you add parmesan, the fat content rises to 1.2g per cracker – it does not affect the carb content.
Recipe variations 
If you want to experiment with this Paleo cracker recipe, you could also try to add garlic or onion powder or herbs such as thyme or rosemary. I imagine a pinch of cayenne pepper would work well too if you're up for a bit of heat!
For a super simple cracker recipe, check out these easy parmesan crisps!
★ STAY IN TOUCH on FACEBOOK, PINTEREST and INSTAGRAM for more great food and join my NEWSLETTER for the latest updates and a FREE EBOOK.★ 
Paleo Almond Low Carb Crackers
Paleo almond low carb crackers are great with dips and the perfect accompaniment to a cheeseboard (or a glass of wine). They are gluten free, low carb and use only 4 basic ingredients!
Print
Pin
Rate
As an Amazon Associate I earn from qualifying purchases.
Ingredients
200

g / 2 cups

almond flour

or ground almonds

2

medium eggs

1 egg only if using ground almonds

salt

pepper

optional: 40g / 1/2 lightly packed cup grated parmesan
Instructions
Preheat the oven to 180 Celsius / 350 Fahrenheit.

Pulse the almond flour and 2 eggs / ground almonds and 1 egg plus pepper and salt in your food processor until a dough forms. You could also use a stick blender to do this.

Roll out the dough THINLY between 2 pieces of parchment/baking paper. I found that the almond flour dough was quite firm, so if you decide to make the almond flour version, use some elbow grease to flatten it.

Remove the top paper.

Use a small glass or cookie cutter to cut the dough into shapes. I used a ca 5 cm diameter glass to make 40 round crackers (they weighed around 6 grams each). Place them on a baking sheet lined with baking paper. A quicker way is to pre-cut the dough into squares or diamonds with a knife or pizza cutter. In this case, you leave the dough on the same baking paper you have rolled it out on.

If using parmesan, grate 1/2 lightly packed cup or 40g and sprinkle over the crackers.

If making without parmesan, sprinkle over some extra sea salt and cracked black pepper.

Bake at 180 Celsius/350 Fahrenheit for 12 minutes or until lightly browned.

Remove from the oven and leave to cool down.

If you have opted for pre-cutting the dough, you can now easily break the crackers into single pieces.
Notes
The crackers can be kept in an airtight jar for up to a week.
Nutrition
Calories:
11.2
kcal
|
Carbohydrates:
0.3
g
|
Protein:
0.6
g
|
Fat:
0.9
g
|
Cholesterol:
8.2
mg
|
Sodium:
3.1
mg
|
Potassium:
3
mg
|
Fiber:
0.2
g
|
Sugar:
0.1
g
The post "Paleo Almond Low Carb Crackers" was first published in May 2017 and updated in September 2018 with new tips on how to make this recipe.
(This post may contain affiliate links. When you click on a link like this and purchase a product, I receive a small commission – at no extra cost to you. This money helps me with the running costs of my site.)