These flourless keto peanut butter cookies are so easy to make! They require only 4 ingredients and you simply stir them together with a fork. Perfect for any low carb or keto diet. Gluten free and sugar free!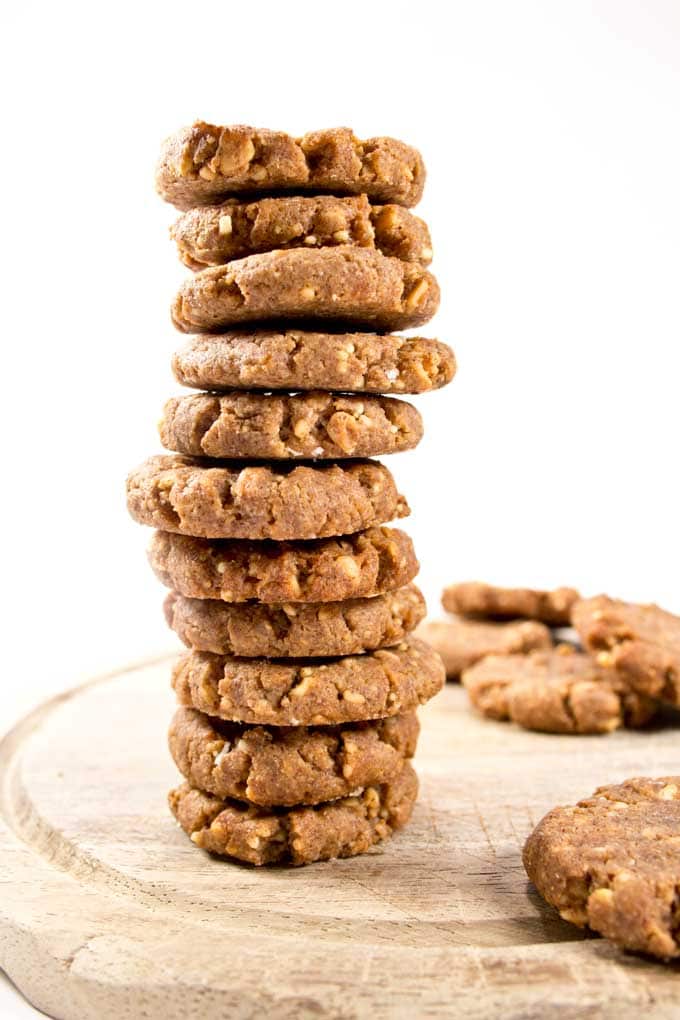 I regularly make these cookies and they always disappear in a flash. My whole family goes crazy for them, even my teenage carb lovers.
There are a number of reasons why you've got to try these keto friendly cookies ASAP - beyond the fact that they are only 1.6g net carbs per cookie.
Jump to:
💕 Why you'll love them
1. NO SPECIAL EQUIPMENT
To make this keto peanut butter cookie recipe, you need NO SPECIAL EQUIPMENT. In fact, you can mix the dough in a bowl with a fork. And then lick it (the fork).
See? No labour-intensive cleaning of blenders/food processors and more fun!
2. QUICK ASSEMBLY
5 minutes prep time and 15 minutes total time from start to finish! All ingredients go in as-is, and in any order you like.
The only thing I would recommend that you keep your ingredients at room temperature.
3. SUPER SATISFYING TASTE
The cookies are chewy, crunchy and taste of peanut butter. They are filling and so satisfying.
Ingredients
Here are the ingredients you need to make these keto cookies: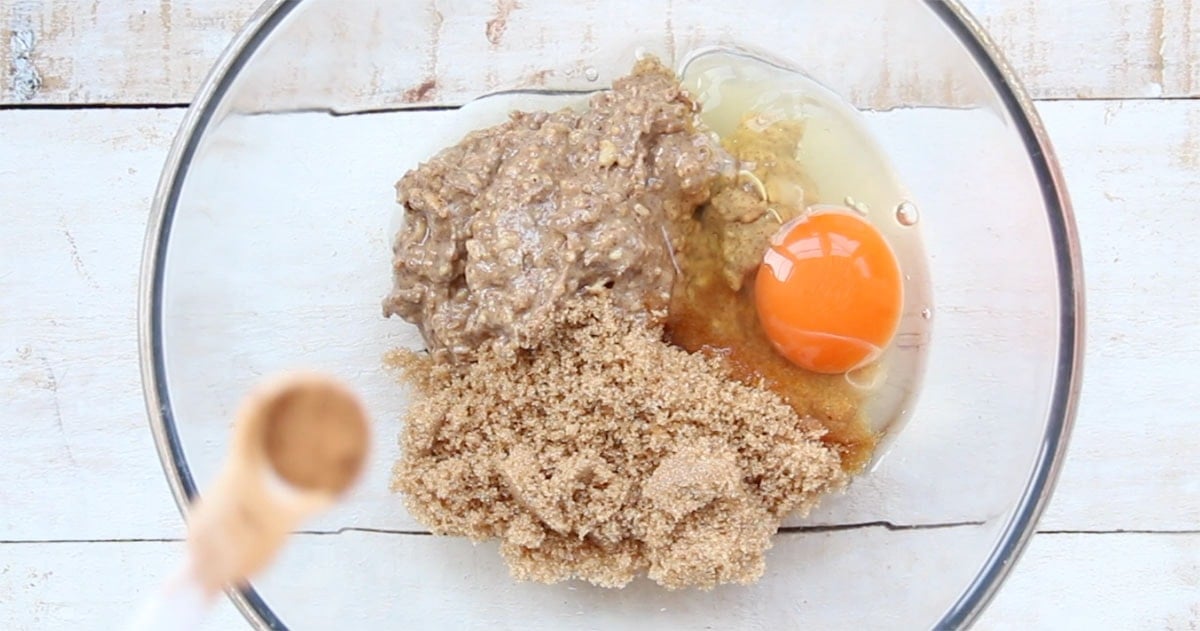 PEANUT BUTTER. Always check the label! Often, brands add palm oil and sugar. Choose a brand that contains only one ingredient - peanuts. Try Meridian or Whole Earth.
Sugar-free SWEETENER. I used Sukrin Gold, which is a brown sugar substitute blend made from erythritol and stevia. But really, any sweetener will work. You could choose a monk fruit sweetener such as Lakanto, xylitol, allulose or Swerve.
EGG. Use a large, room temperature egg.
SEA SALT and CINNAMON. Both are optional, but if the peanut butter does not contain salt, I recommend to sprinkle sea salt on top or mix it into the cookies.
See the recipe card for full information on ingredients and quantities.
Variations
Here are ideas for recipe variations:
Add sugar free chocolate chips to the batter
Dip one half of the cookie in melted dark chocolate (I recommend a minimum of 85% cocoa solids)
Use smooth peanut butter instead of crunchy
Add 1 teaspoon of vanilla extract
Use ½ teaspoon baking powder for a fluffier cookie
Tiger cookies: Separate the dough into two mixing bowls. Add 1 tablespoon cocoa powder to one bowl and incorporate. Then, roughly blend the two doughs together and proceed as per recipe.
👩‍🍳 Instructions
This section contains step by step instructions and photos that show how to make this recipe. See the recipe card for full information on ingredients and quantities.
Let me show you how to make the best keto peanut butter cookies.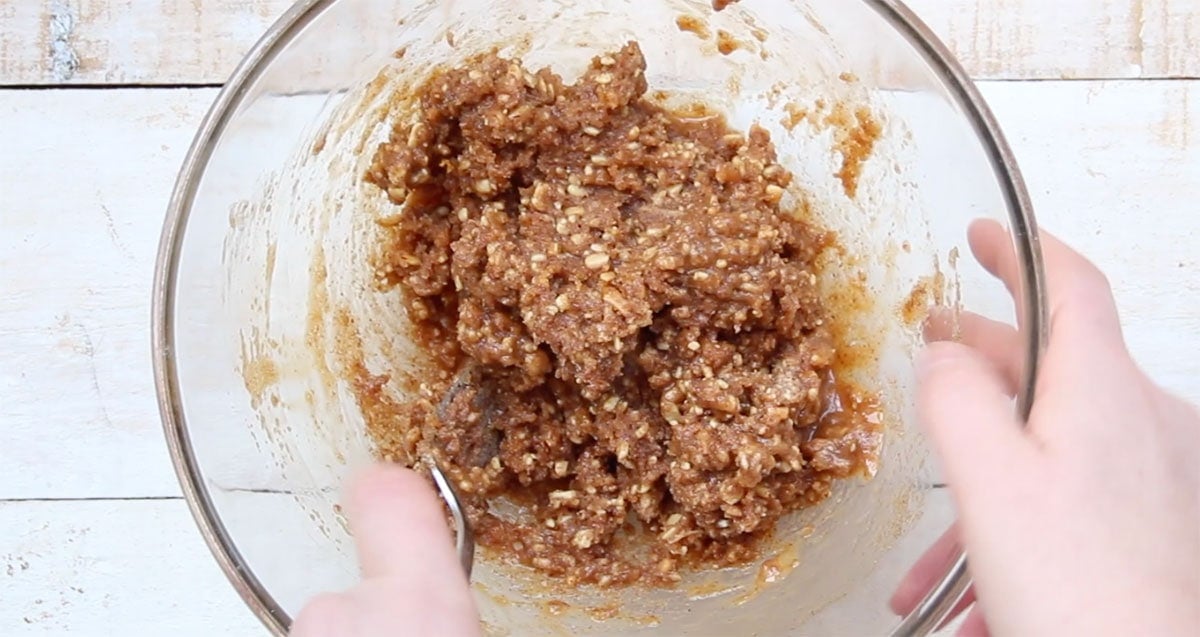 In a mixing bowl, stir together all ingredients with a fork.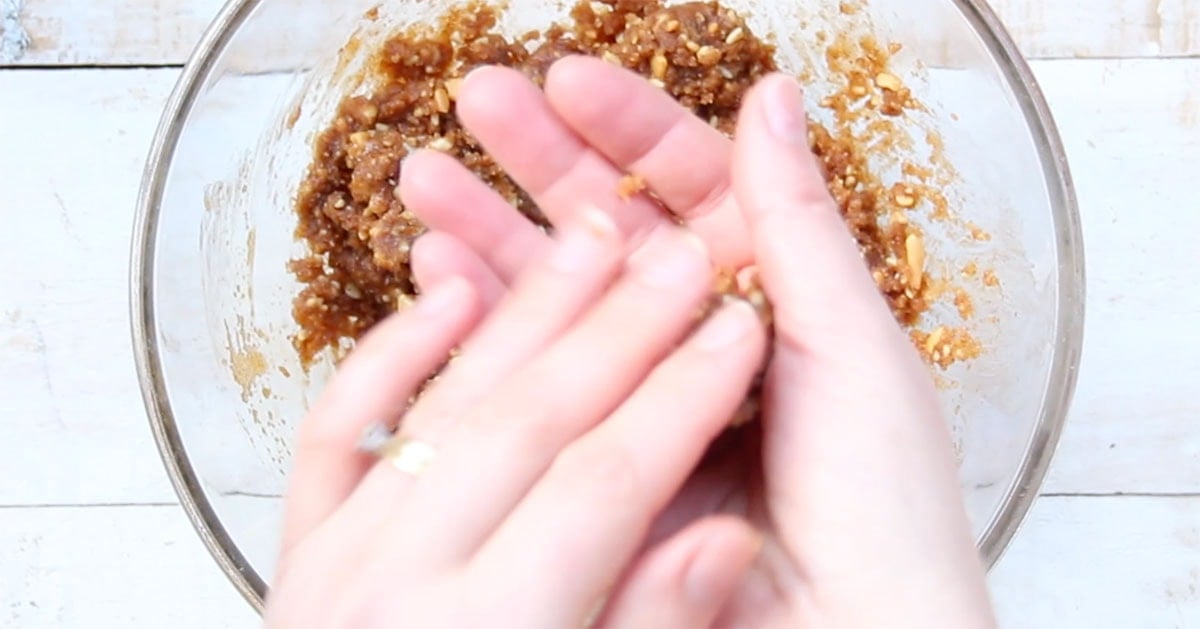 Form small dough balls with your hands and place them on a parchment paper lined cookie sheet or on a silicone baking mat. Alternatively, use a cookie scoop and simply scoop the dough on the baking sheet.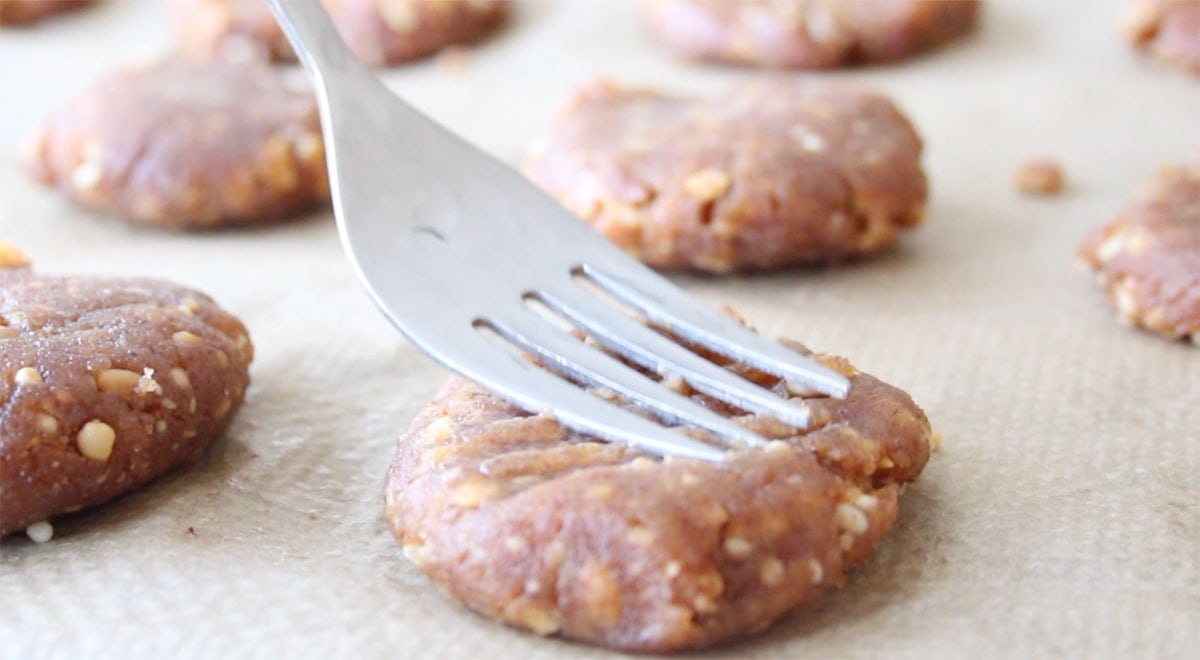 Now comes the ONLY ever-so-slightly challenging part of this recipe: the creation of the pretty criss-cross pattern on top of the cookie. Wet a fork and press it onto the balls to create a cookie.
Clean/wet again as you work your way through the batch. This prevents the cookie dough from sticking to the fork.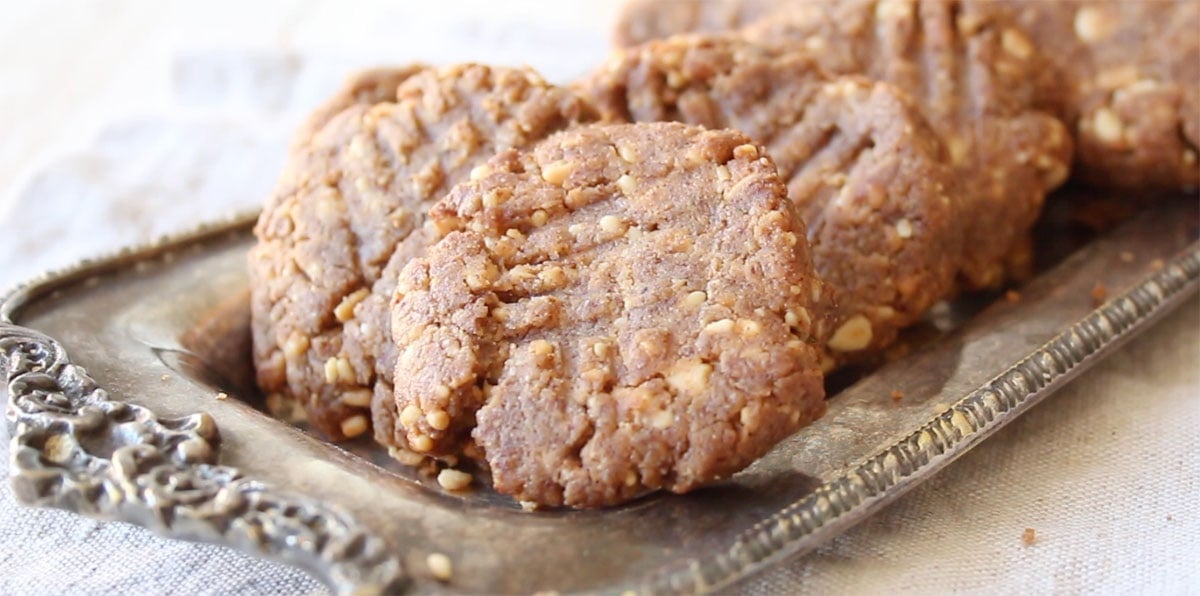 Bake and enjoy! The cookies will be soft when freshly out of the oven. Patience! They firm up as they cool down.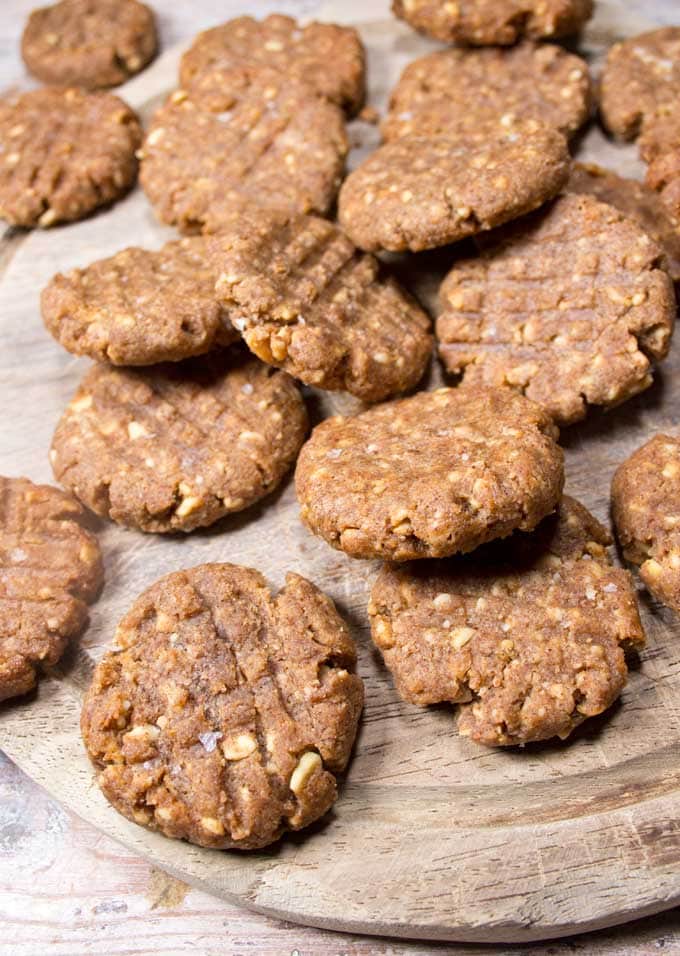 FAQs
Can I use different nut butters?
Yes. This recipe works with almond butter, cashew butter or any other nut or seed butter. In fact, I used it to create my 3 ingredient Keto Almond Butter Cookies!
How do I make soft cookies?
If you want a cookie that's soft in the centre, bake for around 8 minutes.
How do I make crunchy cookies?
If you prefer a crunchy one, leave it in the oven for 10 minutes.
How can I make peanut butter at home?
To make homemade peanut butter, you need a food processor or high speed blender. Simply blend the peanuts for a few minutes on high speed until the peanuts release their natural oils and you have a smooth butter. Add in some crushed peanuts for crunchy peanut butter.
Storage
Store in an airtight container at room temperature for up to 2 weeks. If stored in the fridge the cookies will keep fresh for 3-4 weeks.
You can also store them in the freezer for up to 3 months. It's best to freeze them on a parchment paper lined baking tray and then transfer them into a ziplock bag. Defrost overnight.
Related Recipes
Sugar Free Coconut Flour Peanut Butter Cookies. Adding coconut flour or almond flour to the dough makes the cookies soft and fluffy.
Almond Flour Peanut Butter Cookies. This is another popular recipe. Almond flour adds another layer of flavor.
Keto No Bake Peanut Butter Cookies. If you leave out the egg it's possible to create the most delicious no bake cookies.
P.S.: If you love peanut butter as much as I do, you should definitely also check out this chocolate peanut butter freezer fudge or these yummy Low Carb Peanut Butter Protein Bars. Equally simple and equally delicious.
Fun fact - did you know a peanut is not a nut but a legume? True story, but really. In my book, peanuts are welcome to live alongside almonds, pecans and the like. Let a nut be a nut.
Tried this recipe? Give it a star rating below!
★ STAY IN TOUCH on FACEBOOK, PINTEREST and INSTAGRAM  for more great food and join my NEWSLETTER for the latest updates and a FREE EBOOK.★ 
Recipe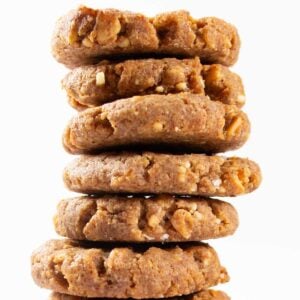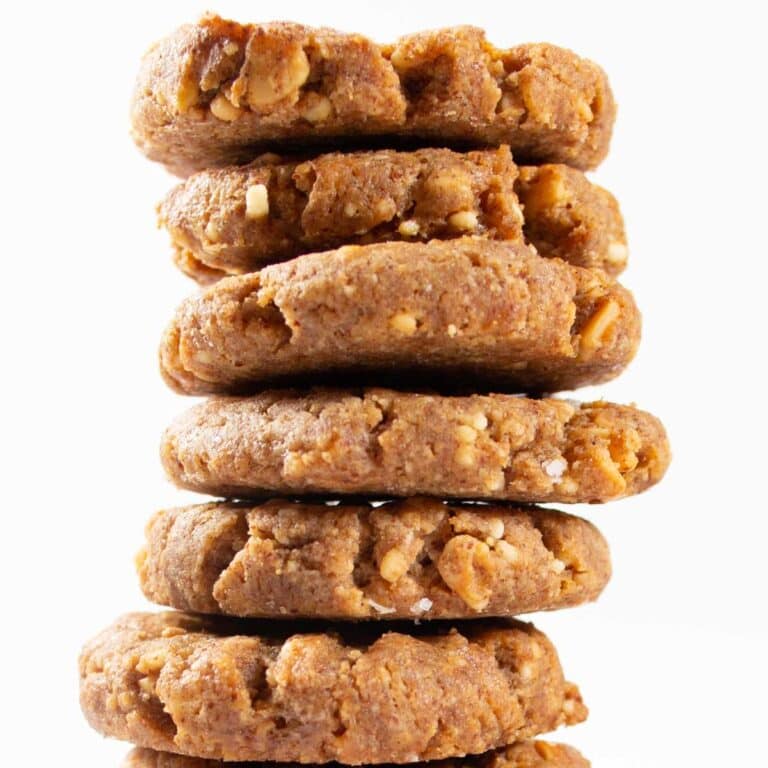 Low Carb Keto Peanut Butter Cookies
from Sugar Free Londoner
These flourless Keto peanut butter cookies are ready in no time at all! All you need for this super simple low carb cookie recipe are 4 ingredients.
Note: The servings slider only changes the first amount in each line and not any subsequent amounts. Please make your own calculations where necessary.
Instructions
Preheat oven to 180 Celsius / 350 Fahrenheit.

Put all ingredients in a bowl and mix with a fork.

Roll small balls of dough (ca 15g each) with your hands (or use a small cookie scoop) and flatten them on a baking sheet.

Wet a fork and press on cookies to create a criss cross pattern.

Bake 8 -10 minutes, until the edges are firm. (8 minutes = soft centre, 10 minutes = overall crunchy)

Let cool completely before eating. They are very soft when just out of the oven, but will become crunchy once cooled.

Store in an airtight container.
Notes
1.6 g net carbs per cookie. Makes 20 cookies. 
Buy peanut butter that contains 100% peanuts and nothing else. If you have a food processor, you can even make your own.
I mixed a bit of sea salt into the dough and sprinkled a bit more on top. It's the salted caramel effect - sweet and salty together are just crazy good.
Lakanto Golden is a great sweetener option for this recipe. Use the code SUGARFREE to get a 15% discount.  
Nutrition
Calories:
78
kcal
Total Carbohydrates:
2.3
g
Protein:
3.7
g
Fat:
6.9
g
Saturated Fat:
1.1
g
Fiber:
0.7
g
Sugar:
1.4
g