This 5 ingredient keto chocolate cake is the pinnacle of sugar free desserts! It is incredibly moist, rich and packed with chocolate flavor. Even better, it has only 2.5 net carbs per slice.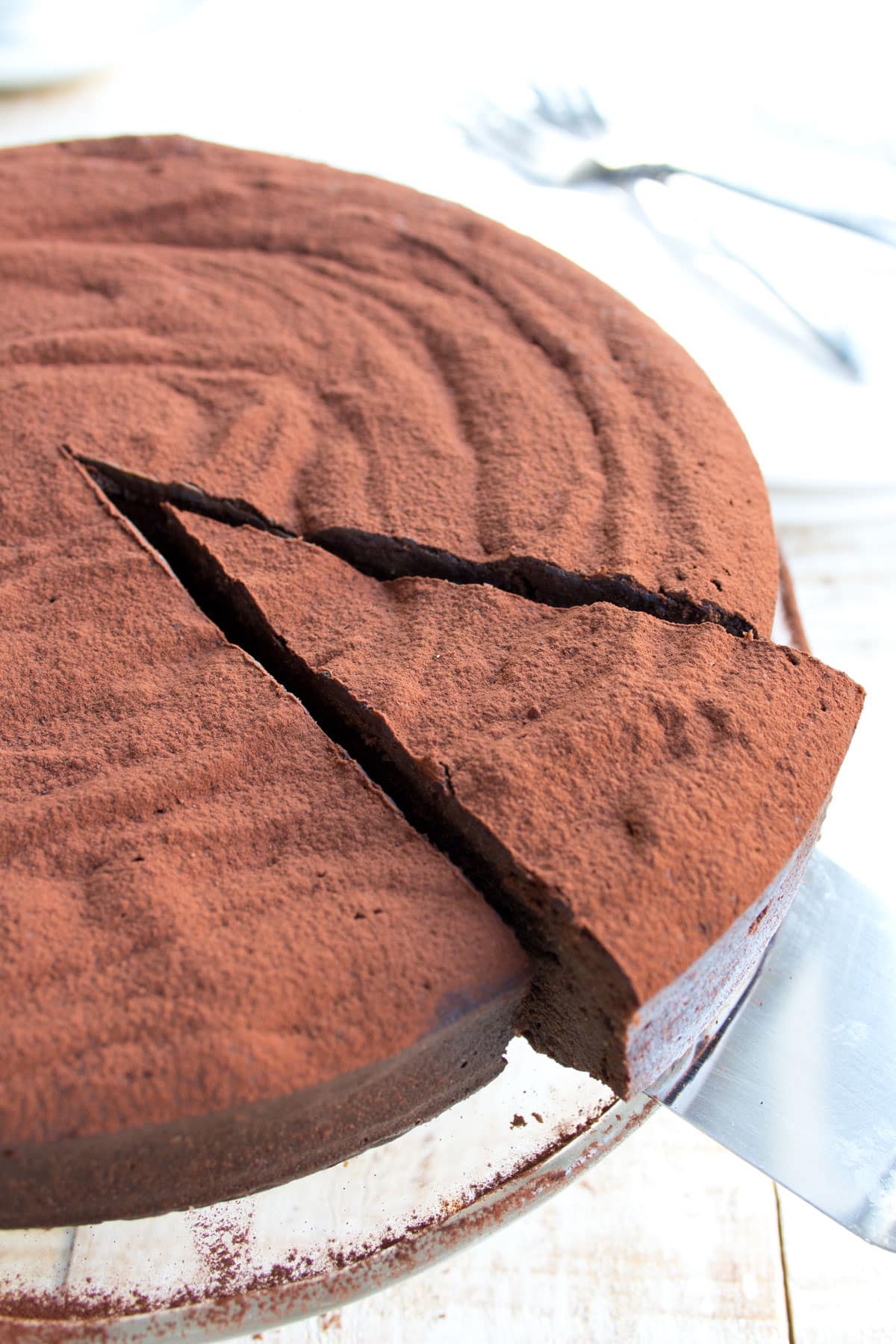 Do you want to see everyone at your table sink into silence, occasionally interrupted by a contented sigh? Serve this low carb chocolate cake and watch the magic happen.
I love all the recipes I post on this site, but this recipe is special. That's because it's more than just a chocolate cake. It's a crazy good, wonderfully rich Keto chocolate cake.
This Keto cake does nothing by halves. It contains as much chocolate as it can possibly handle, a generous amount of grass-fed butter and it is just on the right side of sweet. Basically, it is a Keto dream dessert.
It will satisfy the cravings of any chocolate lover. And it also makes a great gluten-free birthday cake!
Jump to:
Low carb chocolate cake essentials
There are 2 ingredients that increase carbs and sugar in a traditional cake: the wheat flour and, of course, the sugar.
As grains are a no-no on a Keto diet (as well as on a sugar free / low carb diet), most Keto cake recipes use either almond flour or coconut flour or both.
This cake uses only a very small amount of almond flour, which makes it super fudgy, almost like a brownie.
And of course, I'm using a sugar substitute in place of sugar.
For this cake, I've chosen an erythritol/stevia blend. Erythritol is a polyol and cannot be absorbed by our body. Therefore, it's essentially zero carb and does not raise blood sugars.
You can replace the erythritol in this recipe with xylitol, monk fruit sweetener, allulose or with Splenda. If you're using Splenda, be sure to measure using cups as it's lighter in weight than erythritol. And if you're using xylitol, keep it away from dogs. It's highly toxic to them!
Ingredients
It's hard to believe, but you only need 5 ingredients to make this cake:
Unsweetened chocolate
Eggs
Powdered Sweetener
Almond Flour
Butter
...and a pinch of salt.
Important: With such few ingredients, they MUST be the best possible quality, especially the chocolate.
There is a range of artisan chocolate makers which produce unsweetened chocolate. The brand I used, Montezuma's, is available at Sainsbury's, in organic shops or online. In the US you can go for a brand like Ghirardelli.
I don't recommend choosing unsweetened Baker's chocolate for this cake. It has the tendency to seize when you melt it and simply does not taste as creamy and mellow as quality chocolate.
How to make Keto chocolate cake
This section contains step-by-step instructions and photos that show how to make this recipe. See the recipe card for full information on ingredients and quantities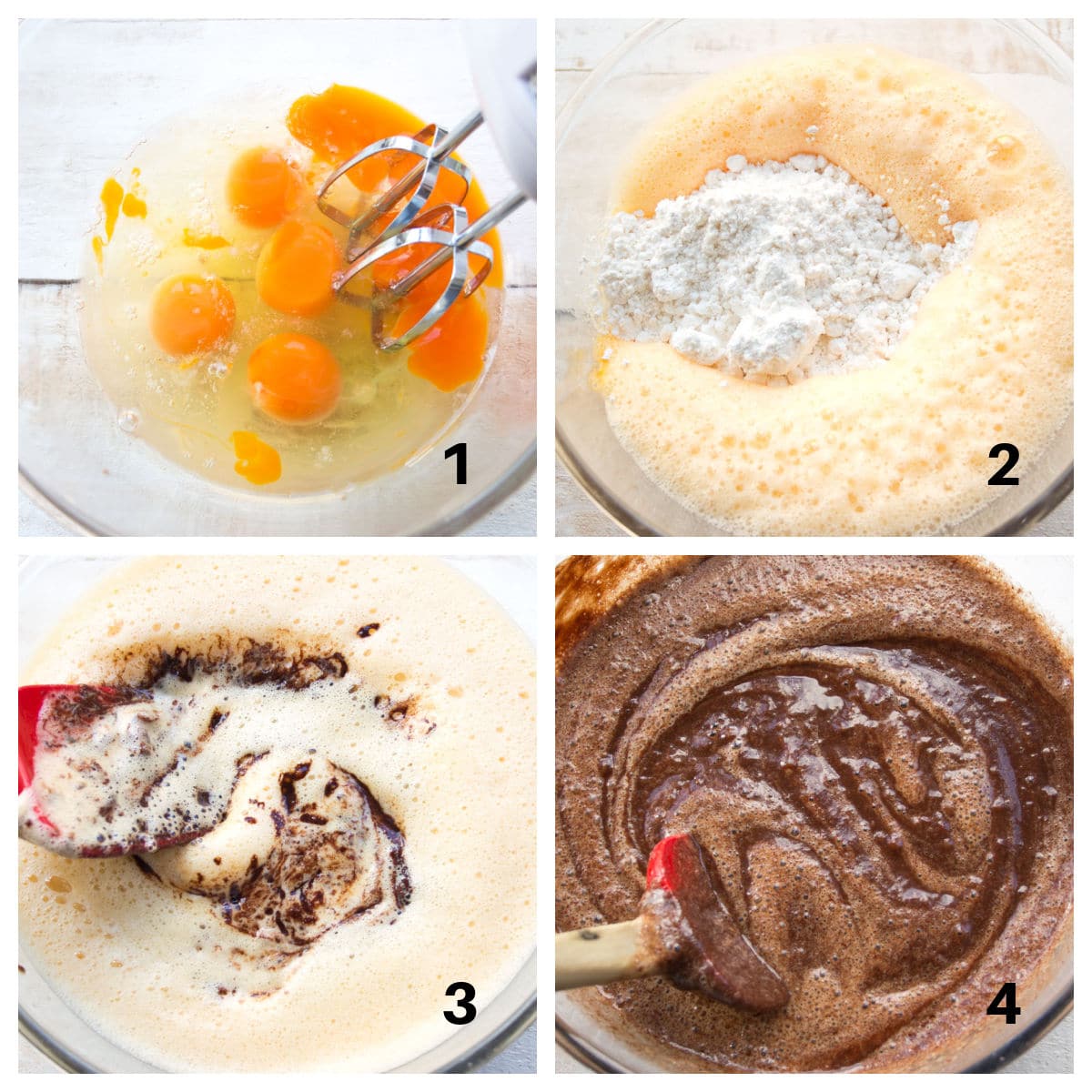 1.) Whisk the eggs with a hand mixer in a large mixing bowl until they have doubled in size and are frothy.
2.) Add the powdered erythritol and whisk again until well-combined.
TASTE the cake batter and add more sweetener if necessary. I don't have much of a sweet tooth, so you may prefer it a little sweeter than I do.
3.) Melt butter and chocolate and stir until combined. You can do this in a microwave or on the stove - but slowly and gently. TAKE YOUR TIME!!! If the chocolate gets too hot too quickly, it can seize or separate.
Then add the mix to the bowl and fold it in with a spatula or spoon.
4.) See how it's slowly coming together?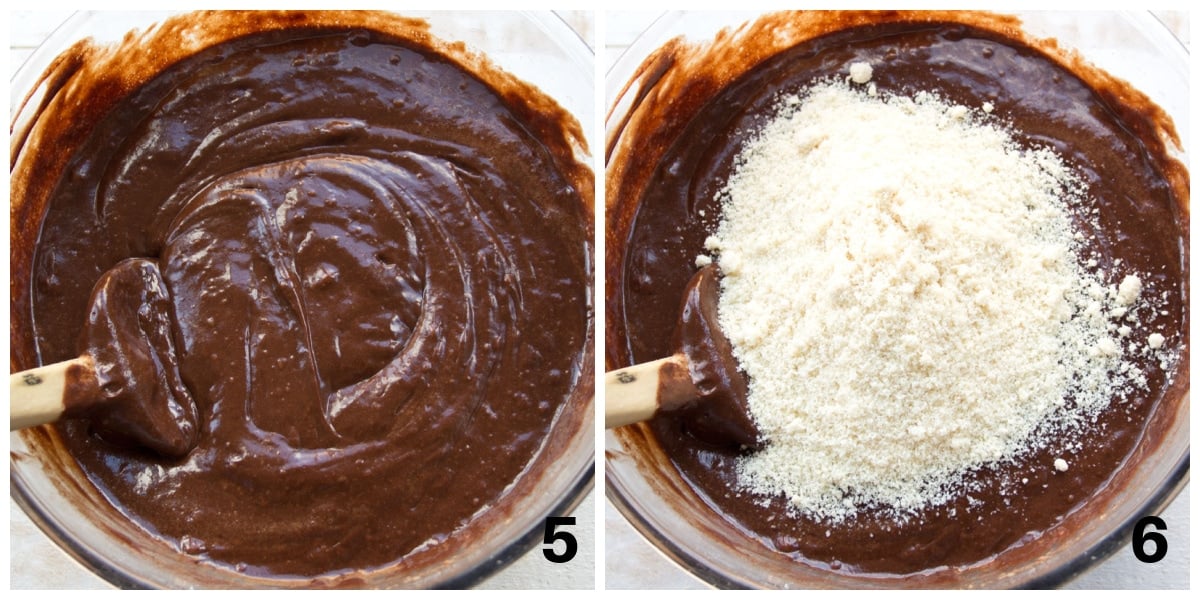 5.) Continue stirring until the mixture is fully combined - gooey, creamy goodness!
6.) Lastly, add the almond flour and stir until it is evenly distributed.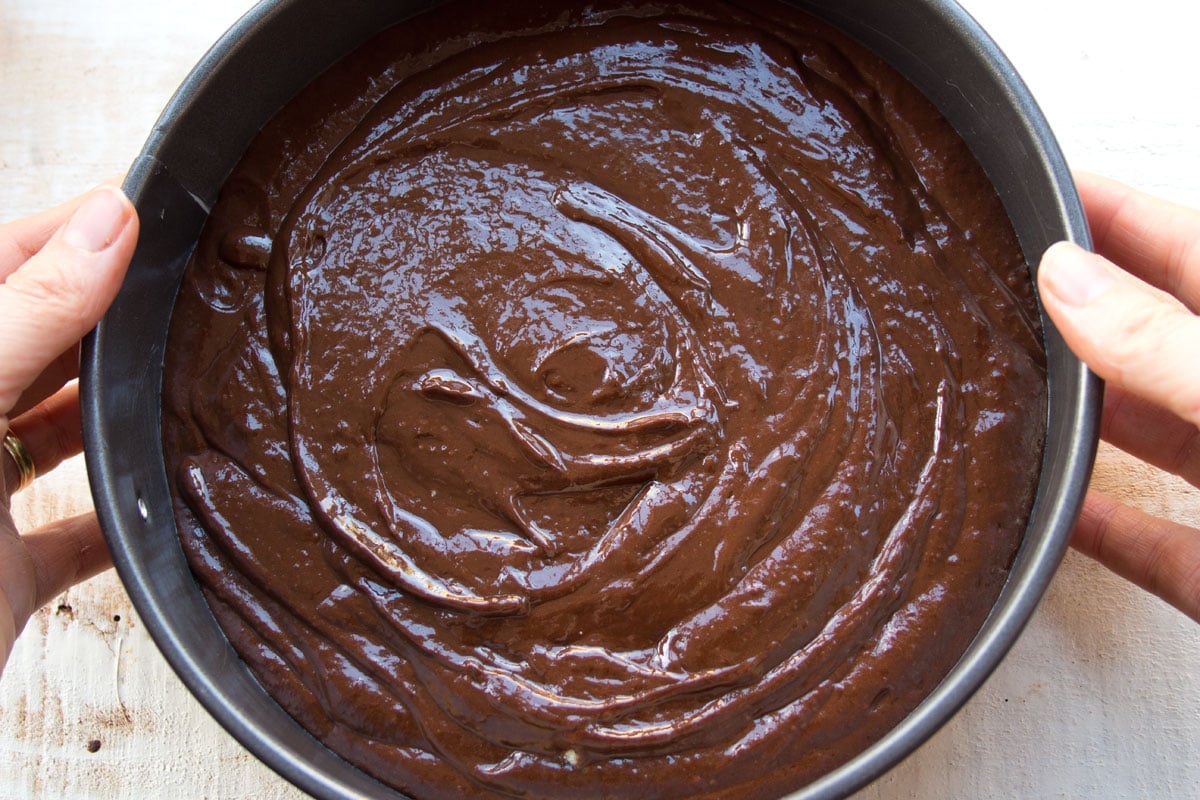 7.) Get yourself a springform pan (I used a 20 cm / 8 inch) and line the bottom with parchment paper. Grease the sides with butter or oil and pour in the batter. Bake at 170 Celsius / 340 Fahrenheit on the middle shelf for 30 minutes.
Let the cake cool completely before cutting.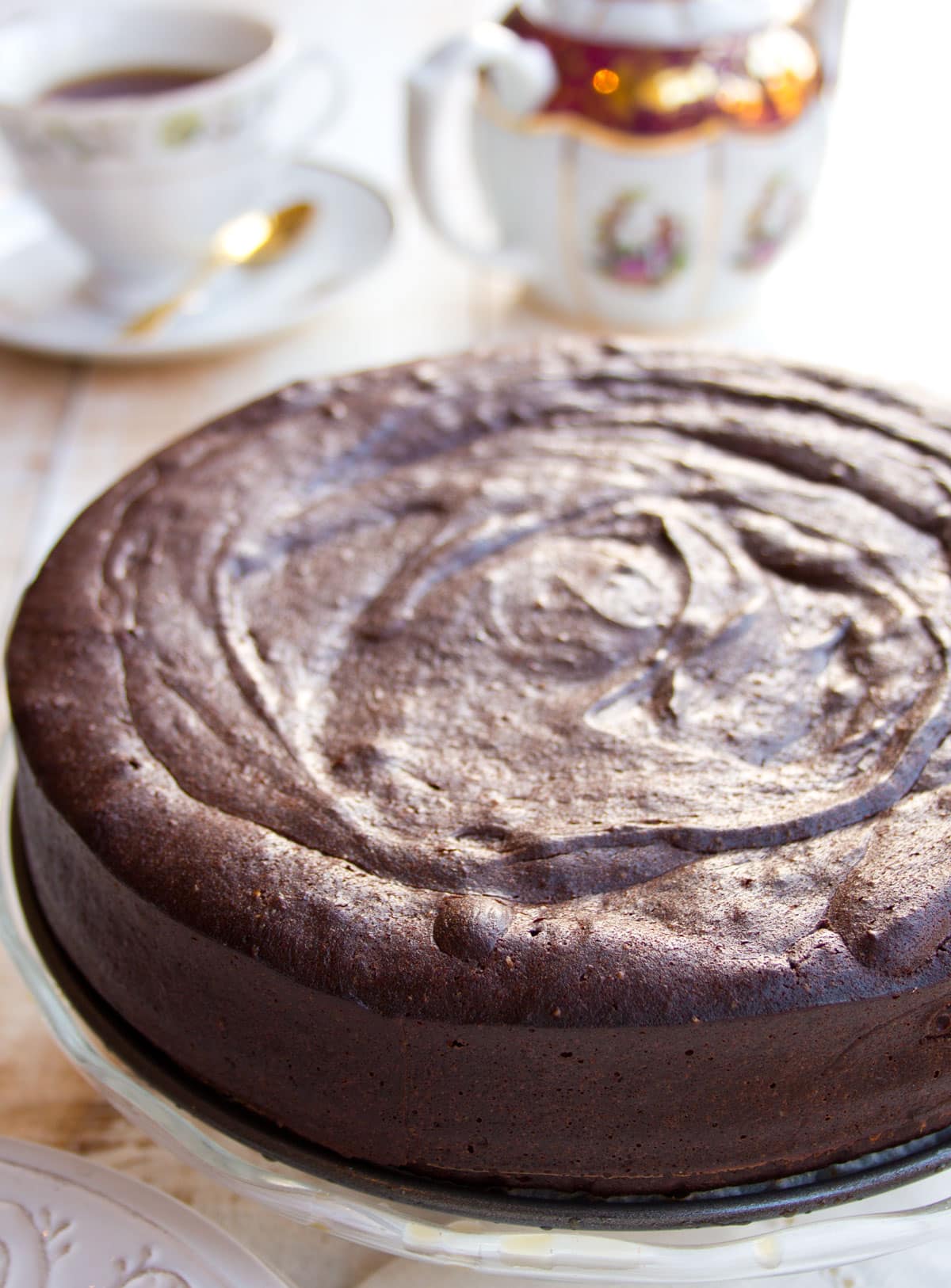 Expert Tips
This is what you need to know to make the recipe perfectly:
Tip #1: Room temperature eggs. Take them out 30 minutes before starting on the cake. Or, warm them up in a bowl with hot water.
Keeping the eggs at room temperature prevents the mix from splitting and becoming lumpy once you add the warm chocolate and butter.
Tip #2: Sweetener must be powdered. You don't want any crunchy bits in your gooey, moist chocolate cake!
Blend granulated sweetener it in a food processor or with the attachment of a stick blender to turn it into a powder.
Tip #3: Take your time melting the chocolate.
Microwave option: When you melt the butter and chocolate in the microwave, do so in 30 second bursts. Mine was mostly melted after 90 seconds in total.
I then left the bowl on the kitchen counter and stirred it from time to time. This caused the rest of the chocolate to melt slowly.
Water bath option: Place the bowl with your chocolate and butter in a heat proof bowl over a pot with boiling water.
Once the chocolate is half-melted, remove the bowl and let it fully melt by stirring occasionally.
Tip #4: Baking at high altitude. If you are baking at high altitude, increase the oven temperature by 10 Celsius / 25 Fahrenheit.
Recipe Variations
SPICE IT UP: To give your keto cake a festive vibe, you could add 1 teaspoon vanilla extract, 1 teaspoon cinnamon plus some cardamom, nutmeg and a pinch of cloves.
For an extra kick, try adding a pinch of chilli! Or grate the zest of 1 orange into the batter.
MAKE IT NUTTY: Add nuts for a bit or crunch - walnuts or pecans would work well.
FLUFFY TEXTURE: This cake is supposed to be fudgy. For a slightly fluffier texture, you could add 1 teaspoon of baking powder or ½ teaspoon of baking soda.
DAIRY-FREE: Replace the butter with coconut oil.
NUT-FREE: Use ¼ cup coconut flour in place of the almond flour.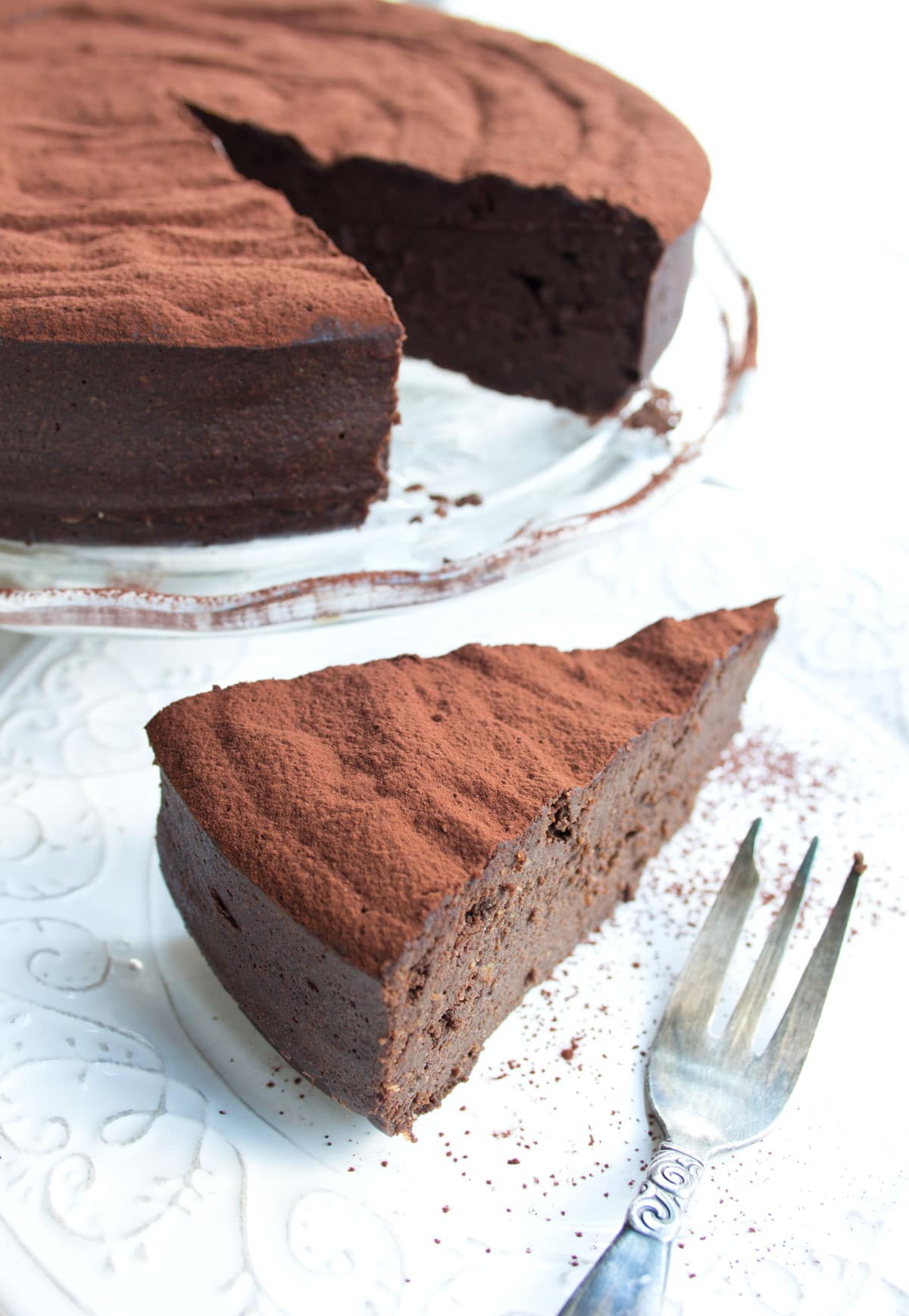 Toppings
I'm a bit of a purist, so I simply dusted my cake with 100% unsweetened cocoa powder and served on a pretty cake stand.
You could also dust the low carb cake with powdered sweeter.
If you want to go the whole nine yards, make the cream cheese frosting from my keto cupcakes or make a buttercream frosting.
Or how about a quick chocolate ganache? Melt 1 bar (100g) of chocolate and stirring in 3 tablespoon of double / heavy cream and 4 tablespoon powdered sweetener.
You could serve this cake with a dollop of sugar free whipped cream or a scoop of sugar free ice cream.
Recipe FAQs
Can I use cocoa powder instead of chocolate?
No. I don't recommend to replace the chocolate with cocoa powder.
Can I make a layer cake with this recipe?
To make a layer cake, either slice the cake in half or split the batter between 2 cake pans. The baking time should be about 25 minutes.
Let the layers cool completely, then add the keto chocolate frosting as described below.
Can I add a keto chocolate frosting?
Yes! Here are the steps:
Melt 100g / 3.5 oz unsweetened chocolate and 60g / ¼ cup butter.
Stir in 6 tablespoon heavy cream and ⅓ cup / 50g powdered sweetener.
Wait until the mixture has cooled and thickened, then spread over the cake or slice it horizontally and fill in between the layers.
Which cake pan can I use?
I used a 20 cm / 8 inch springform in this recipe. If you only have a standard size 25 cm / 9 inch springform, your chocolate keto cake will be a little flatter, but it still works fine. You may need to reduce the baking time by 5 minutes. Simply check after 25 minutes if the middle of the cake feels firm to the touch.
How can I make a chocolate orange cake?
Add 2 teaspoons of orange extract to the cake batter. I also recommend trying this chocolate orange cake recipe!
Storage
Refrigerator: Store this keto cake in the fridge for 5-6 days. Be sure to keep it in an airtight container. Let the cake come to room temperature before serving.
Freezer: This cake freezes well. Freeze it pre-sliced for up to 3 months. Simply defrost it in the fridge for 48 hours or on the counter for 24 hours.
More Keto Chocolate Desserts
Here is a selection of sugar free chocolate desserts that we love to make:
Tried this recipe? Give it a star rating below!
★ STAY IN TOUCH on FACEBOOK, PINTEREST and INSTAGRAM  for more great food and join my NEWSLETTER for the latest updates and a FREE EBOOK.★ 
Recipe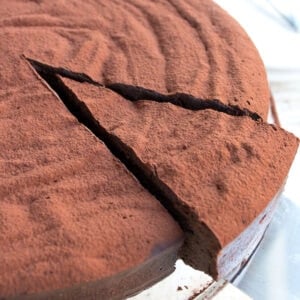 Best Ever Keto Chocolate Cake (Sugar Free)
from Sugar Free Londoner
The ultimate keto chocolate cake recipe! This decadent, fudgy sugar free cake is really easy to make and requires only 5 ingredients. 
Note: The servings slider only changes the first amount in each line and not any subsequent amounts. Please make your own calculations where necessary.
Instructions
Heat the oven to 170 Celsius / 340 Fahrenheit. (If you are baking at high altitude, increase the oven temperature by 10 Celsius / 25 Fahrenheit.)

Melt the butter and chocolate in the microwave (ca 90 seconds - see notes), then stir and wait until dissolved. Alternatively, gently heat in a water bath (a heat proof bowl placed over a pan of boiling water). Set aside.

In a large bowl, beat the eggs until foamy, then add the sweetener and mix well.

Add the melted chocolate and butter along with the almond flour and stir with a spoon or spatula until just combined.

Line the bottom of a 20 cm / 8 inch springform with parchment paper and grease the sides with butter. Pour in the cake batter and bake for approximately 30 minutes on the middle shelf until the top of the cake is firm to the touch, especially in the middle.  

Leave to cool before releasing from the cake tin. Once the the cake is completely cooled, dust with cocoa powder.
Notes
2.5g net carbs per slice. Makes 12 slices.
Wait with dusting the cake until it's completely cooled. If it is still warm, the cocoa powder will melt and become sludgy. 
TAKE YOUR TIME when melting the chocolate. If you overheat it, it can separate into cocoa and cocoa butter and become sludgy. If you melt it in the microwave, break it up as much as possible and heat it in 2 x 30 second bursts, followed by 10 second bursts. Take it out before it's fully melted and just stir a few times, letting the rest melt on its own.  
***Use GOOD QUALITY butter and chocolate. If your products contain additives such as water or oils, you'll end up with fat separating and pooling on top of your cake. 
Check out the recipe variations in the post!
Optional chocolate frosting:  Melt 100g / 3.5 oz unsweetened chocolate and 60g / ¼ cup butter, stir in 6 tablespoon double / heavy cream and ⅓ cup / 50g powdered sweetener. Wait until it has cooled and thickened, then spread over the cake.
I recommend using an erythritol-based sweetener for best results. If you use a different sweetener use the volume measurements stated as sweeteners vary in density. 
Nutrition
Calories:
389
kcal
Total Carbohydrates:
3
g
Protein:
8.1
g
Fat:
37.8
g
Fiber:
0.5
g
Sugar:
0.3
g