Do you want to know how many ml are in a tablespoon? This post teaches you how to make the conversion quickly and accurately.
Recipes often list ingredients in tablespoons. But it is important to know that a tablespoon is more than a type of cutlery. It is an accurate, defined unit for measuring volume.
The quick answer to the question of how many milliliters is in a tablespoon? Around 15 ml.
Read the guide below for a deep-dive answer and a handy conversion chart from tablespoons to ml and ml to tablespoons.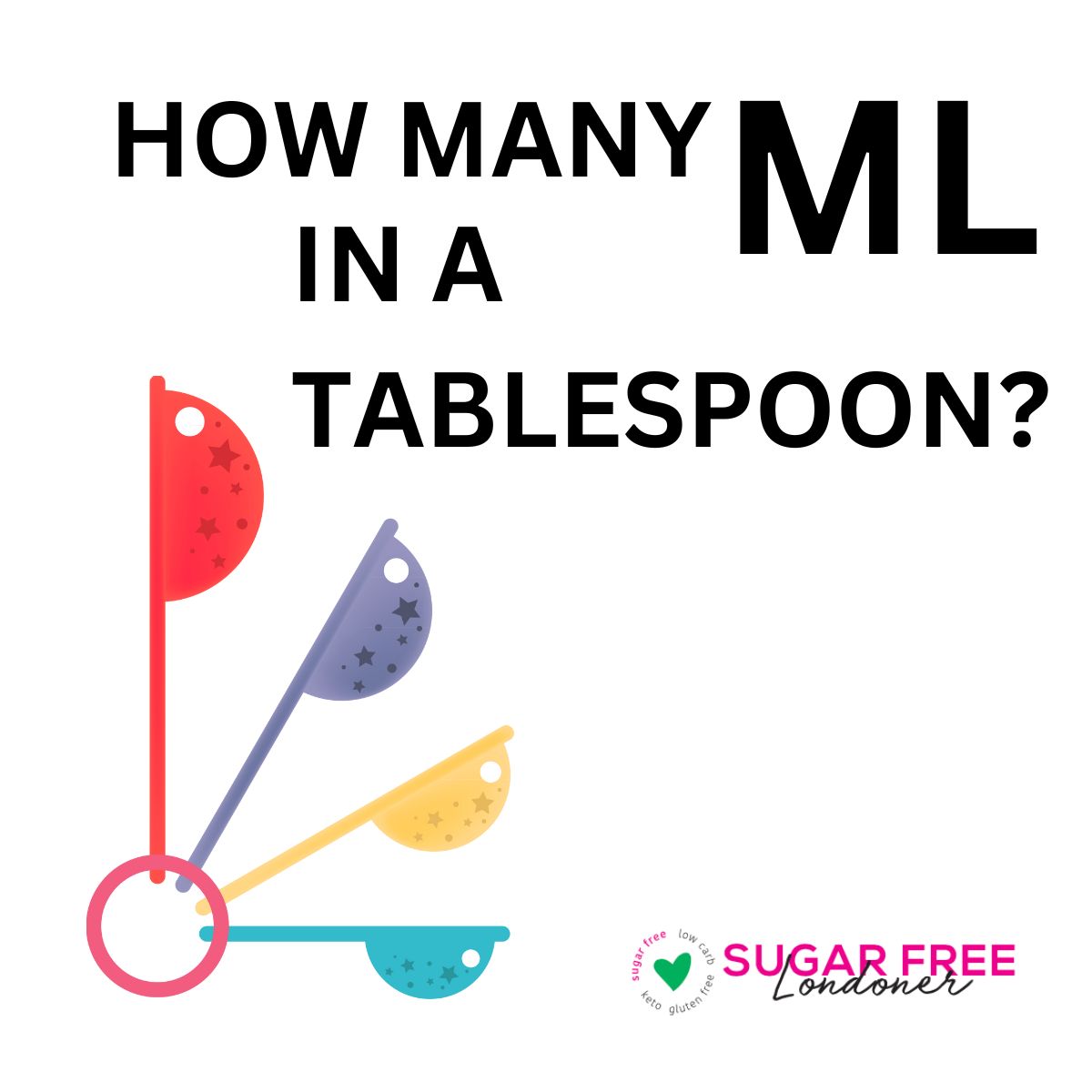 There are two main systems for measuring volume and weight used in the world today.
One is the United States Customary System, which is derived from the British Imperial System. The other one is the Metric System (also called SI System or International System of Units), which is used in most other countries.
The metric system measures in milliliters and liters, grams and kilos. The US customary system measures in tablespoons, teaspoons and cups as well as ounces (see my post on how many grams in a cup).
Jump to:
What Is A Milliliter?
A milliliter is a unit of volume in the metric system. It is equal to 1/1000 of a liter and equal to 1 cubic centimeter or about 0.061 cubic inches. "Milli" is the prefix for thousandths.
The word milliliter can also be spelled millilitre.
Abbreviations for milliliters are ml or mL.
What Is A Tablespoon?
A tablespoon is a US customary unit of measure, just like teaspoons or cups. 1 tablespoon is equal to 3 teaspoons or ½ fluid ounce.
1 tablespoon is exactly 14.786765 milliliters. But in recipes and for nutrition labeling, this number is rounded up to 15 milliliters.
Here are useful conversions at a glance:
1 tablespoon = 3 teaspoons
4 tablespoons = ¼ cup = 60 ml
16 tablespoons = 1 cup = 240 ml
The tablespoons you eat with are likely to be all kinds of sizes. They probably won't measure 15 mL.
For best results in cooking and especially in baking, it is important to use proper measuring spoons. You can buy these in kitchen shops or online.
Sometimes, tablespoons are referred to as T in recipes (and teaspoons as t).
On Sugar Free Londoner, we always write "tablespoon" to avoid confusion.
How Many ml In A Tbsp?
According to the metric system, 1 cup contains exactly 236.588 ml. A tablespoon is exactly 1/16th of a cup.
This means there are 14.786765 milliliters in a US tablespoon.
This number is generally rounded up to 15 ml.
It is important to note that different countries have slightly different metrics:
A UK and Canadian (metric) tablespoon is exactly 15 ml.
The Australian tablespoon is 20ml.
The Imperial tablespoon is equivalent to 17.7582 milliliters. It is not used officially any more.
How To Convert From Tablespoons To Milliliters?
Let's do the maths!
The simple formula for the conversion from tablespoons to milliliters is:
Milliliters = Tablespoons x 14.786765
To simplify, just multiply the number of tablespoons by 15, which is the rounded number.
For example, if a recipe requires 6 tablespoons, it is
6 tablespoon x 15 = 90 ml.
Here is a trick that simplifies the mental maths: First, multiply the number of tablespoons by 5 and then by 3.
6 tablespoon x 5 = 30 x 3 = 90 ml
Quickest Way To Convert ml to Tbsp
The easiest way to convert tablespoons to milliliters is to use Google. If you search for "tablespoon to ml", there is a handy converter.
All you need to do is enter the number of tablespoons into the conversion calculator tool on Google and it will give you the exact amount in milliliters.
Tablespoons to Milliliters Conversion Table
Here is a conversion chart that gives you an overview of tablespoons and ml.
| Tablespoons (US) | Milliliters (rounded) |
| --- | --- |
| ⅓ tbsp | 5 ml |
| ½ tbsp | 7.5 ml |
| 1 tbsp | 15 ml |
| 2 tbsp | 30 ml |
| 3 tbsp | 45 ml |
| 4 tbsp | 60 ml |
| 5 tbsp | 75 ml |
| 6 tbsp | 90 ml |
| 7 tbsp | 105 ml |
| 8 tbsp | 120 ml |
| 9 tbsp | 135 ml |
| 10 tbsp | 150 ml |
How To Convert From ml To Tbsp
To convert from ml to tbsp, multiply the volume in milliliters by 0.067628. Here is the formula:
Tablespoons = Milliliters x 0.067628
Let's say you want to convert 20 milliliters into tablespoons.
20 ml x 0.067628 = 1.35256 tablespoons.
This means you would use 1 tablespoon and 1 teaspoon of liquid in this recipe.
Milliliter To Tablespoon Conversion Table
This is a conversion chart for common amounts of milliliters to tablespoons.
| Milliliters (ml) | Tablespoons (US) |
| --- | --- |
| 1 ml | 0.07 |
| 2 ml | 0.14 |
| 5 ml | 0.34 |
| 10 ml | 0.68 |
| 20 ml | 1.35 |
| 50 ml | 3.38 |
| 100 ml | 6.76 |
| 500 ml | 33.8 |
| 1000 ml | 67.6 |
(tablespoons rounded to 2 decimal places)
Expert Tips To Measure Accurately
Using measuring spoons in cooking or baking is not as precise as measuring milliliters with digital kitchen scales.
To measure liquids accurately, fill the spoon right to the rim.
Measuring spoons can also be used for dry ingredients. When a recipe calls for a tablespoon of flour or sugar, we are measuring the volume of the ingredient in grams.
To measure dry ingredients accurately, scoop the ingredient into the tablespoon. Don't press or compact it. Then, level the top of the spoon.
The ingredient should only be measured heaped or rounded if the recipe specifically states it.
FAQs
Is a tablespoon 15 or 20 ml?
A US customary tablespoon is rounded to 15 ml. A metric tablespoon is exactly 15 ml. The Australian tablespoon is defined as 4 teaspoons, which equals 20 ml.
Is 5 ml the same as 1 tablespoon?
No, it is not. 5 ml is the equivalent of 1 teaspoon. There are 3 teaspoons in a tablespoon. This means that 1 tablespoon is the same as 15 ml.
How many ml is a tablespoon UK?
A UK tablespoon is exactly 15 ml.
How much can I fit in 1 tablespoon?
One tablespoon holds 15 milliliters of liquid or approximately ½ of a fluid ounce.
How many ml in 1 liter?
There are precisely 1000 milliliters in 1 liter.
How many cubic inch in a tablespoon?
A tablespoon contains 0.9 cubic inches (in³).
Using The Tablespoon To ml Conversion In Recipes
Here are a few of the recipes on Sugar Free Londoner that call for ingredients in tablespoons:
Keto Iced Coffee - This recipe uses 2 tablespoons of heavy cream. That's 30 ml of cream.
Keto Eggplant Parmesan - The eggplant in this casserole needs to be brushed with 5 tablespoons of olive oil. This is equivalent to 75 ml of oil.
Coconut Flour Cake - My coconut flour cake requires 2 tablespoons or 30 ml almond milk to soften the batter.
Conclusion
Whether you are baking a cake or making a quick 15-minute dinner, it is essential to know how to convert o know how many milliliters is in a tablespoon.
By accurately converting the numbers, you'll use the correct amount of liquid required. Your tastebuds will thank you for it!