These 3 ingredient frozen blueberry bites are such a refreshing fruity treat. Sweetened with stevia, it's an easy recipe that is low carb, gluten free and vegan. Can be made in any ice cube tray!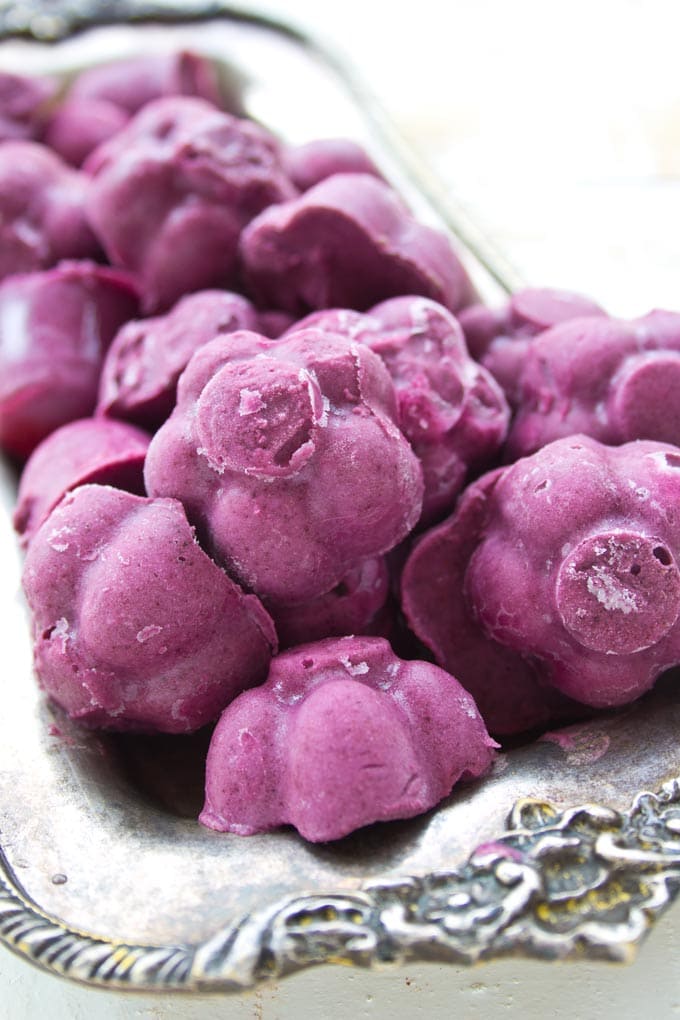 Don't you love easy desserts?
I'm always amazed how you can create the most delicious morsels with just a few ingredients.
Like these frozen blueberry bites.
All you need is 3 ingredients and a blender. Friends, you can make this low carb blueberry heaven with your eyes closed!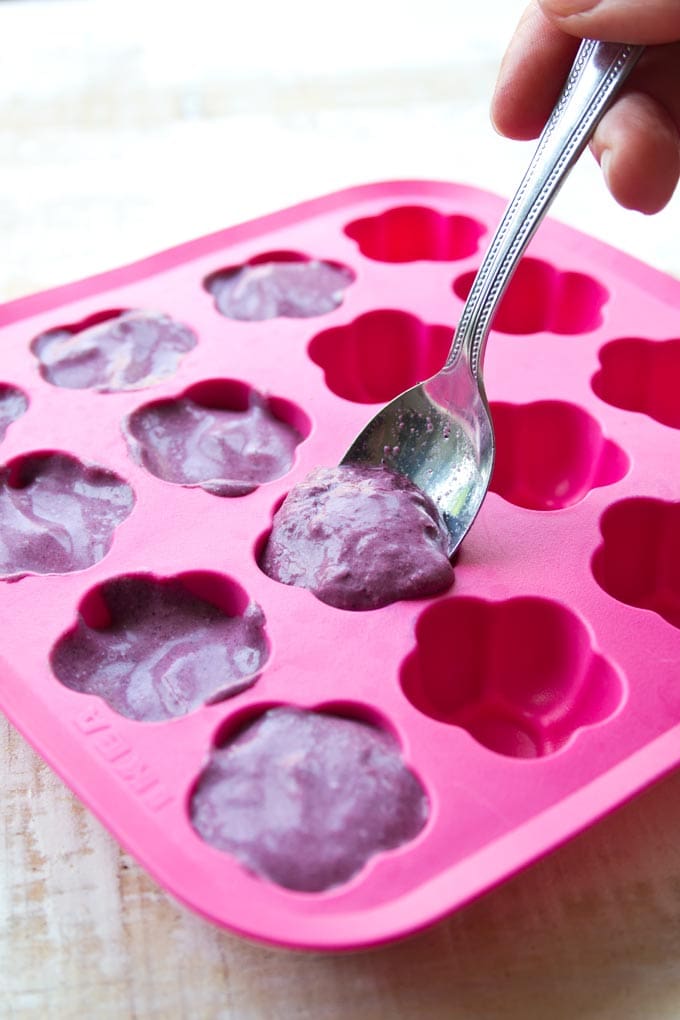 Let me do a quick ingredient rundown:
Coconut cream. Comes in a can/tin. There's 2 varieties that work here. Either buy coconut cream OR coconut milk, which is slightly lower in fat. If you get coconut milk (and I'm not talking about the milk in a tetra pak here), keep the can in the fridge, it will separate into a firm top layer and a liquid bottom layer. You want to use the creamy top layer for this recipe.
Blueberries. I used frozen, because they're cheaper and we always seem have a bag in the freezer. Using fresh blueberries should work equally well though.
Stevia. 8 drops do the trick - it's the equivalent sweetness to 2 teaspoons of sugar.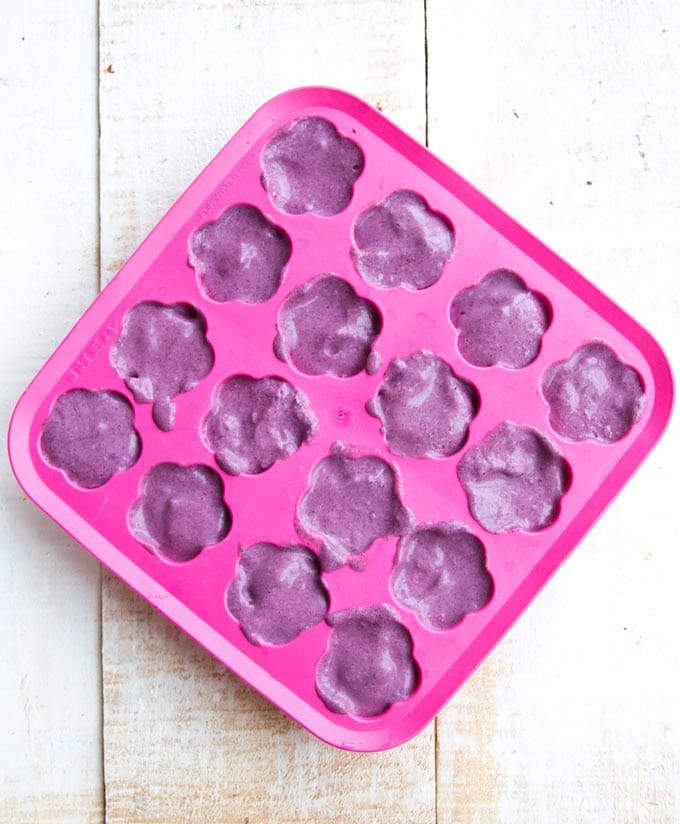 I did a poll on my Facebook Page yesterday where I asked my followers about their favourite low carb sweetener. The majority of people named stevia as their go-to - and inspired me to choose vanilla flavoured stevia for this recipe, which has a mellow and pleasant taste. I don't find it metallic-tasting, which is a common complaint about stevia sweeteners.
Normally, I tend to use either powdered or granulated erythritol when making low carb desserts. I like the taste (can be slightly cooling when used in larger amounts) and it's easy to convert recipes with it. Why? Erythritol looks like sugar and behaves (almost) like sugar, so there is no worrying about getting the wet/dry ratio wrong. See? We're circling right back to the EASY theme here 🙂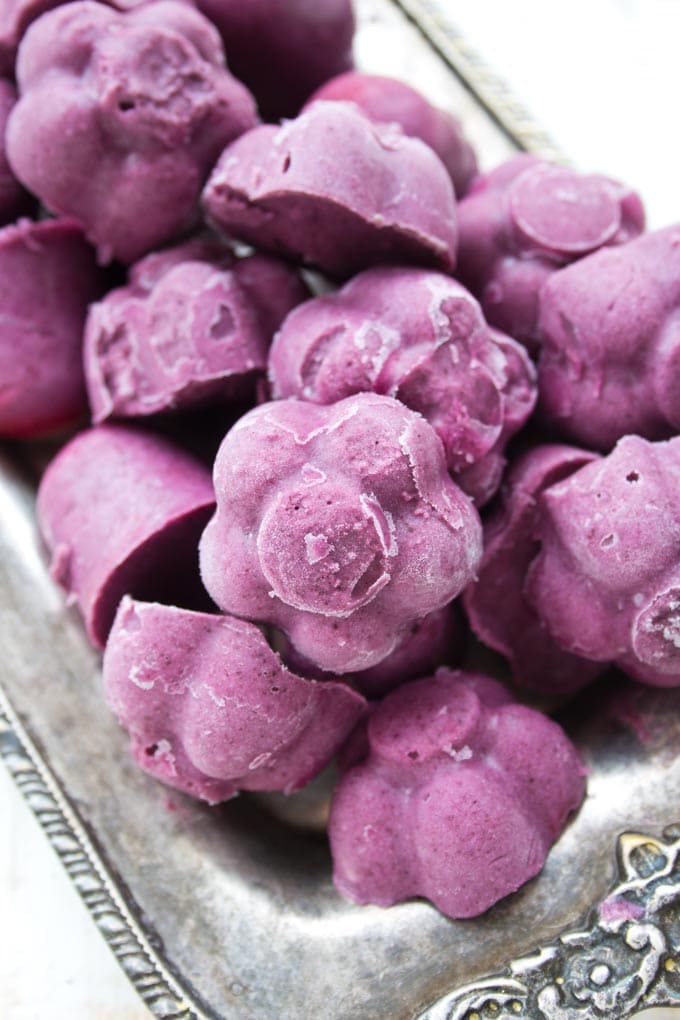 That said, stevia is a fantastic sweetener. I made this orange almond breakfast cake using stevia, and it's perfect in recipes which are liquid at some point, such as chocolate or sauces, because the sweetness is distributed evenly. It's also easy to travel with, if you like a bit of sweetness in your tea or coffee. No problem bringing one of those little bottles in your hand luggage, folks!
You could use this recipe to make low carb popsicles using popsicle moulds.
I decided to use ice cube trays because not everybody owns popsicle moulds. They're not really essential kitchen equipment unless you have children. I also like to have a little sweet something waiting in the freezer for THOSE moments rather than a bigger dessert, so this size is perfect for me (just like my sugar free cookie dough!!!).
My frozen blueberry bites weighed between 9 and 13 grams. The smaller ones were perfect to pop into my mouth whole, the larger ones were 2 bites each.
If you like the idea of fruity coconut-based desserts (that are really, really EASY!!!!!) you should definitely also check out my strawberry coconut mousse and this creamy and light raspberry coconut fool.
This post contains affiliate links. If you click on one of these links and purchase a product as a result, I may make a small commission. This money goes towards the running costs of the website. Thank you for supporting Sugar Free Londoner.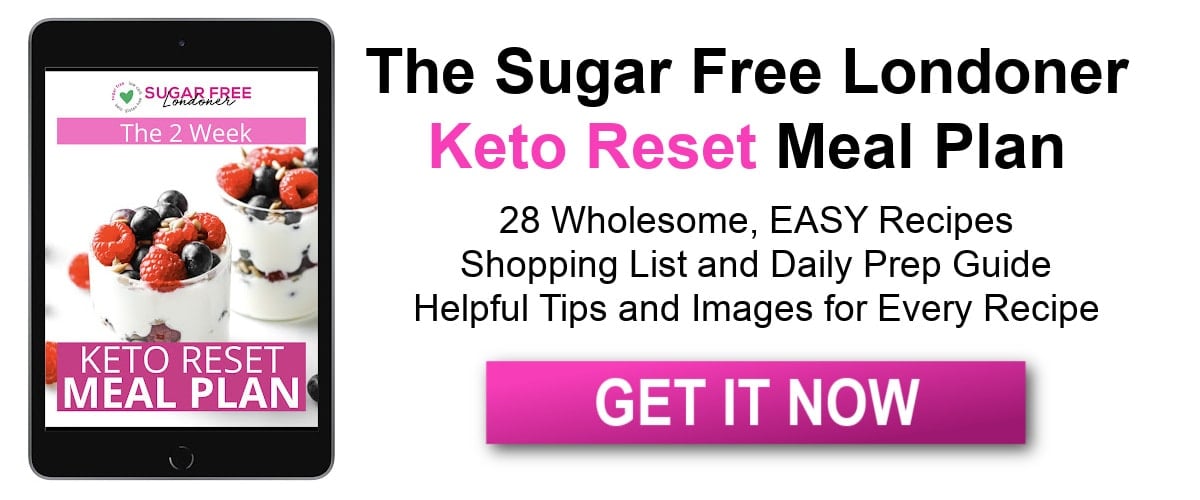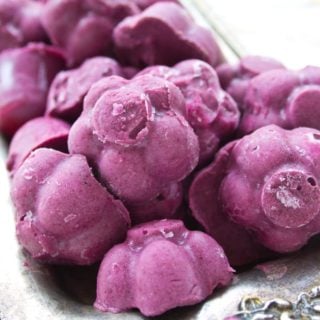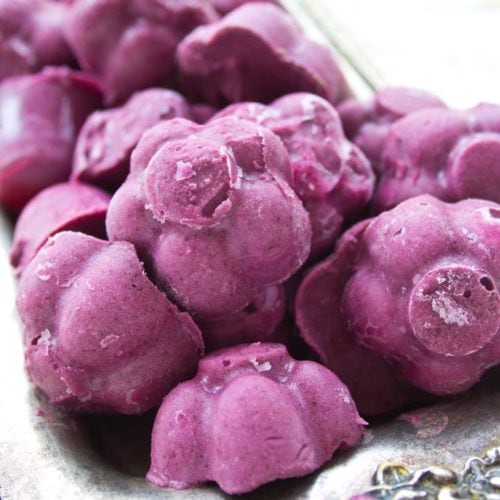 Frozen Blueberry Bites
from Sugar Free Londoner
These 3 ingredient frozen blueberry bites are a refreshing fruity treat. Sweetened with stevia, this easy fat bomb recipe is low carb and vegan. Can be made in any ice cube tray!
Note: The servings slider only changes the first amount in each line and not any subsequent amounts. Please make your own calculations where necessary. ***As an Amazon Associate I earn from qualifying purchases.
Instructions
Put the coconut cream, blueberries and stevia drops in a bowl or blender and blend until smooth. I used this high speed blender, but a stick blender will do the job too.

Fill into ice cube trays (silicone trays work best) and freeze until set, around 1 hour.
Notes
You can buy either coconut cream or coconut milk in a can. Coconut cream is has a similar texture to soft whipped cream. You can also use a can of coconut milk. This has a creamy part, which settles on the top, and a liquid part, which is the bottom. If using coconut milk, stick to the firm/creamy part for this recipe.
Nutrition
Serving:
12
g
Calories:
16
kcal
Total Carbohydrates:
0.9
g
Fat:
1.4
g
Fiber:
0.2
g
Sugar:
0.6
g