Cauliflower tabbouleh salad is a delicious and easy grain free, low-carb side dish. It only takes 15 minutes to make and is packed with fresh vegetables and herbs.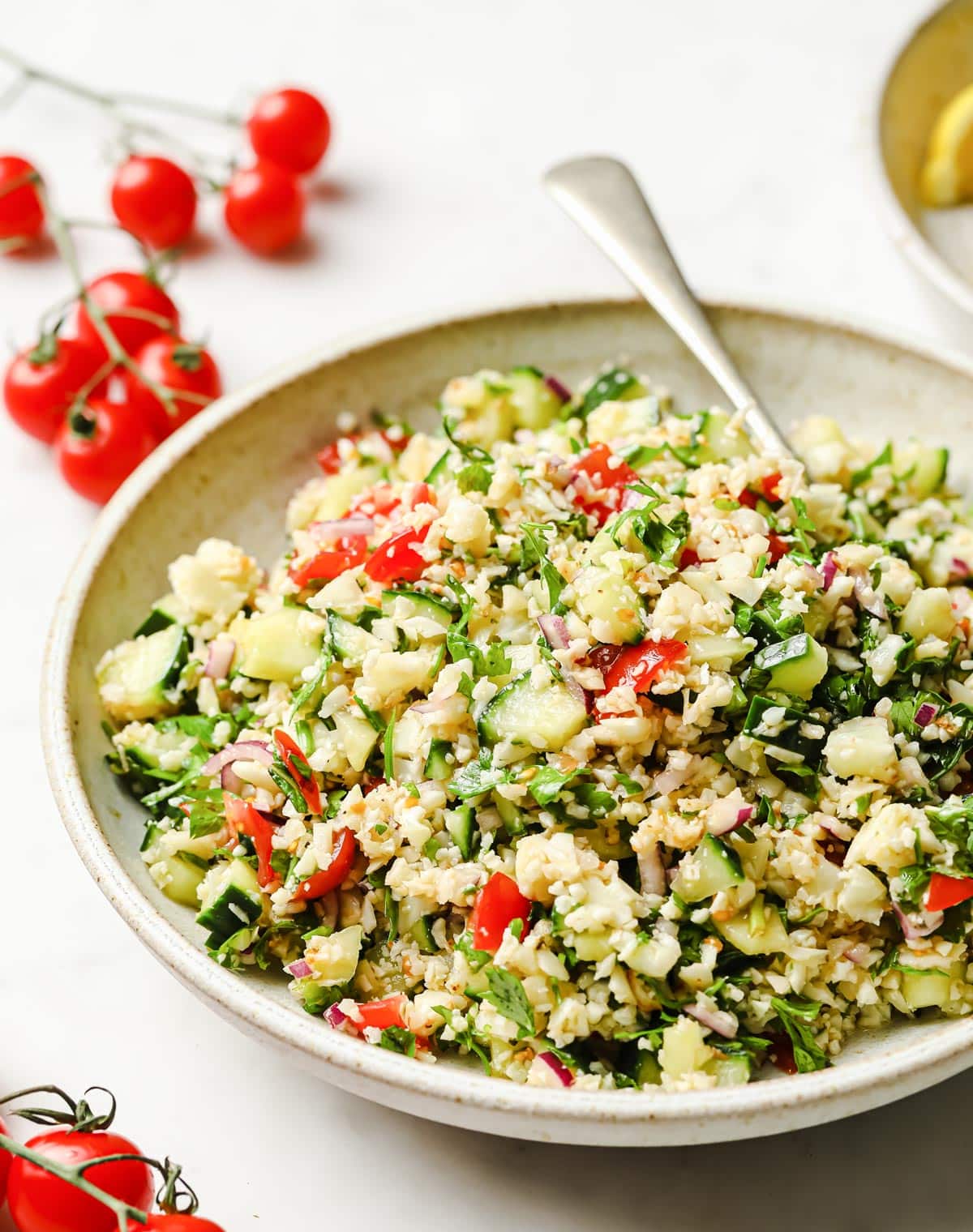 I adore Middle Eastern cuisine and had been craving tabbouleh for a while. In fact, most of the ingredients in the recipe are naturally grain-free and gluten-free - with the exception of the bulgur wheat.
The perfect replacement for bulgur? Cauliflower, of course! It has a similar texture and is grain free and low in carbs at the same time.
I always know that a recipe is a success when my children ask for seconds - which they did. They are very critical when it comes to healthy versions of classic dishes! When I get their teenage approval, I know that you, my dear reader, will like it, too.
Jump to:
What Is Tabbouleh?
Tabbouleh - also spelt tabouli or tabbouli - is a classic Middle Eastern salad. It is made with finely chopped parsley, mint, tomatoes and soaked, uncooked bulgur. It has a simple lemon and olive oil dressing.
Traditionally, it is served as part of a mezze - a Levantine sharing platter that includes dishes such as hummus or baba ghanoush. Which is about as delicious as food can get. However, it is also a great side for grilled meat and fish
Why This Recipe Works
It is delicious. My cauliflower tabbouleh salad is fragrant, fresh and zesty, just like the original. The cauliflower has a similar bite to bulgur. I think it actually improves the flavor!
It is healthy. With all the vitamins and minerals from the vegetables and the heart-healthy fats of the olive oil, this salad is undeniably good for you. On top of that, this easy vegetarian and vegan recipe is gluten-free, grain-free, dairy-free and Whole30-friendly.
Ingredients
Let's talk about the ingredients!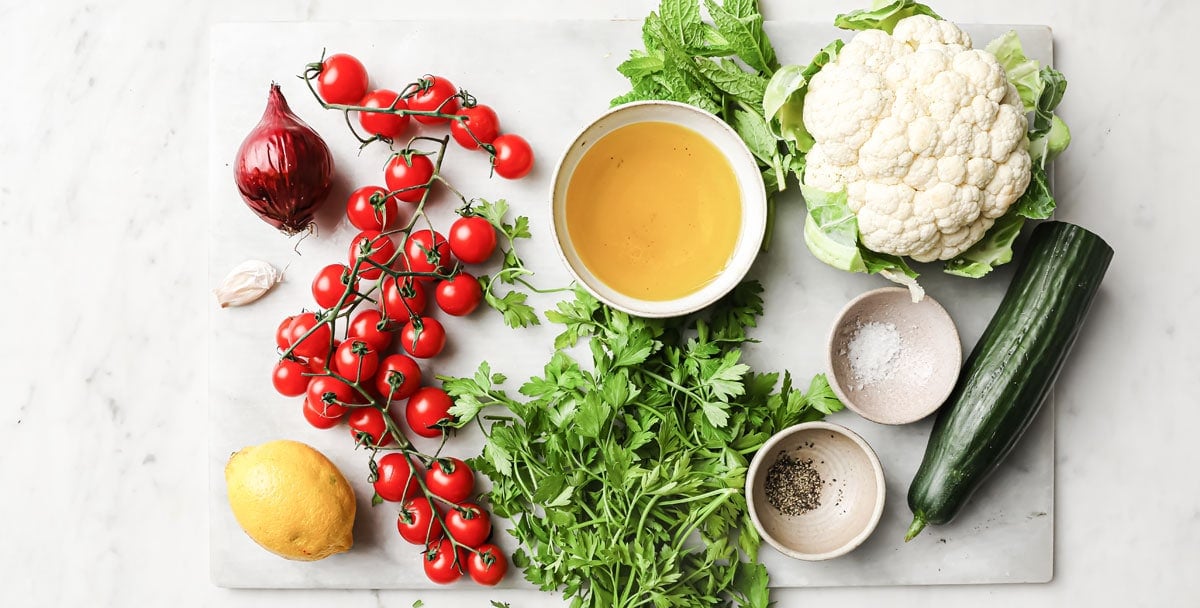 Cauliflower - I use a head of cauliflower and grind it to a very fine consistency. You can also use fresh cauliflower rice from the supermarket. I still recommend that you pulse this in a food processor to make it finer.
Parsley - This is the real star of the recipe. Both curly or flat-leaf parsley work. It must be chopped very finely.
Cucumber - This is not a traditional ingredient, but I love the juiciness it adds. It also bulks up the salad. Be sure to scoop out the seeds, they add too much water.
Cherry tomatoes - I halve these and squeeze out the seeds.
Red onion - chop it very finely. You can also use scallions or green onions.
For the dressing, we're keeping it equally simple: Extra virgin olive oil, lemon juice, fresh garlic, sea salt and pepper. In my opinion, good quality olive oil is important for the recipe.
See the recipe card for full information on ingredients and quantities.
Instructions
It is surprisingly simple to make a tabouli with cauliflower rice. Here are the basic steps. Scroll down to the recipe for the detailed method.
Step 1
Put the cauliflower florets in a food processor and pulse them to a fine rice consistency. Or, use a box grater.
You may need to do this in batches, depending on the size of your blender.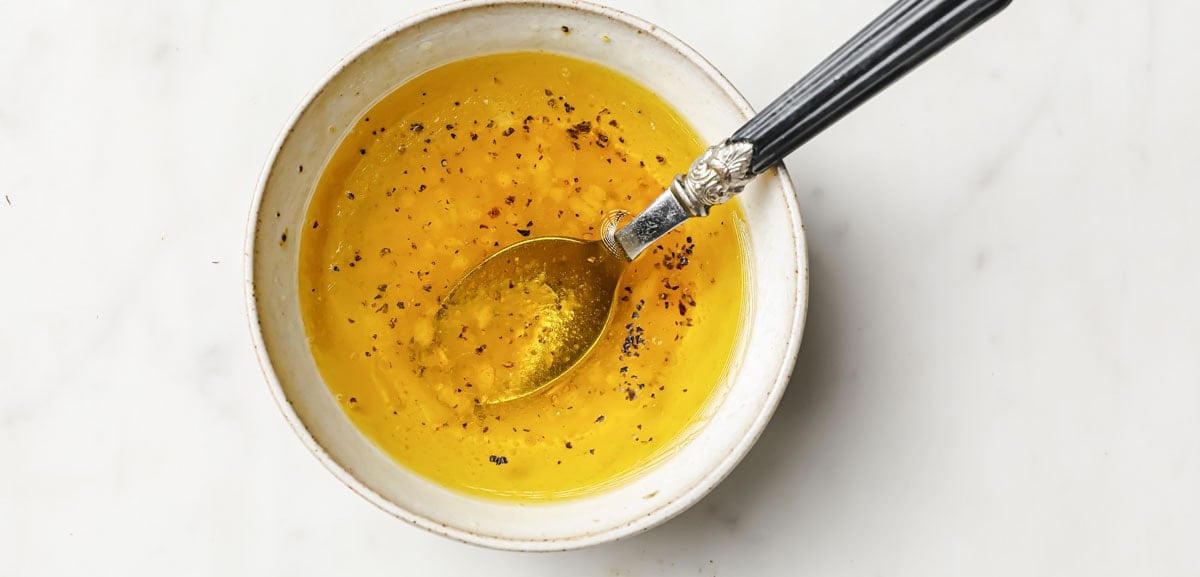 Step 2
Make the dressing. Mix the olive oil, lemon juice, finely chopped garlic, a pinch of salt and black pepper in a small bowl.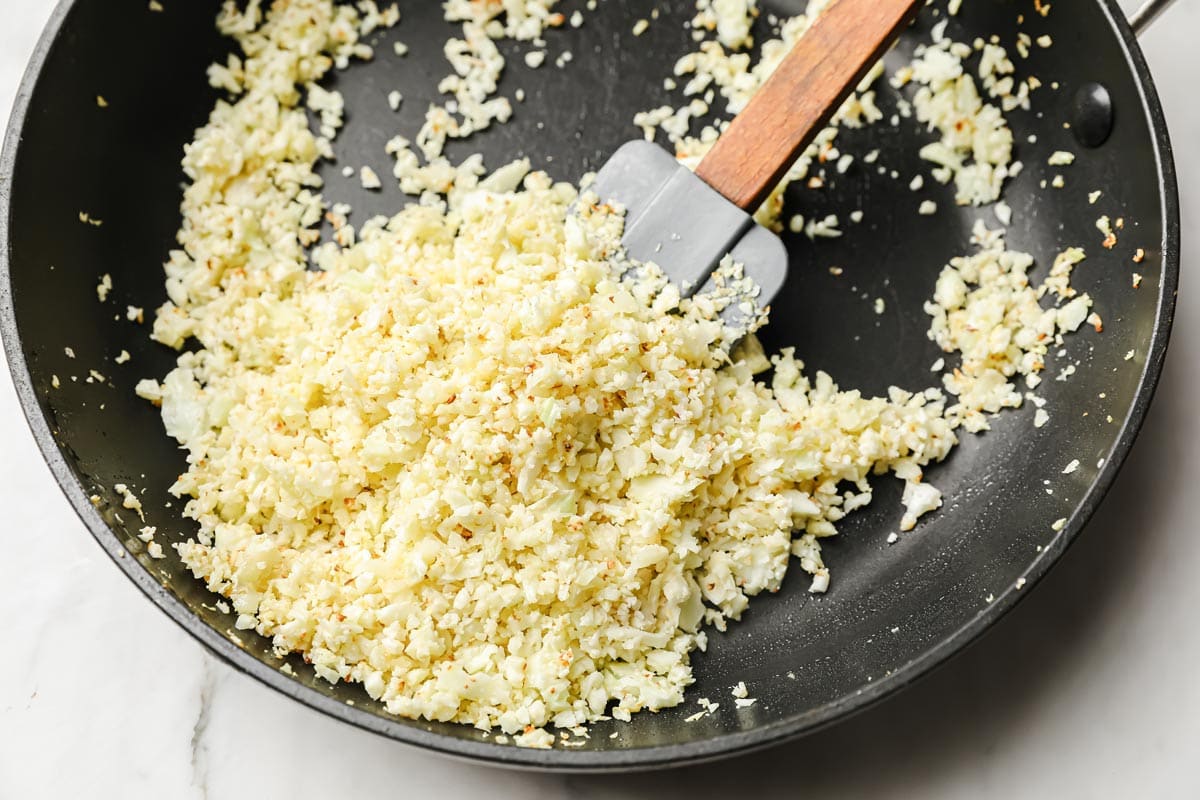 Step 3
Add a little dressing to a non-stick frying pan. Sauté the cauliflower rice on medium heat until tender. Frying it like this gives the cauliflower a gently nutty flavor, which is just delicious.
Allow to fully cool.
Step 4
Slice the cucumber in half. Scoop out the seeds and dice. Halve the tomatoes and squeeze out the seeds. Chop the herbs and the red onion.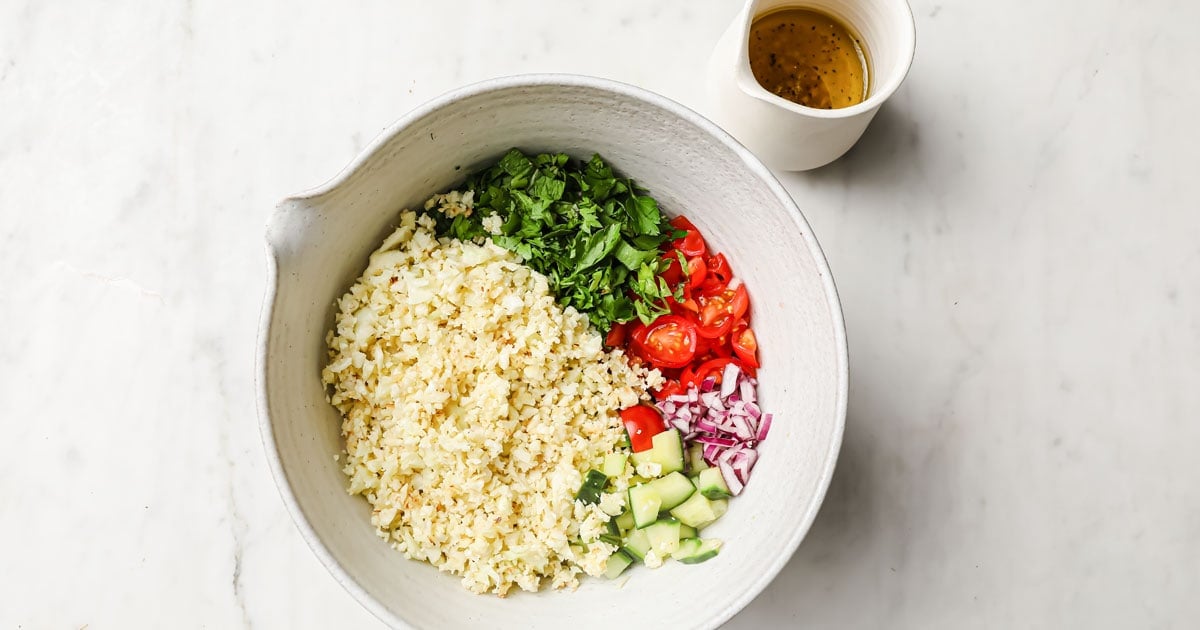 Step 5
Add all ingredients to a large bowl. Toss to combine with the dressing and season to taste.
Expert Tip
Let the salad sit in the fridge for 15-30 minutes before serving. This way, the flavors have time to meld and the salad will be even tastier.
Variations
It is easy to vary the recipe to suit your personal preferences. You could add finely chopped red or green bell peppers to the mix or leave out the onion, if you prefer.
A pinch of paprika or sweet pepper also enhances the flavor.
One addition that we all enjoy is adding 3 heaped tablespoons of hemp hearts. These have a similar taste and size to bulgur and add a little more crunch - and they also add more fibre!
Recipe FAQs
Can I use raw cauliflower rice in tabbouleh?
Yes, you can use the cauliflower rice raw as opposed to cooked cauliflower. However, sautéing it first takes away any sharp taste. Also, cauliflower is much easier to digest when it is lightly cooked. If you keep it raw, you may find that you'll feel bloated after eating it. In my opinion, cooking it first makes the salad taste miles better.
Can you microwave the cauliflower rice?
Yes! You can microwave the cauliflower rice for about 6 minutes instead of sautéing it. Then, stir it through the dressing while it is still hot. It won't have the nutty taste you get from frying though.
Can I use frozen cauliflower rice?
I don't recommend it. Frozen cauliflower rice contains too much liquid and will make the salad mushy.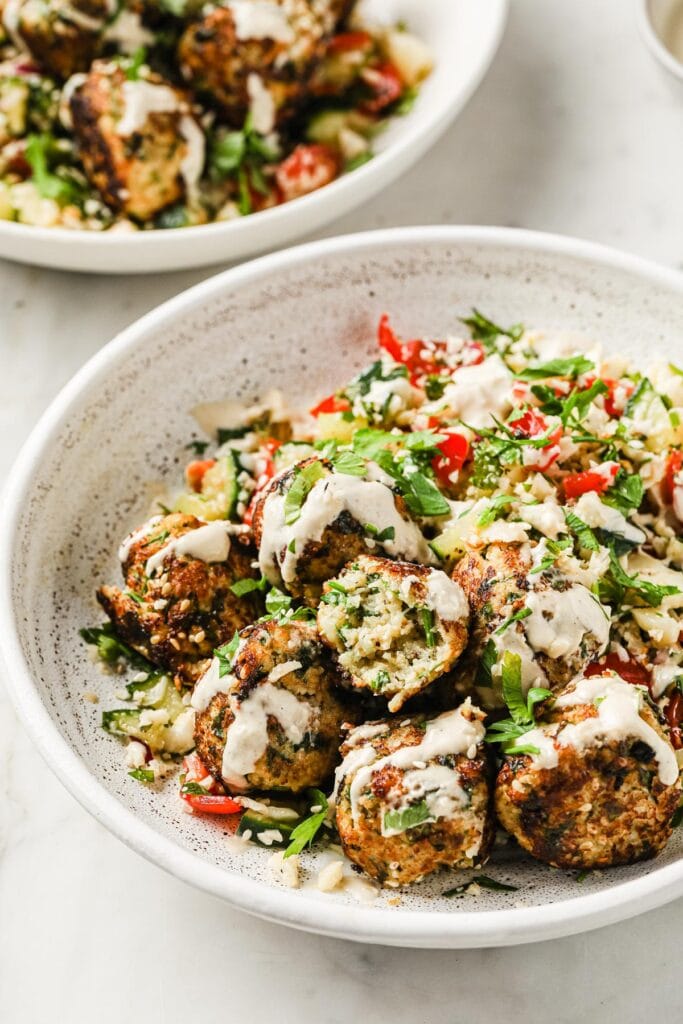 Serving Suggestion
Cauliflower tabbouleh is a great side for all grilled meat or fish. I love it with keto lemon chicken. We have also enjoyed it with lamb cutlets and with sea bass.
Or, serve it as part of a mezze with keto pita bread, keto hummus and keto falafel (image above).
It works with all Mediterranean and Middle Eastern dishes. Plus, it's a great side to bring to a summer barbecue!
Storage And Meal Prep
Store the salad in an airtight container in the fridge for up to 2 days.
Dressing on the side: If you know you won't eat all of the tabouli at once, only add the dressing to the portion you are eating. That way, the vegetables stay crunchier for longer.
The salad is not suitable for freezing.
Related Recipes
Here are more easy cauliflower recipes to try:
Tried this recipe? Give it a star rating below!
★ STAY IN TOUCH on FACEBOOK, PINTEREST and INSTAGRAM  for more great food and join my NEWSLETTER for the latest updates and a FREE EBOOK.★ 
Recipe
Cauliflower Tabbouleh
from Sugar Free Londoner
This fragrant and crunchy cauliflower tabbouleh is the keto version of the iconic Middle Eastern side dish. By replacing the bulgur with cauliflower rice, one portion has just 3g net carbs! Keto tabouli is a tasty, simple salad that the whole family will love, whether they follow a keto diet or not.
Note: The servings slider only changes the first amount in each line and not any subsequent amounts. Please make your own calculations where necessary.
Ingredients
10

oz / 280g

cauliflower florets

1 medium cauliflower head

1 ½

cup / 160g

large cucumber

chopped

1

cup / 150g

cherry tomatoes

quartered or equivalent weight in medium vine tomatoes, diced

⅓

cup / 20g

parsley

finely chopped

¼

cup / 10g

fresh mint

finely chopped

2

tbsp / 20g

red onion

finely diced
Dressing
⅓

cup

extra virgin olive oil

1 - 2

tablespoon

lemon juice

to taste

1

garlic clove

minced

½ - 1

teaspoon

flaked sea salt, to taste

⅓

teaspoon

black pepper

or to taste
Instructions
Prepare the cauliflower rice by placing the florets in a food processor and blitzing until it resembles a rice consistency.

Make the dressing by mixing the olive oil, lemon juice, garlic, a pinch of salt and pepper in a small bowl.

Add 1 tablespoon of dressing to a non-stick frying pan. Sauté the cauliflower rice for about 5 - 6 minutes on a medium heat until tender. Allow to fully cool.

Meanwhile, slice the cucumber in half and remove the seeds using a teaspoon. Dice.

Add the tomato and cucumber to a mixing bowl. I chose not to take all the tomato seeds as this can make the cauliflower tabbouleh too wet.

Add cooled cauliflower, parsley, mint and dressing to the bowl. Toss to combine, season to taste and serve.
Notes
Net carbs: 3g per portion. Makes 6 portions of ⅔ cup each. 
Store in the fridge for up to 2 days. 
Nutrition
Calories:
130
kcal
Total Carbohydrates:
4.8
g
Protein:
1.5
g
Fat:
12.3
g
Saturated Fat:
1.7
g
Fiber:
1.8
g
Sugar:
2
g