This smooth and creamy broccoli pistachio soup is an easy and delicious way to load up on antioxidants and vitamin C. Great as a quick, warming lunch or as a starter course.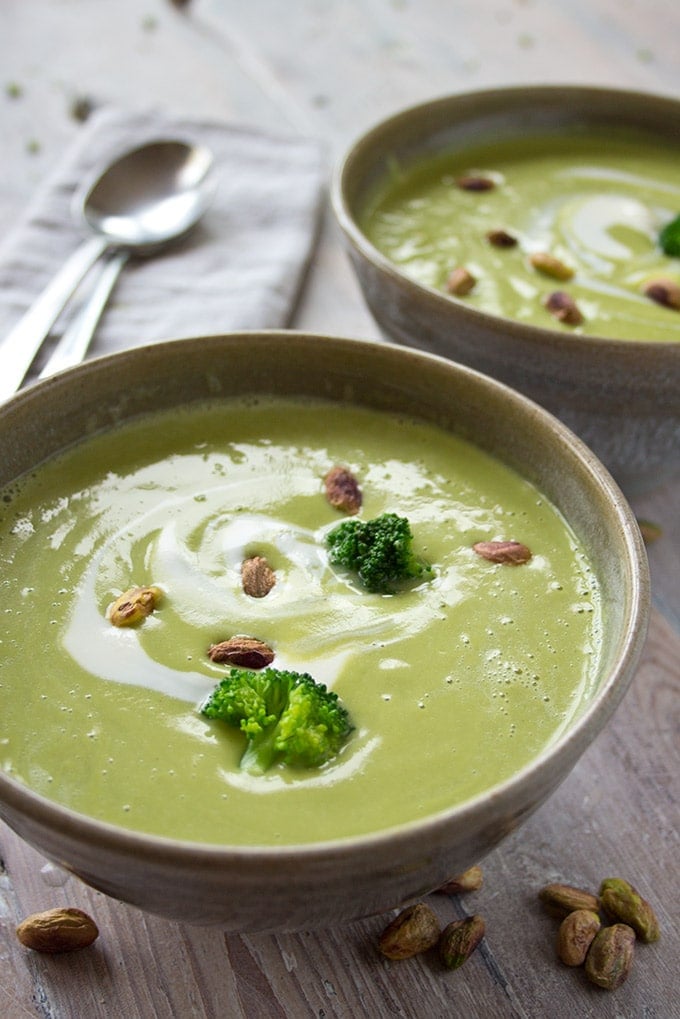 Do you like to talk about the weather?
If so, you are probably English or have lived in the UK for long enough. I've lived in London for twenty years now and I talk about the weather all the time. At length and with anyone, be it friend or stranger.
London weather is fascinating, you see. In the summer it's always too cold. We have our cappuccinos outside anyways, shifting uncomfortably in our seat, discussing our blight with delight. Temperatures might get perfect... for around a day. The whole town descends on supermarkets instantly to buy sausages for their impromptu BBQs, broadcasting how wonderful life is when the sun is shining. And then it's too hot! Which is perfect, too - 45 degrees Celsius in the Tube is a brilliant conversation starter.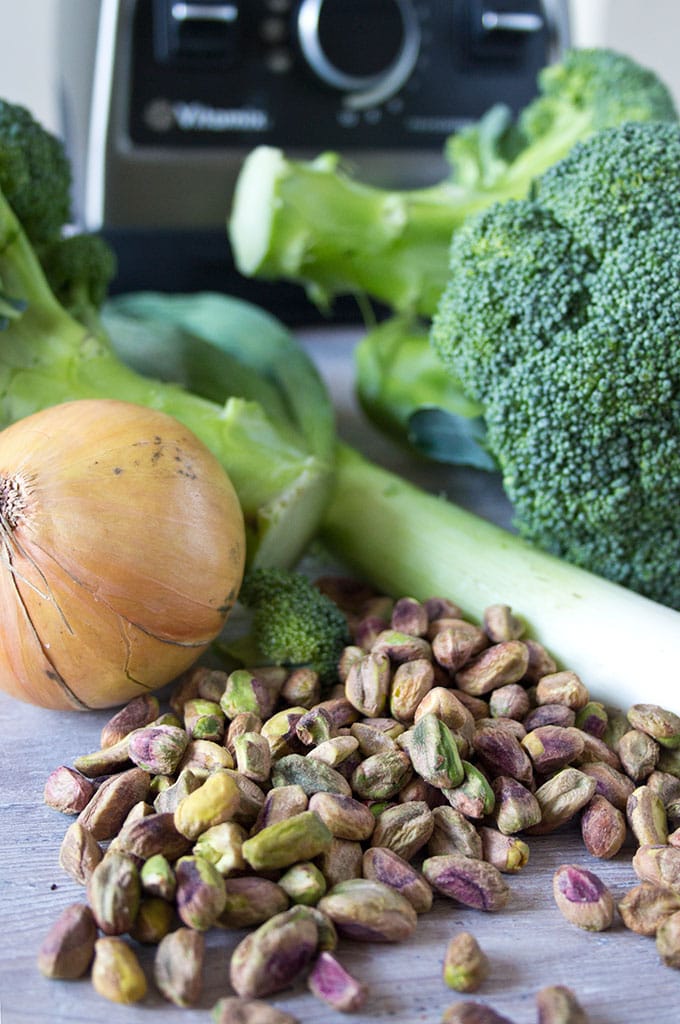 Rain is a chapter all on its own.
Oh, how we love talking about rain in England. Rain is like a good friend who pops in unannounced and then gets so comfy that he stays for a week. Not that this is a problem. On the contrary! If you live in England, you take pride in your assortment of umbrellas and see the jolly side of things.
The golden rule of becoming a true Brit is to never complain. Rain is good for the plants and the ducks. It washes away the smog and dirt. Isn't the air so lovely and clean today, love? Isn't it fun to jump into puddles with your brand new welly boots, darling?
It's November now, and after unusually warm temperatures (and very little rain, I'd like to add) it's now finally getting chilly. Do you know what this means? Friends, it's time for soup! Soup is wonderful. It's easy to make, comforting and warming without any hard work (= chewing), it freezes well and is a great way of getting vegetables in you (minerals! vitamins!). Soup is like weather without the bad bits.
My current favourite is this pistachio broccoli soup, blended to glorious smoothness in my brand spanking new Vitamix blender.
When the lovely people from Vitamix offered to send me their top-of-the-range blender, I was very pleased indeed. I have talked about my previous food processor before, which did the job, but needed to be handled with care. It never quite managed nut butter and had to be taken apart to be cleaned, which, for a clumsy person like me, meant regularly cutting my hands on sharp blades.
This Vitamix, friends, is a BEAST. When I turned it on high for the first time I thought it might eat the food and leave nothing for me. It feels really solid, is incredibly powerful and blends everything to velvety perfection. It is so well made that it does not go off like a mini nuke when you turn it on, splattering food everywhere.
Everything stays exactly where it should and gets faultlessly processed. On top of of that, the blender has a self-cleaning program. Heaven! I don't know about you, but anything that helps me with cleaning up is my new best friend.
One of the classic ways to make broccoli soup is with Stilton or another blue cheese. Whilst that combo tastes amazing on occasion, it is not something I feel like eating on a weekly basis. Broccoli pistachio soup, on the other hand, is definitely not a Marmite love/hate scenario.
It got the thumbs up with this whole family and I can disclose right here and now that I could happily eat it for the rest of the month.
Broccoli pistachio soup is
pleasingly mild
easy and quick to make
comforting and warming
creamy and velvety thanks to the pistachios
packed with vitamin C and folate (naturally occurring folic acid) thanks to the broccoli
heart-healthy
full of good fats and protein
great for freezing
perfect as an easy lunch option or as an elegant starter to a meal.
If you like comfort in a bowl, you must also check out this divine Keto roast chicken soup!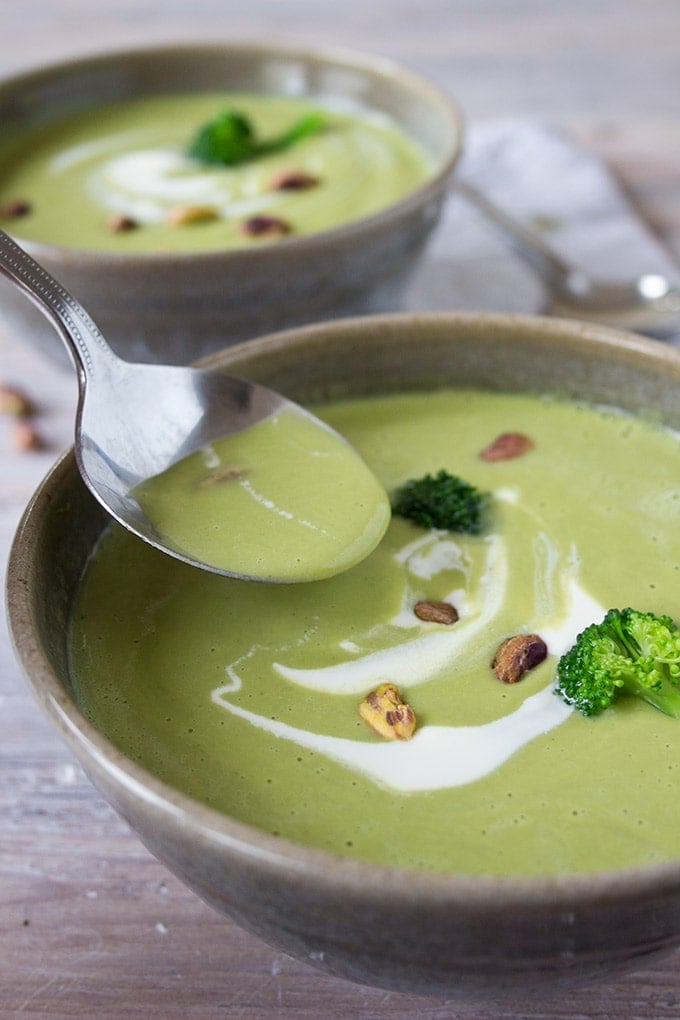 Now let me ask you a really important question: What's the weather like where you are?
Here are some more recipes with broccoli for you to try:
Recipe
Broccoli Pistachio Soup
from Sugar Free Londoner
This smooth and creamy broccoli pistachio soup is an easy and delicious way to load up on antioxidants and vitamin C. Great as a quick, warming lunch or as a starter course.
Note: The servings slider only changes the first amount in each line and not any subsequent amounts. Please make your own calculations where necessary.
Ingredients
1

head / 300g

broccoli

broken into florets, stem chopped

600

ml

chicken stock

3

spring onions

scallions or 1 small onion, chopped

30

g / ¼ cup

pistachios

1

teaspoon

olive oil

1

garlic clove

creme fraiche

to decorate

sea salt and pepper
Instructions
Fry the onion/spring onions and chopped garlic in olive oil over a low heat until tender and sweet, but not browned - ca 7 minutes. I keep the lid on the pan and stir occasionally to make sure all is in order.

Boil water and make the chicken stock with a good quality stock cube. You can use vegetable stock as well for a vegan option, though I find using chicken stock gives a richer taste. Put the pistachios inside so they can soften.

Steam the broccoli (5 minutes). If you do not have a steamer, fill a pot with 1-2 cm of water and put the broccoli in once it boils. This way, the majority of the broccoli will be steamed once the lid is on.

Set aside a couple of small florets for decorating if you wish.

Blend until smooth in a blender/food processor (this was the first job of my Vitamix - I have never tasted soup this smooth!) or use a good old stick blender.

Season to taste with salt (if needed) and pepper.

Decorate with a swirl of creme fraiche, a little broccoli floret and some pistachios.
Notes
The nutrition facts I calculated are based on 3 people sharing.
Nutrition
Serving:
333
g
Calories:
114
kcal
Total Carbohydrates:
11
g
Protein:
5.7
g
Fat:
7.1
g
Fiber:
4
g
Sugar:
3.3
g