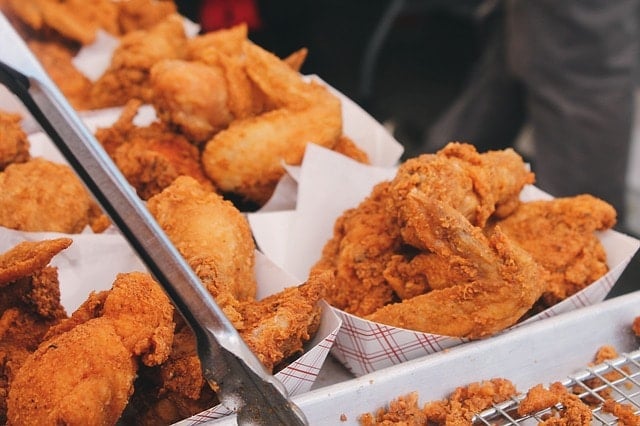 In the UK, we consume over two million tonnes of sugar every year. Yet we often don't know we're eating it.
Let's say you buy some chicken in the supermarket. Chicken is protein, right? Therefore good for you? Quite the opposite. Prepared chicken and other meats are often marinated with dextrose, which is one of sugar's many aliases. Once you start checking the labels, you will be amazed how many hidden sugars prepare foods contain.
The problem is this: Sugar is good for business. It helps to extend the shelf life of packaged food and makes it more tasty. Therefore, food manufacturers add sugar not only to sweet treats and food perceived as healthy such as fruit yogurts or low fat snacks, but to all kinds of savoury products, from meat to bread to crisps to pasta sauces.
If you were to take out the salt, sugar and fat out of processed goods, they would probably taste like sawdust. Just saying.
Here's an example of the sugar hidden in popular food:
Coca Cola & Pepsi 330 ml can: 9 teaspoons of sugar per serving
Innocent Mango & Passionfruit Smoothie 250g: 6 teaspoons of sugar per serving
Sharwood's Sweet and Sour Chicken: 6 teaspoons of sugar per portion
Yeo Valley Vanilla low fat yoghurt: 5 teaspoons of sugar per 150g
Heinz Tomato Soup: 5 teaspoons per can
Kellog's Frosties: 4 teaspoons of sugar per bowl
Glaceau Vitamin Water, 500 ml: 4 teaspoons of sugar per bottle
Ragu Tomato Sauce: 3 teaspoons of sugar per half jar
Heinz Tomato Ketchup: 1 teaspoon of sugar per serving
(Source: the Telegraph newspaper)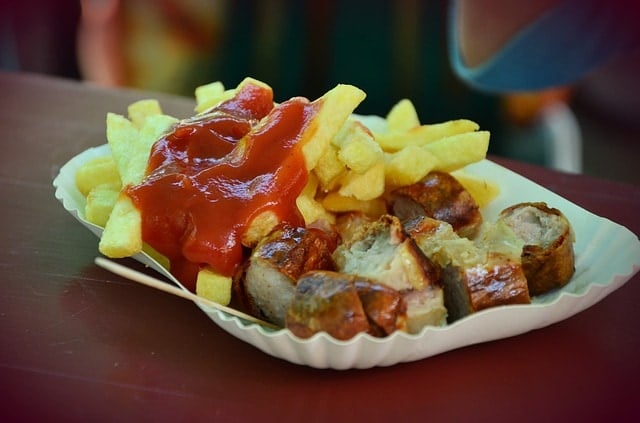 In March, the World Health Organisation revised its draft guideline, recommending that people halve their maximum daily intake of added sugars to 5% of our total energy intake. This means:
Children aged 4 to 6 should have no more than 19g or 5 teaspoons of free sugars per day
Children aged 7 to 10 should have no more than 24g or 6 teaspoons of free sugars per day
Children aged 11 years and upwards, as well as adults, should have no more than 30g or 7 teaspoons of free sugars per day
But if you have a shop-bought granola and a fruit juice for breakfast, it is easy to exceed this quota by the time you leave the house in the morning.
When you buy bagged and boxed ingredients....
Do so with a healthy dose of scepticism. Always check the label!
Don't buy anything that has sugar listed as one of the first three ingredients. That's definitely not healthy.
If a product contains more then 22g of sugar per 100g, it's a no-go.
A product that contains less than 5g sugar per 100g is low in sugar and can go in your shopping trolley.
Remember: 4 grams of sugar are equivalent to one teaspoon. This picture makes it easier to comprehend how much sugar you are actually consuming.
And be aware: sugar has many names!
The food industry is clever: Sugar is not always conveniently labelled as "sugar" in the ingredients list. Companies are actually hiding the amount of added sugar in their products by disguising them as different names that don't seem so bad. One single product might "only" contain 5 % brown rice syrup, 4% sucrose, 3% fructose and 5% dextrose. This way, they do not have to list sugar in the first three ingredients. If you add up these different types of sugar, you suddenly have 17% sugar per 100g. Not so healthy looking any more.
Here is a list of the 56 aliases the food industry has for sugar, as put together by the anti sugar crusader Dr Robert Lustig: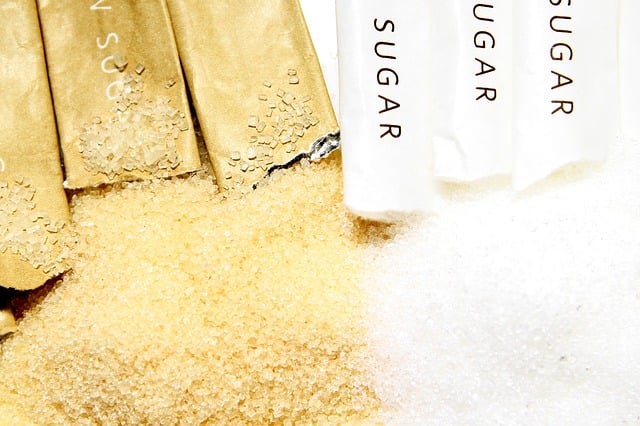 FIFTY-SIX NAMES FOR SUGAR
Agave nectar*
Barbados sugar*
Barley malt
Beet sugar*
Blackstrap molasses*
Brown rice syrup*
Brown sugar*
Buttered syrup*
Cane juice crystals*
Cane sugar*
Caramel*
Carob syrup*
Castor sugar*
Confectioner's sugar*
Corn syrup
Corn syrup solids
Crystalline fructose*
Date sugar*
Demerara sugar*
Dextran
Dextrose
Diastatic malt
Diatase
Ethyl maltol
Evaporated cane juice*
Florida crystals*
Fructose*
Fruit juice*
Fruit juice concentrate*
Galactose
Glucose
Glucose solids
Golden sugar*
Golden syrup*
Grape sugar*
High-fructose corn syrup*
Honey*
Icing sugar*
Invert sugar*
Lactose
Malt syrup
Maltose
Maple syrup*
Molasses*
Muscovado sugar*
Organic raw sugar*
Panocha*
Raw sugar*
Refiner's syrup*
Rice syrup
Sorghum syrup*
Sucrose*
Sugar*
Treacle*
Turbinado sugar*
Yellow sugar*

*Contains fructose