Sweet, tangy and irresistibly delicious. This sugar free and vegan raspberry coconut fool will tantalise your tastebuds.
Simple pleasures are the best.  They are like an unexpected gift, don't have to cost a penny and take you by surprise. As the writer Paul Coelho puts it, "It's the simple things in life that are the most extraordinary."
It does feel very satisfying indeed to bake a sponge, let it cool, cut in in half, mix a filling, mix a topping, assemble the thing, crown it with whichever decoration you have dreamed up and bathe in the ah's and ooh's when you serve it. That is a big, fat, special pleasure. But. Not simple!
This raspberry coconut fool is so easy to assemble that a child could do it.
It is a dessert delicious enough to serve at a dinner party as you can easily prepare it in advance and store in the fridge. (If you want, you can create beautiful swirly patterns by sticking a knife into the raspberry layer and combine it with the coconut. = extra wow factor)
But as so often, the essential element of a simple pleasure is spontaneity and surprise. So, to help you enjoy a raspberry coconut fool when inspiration strikes, you should always keep a can of full fat coconut milk in the fridge. It will help it to harden sufficiently to have a wonderful creamy texture which is needed for this dessert.
Trust me. There is one in my fridge right now. Just in case.
The raspberry coconut fool is
easy
quick to assemble
tangy but sweet
sugar free
vegan
raw
low carb
super-creamy
super-fruity
super-moreish
highly nutritious and rich in fibre, vitamins C, E, B1, B3, B5 and B6 and minerals including iron, selenium, sodium, calcium, magnesium and phosphorous - yes, coconuts are a true superfood!
a glorious moment of happiness
If you are a strawberry lover, you could also try my strawberry coconut mousse, which is based on coconut milk as well. For chocolate fans, the chocolate avocado mousse would be a great choice.
Enjoy!
Try my other sugar free desserts with raspberry:
★ Tried this recipe? Give it a star rating below!★
★ STAY IN TOUCH on FACEBOOK, PINTEREST and INSTAGRAM  for more great food and join my NEWSLETTER for the latest updates and a FREE EBOOK.★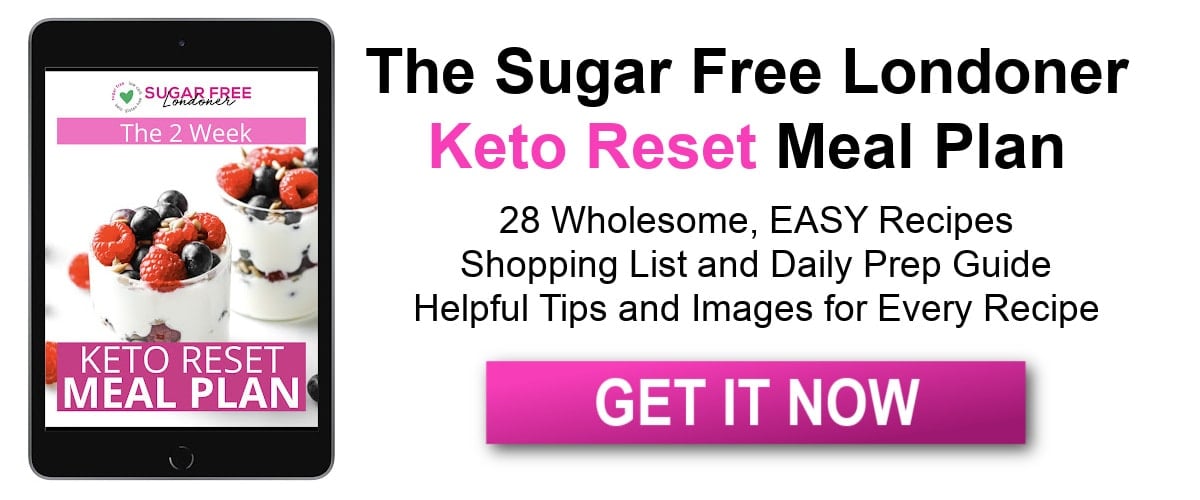 Raspberry Coconut Fool
from Sugar Free Londoner
Sweet, tangy and irresistibly delicious. This sugar free and vegan raspberry coconut fool will tantalise your tastebuds.
Note: The servings slider only changes the first amount in each line and not any subsequent amounts. Please make your own calculations where necessary. ***As an Amazon Associate I earn from qualifying purchases.
Ingredients
2

x 400 ml can of full fat coconut milk

cooled

400

g

raspberries

1

teaspoon

vanilla

3

teaspoon

erythritol

or sweetener of choice

extra raspberries

coconut flakes of chopped pistachios to decorate
Instructions
The coconut milk cans need to be cooled in the fridge, preferably over night. This gives the majority of the liquid a creamy consistency

Scoop the firm bits out of the can and leave the liquid leftovers. They can be a nice addition to your next curry or added to your morning smoothie/porridge.

Blend the coconut with half the raspberries, vanilla and 2 teaspoon sweetener

Puree the remaining raspberries. Add 1 teaspoon sweetener if you like a bit more sweetness

Layer the mixtures in small glasses

Decorate with extra berries, coconut flakes or chopped pistachios
Nutrition
Serving:
125
g
Calories:
221
kcal
Total Carbohydrates:
9.3
g
Fiber:
4.4
g
Sugar:
4.6
g
This post contains affiliate links. If you click on one of these links and purchase a product, I may earn a small commission, at no extra cost to you. Thank you for supporting Sugar Free Londoner.