These easy Halloween cookies are sugar free, gluten free and drizzled with sugar free chocolate. A delicious, totally guilt-free cut-out cookie recipe that's perfect for low carb and keto diets and suitable for diabetics.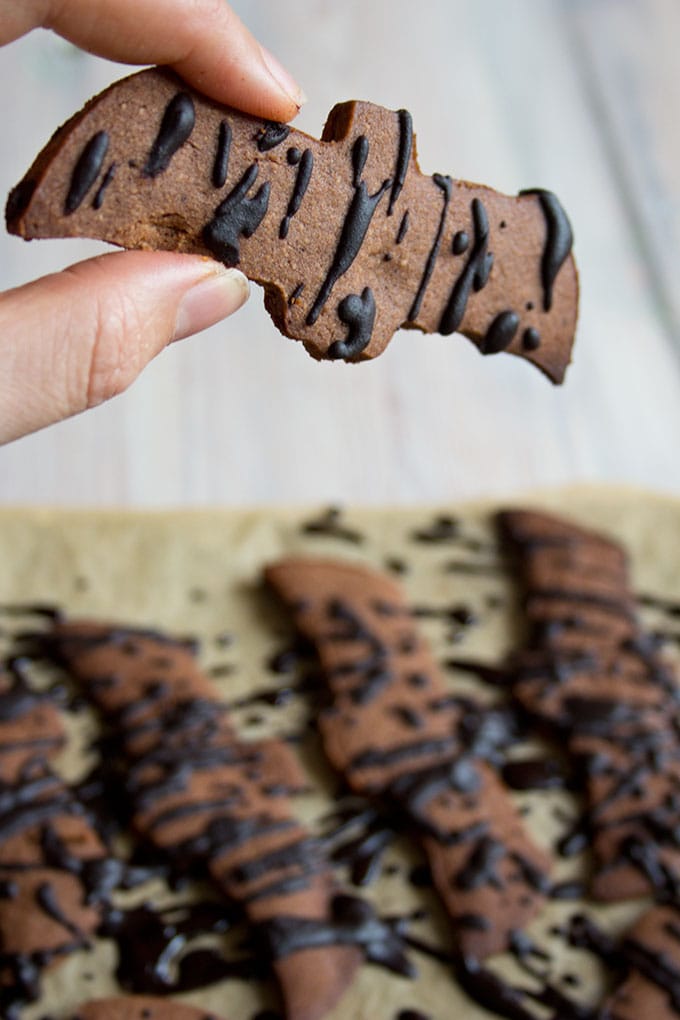 What are your favourite sugar free Halloween treats?
Personally, I'm a cookie monster. That's why I'm all over these chocolate bat Halloween cookies! Don't they look like they've been in a hellish chocolate storm? 🙂
These easy low carb cutout cookies are REALLY crunchy and deliciously buttery and taste just like real sugar cookies. They contain a mix of coconut and almond flour and LOADS of lovely butter. And since they're sweetened with my favourite sugar alternative erythritol, they're good for your teeth, good for your waistline - and good for your soul!
How to make low carb chocolate Halloween cookies - step by step: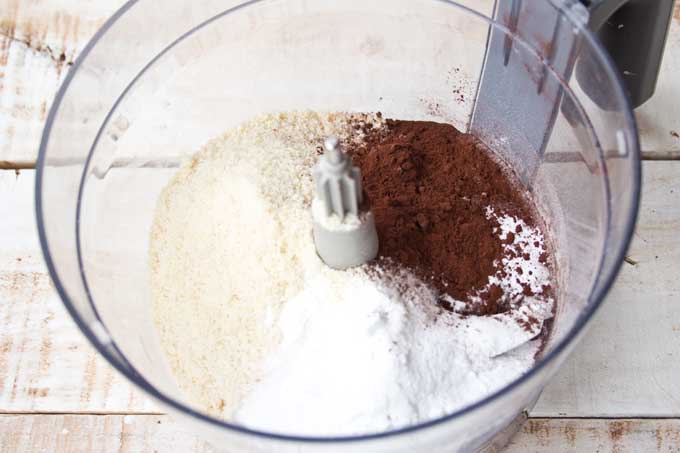 1.) First, combine your dry ingredients in a bowl or in a food processor. You need almond flour, coconut flour, unsweetened cocoa powder, powdered sweetener, baking powder and xanthan gum. The xanthan gum is not absolutely essential, but it gives the cookies a stronger texture.
Top tip: I recommend using powdered sweetener over granulated sweetener in this recipe - you'll end up with smoother cookie dough. You can blend granulated sweetener and turn it into powdered sweetener.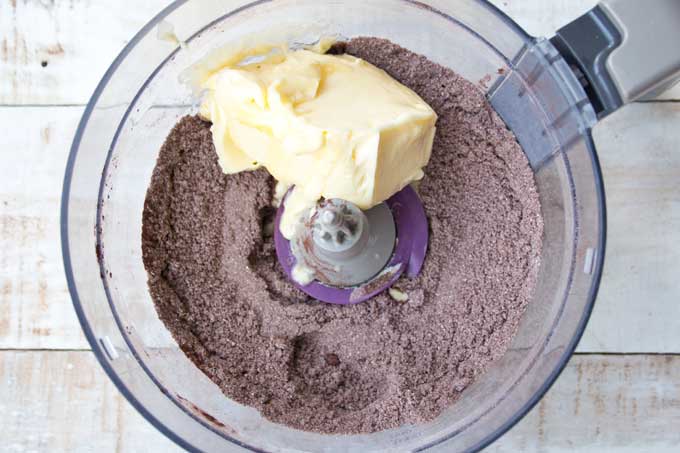 2.) Add softened butter and blend until well-combined. Wait a couple of minutes to let the coconut flour absorb all the moisture.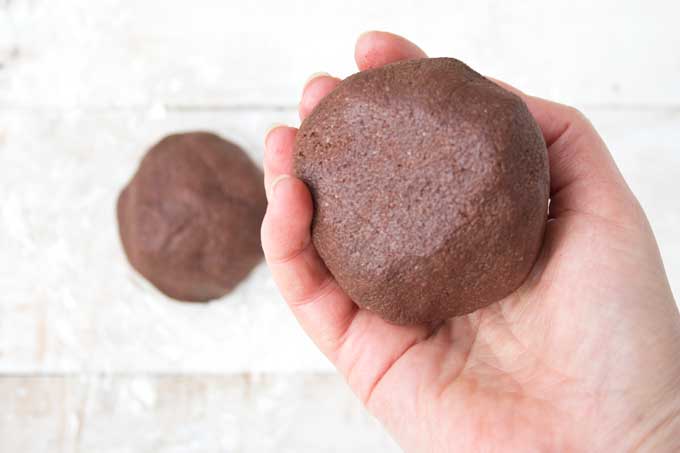 3.) Form 2 dough balls with your hands.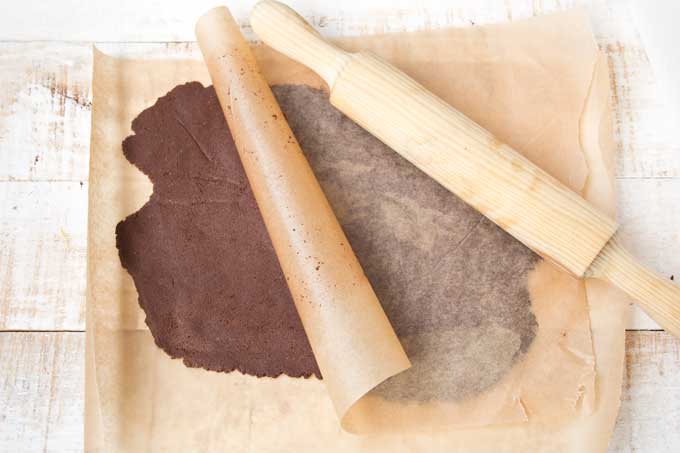 4.) Roll out the dough between 2 pieces of parchment paper and put the dough into the freezer for 15 minutes. This is a trick I learned over at  Mrs Criddles Kitchen.
This is an absolutely essential step and will make the dough infinitely easier to handle. 
5.) Use a cookie cutter of your choice and get to work!
I found my Halloween bat cookie cutter in a local shop - you can get one just like it on Amazon.
The cool thing about freezing the dough before using your cookie cutter is that the dough is firm and you'll be able to lift it inside the cookie cutter. Then you just drop it onto a fresh piece of parchment. NO MESS!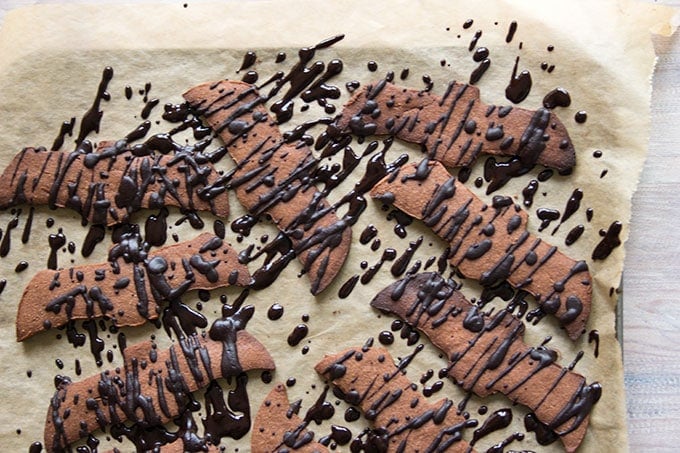 6.) Bake for 6-7 minutes at 180 Celsius / 350 Fahrenheit. Then melt some sugar free chocolate or make your own using the steps in the recipe card and drizzle over the cookies.
Tips and tricks to make perfect sugar free Halloween cookies: 
Freezing the dough is ABSOLUTELY ESSENTIAL. It makes life so much easier.
Why?
Low carb cookie dough is gluten free and is therefore MUCH more fragile -it lacks the elasticity of wheat cookie dough. If you don't cool it before using you won't be able to lift the dough shapes and the dough might break/be too soft.
I experimented with adding an egg to the dough to make it firmer and found that it did the job, but made the end result spongier. This Halloween cookie recipe is SO much better without egg!! The cookies are crunchy and on the right side of flaky, just like your favourite butter cookies or shortbread.
I don't have much of a sweet tooth. If you do, you may want to add ½ cup of sweetener as opposed ⅓ cup. Taste the dough and see what you think.
For a vanilla version of these cutout cookies, just leave out the cocoa powder and add 1-2 tsp of vanilla extract to the cookie dough.
Do not attempt to handle your lovely Halloween cookies until they are fully cooled!!!
Low carb cookies are very fragile when hot. Trust me - they'll be firm and crunchy once they have cooled down.
Do you like cookies as much as I do? Check out these low carb peanut butter cookies or these low carb coconut shortbread cookies.
Want more ideas for Halloween? Check out this roundup - 17 Sweet & Savoury Healthy Halloween Treats.
Tried this recipe? Give it a star rating below!
★ STAY IN TOUCH on FACEBOOK, PINTEREST and INSTAGRAM  for more great food and join my NEWSLETTER for the latest updates and a FREE EBOOK.★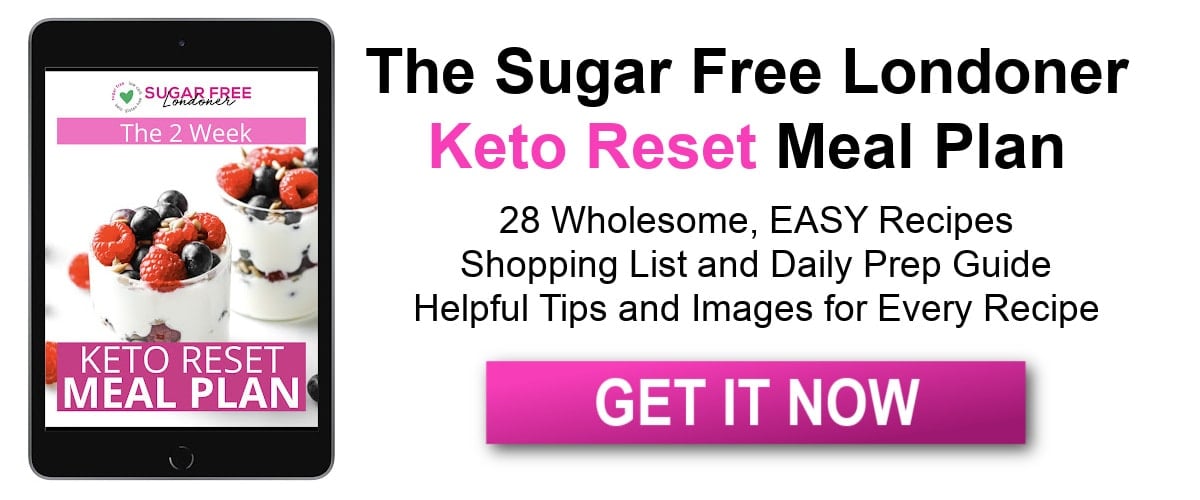 Chocolate Halloween Cookies (sugar free)
from
Sugar Free Londoner
Tasty bats straight out of hell: These healthy chocolate Halloween cookies are sugar free, grain free, low carb and drizzled with an indulgent chocolate glaze.
Note: The servings slider only changes the first amount in each line and not any subsequent amounts. Please make your own calculations where necessary. ***As an Amazon Associate I earn from qualifying purchases.
Ingredients
For the glaze
Instructions
Preheat your oven to 180 Celsius / 350 Fahrenheit
Cookies
Mix all the dry ingredients in a food processor or with a blender, then add the butter and combine until you have a smooth dough.

Divide into 2 balls and roll out between two sheets of non-stick baking paper.

Place in the freezer for 15 minutes. This is an essential step!!

Cut into shapes with a cookie cutter of your choice. If the dough has been in the freezer for too long, it might break easily. In this case, just wait a few minutes to continue. Place the cut-outs on a baking sheet lined with parchment paper.

Form the leftovers of the dough into a ball, roll out again and repeat the freezer step.

Bake your first batch for 6-7 minutes until the edges are just beginning to brown.

Let cool completely before glazing. These cookies are VERY FRAGILE when straight out of the oven. They firm up as they cool down.
Chocolate Drizzle
Slowly melt chocolate in a water bath (see post) or in a pot over a low heat. You can also do it in a microwave in 30 second bursts. Add powdered sweetener and stir until combined.

Fill into a ziplock bag, pierce a hole and drizzle over the cooled cookies.
Notes
Options for the chocolate drizzle:
You can use unsweetened chocolate such as Montezuma's in the UK (also available at Sainsbury's) or alternatively a chocolate with 90% cocoa solids such as Lindt, which is very low in sugar. 
In the US there's a popular stevia-sweetened sugar free chocolate  brand called Lily's. 
You can also make AMAZINGLY DELICIOUS homemade sugar free chocolate with cacao butter, cocoa powder and sweetener! Recipe is in this post - sugar free chocolate chips
Nutrition
Calories:
81
kcal
Total Carbohydrates:
2
g
Protein:
2.3
g
Fat:
7.1
g
Cholesterol:
15
mg
Fiber:
1.9
g
Sugar:
0.3
g
This post was first published in October 2016. It was updated with new images, more tips and a recipe change in October 2018. Happy Halloween!
This post contains affiliate links. If you click on one of these links and purchase a product, I may earn a small commission, at no extra cost to you. Thank you for supporting Sugar Free Londoner.