Tasty bats straight out of hell: These healthy chocolate Halloween bat cookies are sugar free, grain free, low carb and drizzled with an indulgent chocolate glaze.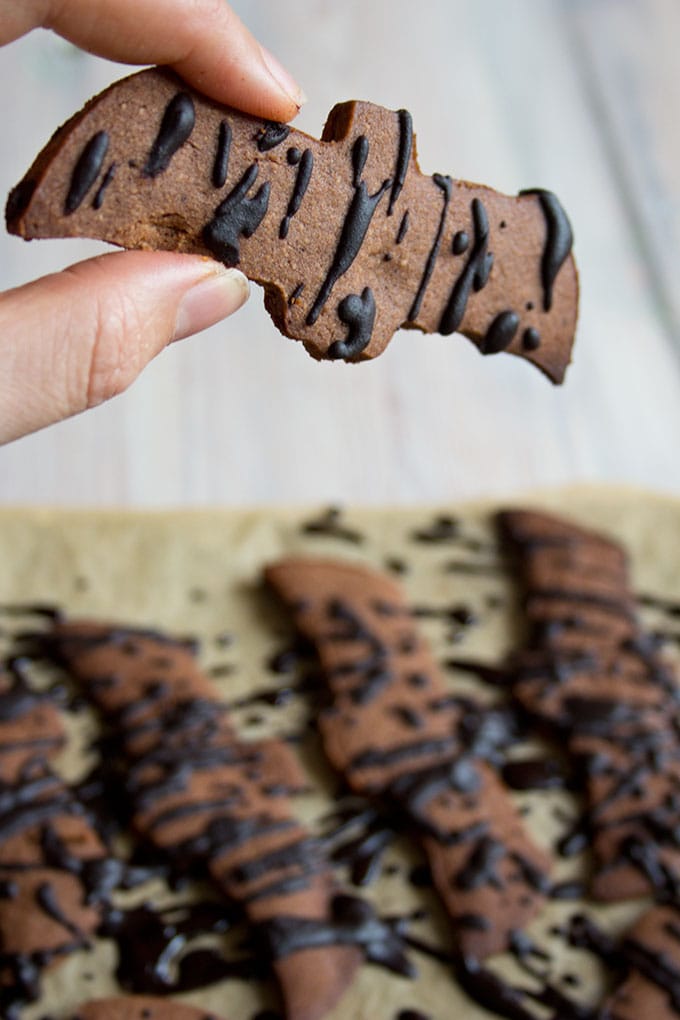 Bats out of hell! That's what I thought when I looked at this creation. I have to admit: I was trying to achieve delicate, beautiful swirls with my chocolate icing. It ended up looking like a terrifying black snowstorm. Which is actually a very fitting look for a Halloween cookie. So while I could have sold this to you as a stroke of genius, it was more of a lucky save.
Halloween is always fun in London. The English don't need much of an excuse to get dressed up silly, so it's a welcome opportunity. There are little pockets in our neighbourhood that have open house parties and the kids just love it. I normally strip over an especially hideous warty nose, don a witches' hat and scare myself when I look in the mirror. Though my costume is nothing compared to the mysterious two meter tall guy who wears a werewolf costume so realistic everyone gets freaked out!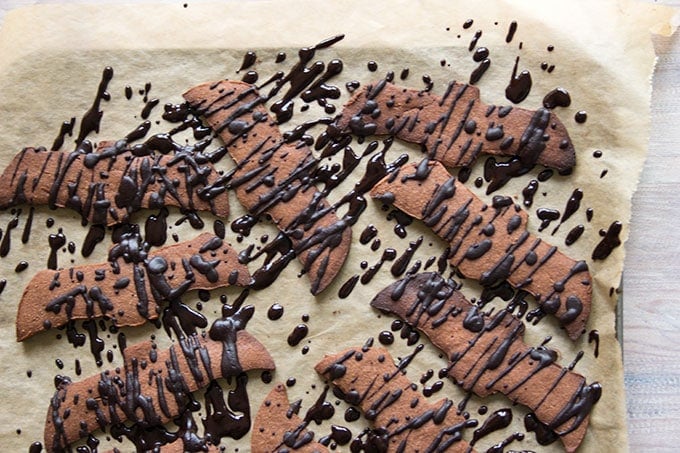 Trick-or-treating. Sugar free friends, what's your opinion on this one? My kids still love it, and I would be the last one to tell them they can't collect as much candy as their mates. It's like a rite of passage, and one of the things they'll always remember about their childhood. What I have noticed over the last couple of years though is that as they have become aware of the issues around sugar, they have become a LOT pickier about their sweets. The cheap and nasty stuff will end up in the bin rather quickly (and this is not me throwing it out) and after a few days the interest in their stash wanes rapidly.
WITH HALLOWEEN APPROACHING, I THOUGHT I SHOULD TRY MY HAND AT SOME SUGAR FREE SWEETS. ENTER THESE HALLOWEEN BAT COOKIES!
These are the first cut-out grain free cookies I have ever made. Because both almond and coconut flour behaves differently to wheat – you just don't have the gluten that makes the dough so nice and elastic – I did some research to avoid ending up with a crumbly mess. And came across this brilliant trick over at Fit Foodie Finds and Mrs Criddles Kitchen: You have to FREEZE the dough before cutting it out!
I would say it is the one essential step you have to follow. I did try to roll out the dough between two sheets of parchment paper straight after making it (I am quite impatient) and it was sticky, messy and just impossible to move the cookies onto the baking sheet.
Do you like cookies as much as I do? Check out these peanut butter cookies, which I made with oats and sweetened with dates. My other favourite cookie, thinking a bit out of the box here, are my grain free cheese thyme crackers. I'd recommend these to all you rebels out there who get freaked out by bats and just don't like going with the flow. Though there is a much easier option: Your Halloween Bat cookies can come in all kinds of disguises.
I AM THINKING TASTY CHOCOLATE DRIZZLED HEARTS OR STARS…STRAIGHT OUT OF HELL!
If you try out this recipe, let me know! I'd love to hear from you. Write me a comment on the blog or tag me on Instagram. And don't forget to like my page on Facebook to get many more great recipe ideas.

Sugar Free Londoner
Halloween Bat Cookies (sugar free, grain free)
Tasty bats straight out of hell: These healthy chocolate Halloween bat cookies are sugar free, grain free, low carb and drizzled with an indulgent chocolate glaze.
Ingredients
• 40g (1/3 cup) coconut flour
• 80g (2/3 cup plus 2 tablespoons) almond flour (NOT ground almonds!)
• 40g 1/4 cup) powdered erythritol (I used Sukrin icing)
• 120g butter (softened)
• 2 tbsp cocoa powder (unsweetened)
• 1/4 tsp baking powder
• for the glaze
• 50g chocolate (90%)
• 1 tbsp powdered erythritol
• 2 tbsp double (heavy) or whipping cream
• 1 tbsp butter
Instructions
Preheat your oven to 180 Celsius.
Mix all the dry ingredients, then add the butter and combine until you have a smooth dough.
Divide into 2 balls and roll out between two sheets of non-stick baking paper.
Place in the freezer for 15 minutes. This is an essential step!!
Cut into shapes with a cookie cutter of your choice. If the dough has been in the freezer for too long, it might break easily. In this case, just wait a few minutes to continue. PLace the cut-outs on a baking sheet lined with parchment paper.
Form the leftovers of the dough into a ball, roll out again and repeat the freezer step.
Bake your first batch for 6 minutes until the edges are just beginning to brown.
Let cool completely before glazing.
For the glaze, combine all ingredients in a pot over low heat, stirring continuously. You could also do this in a microwave.
Once it is liquid, drizzle over the cooled cookies with a spoon or a fork.
Notes
The amount of dough made ca 20 cookies, although this will vary according to the size of your cookie cutter. Therefore, I have calculated the nutrition for the whole amount. The nutritional data for one of my cookies (1 of 20) would be: 81 calories, 7g fat, 2g carbs, 0.2g sugar) Also bear in mind that most of the chocolate glaze actually ended up on the baking sheet!
7.6.6
283
https://sugarfreelondoner.com/halloween-bat-cookies-sugar-free/