English breakfast 2.0! (Almost) all wonderful ingredients of a true English breakfast rolled into one easy-to-eat dish. Say hello to this healthy low carb English Breakfast Frittata.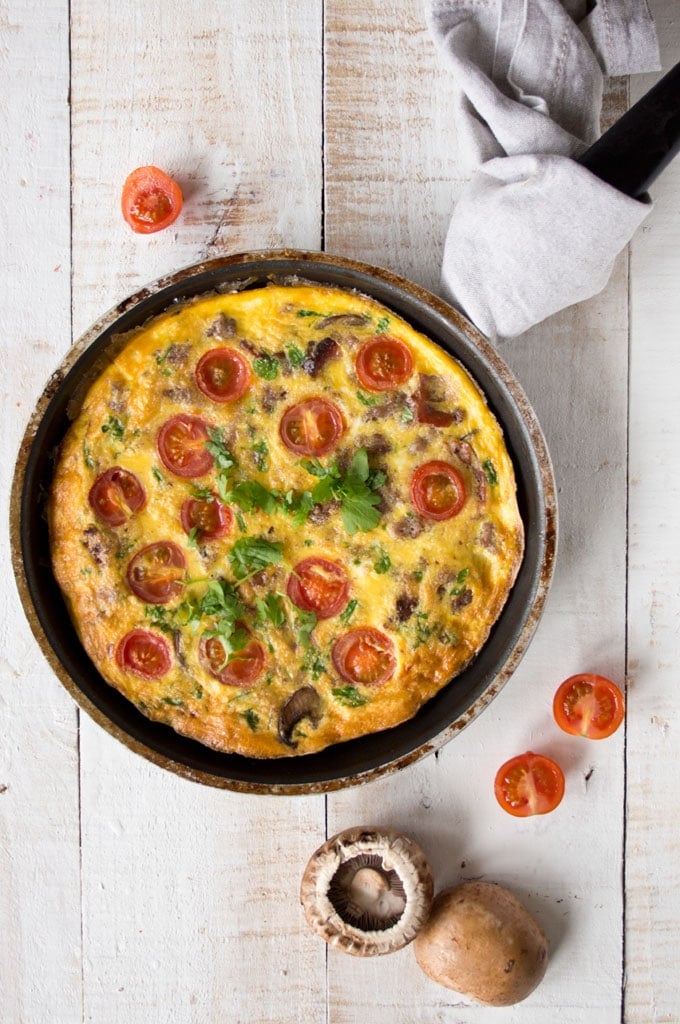 I am deeply impressed by the ingenuity of the British. English inventions range from the blindingly brilliant to the ever-so slightly bonkers. Among them are useful solutions to problems that have tested mankind for generations and answers to issues that didn't yet exist. Here's my top 10 list:
The TV (John Logie Baird, 1925). What would we do without it?
The Telephone (Alexander Graham Bell, 1875)
Photography (Thomas Wedgewood, 1802)
World Wide Web (Tim Berners Lee, 1989)
Electronic programmable computer (Tommy Flowers, 1943)
Chocolate bar (JS Fry & Sons, 1847)
Tin can (Peter Durand, 1810)
Thermos flask (Sir James Dewar, 1892)
Automatic kettle (Peter Hobbs, 1955)
English Breakfast (unknown, Middle Ages)
Of course, there's also Newton's Laws, the Electric Motor, the smallpox vaccine, the electric motor and almost every modern sport. But what is the one invention that makes us especially happy in the morning? Exactly. The good old fry-up. Around since the Middle Ages, it became popular during the Victorian era and was first featured in print in Isabella Beeton's The Book of Household Management (1861).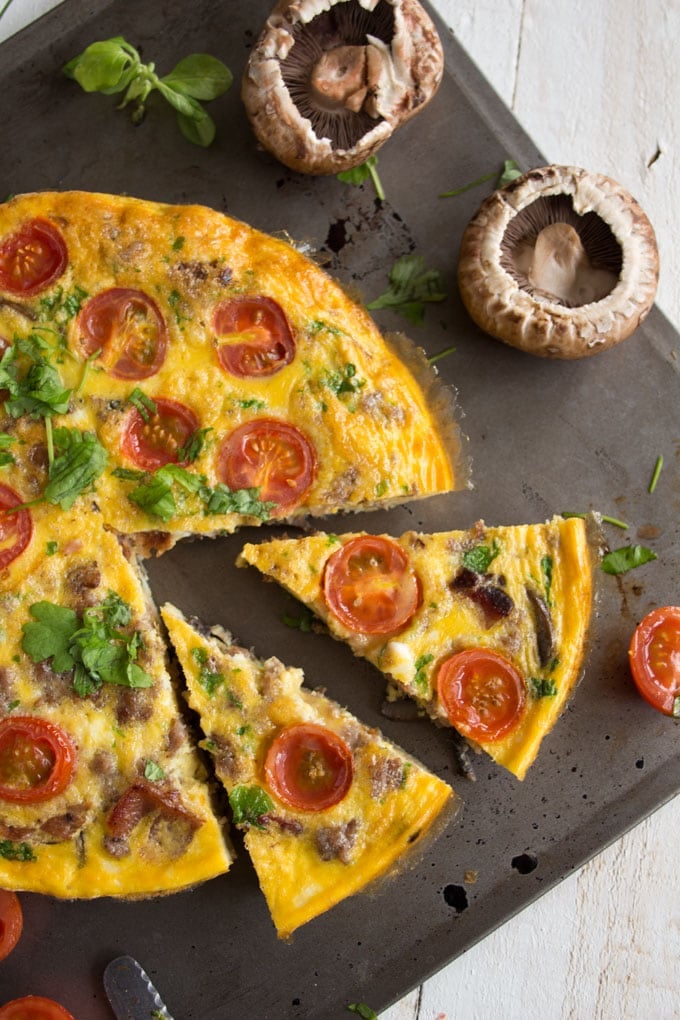 Let's have a look at the main ingredients that make this breakfast so intensely satisfying: Eggs. Bacon. Sausage. Tomatoes. Mushrooms. Note I am not mentioning the beans here - sorry, I am not a fan. Tinned baked beans are generally packed with added sugars, plus they are not low carb.
Apart from the bean issue, there is only one more downside to English Breakfast I can come up with. English Breakfast leftovers. Anyone looking forward to eat those? Sad, shrivelled tomatoes, droopy mushrooms and half-eaten sausages do not fill my heart with joy. A fry-up has to be eaten on the spot. There's no cooking ahead.
That's why I have taken the liberty to improve upon the English Breakfast. Say hello to the English Breakfast Frittata!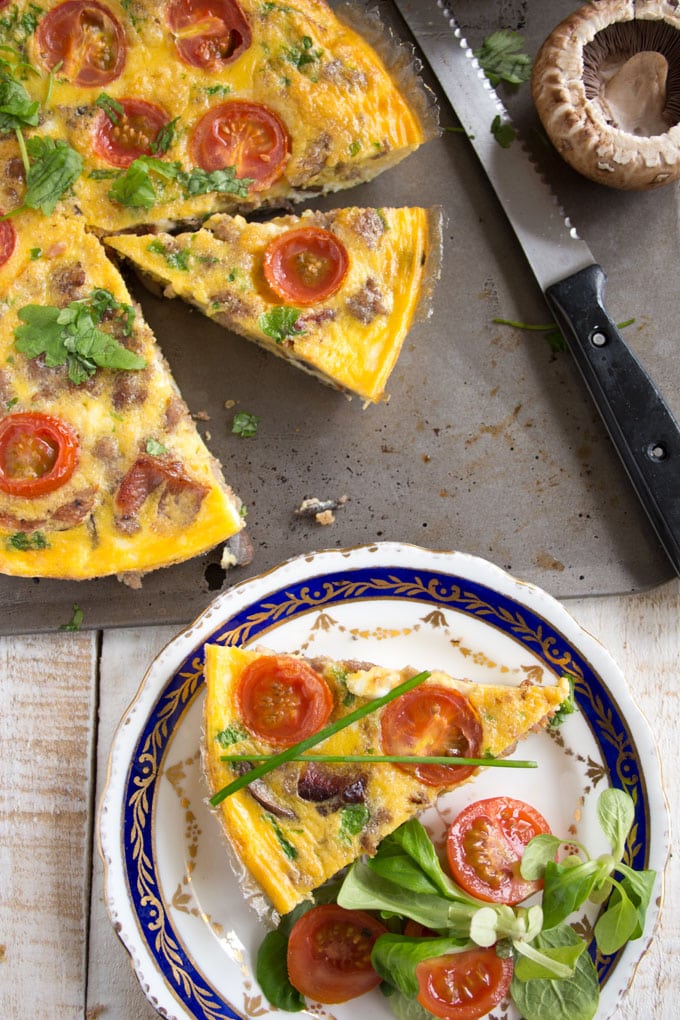 The English Breakfast Frittata is a classic fry-up rolled into one easy-to-eat, easy-to-store dish. It can be made ahead, eaten hot or cold. It can even be enjoyed on-the-go. That's already FIVE benefits! Plus, you can add a crunchy green side salad for extra healthy points. If you ask me, this invention is BIG.
It's best to prepare your English Breakfast Frittata the night before you want to eat it. Which would be benefit number SEVEN, as you can rest your knackered brain in the morning.
Who needs the stress of having to juggle the correct cooking times of at least five ingredients simultaneously? To get everything on a plate, all piping hot and looking perfectly yummy, is not an easy feat. In the morning, life has to be EASY.
Eating an English Breakfast Frittata is as relaxing and invigorating as a mini morning meditation session. All you need to do is fire up your oven and gently heat your frittata, while you check the news, sip your first cup of tea and contentedly hum the tune of God Save The Queen.
Then you simply cut it into pretty slices and serve. Ta-da.
Now, Your Majesty, that's a truly perfect healthy English Breakfast.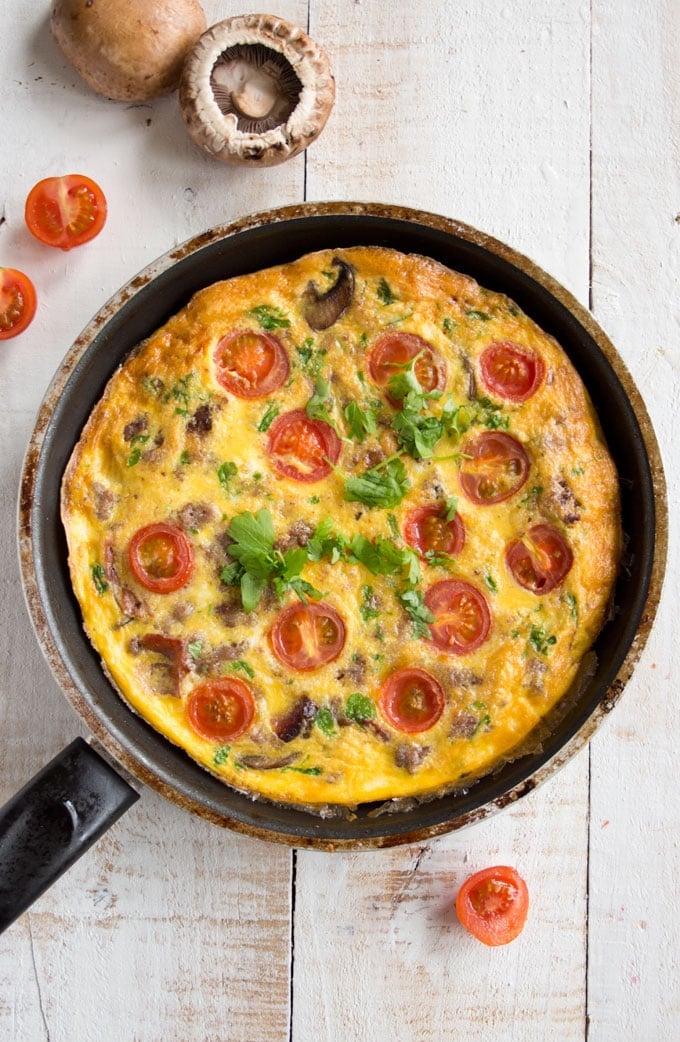 Love eggs for breakfast? Also try my Keto Mexican Breakfast Casserole!
Recipe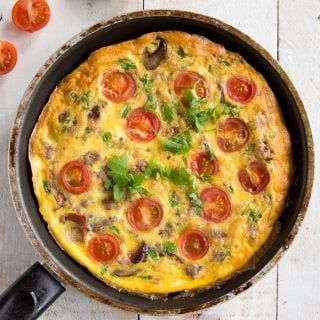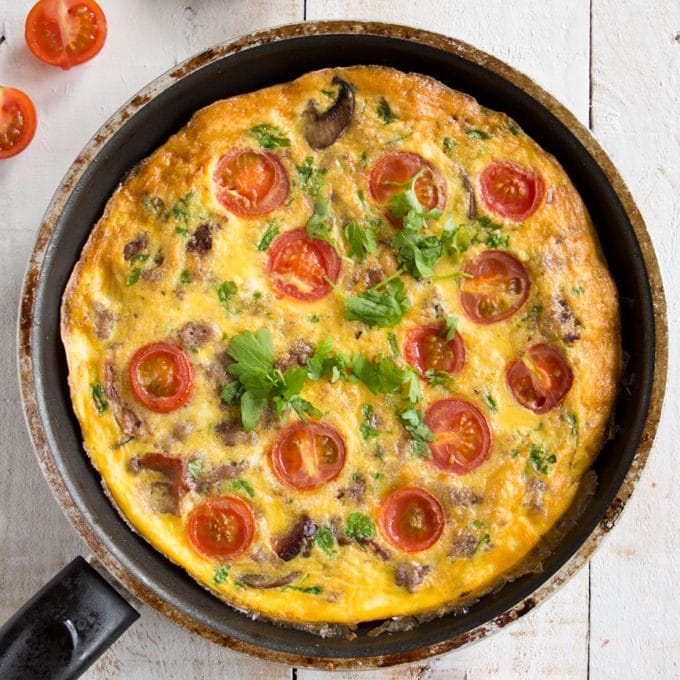 Healthy English Breakfast Frittata
from Sugar Free Londoner
English breakfast 2.0! (Almost) all wonderful ingredients of a true English breakfast rolled into one easy-to-eat dish. Say hello to the healthy

English Breakfast Frittata.
Note: The servings slider only changes the first amount in each line and not any subsequent amounts. Please make your own calculations where necessary.
Ingredients
10

large eggs

3

pork sausages

3

slices

of back bacon

250

g / 8 oz

portobello mushrooms

sliced

handful of cherry tomatoes

halved

1

garlic clove

chopped

pinch

salt & pepper

2

tablespoon

parsley

chopped, to serve
Instructions
Press the sausage meat out of the casings, break it up until it looks like ground meat. Fry in a small ovenproof frying pan (24 cm diameter) for around 5 minutes over medium heat or until browned. No extra oil needed!

Add your sliced mushrooms with 1 chopped clove of garlic to the pan. Put a lid on and fry over medium heat for another 5 minutes. Stir in between. If your mushrooms release liquid, continue frying for another minute or two without the lid until it has evaporated.

While the sausages and mushrooms are browning, grill/broil the bacon in the oven. Once it's done, cut into small pieces.

In a separate bowl, whisk together the 10 eggs with a dash of salt and pepper. Add the egg mixture to the pan. Reduce the heat to low and stir to equally distribute the pork mince and mushrooms. Replace the lid and cook for 2 minutes until the bottom begins to set.

Now carefully place the sliced cherry tomatoes and bacon pieces on the top of the frittata.

Cook for another 3 minutes with the lid back on until the egg is almost set and the frittata is turning golden brown on the bottom.

Turn the grill/broiler to a low heat. Remove the lid and place the pan the oven (middle shelf). Let the frittata cook for around 10 minutes or until the egg is fully set and is golden brown on the top.

Slice and serve with chopped parsley scattered on top and a green side salad.
Notes
3g net carbs per serving. Makes 5 servings.
When buying sausages, choose free range pork with the highest possible meat content. 
Nutrition
Serving:
190
g
Calories:
466
kcal
Total Carbohydrates:
3
g
Protein:
27.9
g
Fat:
37.1
g
Saturated Fat:
13.2
g
Fiber:
1
g
Sugar:
2
g
>