This sugar free frozen yogurt with cherries and chia seeds is refreshing and irresistibly fruity.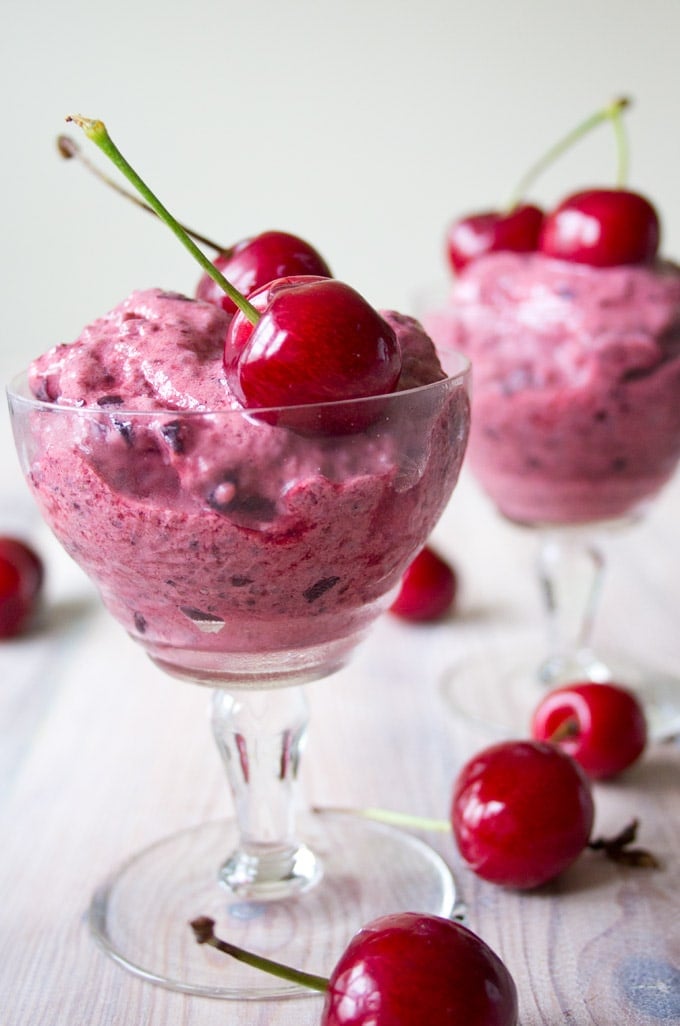 You might be a chia veteran. But you might just be like me, a Salvia Hispanica novice. Just getting your head around WHY you should care about chia seeds and WHAT THE ? to do with them.
Well, today I'll be here to lend a helping hand. I have just purchased a gigantic pack and was literally gagging to come up with some interesting ways to use them.
After making a few standard chia breakfasts with almond milk and fruit - delicious and filling - I decided to make this incredibly yummy dessert:
May I present to you a sugar free frozen yogurt with cherries and chia!
Chia seeds are the seeds of a plant that grows in Mexico and Central America and were a staple food for the Aztecs and Mayans. In fact, "chia" is the ancient Mayan word for "strength".
The seeds contain significant amounts of fibre and omega-3 fatty acids as well as plenty of high quality protein, several essential minerals and antioxidants.
Research shows that they may improve risk factors for diabetes and heart disease. They also increase blood levels of heart-healthy omega-3 fats and lead to improved digestive health.
Friends, these seeds are not just another crazy fly by night fad. They are a true superfood that's here to stay. As you only need a couple of spoonfuls per portion, one bag of chia seeds will last a long time.
Like so many seeds, chia packs a ton of nutrition in that teensy tiny package. But probably the most interesting thing about chia seeds is their high fibre content. Looking at the nutrition breakdown, an ounce of chia seeds has 12 grams of "carbohydrate."
However, eleven of those grams are fibre, which isn't digested by the body. Fibre does not raise blood sugar and does not need insulin to be disposed of. The real carbohydrate content is only one gram per ounce, which is very, very low and makes chia a perfect low carb friendly food.
Because of its high fibre content, chia seeds can absorb up to 12 times their weight in liquid. So when you add them to, say, milk, you will get a "pudding", thickened by the seeds themselves as they expand.
Fibre also feeds the good bacteria in the gut, which we all know now is essential for our health. By weight, chia seeds contain 40 % fibre, which makes them one of the best sources of fibre available.
This sugar free frozen yogurt with cherries and chia is so easy to make.
All you need is 4 ingredients, 1 minute of blending, 10 minutes of patience and a few hungry mouths to feed. We all loved the incredibly fruity flavour combined with the crunchy edge of the chia seeds that jazz up the texture of the froyo.
Because of the expanding properties of the seeds they bind the liquid in the yogurt and fruit, helping to keep the dish "in shape" for longer.
And, of course, as a health fanatic (yes, I am aware) I felt AWESOME feeding my family's and my own friendly gut bacteria. Take a spoonful of sugar free frozen yogurt and imagine it's like stroking their tiny cute heads.
There you go, lovely little health helpers! We've got each other's backs.
More easy recipes with yogurt
Tried this recipe? Give it a star rating below!
★ STAY IN TOUCH on FACEBOOK, PINTEREST and INSTAGRAM  for more great food and join my NEWSLETTER for the latest updates and a FREE EBOOK.★ 
Recipe
Sugar Free Frozen Yogurt with cherries and chia
from Sugar Free Londoner
This sugar free frozen yogurt with cherries and chia seeds is refreshing and irresistibly fruity.
Note: The servings slider only changes the first amount in each line and not any subsequent amounts. Please make your own calculations where necessary.
Ingredients
1 plus ⅔

cup / 400g

plain yoghurt

full fat

4

tablespoon

chia seeds

1 ½

cup / 300g

cherries

frozen

1

tablespoon

erythritol

or sweetener of choice
Instructions
In a tall bowl or your food processor, soak the chia seeds in the yoghurt for 10 minutes.

Add the frozen cherries and sweetener and blend.

Serve immediately or freeze to firm up for up to 1 hour, stirring occasionally.
Notes
You can use fresh cherries if you wish, but then you'd obviously have to freeze the mix until firm. I decided on frozen cherries as they are pitted already.
Nutrition
Calories:
112
kcal
Total Carbohydrates:
14.4
g
Fat:
4.3
g
Fiber:
4.4
g
Sugar:
9.5
g
This post contains affiliate links. If you click on one of these links and purchase a product, I may earn a small commission, at no extra cost to you. Thank you for supporting Sugar Free Londoner.