Perfect for a lazy breakfast or as an afternoon treat: These protein-packed coconut flour waffles are gluten free, sugar free and low carb. Paleo option!
Do you know those days when only a waffle will do? A soft, light and fluffy waffle with a gentle crunch on the edges, preferably straight from the waffle maker so it's still warm? A waffle that fills the kitchen with the most mouthwatering smell of baked deliciousness? When I look out of the window, I can say with 100% certainty that today is a grain free waffles day.
One of my favourite waffle recipes are these low carb waffles, which disappear faster than you can say waffle. These babies come out of the waffle maker, hover in the air for a second and are gobbled up before they even reach a plate.
Friends, low carb waffles have got some serious competition: the almond butter coconut flour waffle!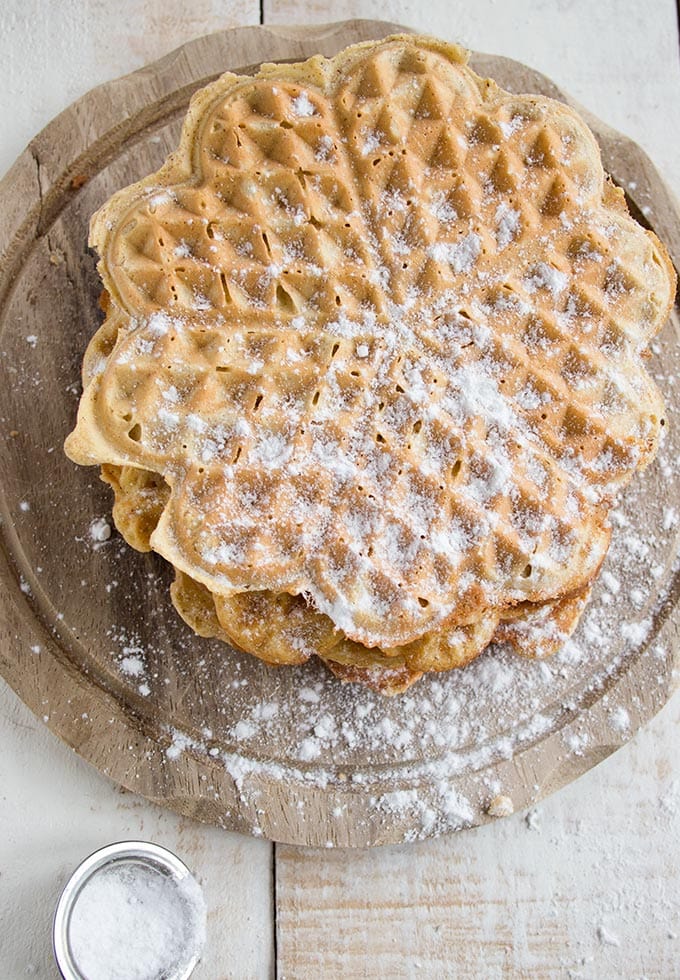 Almond butter coconut flour waffles are the heartier cousin of regular low carb waffles. Purists make almond butter waffles with only almond butter, baking powder and eggs plus a sweetener such as banana or my favourite, erythritol. But I have a hungry teen in the house so that just won't do.
Have you got any idea how much teenagers eat? They wake up in the morning so starved they can hardly get out of bed. Feeding teens is like throwing food into an abyss.
That's why my almond butter waffles include coconut flour, which is not only crazy healthy, but adds more substance (read: they are filling!) and turns it into a veritable meal.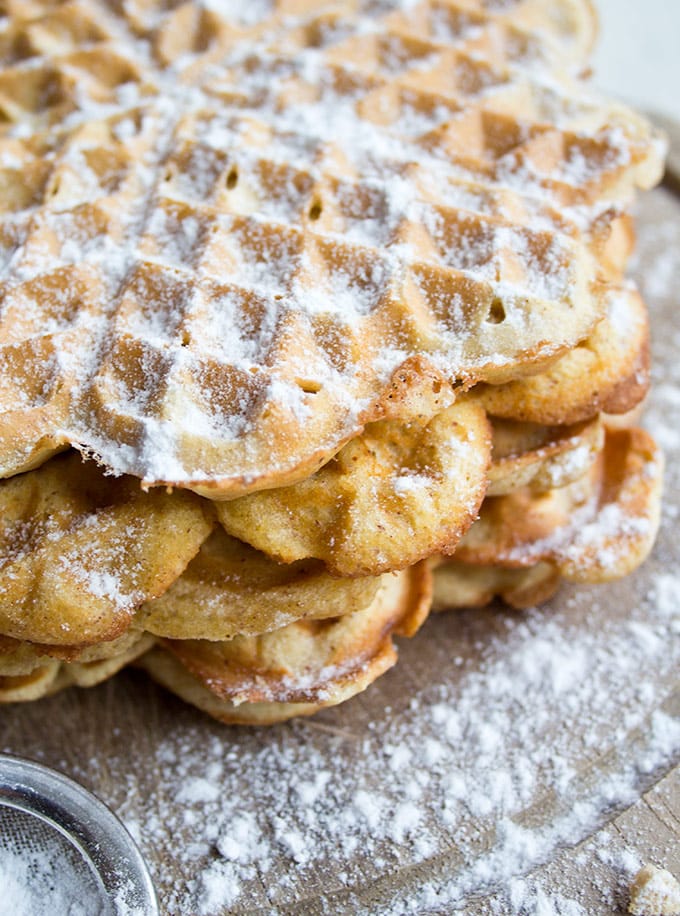 Coconut flour is gluten-free, particularly rich in fibre and low in carbohydrates. I love baking with it, though it can take a little to get used to it. Coconut flour absorbs a LOT of liquid.
I have experimented quite a bit with this recipe and finally cracked the ideal ratio of wet and dry ingredients. The result is light, moist and fluffy waffle heaven with a fragrant almond note. Basically, a brilliant lazy breakfast or snack for hungry kids.
Recipe variations for almond butter coconut flour waffles:
These waffles are easily customisable. You could use peanut butter instead of almond butter and experience with spices by adding mixed spice (AKA pumpkin spice in the US) or cinnamon for a more festive flavour.
In terms of toppings, I am a purist - I have just dusted my stack with powdered erythritol. Feel free to enjoy your waffles with creme fraiche or whipped cream, a sugar free caramel sauce or some berries.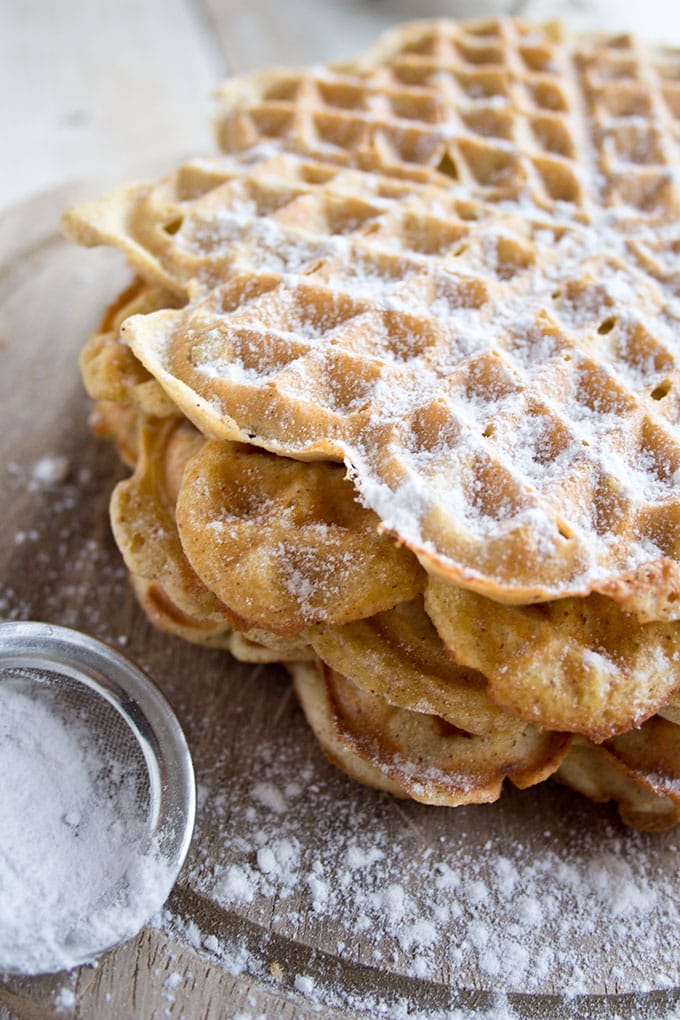 If you do not have a waffle maker, you can use the dough to make pancakes instead.
My recipe makes six waffles. Should your house be teen-less, you'll be glad to know that almond butter waffles keep well in the fridge. Just toast them gently or warm them up in the microwave the next day.
★ Tried this recipe? Give it a star rating below!★
★ STAY IN TOUCH on FACEBOOK, PINTEREST and INSTAGRAM for more great food and join my NEWSLETTER for the latest updates and a FREE EBOOK.★
Recipe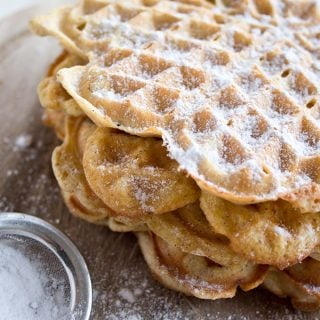 Almond Butter Coconut Flour Waffles
from Sugar Free Londoner
These fluffy coconut flour waffles contain almond butter, which makes them extra moist and yummy. Sugar free, gluten free, low carb and suitable for diabetics.
Note: The servings slider only changes the first amount in each line and not any subsequent amounts. Please make your own calculations where necessary.
Instructions
Separate your eggs. Start by whisking the egg whites until they are firm and form stiff peaks. You have to use a clean, non-greasy bowl for this and be a bit patient.

In a second bowl, mix all the other ingredients until the batter is nice and smooth.

Gently fold spoons of the whisked egg whites into the batter. Try to keep as much of the air and fluffiness as possible.

Let the batter sit for a few minutes to let the coconut flour absorb the moisture.

Don't forget to grease your waffle maker before you get going. Grain free waffles have a more delicate consistency than wheat waffles, so take care when removing them.

Bake your waffles until nice and golden. With a waffle maker that makes heart shaped waffles, you should be able to make 6 fine specimen.
Notes
I love my heart shaped waffle maker  because it makes the waffles thin and crispy, which is how I like them best. You can make them with a square waffle iron as shown in the video - that way they will be thicker and softer.  
Nutrition
Calories:
199
kcal
Total Carbohydrates:
3.9
g
Protein:
8.2
g
Fat:
17.4
g
Saturated Fat:
6.9
g
Polyunsaturated Fat:
0.9
g
Monounsaturated Fat:
3.7
g
Cholesterol:
184
mg
Potassium:
61
mg
Fiber:
2.3
g
Sugar:
1.2
g
This post contains affiliate links. If you click on one of these links and purchase a product, I may earn a small commission, at no extra cost to you. Thank you for supporting Sugar Free Londoner.