A super-easy one pot wonder. Seasoned with a generous amount of paprika, this fiery Spanish chicken and chorizo tray bake lets you kick up your flamenco heels and enjoy the fiesta.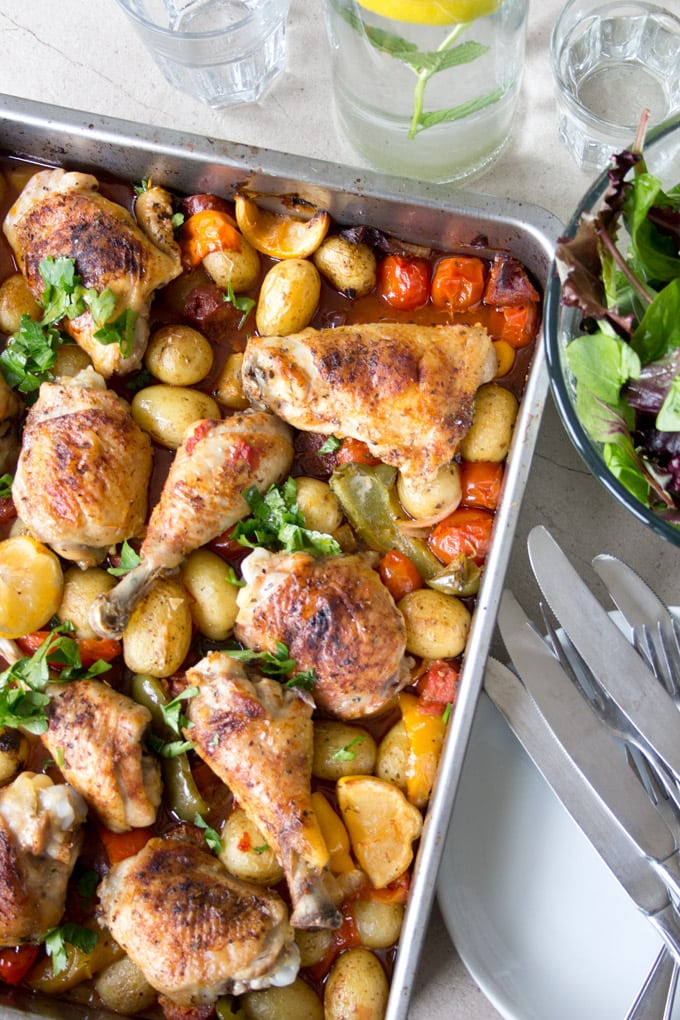 Holidays! I have to admit, at this time of year thoughts of the upcoming summer vacation are starting to take over my entire brain space. How relaxing it will be. The fresh, amazing seafood I shall eat every day. How many books I'll take along this year. Easy reads, of course! It'll be hot. The smell of the sea, while I sit on the beach under an umbrella, gazing at the boats in the distance. Walking on sand. Great for your glutes, and how nice does it feel under your feet? Barbecues! Rosé at sundown! A few sandcastles will have to be built, too. And where the hell did I put that straw hat I bought last summer?
Show me a person that does not live for holidays. It starts at school: The dates you break up for holidays is one of the first things you learn. Ask my children. They are counting down the days like little prisoners. Then there is the gap year. One whole year of fun and freedom as consolation that you'll be tied to a desk for the rest of your life. Friends, we do not go on holidays to be better at work. We work so we can have better holidays.
I have a whole holiday wardrobe; clothes that get worn almost entirely abroad only. The days I can slip on a dainty sundress in London can be counted on, well, maybe 10 fingers if I am in a positive kind of mood. But only ever until 8pm. Once the sun's gone, summer is taking a break. Cardigans until dawn, love! In London you don't need parasols, you need umbrellas. Get a barbecue, by all means, but don't forget to invest in a heating lamp to keep your behind from freezing. Unless, of course, you are a Northerner. Then you'll have the I-never-freeze gene and feel comfy in a t-shirt at any time of year. People from Newcastle, you know what I am talking about.
Have I told you how much I love Ibiza? We lived there for a year – it was the best midlife crisis I ever had – and I have been pining for more ever since we have returned. Don't get me wrong. London will always be the greatest city in the world to me; so interesting, vibrant, metropolitan, open-minded and inspiring that 8.7 million people and myself are prepared to put up with the drab weather. But there is something about the light, the gentleness, the beauty of its nature that makes Ibiza unique. And the food! The freshness of the produce is to die for. Anyone who has ever made a tomato sauce with Ibizenco tomatoes will agree. So will those in the know who get up early to buy huevos de campo, eggs laid by local chickens, before their local store runs out.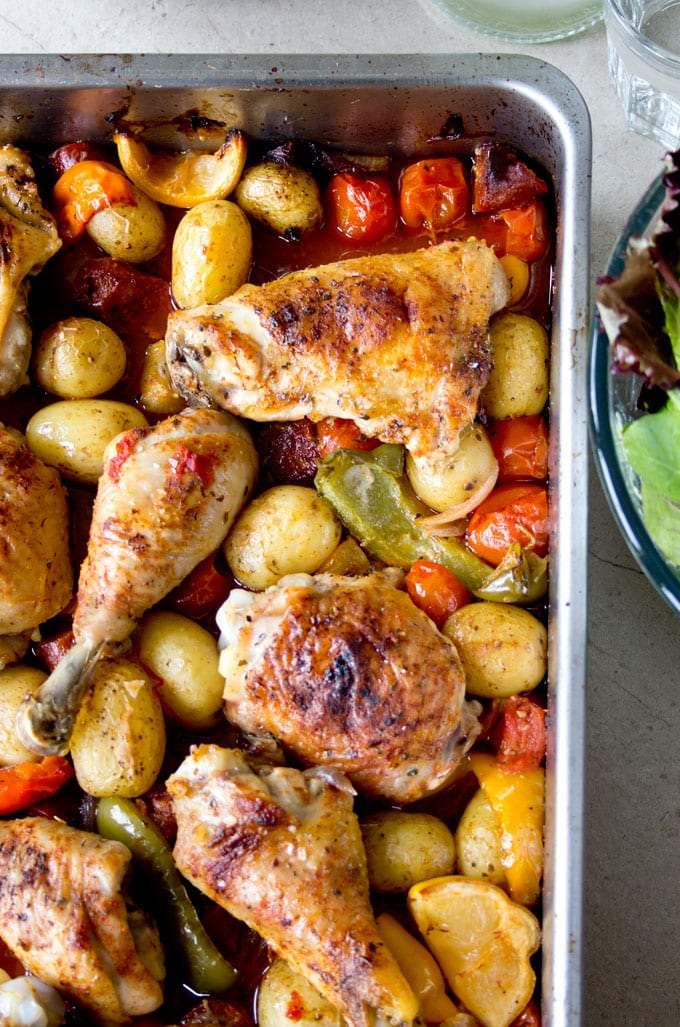 While I am mentally already packing my suitcase for the annual Ibiza extravaganza, I felt I needed some Spanish flavours to spice up the waiting time. This Spanish chicken and chorizo tray bake is one of the dishes we made a lot while we were swooning about in our Finca in floaty dresses/wearing magic crystals around our neck until we were ready for the next yoga session/tarot reading/gong sound bath and the said glass of rosé at sunset. Or, ahem, sitting in our home office, furiously typing away to meet the 5 pm deadline. In a floaty dress, with the rosé chilling in the fridge.
You'll love this Spanish Chicken tray bake. It's
easy and quick to prepare
spicy
satisfying
crispy
full of sunshine flavours
a real crowd-pleaser
Tray bakes are one of my favourite ways of cooking. There is little difference in effort between feeding 4 and 12 people. All you need to do is increase the amount of food, chuck it all in one pan and the oven'll do the rest. This Spanish chicken recipe is for ca 6-8 people, depending how big your chicken pieces are. The nutrition facts are worked out on the basis that 6 people will finish off this dish, though that's unlikely. Chances are you'll have plenty of veg and potatoes left (we did), which could go nicely into a tortilla.
If you happen to dream of your holiday as well, this dish should set the mood nicely. Add a large green salad and you're good to go. And if you are more of an Italian kind of person, just go for my Piedmontese roasted peppers instead. Now, where in the world is that straw hat?

Sugar Free Londoner
Yields 6 (at least!)
Spanish Chicken and Chorizo Tray Bake
A super-easy one pot wonder. Seasoned with a generous amount of paprika, this fiery Spanish chicken and chorizo tray bake lets you kick up your flamenco heels and enjoy the fiesta. Inspired by a recipe from the Hairy Bikers
5 minPrep Time
1 hr, 10 Cook Time
4 based on 1 review(s)
Ingredients
2 medium onions (white or red), cut into wedges
300g baby potatoes
8 whole garlic cloves
400g cherry tomatoes
200g chorizo
12 chicken thighs and drumsticks
(ca 1.5 kg)
1 tsp sweet smoked paprika
1 tsp dried oregano
3 peppers, deseeded and cut into strips (I chose 1 green, 1 yellow, 1 red)
2 lemons, halved
Flaked sea salt
Freshly ground black pepper
Instructions
Preheat the oven to 200°C. Place the onions, potatoes, garlic and tomatoes in a large roasting tin and season with sea salt and pepper. Roast for 20 minutes.
Next, skin the chorizo and cut into slices.
Take the roasting tray out of the oven, add the chorizo, chicken and the halved lemons on top of the veggies and season with the paprika, oregano and salt. Return to the oven for 30 minutes.
Remove the tray from the oven again. Spoon up the juices from the bottom of the pan and drizzle it all over the chicken. Now add the pepper strips - just tuck them under the chicken.
Turn the temperature up to 220°C and roast your chicken bake until the peppers are softened and the chicken is nicely browned. This should take another 20 minutes or so. Scatter some chopped parsley and serve.
7.6.6
231
https://sugarfreelondoner.com/spanish-chicken-chorizo-tray-bake/