A tasty Keto garlic bread made with Fathead (mozzarella) dough. Gluten free and perfect for snacking!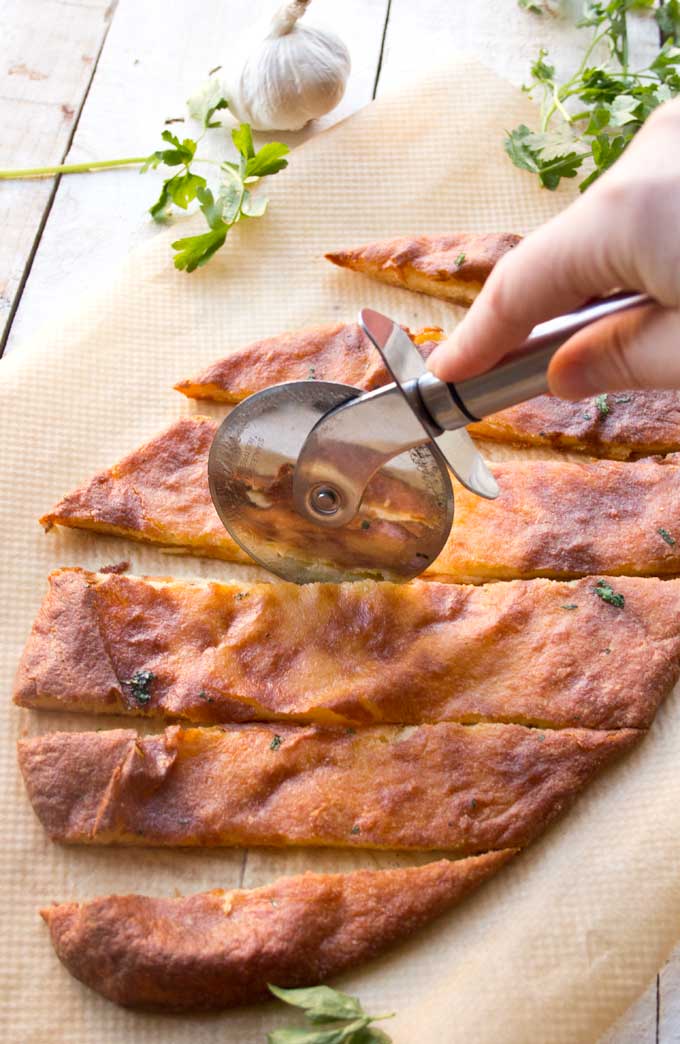 Bread. Who doesn't love bread. Even better when it has garlic butter on it!
If this Keto garlic bread were a person, it would be my BFF. If I weren't already hitched, I might even marry it.
When you're on a low carb diet, regular bread should be off the menu. It sends your blood sugar sky-high and offers very little in return. White wheat bread has virtually no nutritional value.
The good news is, there are alternatives. Very delicious alternatives!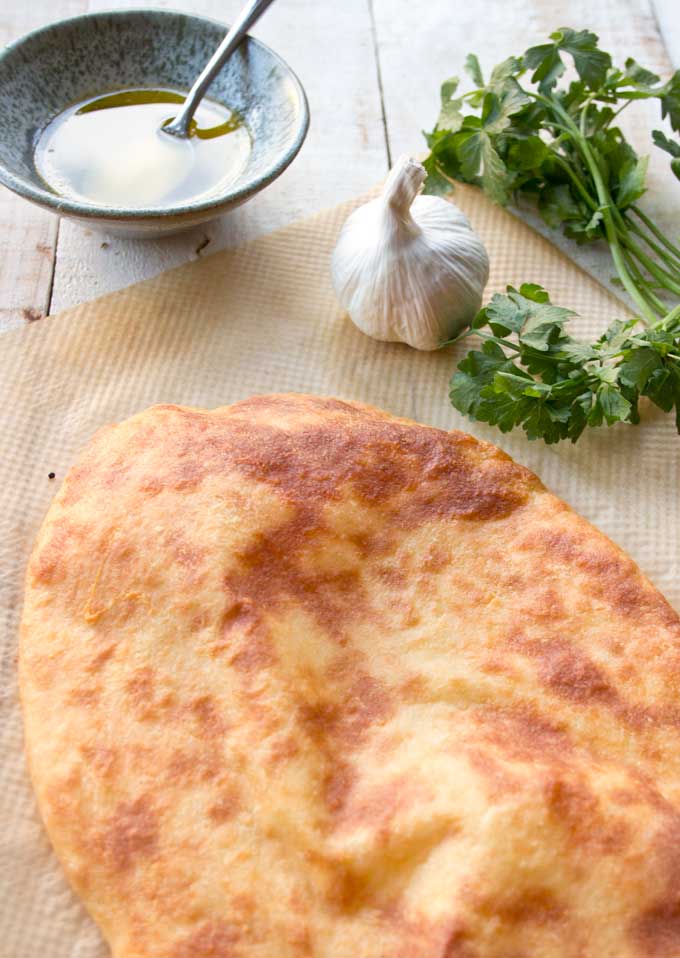 If you're a friend of rustic seeded bread, you must check out my Rustic Paleo Bread. It's amazing toasted. I've also made some yummy low carb rolls with coconut flour - they are also very simple to put together and taste great with jam.
Most low carb bread recipes use either almond or coconut flour as their main ingredient. I've tried a few recipes that want to mimic the fluffiness of white wheat bread by using ingredients such as apple cider vinegar. (This was not my kind of thing.) There are others that use flax and psyllium husk powder (such as my Flaxseed Bread With Coconut Flour  or this Almond Flour Bread).
And then there is the one and only Fat Head dough, which I used in this Keto garlic bread recipe. Ah-may-zing.
Fat Head dough was first mentioned 2012 in the blog Cooky's Creations as the "Holy Grail of Keto" pizza dough. If you're interested in more details, check out my post about these genius grain free pretzels. It uses mozzarella as a base.
Incredibly, mozzarella, in combination with a grain free flour such as almond or coconut flour, turns into a totally delicious, soft white "bread" that can take it up with wheat bread any time of day.
This low carb garlic bread recipe uses the same basic ingredients I used in my grain free pretzels and in these incredibly yummy Keto cinnamon rolls, which are one of the most popular recipes on my site. I shaped the dough into a large oval, but if you wanted, you could also make individual garlic flatbreads or garlic bread rolls.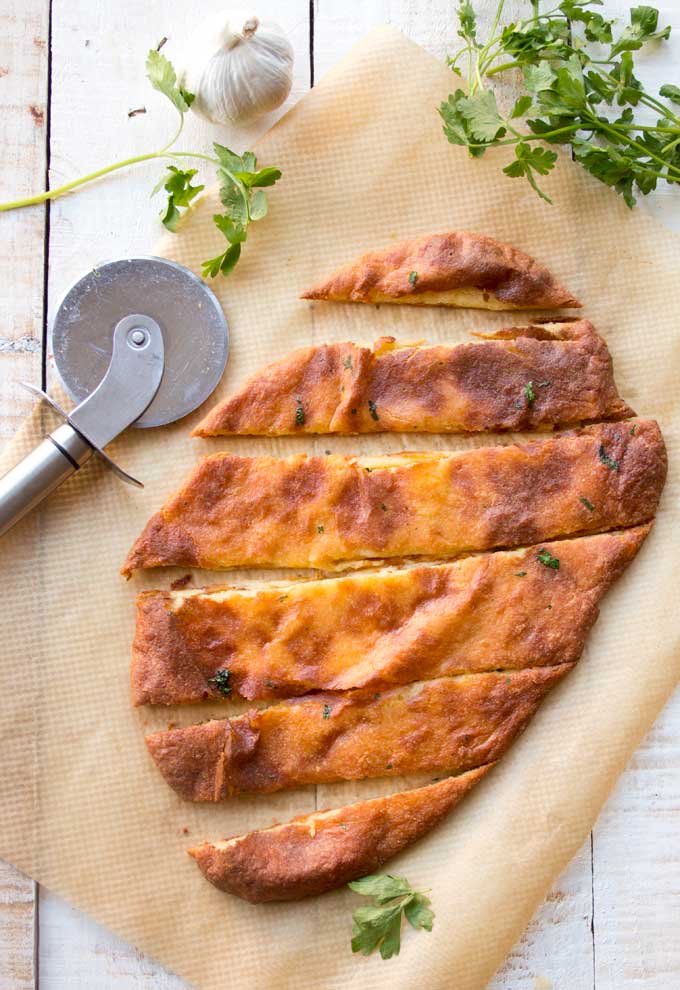 Because I did not want the garlic butter to burn, I brushed it over the bread towards the end. Not sure if I was being over-careful with this. Next time I'll try adding it right at the beginning and let you all know.
If you do not have fresh garlic and fresh parsley, you can use garlic powder and dried parsley. Of course, you can also play around with other flavours  - for example, you could add some paprika or even grate some parmesan over the bread.
I'm a bit of a purist, so we snacked on this bread all on its own, straight out of the oven (it tastes wonderful when it's warm). You could, of course, also have it as a side with a salad or soup for lunch, or as part of a buffet-type spread.
Fathead garlic bread is very filling due to its high fat content.
So don't worry if it looks a tad small to you at first. I promise - there will be plenty for everybody!
You might also like these bread recipes: 
Tried this recipe? Give it a star rating below!
★ STAY IN TOUCH on FACEBOOK, PINTEREST and INSTAGRAM  for more great food and join my NEWSLETTER for the latest updates and a FREE EBOOK.★ 
Keto Garlic Bread (fathead dough)
from sugarfreelondoner.com
You've gotta try this Keto garlic bread. It's made with a simple almond flour fathead dough - and it's sensationally good. Crispy on the outside, soft and pillowy in the inside!
Note: The servings slider only changes the first amount in each line and not any subsequent amounts. Please make your own calculations where necessary. ***As an Amazon Associate I earn from qualifying purchases.
Ingredients
For the garlic butter
1

tbsp

butter

1

small clove garlic

finely chopped

1

tsp

fresh parsley

finely chopped

pinch

of sea salt
Instructions
Pre-heat oven to 180 Celsius/360 Fahrenheit.

Melt the mozzarella and cream cheese in a non-stick pot over a low heat or in a microwave (1 ½ minutes, stirring half way through). Take off the stove and/or make sure the cheese is melted, but not bubbling.

Stir in the egg, almond flour and baking powder. Start to combine using a fork, then use your hands to knead into a ball of smooth dough. This can be easier if you lightly oil your hands first.

Place onto a baking tray lined with baking paper and roll out into a flatbread shape. You can do this by either oiling a roller or by rolling the dough between two sheets of parchment paper.

Bake 17 minutes or until lightly browned.

In the meantime, chop garlic and parsley and melt butter. Mix and spread over the flatbread

Return to the oven for another 3-5 minutes. Cover with aluminium foil if the top gets too brown.

Cut into slices and serve
Notes
If the dough becomes too stringy, simply heat it up again to make it easier to handle. Fat Head dough is filling.
If you serve the garlic bread in a "bread basket" with a meal, the amount is enough for up to 6 people.
In the nutritional analysis I have calculated ⅙ of the garlic bread. If you're hungry and want to share between 4 people, ¼ of the bread has 299 calories and 3.8 net carbs.
Nutrition
Calories:
199
kcal
Total Carbohydrates:
4.1
g
Protein:
11.5
g
Fat:
16
g
Saturated Fat:
5.9
g
Polyunsaturated Fat:
0.4
g
Monounsaturated Fat:
2.5
g
Cholesterol:
58.4
mg
Sodium:
175
mg
Potassium:
43
mg
Fiber:
1.5
g
Sugar:
1
g
This post contains affiliate links. If you click on one of these links and purchase a product as a result, I earn a small commission - at no extra cost to you. This money helps me with the running costs of this website. Thank you for supporting Sugar Free Londoner.