This easy keto naan bread recipe makes pillowy-soft, fluffy flatbreads that taste just as good as the real thing! My coconut flour naan is perfect for mopping up your favorite Indian curry. The recipe is gluten-free and egg-free.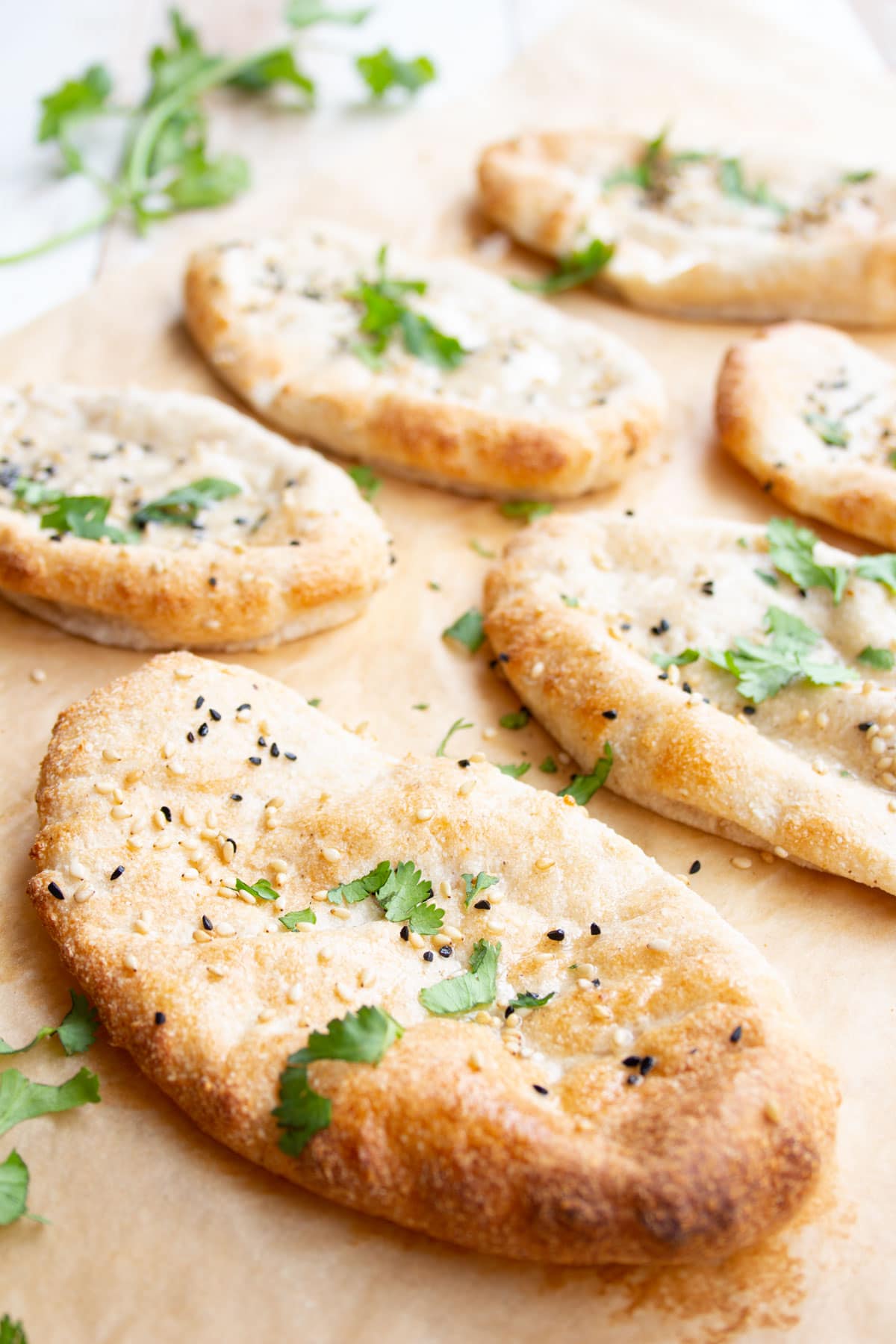 I've been craving Indian food recently and have been eating plenty of curries. But one thing was missing. NAAN BREAD!
It's actually really simple to make low carb naan at home that puffs up as beautifully as naan made from wheat.
This naan bread recipe is a bit of a personal breakthrough - it is my first EGG FREE low carb bread. Plus, it contains an extra portion of fiber!
It is a great alternative to the almond flour mozzarella dough that so many keto recipes are made with.
Jump to:
Ingredients
Here are the ingredients you'll need:
Coconut flour - the gently sweet taste lends itself to Indian cuisine
Psyllium husk powder - adds elasticity and a fluffy texture
Xanthan gum - for a stronger structure
Baking powder
Salt
Hot water
Full fat yogurt - or Greek yogurt
Coconut oil - or olive oil
The xanthan gum is non-negotiable. Coconut flour is naturally gluten-free and therefore lacks the elasticity of wheat flour. In the absence of eggs, we need the help of xanthan gum to bind and create an elastic dough.
I'm using psyllium husk powder and not psyllium husks in this recipe. The powder is REALLY finely ground. Psyllium husks, on the other hand, look like tiny sticks. It's easy to mistake them for powder at first glance, so do double-check your pack.
Instructions
This section contains step-by-step instructions and photos that show how to make this recipe. See the recipe card for full information on ingredients and quantities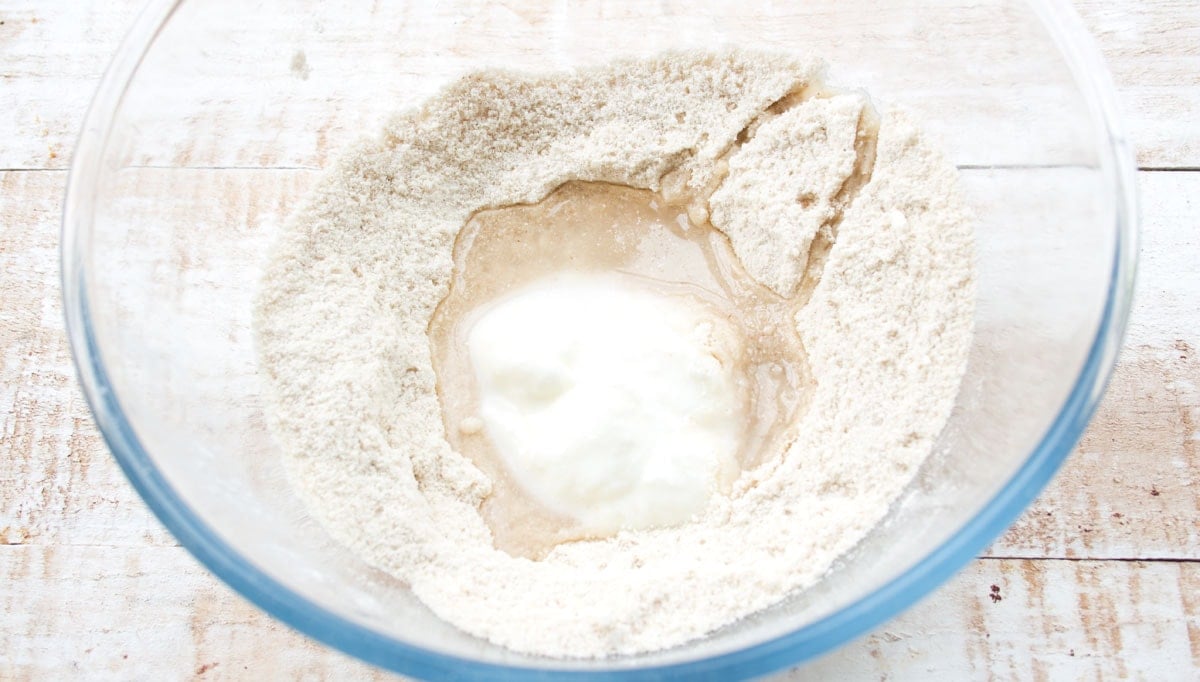 STEP 1
Stir together the dry ingredients in a bowl - coconut flour, psyllium husk powder, baking powder, xanthan gum and salt.
TIP: I like to use a balloon whisk for this and check that there are no lumps. Coconut flour has a tendency to clump together!
Add the melted coconut oil and the yogurt.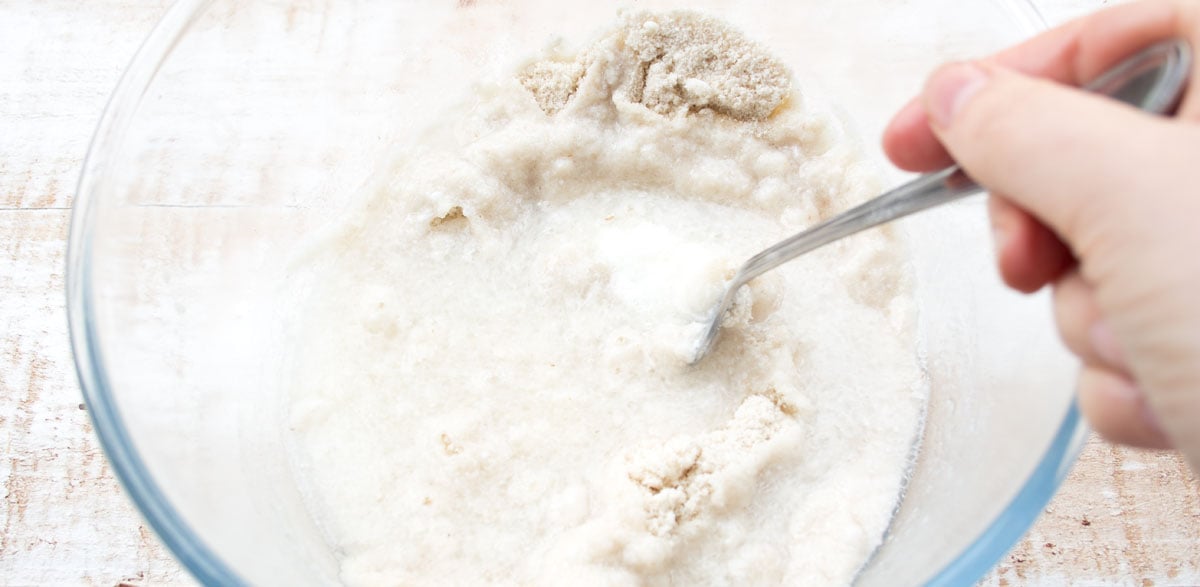 STEP 2
Now add the hot water and stir. At first, it seems like there's a lot of liquid. But both psyllium and coconut flour are very absorbent and a dough will form quickly.
I find it easiest to use a fork for this step. If you continue with the whisk, the dough gets caught in the middle, which is a major mess.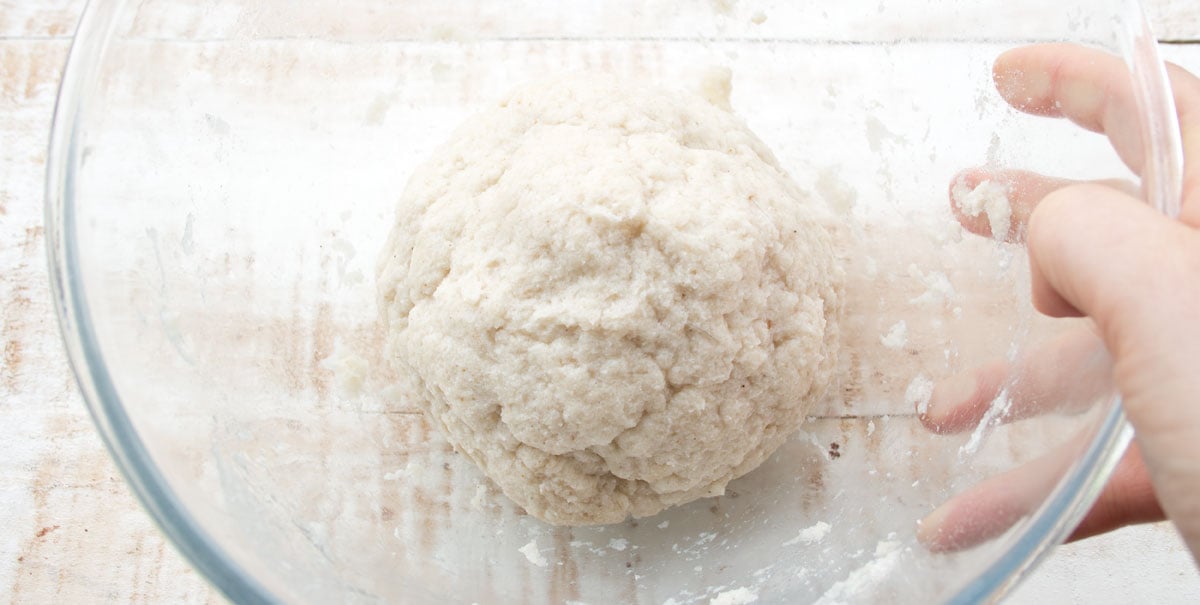 STEP 3
Time to get your hands involved. Form a dough ball and let it rest for a few minutes until the dough is not sticky any more.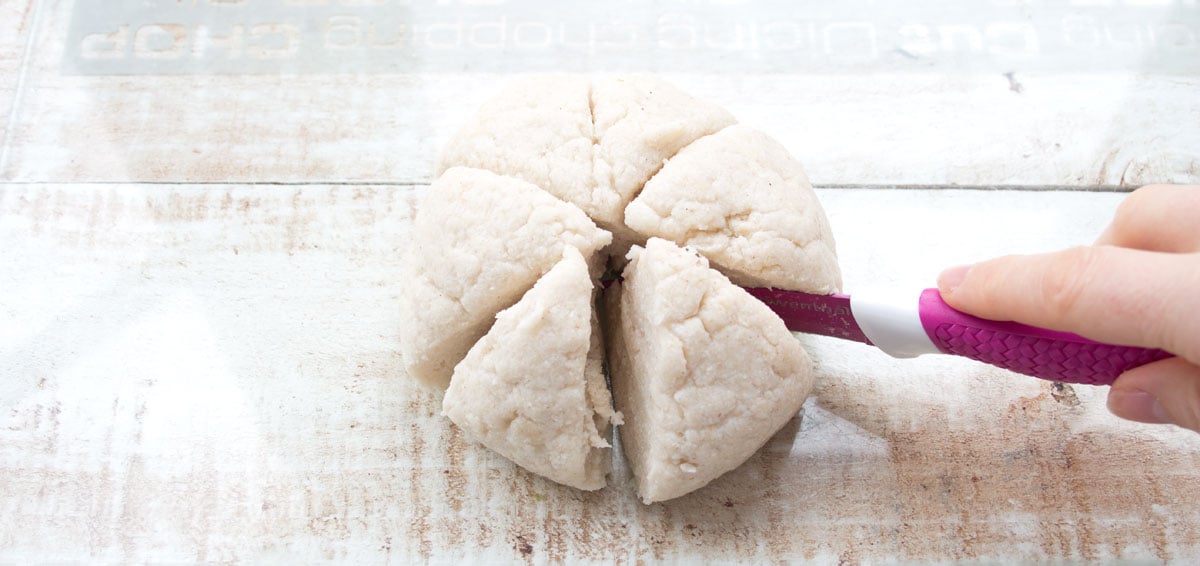 STEP 4
Cut the dough into six equal slices and form balls.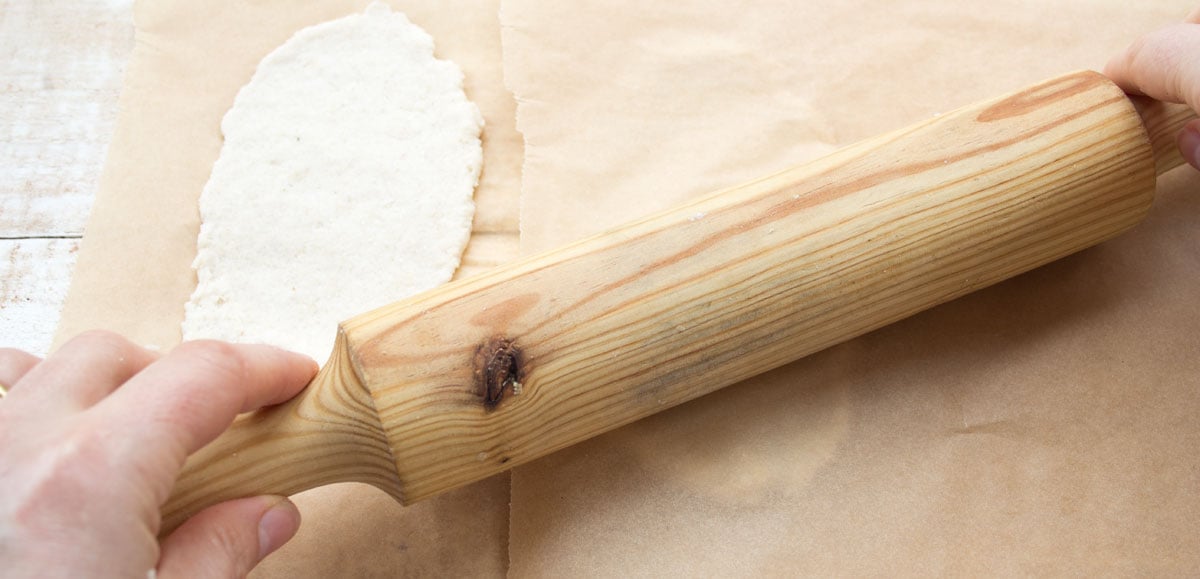 STEP 5
Place the balls between 2 sheets of parchment paper and roll out into long flatbreads. Pierce the middles a few times with the fork and sprinkle with nigella seeds and/or sesame seeds.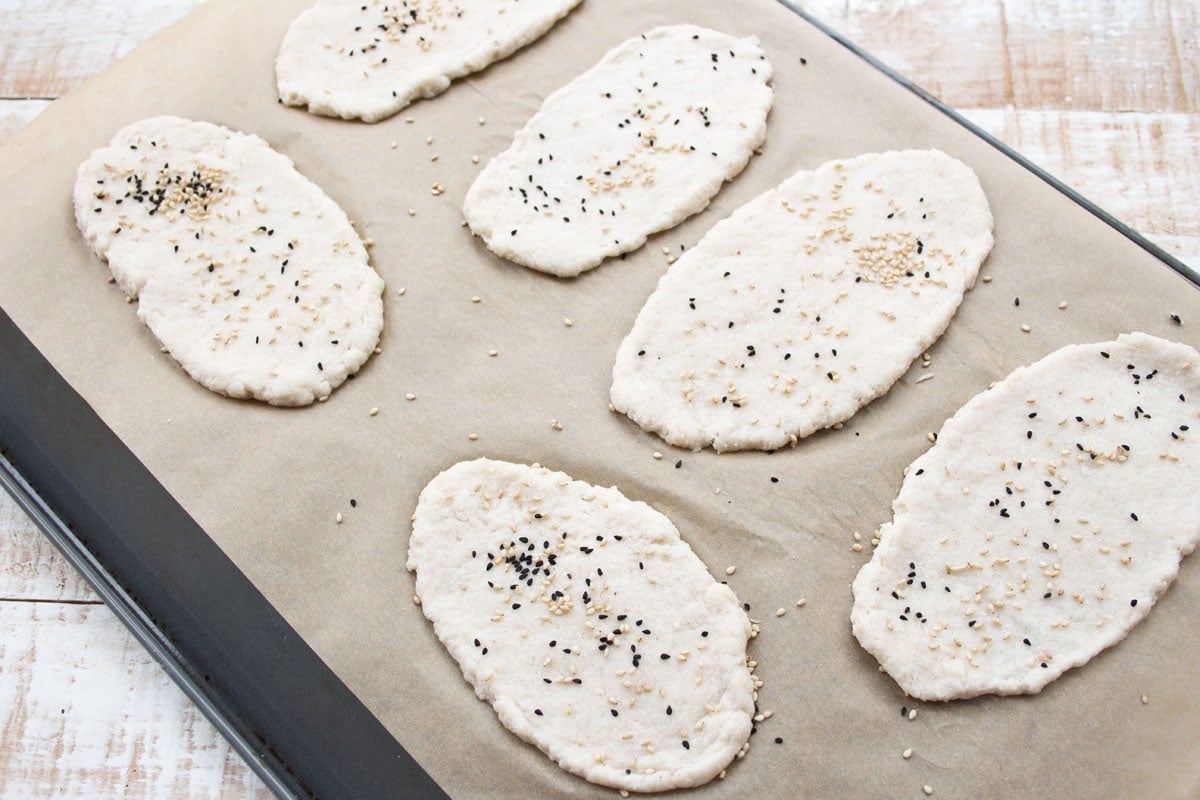 STEP 6
Place the parchment with your naans onto an upturned baking tray. I find this helps the flatbreads (or cookies - anything flat) brown more evenly.
Bake for about 12-15 minutes and give them a little poke with the fork in case huge air bubbles form.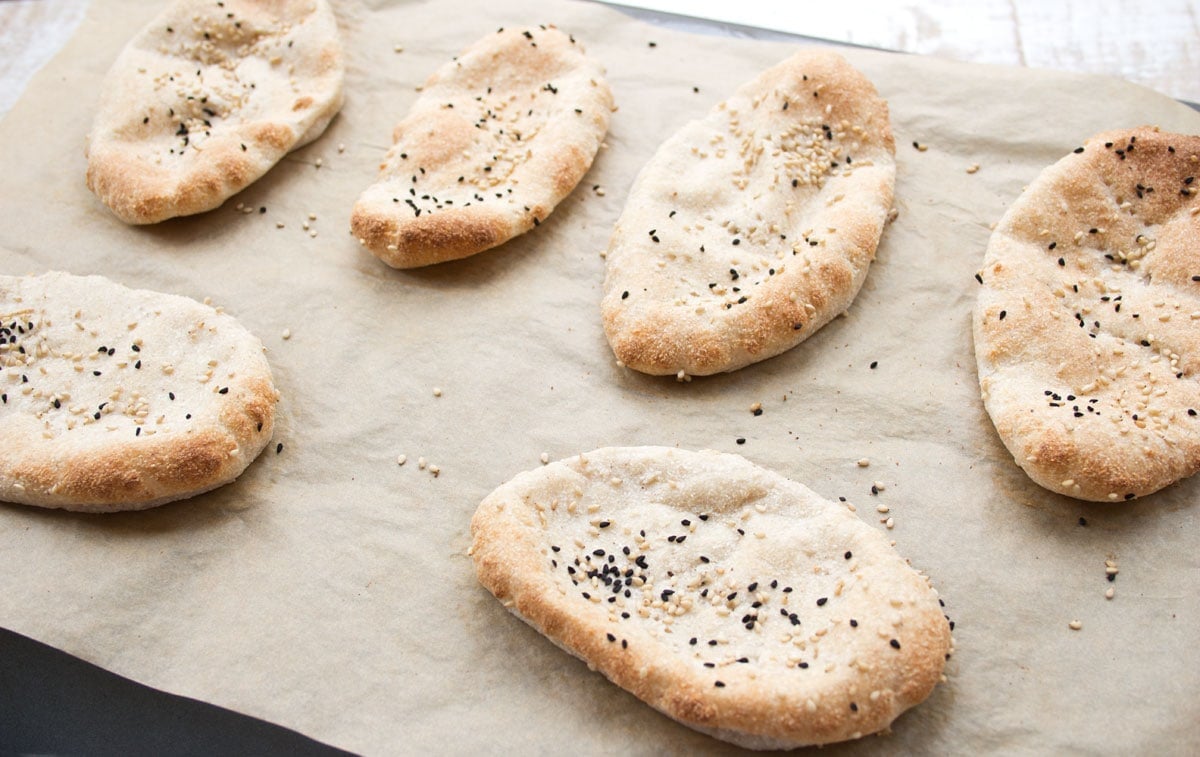 The baking time will depend on how thinly your naans are rolled out. Just keep an eye on them and remove them from the oven once they're nicely browned.
STEP 7
Brush with melted coconut oil or butter or olive oil and top with more chopped coriander or parsley and more salt before serving! A pinch of cumin would also work well.
Recipe FAQs
How many carbs in naan bread?
Traditional naan bread has around 40 grams of carbs. Yikes! In contrast, one keto naan comes in at only 3.6g net carbs. That's all the great naan taste without the blood sugar spike!
Can you make coconut flour naan in a pan or skillet?
Yes. You can fry the coconut naan bread in a skillet over low heat for 2-3 minutes on both sides. This way, you will get the same characteristic brown marks as on traditional naan made in a Tandoor oven.
Can I use almond flour instead?
I have not tried it yet, but it should work. I would use 2 ¼ cups or 225 grams of super-fine almond flour.
How do I make keto naan bread with an almond flour mozzarella dough?
Use the recipe for my keto garlic bread. You only need to change one ingredient: swap out the cream cheese for yoghurt. And instead of brushing the bread with garlic butter, brush it with coconut or olive oil after baking. Then, sprinkle over sea salt, black or white sesame seeds, nigella seeds or chopped cilantro. And voila, you have a keto naan with fathead dough.
Love yeast breads? I have tested a version of this naan with yeast instead of baking powder. It produces a slightly more tangy bread.
I found it looked identical to the yeast-free bread, but had a little more elasticity.
How To Make Naan With Yeast 
Step 1.) Stir 2 teaspoon of dry active yeast and 2 teaspoon of inulin (or honey/maple syrup) into 1 cup of WARM water. Cover with a cloth and leave to proof in a warm place for around 10 minutes. (This could be on top of a radiator, for example).
Step 2.) Once the yeast is frothing, stir in the coconut flour, psyllium, xanthan gum, salt, melted coconut oil and yoghurt. Make sure that the yoghurt is room temperature.
Step 3.) Form a ball, cover again and let the dough rise for 30-60 minutes until it has increased in size considerably.
Step 4. ) Proceed as per recipe below.
Variations
Dairy-free naan: To make the naan bread recipe dairy free, use an unflavoured coconut yogurt such as by the Coconut Collaborative.
Pitta bread: Turn this naan into a pitta bread by brushing it with a simple garlic butter (melted butter, 1 chopped garlic clove, salt).
Change the size: Just like with regular naan, it's easy to change up the size! Make 3 large naans (increase the baking time by 3 minutes) or 12 small dippers (oven time reduces by 2 minutes).
Toppings
Without the toppings, the naan is fairly neutral in flavor. After all, it is mostly coconut flour. Therefore, I recommend brushing over coconut or olive oil and adding one or more toppings:
Sea salt
Black or white sesame seeds
Nigella seeds
chopped cilantro or parsley
garlic powder
onion powder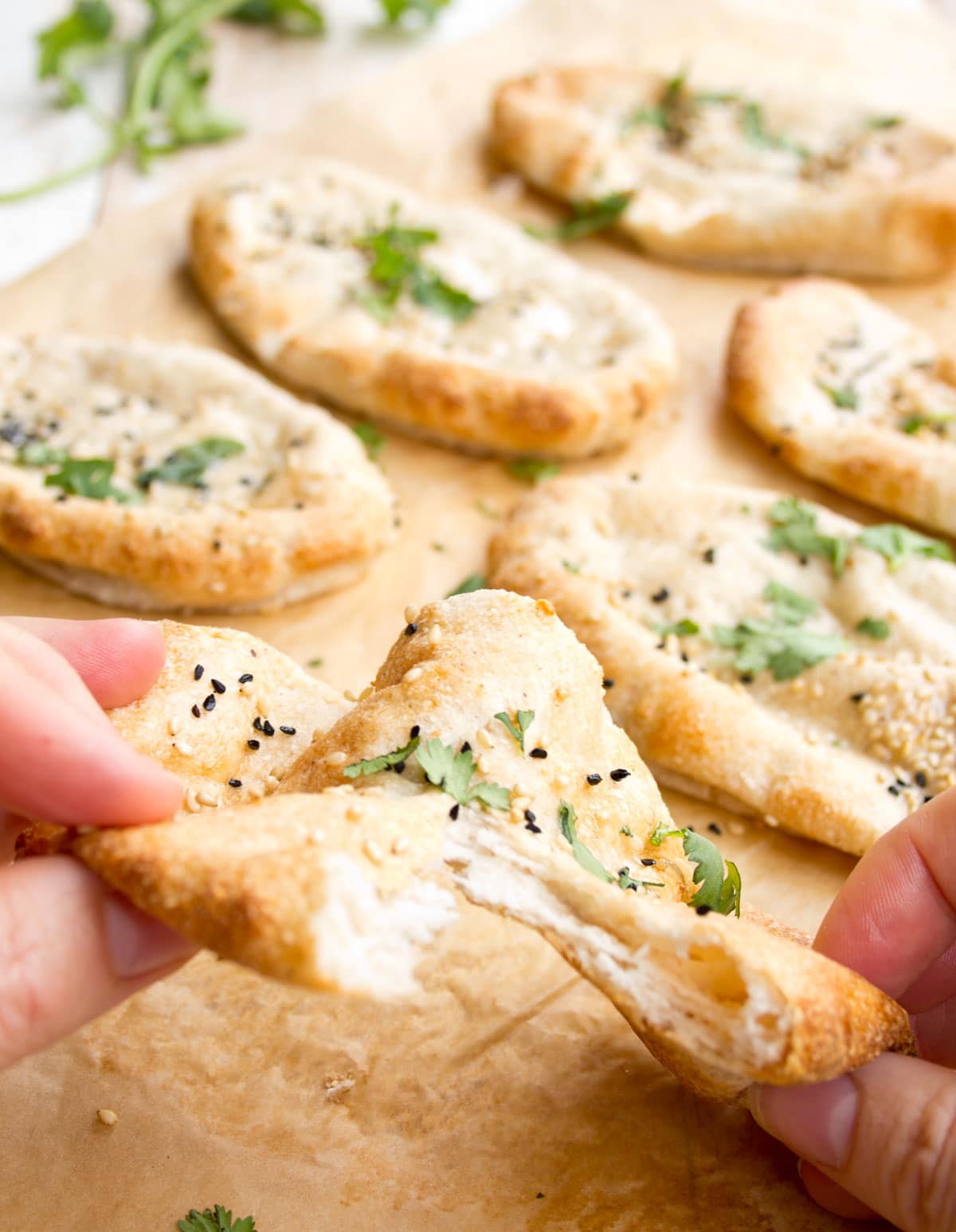 Serving Suggestion
First of all, serve keto naan bread warm - either straight from the oven or toasted. Once it cools, it loses its crispy crust.
It is designed to be eaten WITH a curry, for example, this Keto chicken curry or my Keto Chicken Tikka Masala! Don't forget to serve your curries with cauliflower rice to keep them keto-friendly!
Storage
Refrigerator: Store in an airtight container in the fridge for up to 5 days.
Freezer: Keto recipes with coconut flour generally freeze well. Freeze for up to 3 months.
Reheating: Defrost overnight. Pop in the toaster to reheat. You can toast it from frozen.
More Keto Bread Recipes
Tried this recipe? Give it a star rating below!
★ STAY IN TOUCH on FACEBOOK, PINTEREST and INSTAGRAM  for more great food and join my NEWSLETTER for the latest updates and a FREE EBOOK.★ 
Recipe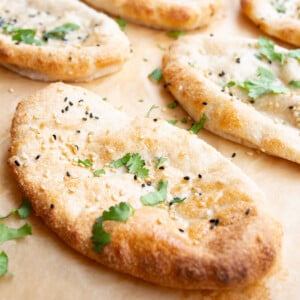 Keto Naan Bread
from Sugar Free Londoner
A light and fluffy Keto naan bread to go with your favourite Indian curry! This low carb coconut naan is egg free and gluten-free. Ready in only 17 minutes!
Note: The servings slider only changes the first amount in each line and not any subsequent amounts. Please make your own calculations where necessary.
Ingredients
Wet Ingredients
1

cup / 240ml

hot water

¼

cup / 60g

full fat natural yoghurt

2

tablespoon

coconut oil / olive oil

melted
Topping
2

tablespoon

coconut oil / butter / olive oil

melted

handful

chopped parsley or coriander / cilantro

generous pinch

salt
Instructions
Preheat the oven to 180 Celsius / 356 Fahrenheit.

Mix all dry ingredients in another bowl - coconut flour, psyllium husk powder, xanthan gum and salt. Make sure there are no lumps.

Add the wet ingredients - hot water, yoghurt, melted coconut oil or olive oil - and stir together until a dough forms.

Form a dough ball and let it sit for a few minutes until the coconut flour and the psyllium have absorbed all the moisture and the dough is not sticky.

Cut the dough into 6 pieces and roll them out between two sheets of parchment paper into long flatbreads, about ½ cm thick. Place on an upturned baking sheet and remove the top parchment. Optional: sprinkle with sesame seeds and/or nigella seeds.

Bake for 12-15 minutes or until browned (baking time will depend on how thick your flatbreads are). If large air bubbles form, pierce with a fork during baking. If necessary, rotate the baking sheet so the flatbreads brown equally and/or turn on the grill/broiler at the end to ensure they crisp and brown on top.

Top with melted butter, olive oil or coconut oil, sprinkle with more salt and chopped parsley or coriander/cilantro leaves before serving.
Notes
One flatbread weighs around 55 grams. 
3.6g net carbs per naan bread.
They are best served warm - either straight from the oven or toasted.
Some psyllium husk powder brands turn purple when baked. I have used the BonPom, Green Origins and the Just Natural Organics brand good results. In the US, the NOW and Healthworks brands are popular.
However, even if the naan changes colour, this does not affect the taste.
NOTE: It is really essential to add a generous pinch of salt and black and white sesame seeds or, even better, nigella seeds to the bread, and baste it with melted butter, olive or coconut oil before eating. Without, the naan does not have much flavour (as it's mostly coconut flour). It is designed to be eaten WITH a curry.  
Nutrition
Serving:
55
grams
Calories:
91
kcal
Total Carbohydrates:
12.5
g
Protein:
3.5
g
Fat:
6.4
g
Fiber:
8.9
g
Sugar:
1.4
g