You'd like to have seconds? No problem. These crunchy sugar free cut out cookies with a coconut butter glaze are low carb, gluten free and sweetened with erythritol.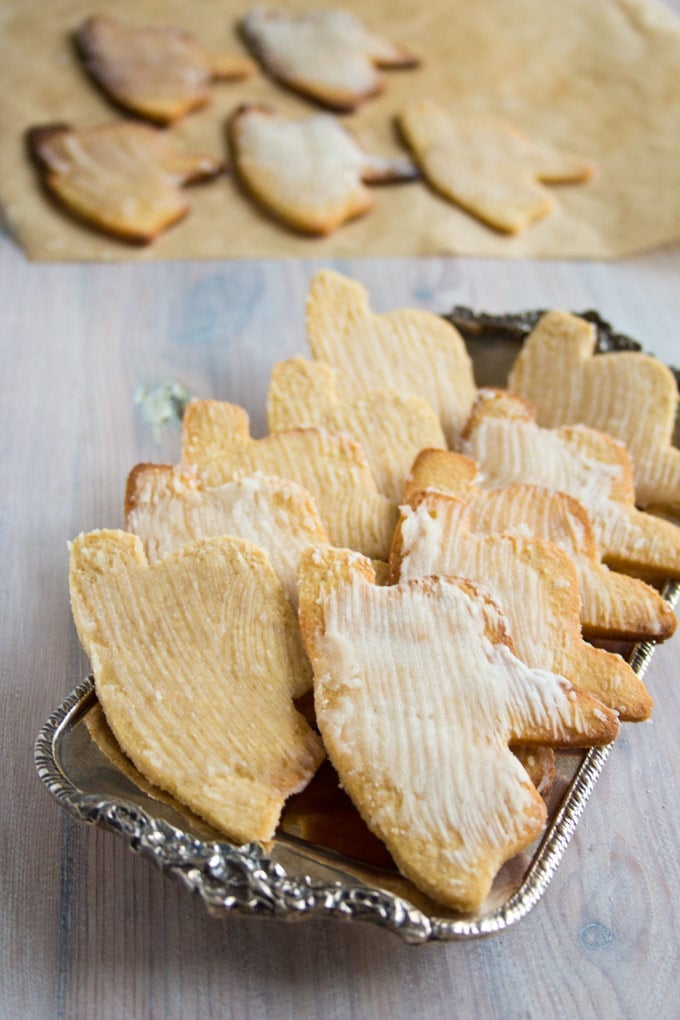 I am so ready for Christmas! No, I haven't even thought about presents. No ideas, no lists. And no, when the nice guy from the Christmas tree delivery company called me last week with a special offer, I did not take it either.
Friends, it's these sugar free cut out cookies. They are perfect!
Don't get distracted by the fact you are seeing friendly ghosts waving at you. It's Halloween next week and you've got to go with the flow.
In our family we make cut out cookies once a year in the run-up to Christmas, in vast amounts - little hearts, adorable stars and cute Christmas trees. Baking sheet after baking sheet will go into the oven, and it always ends up being me in the kitchen by myself after the second round, with 6 more to go. Before I went sugar free, I used a Nigella recipe which came with the set of cookie cutters I own. It calls for wheat flour and copious amounts of sugar.
Now, if you attempt to replace not only the sugar (with erythritol, in my case), but also the wheat, you are entering tricky territory. It's the gluten in wheat that makes dough very easy to handle and roll out. Grain free dough is softer and more delicate.
These Sugar Free Cut out Cookies have a nice crunch and hold together really well.
After the success of my Sugar Free Halloween Bat Cookies, which contain cocoa powder to be sufficiently dark and gloomy for Halloween, I adapted the recipe to create a vanilla version. I also added a liberal amount of almond extract, which, if I may say so, makes them taste just irresistible.
The most important step in this recipe is that you freeze the dough after you roll it out between two sheets of baking paper. This is the key to success when making low carb cut out cookies. Trust me. I am an impatient person and I have tried skipping it. It's not worth the mess you'll make. Stick it in the freezer, have a cup (or glass) of something and feel smug about being in the know.
I tested two types of glaze with these cookies.
The first one was just a mix of powdered erythritol (I used Sukrin Icing), a couple of drops of vanilla essence and a spoonful of water. This went down well with the kids, but for me it was a little sweet. The second type was just up my street - a sugar free coconut butter glaze which I adapted from this recipe by Simply Quinoa.If you spread it thinly, it dries into a nice, firm glaze. Coconut butter, not to be confused with coconut oil, tastes slightly sweet and creamy and is nice enough to be eaten by the spoonful.
And do you know the best thing about this recipe?  When my kids are bored after the second round of festive baking and leave sneakily, I can call it a day too. A few days later, they'll be ready to have another go (kids = short memories). And all I have to do is whisk the rolled out dough for my lovely sugar free cut out cookies from the freezer.
Christmas, I am ready.
If you try out this recipe, let me know! I'd love to hear from you. Write me a comment on the blog or tag me on Instagram. And don't forget to like my page on Facebook to get many more great recipe ideas.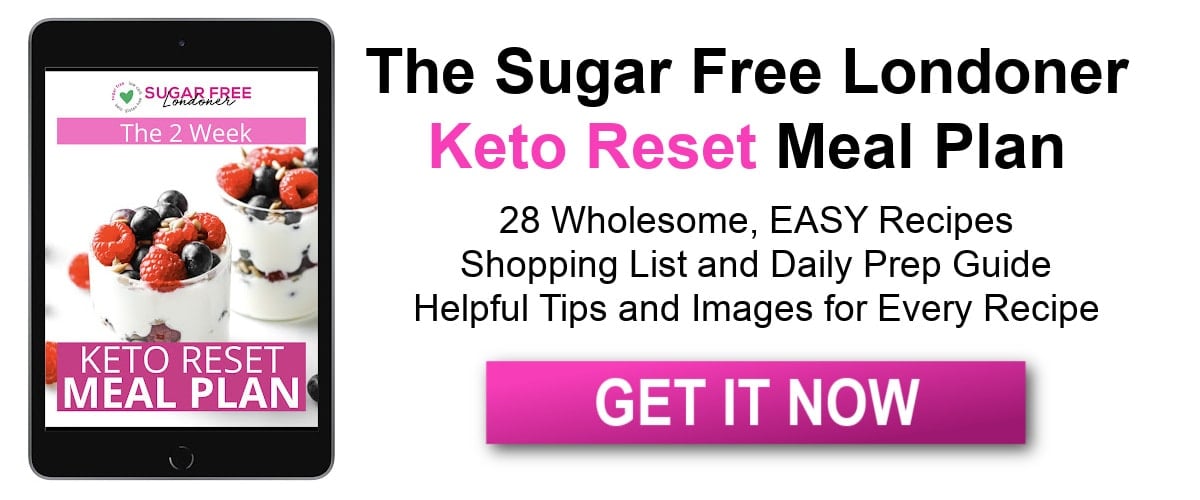 Sugar free cut out cookies
from Sugar Free Londoner
These crunchy sugar free cut out cookies with a coconut butter glaze are low carb, gluten free and sweetened with erythritol.
Note: The servings slider only changes the first amount in each line and not any subsequent amounts. Please make your own calculations where necessary. ***As an Amazon Associate I earn from qualifying purchases.
Instructions
Preheat your oven to 180 Celsius.

Mix all the dry ingredients, then add the butter and combine with a stick mixer or a food processor until you have a smooth dough.

Divide into 2 balls and roll out between two sheets of non-stick baking paper.

Place the dough in the freezer for 15 minutes. This is an essential step!!

Cut into shapes with a cookie cutter of your choice. If the dough has been in the freezer for too long, it might break easily. In this case, just wait a few minutes to continue. Place the cut-outs on a baking sheet lined with parchment paper.

Form the leftovers of the dough into a ball, roll out again and repeat the freezer step.

Bake your first batch for 5-6 minutes until the edges are just beginning to brown.

Let cool completely before glazing. The cookies are very crumbly when hot, but once they are cool they will be crispy and hardened.

For the glaze, combine all ingredients in a pot over low heat, stirring continuously. You could also do this in a microwave.

Once it is liquid, brush over the cooled cookies.
Nutrition
Calories:
86
kcal
Total Carbohydrates:
2.4
g
Protein:
1.3
g
Fat:
8.3
g
Cholesterol:
12
mg
Fiber:
1.4
g
Sugar:
0.4
g