A light low carb lunch or dinner that is bursting with flavour. This Moroccan cauliflower rice with roasted vegetables is served with a yoghurt tahini dip.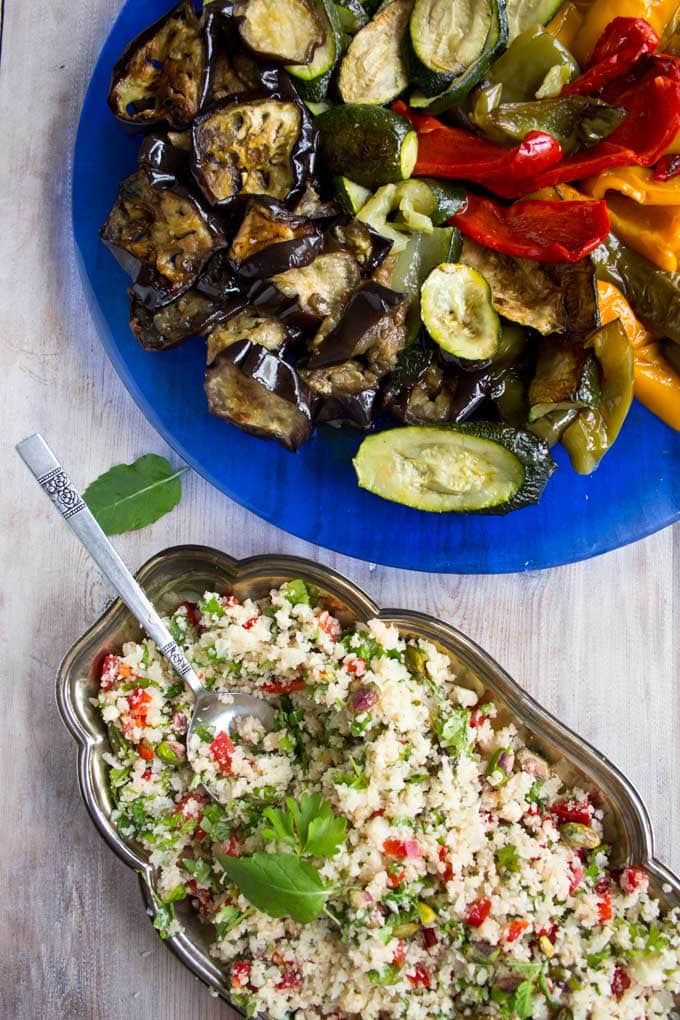 Cauliflower, how much do I love thee!
I've been making faux mashed potatoes and faux garlic breadsticks for months. Both are amazing. This last week has been all about faux rice - just check my Instagram account. Cauliflower, dear friend, you are a chameleon.
Cauliflower rice is a revelation for anyone who's not only watching their sugar intake, but also their carbohydrates. It's faux-ness at its tastiest!
It is lighter than rice, doesn't have the empty carbs white rice contains and gets along with pretty much any cuisine. I've had it with a curry, Mexican style, plain and simple English - and now Moroccan spiced.
Cauliflower rice should be in diplomacy. It fits in perfectly anywhere.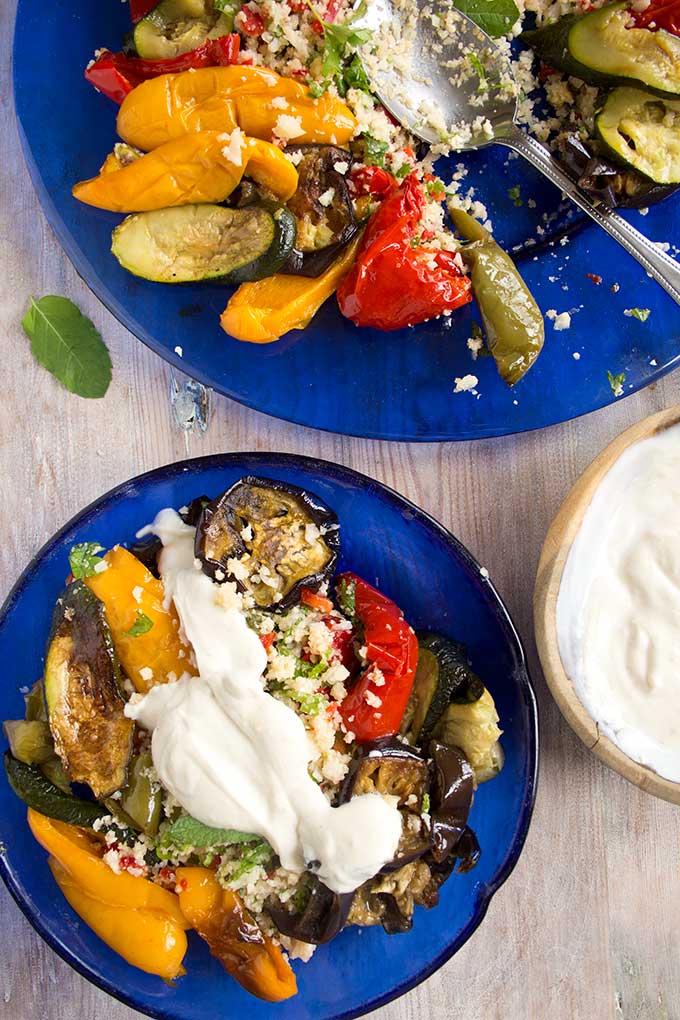 To get the rice-like consistency, you remove the outer leaves and cut the cauliflower into large chunks. Discard the hard stem. Then you blitz the pieces in a food processor. I do this in two rounds - if you overload the food processor, it won't do a good job. If you don't have a food processor, you can grate the head by hand. This will give you coarser chunks but it will taste just as good.  You can store the prepared cauliflower in the fridge for two days and in the freezer for 2 months.
There are 3 different ways to make cauliflower rice - choose whichever suits you best.
Microwave
Place the cauliflower rice a microwave-proof bowl and cover with cling film. Microwave for three minutes on high. If you cook from frozen, make that 4 minutes. It's best to season with salt after cooking to avoid the "rice" becoming soggy.
Stir-fry
This is the method I used for this dish (partly because my children have nuked our microwave by using it as a timer for a race around the kitchen, turning it on whilst empty. Tell your own kids that is not a good idea). You simply fry the cauliflower rice with a spoonful or olive oil on a gentle heat for 5 minutes.
Roast
I have not tried this method yet, but it's supposed to make the "rice" taste crunchier, fluffier and nuttier. You toss it in a bit of olive oil and spread it out in a thin layer. Then you roast it at 180 Celsius for around 15-18 minutes, stirring it half way through.
Does cauliflower ACTUALLY taste JUST LIKE rice?
No. But it is an awesome grain free alternative. The rule of thumb is: the stronger the herbs and spices you use in your cauliflower rice dish are, the less you will taste the difference.
The best thing is, after your perfectly tasty meal you will not feel bloated and heavy. Because instead of loading up on carbs you've just eaten a motherload of vegetable. What's not to like?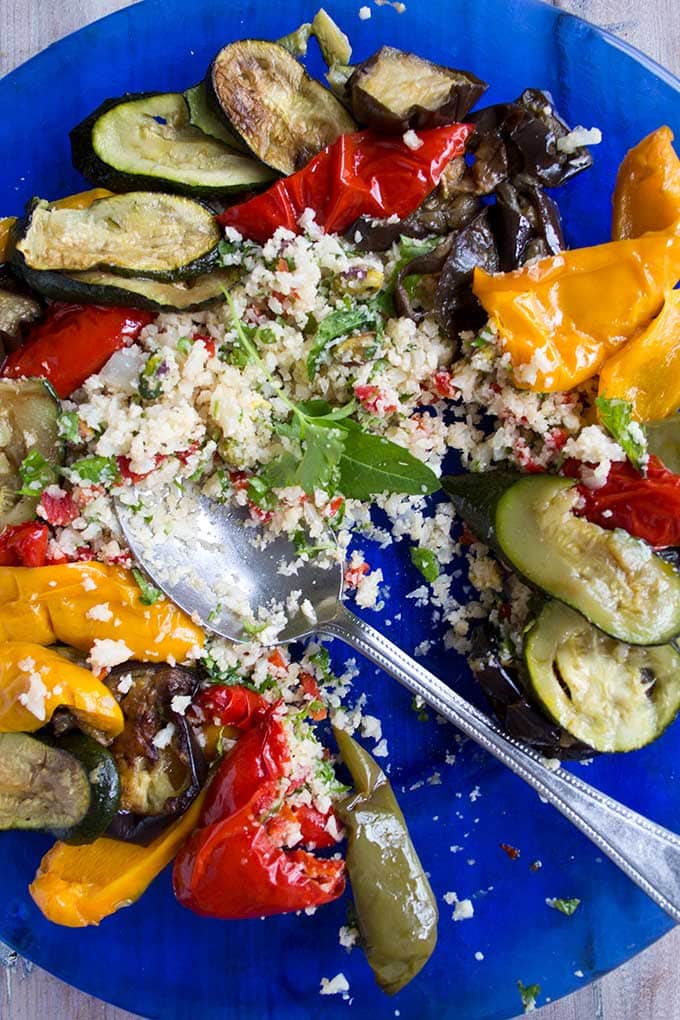 This dish is wonderful as a main course or as a side - you could have it with lamb chops or with chicken. It tastes nice cold as well - which would make it a cauliflower rice salad, I guess.
More low carb cauliflower recipes: 
Fun fact: Cauliflower rice (aka cauliflower couscous) was invented in 1998 by the LA chef Benjamin Ford, who happens to be the son of actor Harrison Ford!
Tried this recipe? Give it a star rating below!
★ STAY IN TOUCH on FACEBOOK, PINTEREST and INSTAGRAM  for more great food and join my NEWSLETTER for the latest updates and a FREE EBOOK.★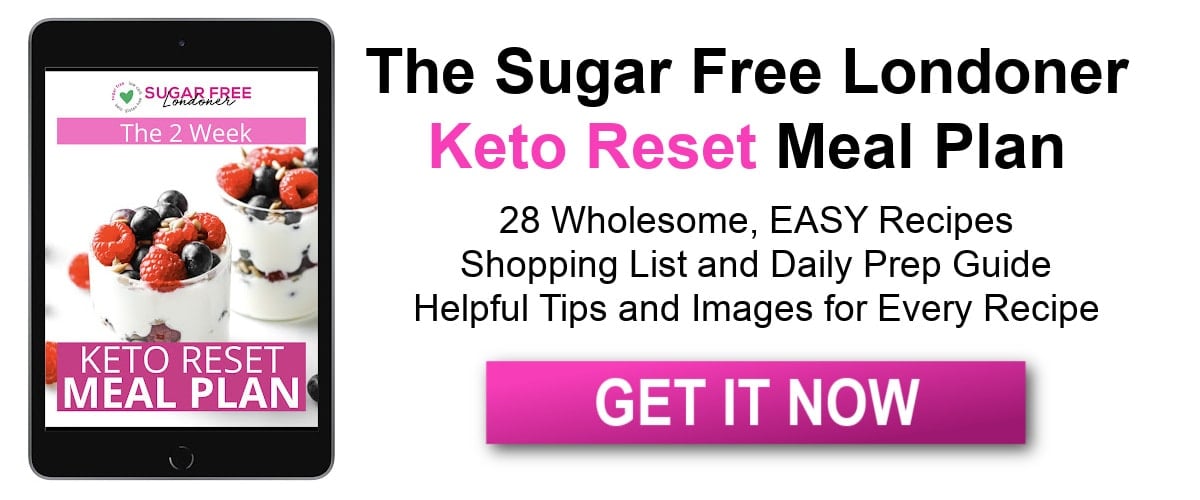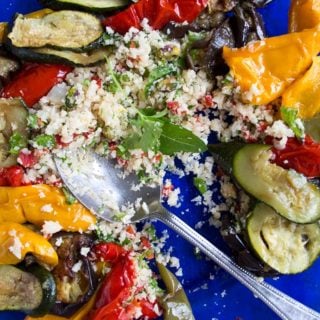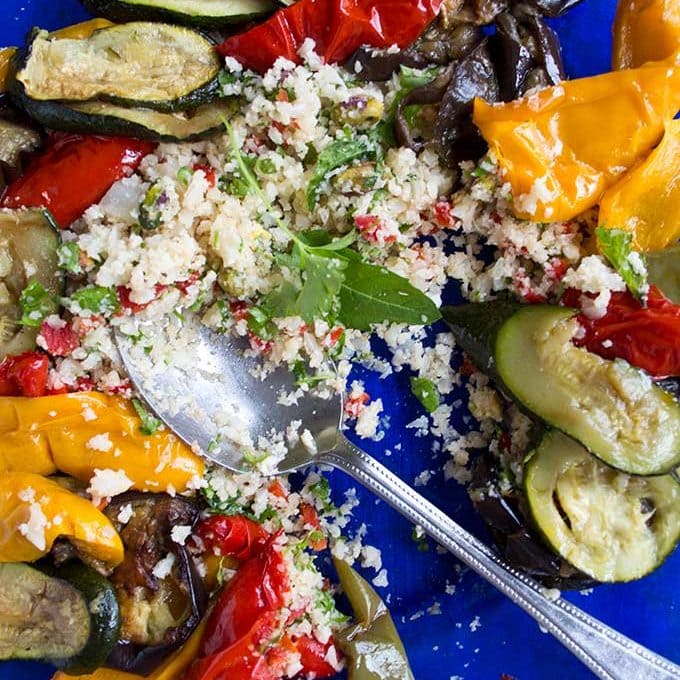 Moroccan Cauliflower Rice with Roasted Vegetables
from Sugar Free Londoner
A light low carb lunch or dinner that is bursting with flavour. This Moroccan cauliflower rice with roasted vegetables is served with a yoghurt tahini dip.
Note: The servings slider only changes the first amount in each line and not any subsequent amounts. Please make your own calculations where necessary. ***As an Amazon Associate I earn from qualifying purchases.
Ingredients
1

cauliflower

3

mixed peppers

green, yellow, red, cut into thick slices

2

courgettes

zucchini, sliced

1

aubergine

sliced

2

spring onions

chopped

1

garlic clove

crushed

1

red chilli

finely chopped

ground cumin

1 generous tsp

handful of pistachios

roasted

50

g

parsley

1 handful, chopped

50

g

mint

chopped

150

g/ ½ cup

full fat natural yoghurt

2

tablespoon

tahini

1

lemon

unwaxed
Instructions
Pre-heat the oven to 200 Celsius/400F.

Slice the peppers, aubergine and courgettes, holding back ½ red pepper, which will go finely chopped into the cauliflower rice.

Toss in olive oil, sprinkle with salt and roast for 45-50 minutes. Turn half way through.

Now dry-roast your pistachios. Simply put them in a pan over medium heat and roast them until browned. This takes around 2 minutes. Be careful that they don't burn.

For the yoghurt tahini sauce, simply mix 150g / ½ cup yoghurt with 2 tablespoon of tahini and the juice of ½ lemon. If you want, add a bit of garlic, too.

Time to make your cauliflower rice. Cut off all outer leaves and quarter your cauliflower. Cut out the hard centre. Next, grate or blitz large chunks in the food processor until you get rice-sized pieces.

Heat 1 tablespoon of olive oil in a pan and add the crushed garlic, chopped spring onions, the ½ red pepper, which you have finely chopped and the chopped chilli. Cook gently for 2 minutes.

Add the cauliflower and cook for a further 5 minutes.

Stir in the 1 tablespoon of cumin, juice of ½ a lemon and lemon zest plus the dry-roasted pistachios.

Take the cauliflower rice off the heat. Before serving, add the parsley and mint and mix thoroughly. A few pomegranate seeds scattered over would work well here, too. I wanted to add them, but, alas, my pomegranate turned out to be a dud.

Arrange on one big platter or serve the veggies and rice separate on 2 platters - you're the boss.
Notes
This dish tastes good hot or cold.
Nutrition
Calories:
147
kcal
Total Carbohydrates:
17.8
g
Protein:
6.8
g
Fat:
7.4
g
Saturated Fat:
1.4
g
Polyunsaturated Fat:
2.6
g
Monounsaturated Fat:
2.9
g
Cholesterol:
3
mg
Sodium:
65
mg
Fiber:
6.5
g
Sugar:
3.4
g
 (This post contains affiliate links. If you click on one of these links and purchase a product within a certain timeframe, I make a small commission at no extra cost to you. This money helps me with running the website.)