I love a good keto oatmeal and this pumpkin porridge is one of my regulars during autumn and winter. It's a warming coconut flour and flax "noatmeal" breakfast that will set you up for the day. Only 4.7g net carbs per portion and sugar free!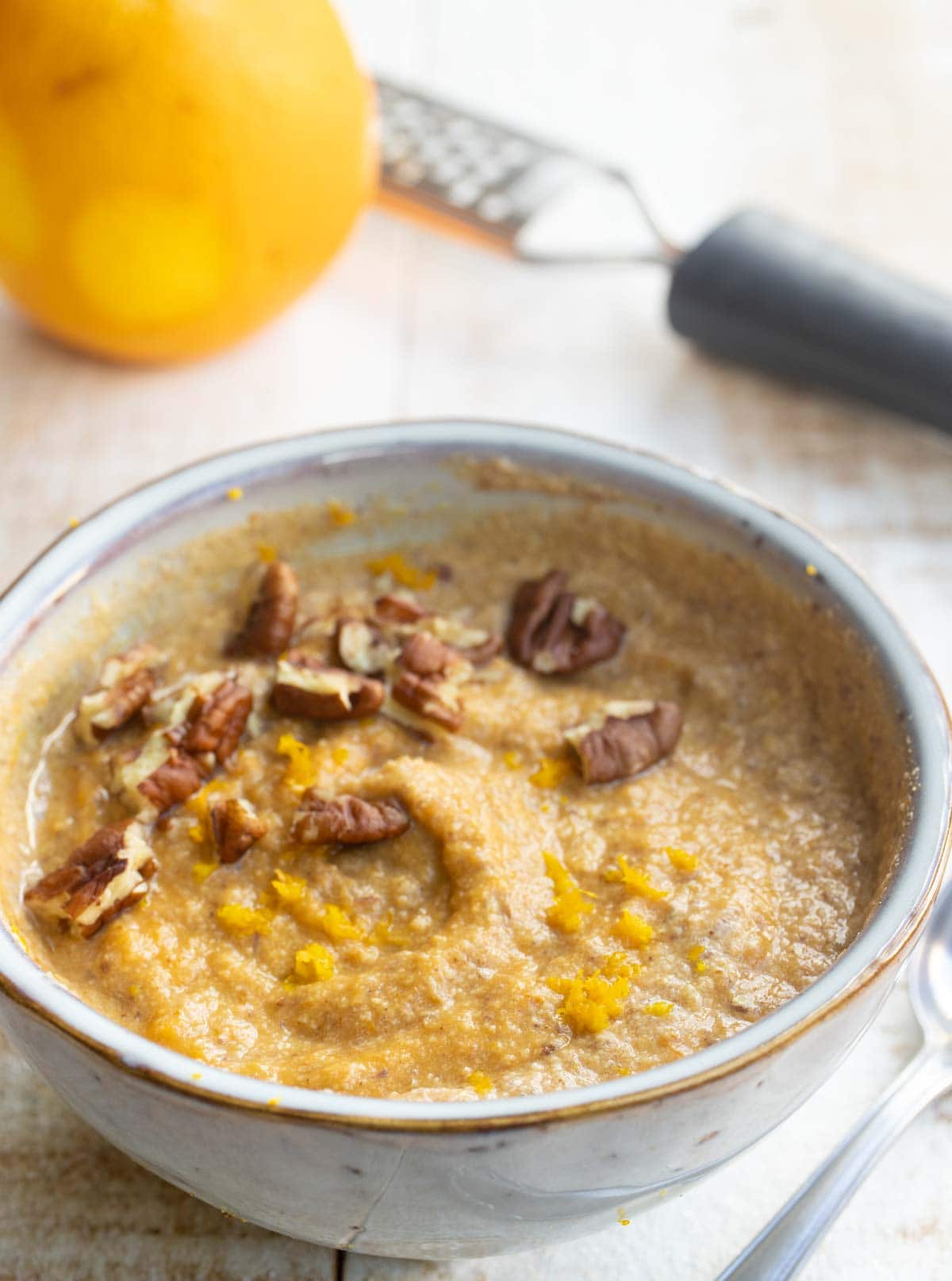 Have you noticed that the days are getting shorter? I now need to switch the lights on when I get up. Our heating is pumping again and today I wore a woolly hat for my morning walk. Still loving change of season and the new chill in the air - ask me again in March and I may tell you something else!
I've had lots of requests from my newsletter subscribers for the keto pumpkin porridge I've been making recently. So here it is!
Keto Noatmeal
Of course, this recipe is a "keto noatmeal" - it does not contain a single oat. The name noatmeal, as you can probably guess, means "not oatmeal". I do love word creations like these 😉 Anyhow, regular oatmeal is just not low carb. Did you know that one portion of steel cut oats contains 24g net carbs? And that's before you add your toppings.
This pumpkin porridge is made with coconut flour and ground flax, which gives it the same lovely creamy texture as a real porridge, but without the carb load.
I've been using canned pumpkin in a bunch of recipes recently, from Keto Pumpkin Cheesecake Muffins to Sugar Free Pumpkin Pie to Keto Pumpkin Muffins with Coconut Flour. There's always a bit of leftover pumpkin puree. So, I've used it to thicken sauces and stews (it works well even in Indian dishes - check out this Keto Chicken Curry Casserole) and added it to yoghurt.
But I've got to say, pumpkin porridge is so tasty that it's worth opening a can of pumpkin for it alone! The recipe is super simple:
How to make keto pumpkin porridge
In the image above you can see all the ingredients I used: coconut flour, ground flax and pumpkin puree. I poured over the almond milk, added the ¼ teaspoon of cinnamon and gave it a stir. Then I microwaved the noatmeal for 1 minute on high, grated over some orange zest and topped my bowl with crushed pecan nuts. That's it!
Note - you can also heat the pumpkin porridge on the stove.
And if you don't want to do ANYTHING in the morning, just prepare the porridge the night before! This gives the flours enough time to expand and soak up the liquid. You can even eat it cold if you like (although I think it tastes WAY more comforting when it's warm).
Recipe tips and variations 
As always, there are tons of possibilities to change this recipe and make it your own.
If coconut flour is not your thing, you could replace it with 3 tablespoons of almond flour or even a mix of sesame seed flour and sunflower seed flour (also 3 tbsp in total).
The flax is great for a fibre boost. It is filling, but also gives the porridge a creamy texture. You could use 1 tbsp ground chia for a similar effect.
Now let's talk milk! I like the unsweetened almond milk by Plenish. It has a higher almond content than other brands, which makes it less watery (side note - you can froth it really well even though it does not contain any additives). But of course, coconut milk or any other nut milk would also work.
Want to spice things up? Use pumpkin spice instead of cinnamon!
For an additional protein boost, consider adding 1 tbsp of whey protein powder. A teaspoon of maca powder would add a lovely caramel note. Or stir in a tablespoon of collagen (my current healthy obsession!). In all cases you may need to slightly increase the amount of milk to get the right creamy consistency.
If you want to up you fat intake for a more substantial breakfast, mix in a teaspoon or even a tablespoon of mct oil. Very recommended if you're absolutely starving!
Homemade pumpkin puree
Pumpkin puree is a staple in the US, and here in the UK I buy it from Ocado or Waitrose. However, if you can't get canned pumpkin, you can easily make your own using this recipe.
Toppings
Whatever rocks your boat here!
A lot of people will probably like to add some sweetness. A golden erythritol such as by SoNourished works well, it tastes just like brown sugar. Lakanto also has a good one - if you're based in the US you can get 20% off with my code SUGARFREE.
Instead of pecans you can use any other nuts, although I find that walnuts or pistachios work particularly well. Alternatively, top with roasted sunflower or pumpkin seeds.
The orange zest gives the pumpkin porridge a lovely fruity flavour. I don't think berries work that well with pumpkin, but pomegranate seeds would be a good addition.
If you're a nut butter fan, both peanut butter or almond butter swirled on top are good. I've tried both and can't decide which one is better!
By the way, I can also recommend pouring a little browned butter over, or simply adding a spoonful of double cream or sour cream.   
Don't miss these keto cereal recipes
Tried this recipe? Give it a star rating below!
★ STAY IN TOUCH on FACEBOOK, PINTEREST and INSTAGRAM  for more great food and join my NEWSLETTER for the latest updates and a FREE EBOOK.★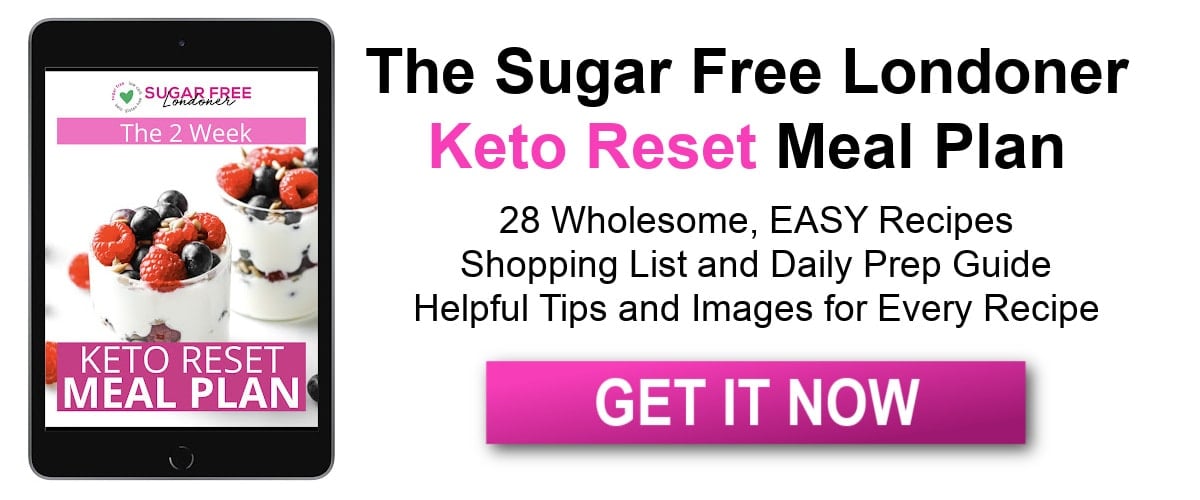 Keto Coconut Pumpkin Porridge
from
Sugar Free Londoner
This flavourful pumpkin porridge is a warming low carb breakfast for cold days. It's ready to eat in just 2 minutes! See the post for plenty of topping ideas and recipe variations.
Note: The servings slider only changes the first amount in each line and not any subsequent amounts. Please make your own calculations where necessary. ***As an Amazon Associate I earn from qualifying purchases.
Instructions
Mix all ingredients in a bowl.

Microwave for 1 minute on high or warm in a non-stick saucepan over a medium heat.
Notes
4.7g net carbs per portion excluding toppings.  
Optional toppings:
1 tsp golden erythritol or low carb sweetener of choice / sugar free syrup
grated orange zest or pomegranate seeds
pecans, walnuts or other nuts & seeds
melted browned butter or 1 tbsp double / heavy cream
almond butter or peanut butter
Nutrition
Serving:
200
g
Calories:
106
kcal
Total Carbohydrates:
10.5
g
Protein:
4
g
Fat:
5.8
g
Saturated Fat:
1.6
g
Fiber:
5.8
g
Sugar:
2.8
g
This post contains affiliate links. If you click on one of these links and purchase a product, I may earn a small commission, at no extra cost to you. Thank you for supporting Sugar Free Londoner.