Delicious Rolls, Pliable Wraps And Fluffy Bread Without The Carb Load
The Keto Bread Made Easy cookbook is NOW AVAILABLE! It is packed with 33 simple, easy to follow recipes THAT WORK. Contains 20 brand new recipes you won't find anywhere else plus all-time reader favourites from the blog.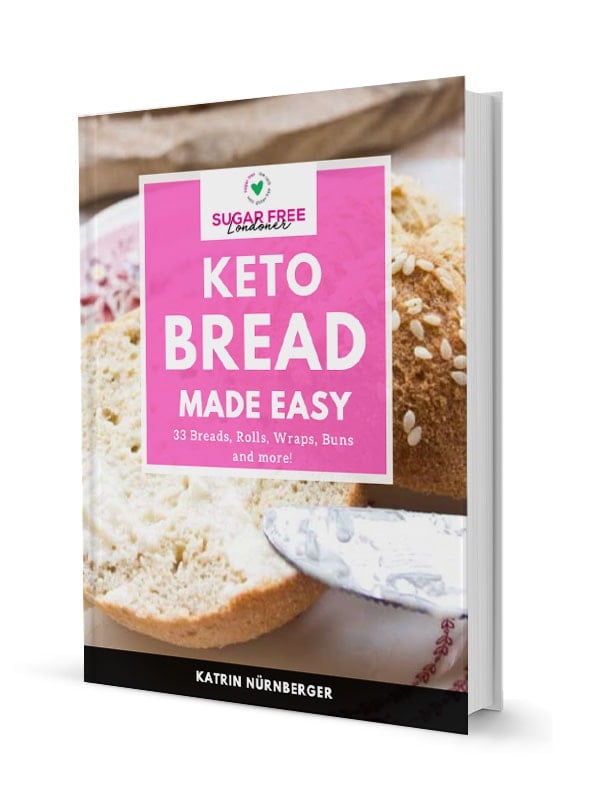 What's in the eBook?
Guide to Low Carb Flours - from almond flour to flaxseed meal
Guide to Low Carb Baking Essentials - xanthan gum & co explained
Keto Baker's Tips - everything you need to know for perfect results time after time
16 Keto bread recipes - from Coconut Flour Bread to Brioche Loaf to Keto Rye Bread
6 recipes for rolls and buns - how about Egg Free Sunday Rolls or Cinnamon Yeast Buns
11 recipes for wraps, crispbreads and flatbreads - try Sesame Flour Pita Bread, Sunflower Poppy Seed Thins or Everyday Flatbreads
8 egg free, 11 almond flour free and 15 dairy free options
Ingredient amounts in US cups and metric
Easy to understand, detailed instructions
Full nutritional breakdown calculated per portion
recipes range from 0.3 to 3.9g net carbs
contains 1 surprise bonus recipe!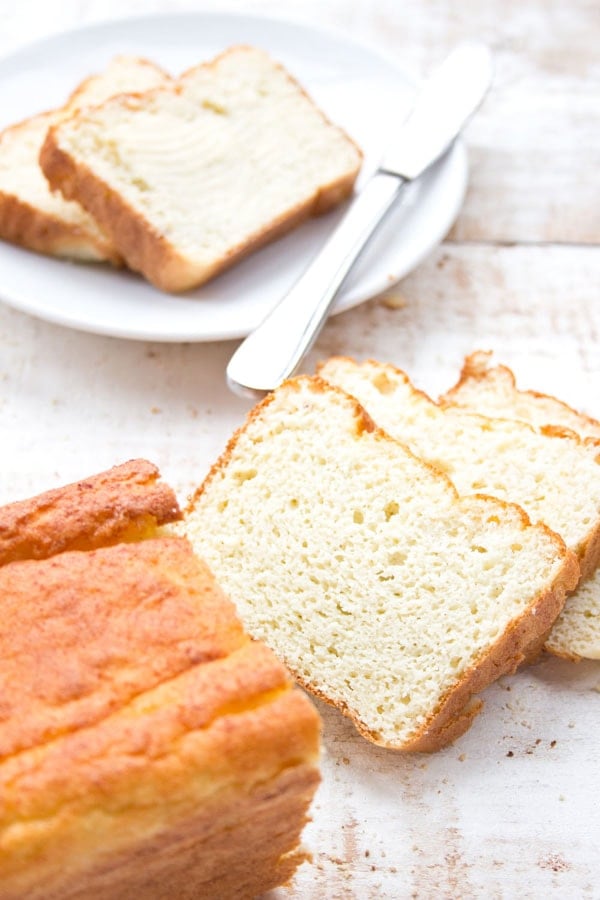 Reader Reviews
"Simply the best Keto bread resource I've ever found. Having a sensitive gut, I sometimes find it hard to find the right low carb bread for me but Katrin you've catered for us all. There's breads for every allergy, whether you're nut free, coconut free, dairy free or eggs free. This is a resource I'll dive into time and time again. Thank you." (Joanne, UK)
"I love bread but because of the sugary carbs I have omitted bread more and more over the years. With these recipes I can eat bread again and everything I have tried so far is so delicious. The ebook is a great addition to my kitchen, easy to open, easy to find the right recipe, easy to make. I want more of those!" (Patricia, UK)
"I'm so happy about this book! I have been making the almond flour bread from the website regularly. But now I am really spoilt for choice. I baked the Brioche loaf and it was divine. I never thought it was possible to make a yeast bread without wheat that is so light and fluffy! The detailed and clear instructions make everything really simple." (Susan, USA)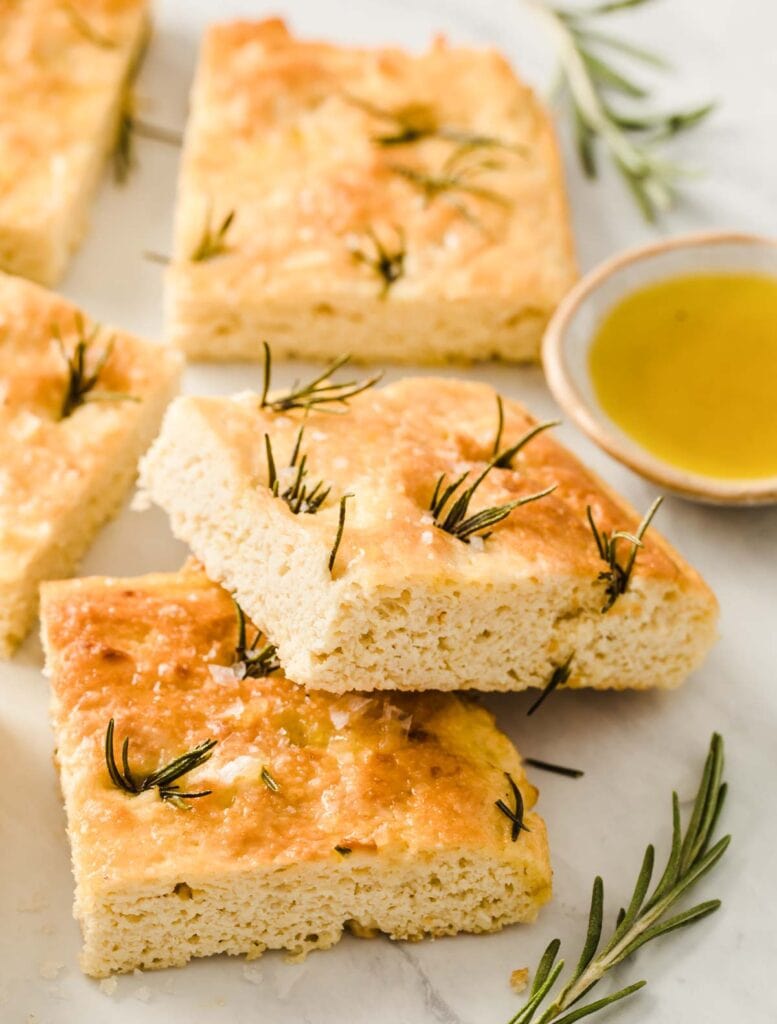 What Other Bloggers Say
Lisa MarcAurele, founder of Low Carb Yum: "Not only do you get over 30 mouthwatering keto bread recipes, you'll find tips on all the essential baking ingredients you'll need. If you're a bread lover like me, you'll want to have this in your low-carb cookbook collection."
Tasha Metcalf, founder of Ketogasm and author of Keto: A Woman's Guide: "This book is a godsend for anyone who misses bread while eating keto or low-carb! I'm so impressed with the variety of recipes included, and pleasantly surprised to find that baking doesn't have to be a long, arduous process.
Katrin's recipes are super simple, and many of the breads included in the book are ready to eat in under an hour. It's delicious, practical recipes like these that help make dietary changes sustainable and long lasting. I love this book and will definitely recommend it to all of my low-carb nutrition clients struggling without bread."
Dr. Annissa Slusher, co-founder of Simply So Healthy: "This book is the bible of keto-friendly bread baking! If you're missing bread on your keto lifestyle, the recipes in this book will have your bread basket overflowing. An invaluable source for bread lovers who want to maintain a keto lifestyle."
Georgina Bomer, founder of Step Away From The Carbs: "I have been a fan of Katrin's blog for many years and was excited to check out her first book! She clearly has a fantastic understanding of the ingredients required for low carb baking, and the photographs make my mouth water! First on my list to try: Low Carb Focaccia, Cheesy Keto Cornbread, and the Almond Flour Crispbread!"
LEARN HOW TO BAKE KETO BREAD LIKE A PRO
Frequently Asked Questions
Are the recipes in the Keto Bread Cookbook gluten free?
All recipes in the book use either nut or seed flours. They contain no grains and are entirely gluten free.
Does Keto bread have the same texture as regular bread?
Not exactly, but we're aiming for a fluffy and airy texture that is as close to the real thing as possible. Nut and seed flours contain more fat than wheat and are naturally heavier, but also a lot more nutritious. I'm sharing all the tricks on how to get your Keto bread to rise beautifully.
Are the recipes in the Keto Bread Cookbook easy?
Yes! Some recipes can be stirred together with a fork - no kneading necessary! All recipes come with detailed step by step instructions so you'll know EXACTLY what to do. Most require only 5-10 minutes prep.
Does keto bread taste eggy?
None of the recipes in this book taste eggy. I dislike eggy taste in Keto bread myself. In the recipes that require eggs the amount is kept to a minimum so the egg flavour does not stand out. But you'll also find 8 entirely egg free recipes!
Are the ingredients for keto bread easy to find?
Yes. You can buy staples such as almond flour (ground almonds in the UK), coconut flour or flaxseed meal in larger supermarkets. If your supermarket does not stock ingredients such as xanthan gum, inulin or psyllium husk powder, order it online or purchase from health food stores.
What utensils do I need for baking keto bread?
An electric mixer is useful (although you don't need it for all recipes). For some recipes I also use a small loaf tin, which is half the size of a regular loaf tin. But there are plenty of breads that you can simply form by hand or bake in a small casserole dish.
How long does low carb bread keep and does it freeze well?
You can store your bread in a bread tin on the counter for 5-7 days. Crispbread stays fresh for longer. However, I slice and freeze all my bread, and toast the slices straight from frozen. This way, I always have fresh bread in the house!
Can you make Keto bread with yeast?
I absolutely love baking with yeast and have included a five of my favourite yeast breads and rolls in the book. I use inulin to activate the yeast, but you can also use honey or even sugar - the yeast feeds on it and none remains post bake. Don't think for a minute baking with yeast is difficult - just follow all my tips and tricks and you'll have ultra fluffy and soft yeast bread!
Are the recipes dairy free?
More than half of the recipes in the cookbook are dairy free. For the ones that do use dairy, here's a simple substitution: use coconut oil or olive oil instead of butter and coconut yoghurt instead of yoghurt.
Can these recipes be used in a bread machine?
I don't own a bread machine and have not tested these recipes in a bread machine. Some of my readers have though with good results! They mix the dough before putting it into the bread machine. Then they set the loaf size to medium, the crust to light and use the quick bake setting.
Is there a print version of the ebook?
Not at the moment. The benefit of an eBook is that you receive it straight after purchasing and there's no extra cost for shipping. Some people print out their favourite recipes or have them bound at a local or online shop.
Ready to enjoy delicious fluffy bread without the carbs?

DOWNLOAD YOUR COPY OF KETO BREAD MADE EASY TODAY