It's time to get festive the healthy way: German Cinnamon Stars AKA Zimtsterne are traditional gluten free German Christmas cookies. This version is low carb, sugar free and diabetic-friendly.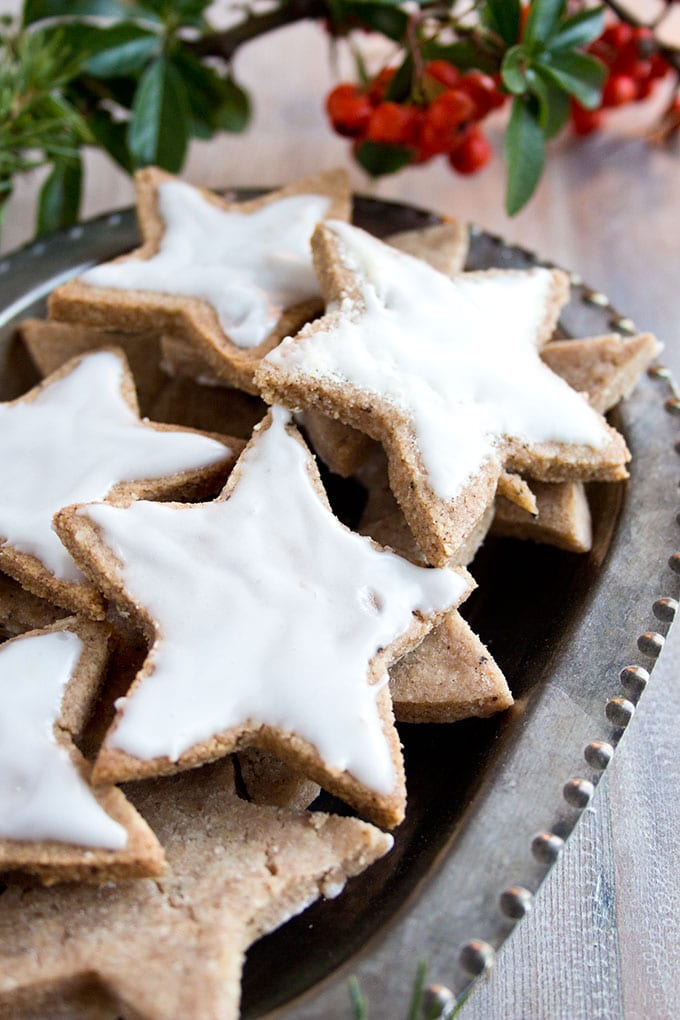 That time of year has arrived again.
The festive spirit has been going strong in the shop windows since Halloween's been over, so I should have seen it coming. But I have to admit, December always creeps up on me. Shock horror! I have not got any presents sorted! Where did I put the lights for the Christmas tree? What, only 3 weeks to go? And thank God for my mother, who surprised the children with an advent calendar just in time. One tick off the list, without a last minute panic shop.
I admire the people that have a Christmas spreadsheet and schedule all tasks so it's done by the first of December (yes, they exist! Right here in London). As a newspaper journalist in Berlin I once did a story about people who buy their Christmas presents in the summer sale. They existed, too. These are clever, nifty human beings that are just that little bit more evolved than me. When I fight my way through the crowds on Oxford Street and queue for the last turkey at the butchers', they can sit back in front of their fires, admire their beautifully decorated Christmas tree and sip mulled wine.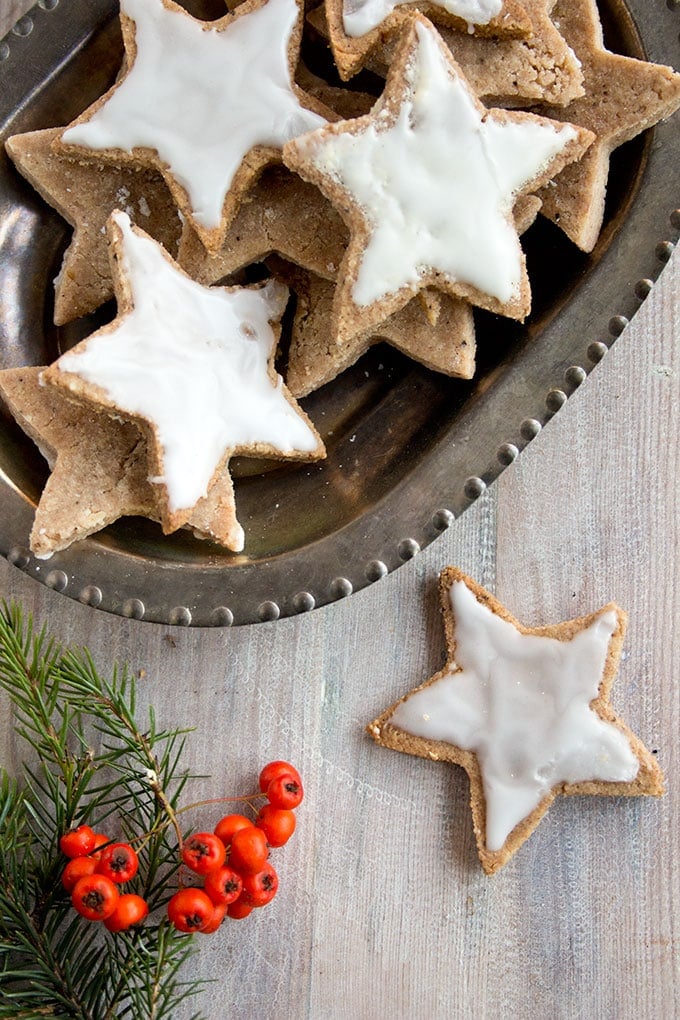 Writing Christmas to-do-lists is just not very me. I secretly know it would stress me out seeing the amount of stuff that needs to be done all in one place and improvisation has always been one of my strengths. So I get on with things one by one as I remember them and hope it'll be all right by the time it's Christmas eve. Denial is a beautiful thing and this method of wingin' it, tried and tested over many years, always works out fine and gives me plenty of time to sip mulled wine in between.
There's one thing though I never forget about. German Cinnamon Stars.
Cinnamon Stars are perhaps the most traditional Christmas cookies in Germany. They are the Mince Pies of Deutschland; the ultimate festive baked good. Plus, they taste absolutely delicious.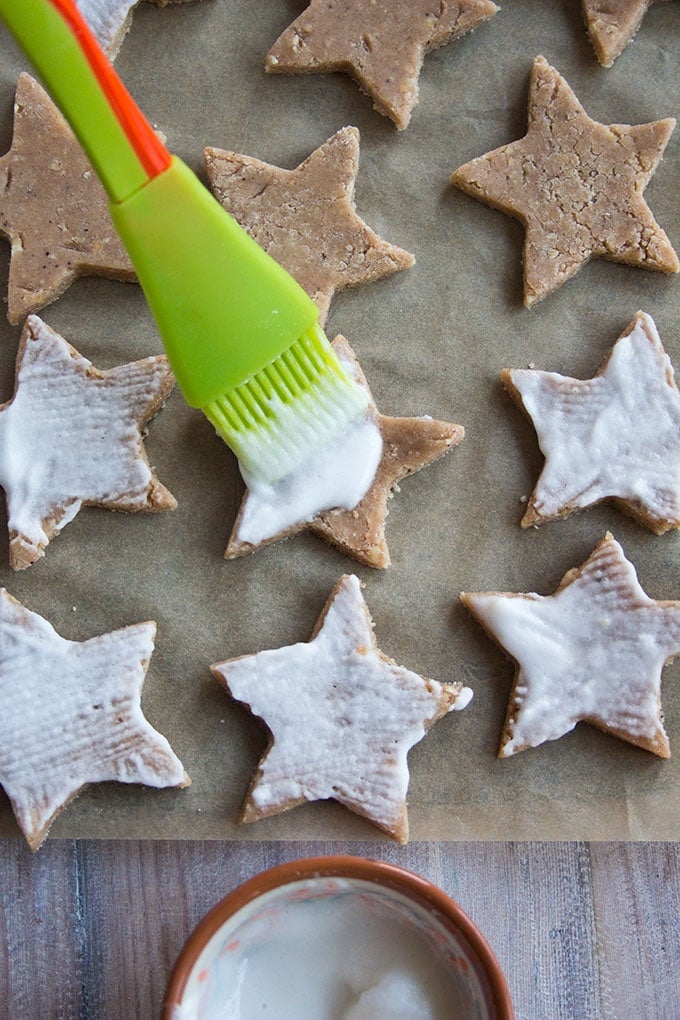 The original recipe requires ground almonds, which makes the cookies gluten free. Unfortunately though, regular cinnamon stars are packed with icing sugar, which erases all the benefits of using nuts as opposed to wheat flour. I remade our favourite family recipe using Sukrin Icing, which is a blend of erythritol and stevia, and am pleased to say they came out tasting super nice.
German Cinnamon Stars are
soft
chewy
delicately spiced with cinnamon and ground coffee
sweet and nutty
gluten free
sugar free
low carb and keto
diabetic-friendly
tasting of Christmas with every bite.
The Christmas period can be tricky to navigate when you're sugar free. If you work in an office, there's probably a bowl with festive sweets on every desk. December is the month of parties and get-togethers, which inevitably involves eating more than you normally would, including the temptation of desserts. These German cinnamon stars make a great homemade gift. So make a bumper portion and share the sugar free love 🙂
Why not try my other sugar free, low carb cookie recipes?
Check out my Italian walnut kisses, these sugar free cut out cookies or my chocolatey Halloween bat cookies, which you can make Christmas-friendly by simply using a more festive cookie cutter.

Sugar Free Londoner
Yields 50 stars
German Cinnamon Stars (Zimtsterne)
It's time to get festive the healthy way: German Cinnamon Stars AKA Zimtsterne are traditional gluten free German Christmas cookies. This version is sugar free and diabetic-friendly.
20 minPrep Time
25 minCook Time
45 minTotal Time
5 based on 3 review(s)
Ingredients
300g / 3 cups almond flour (ground almonds work well here too)
100g / 1 cup Sukrin icing or powdered erythritol
3 egg whites
2 tsp cinnamon
1 tsp ground coffee
Instructions
Separate the eggs and whip the egg whites until they form stiff peaks. Use a glass or ceramic bowl for this and make sure it's totally dry and squeaky-clean. A stick blender with plastic does not give a brilliant result - best is an old-fashioned mixer with 2 steel attachments.
Fold in the sweetener.
Reserve 3 tablespoons of the egg white and sugar mix for the glaze
Add the almond flour/ground almonds and spices and stir until combined.
Form a dough ball and roll it out around 1/2 cam thick between 2 sheets of baking paper
Place in the freezer for around 15 minutes. This is an important step - it makes cutting out the dough much easier
Remove from the freezer, lift the top baking paper sheet and use a cookie cutter to cut out shapes (just rename the recipe if you prefer hearts instead of stars!)
Brush on the egg white mix we set aside earlier.
Bake in an pre-heated oven at 120 Celsius for 25 minutes.
Notes
For a variation replace 100g/1 cup of ground almonds with ground hazelnuts.
7.6.7
297
https://sugarfreelondoner.com/german-cinnamon-stars-zimtsterne/
This post may contain affiliate links. If you click on one of these links and purchase a product, I earn a small commission that helps me with the upkeep of my blog. Thank you for supporting Sugar Free Londoner.