A festive treat without the sugar rush: This gluten free and moist spiced chocolate torte is sweetened with dates and erythritol. The perfect crowning glory for a special dinner with irresistible notes of cinnamon, cardamom and cloves.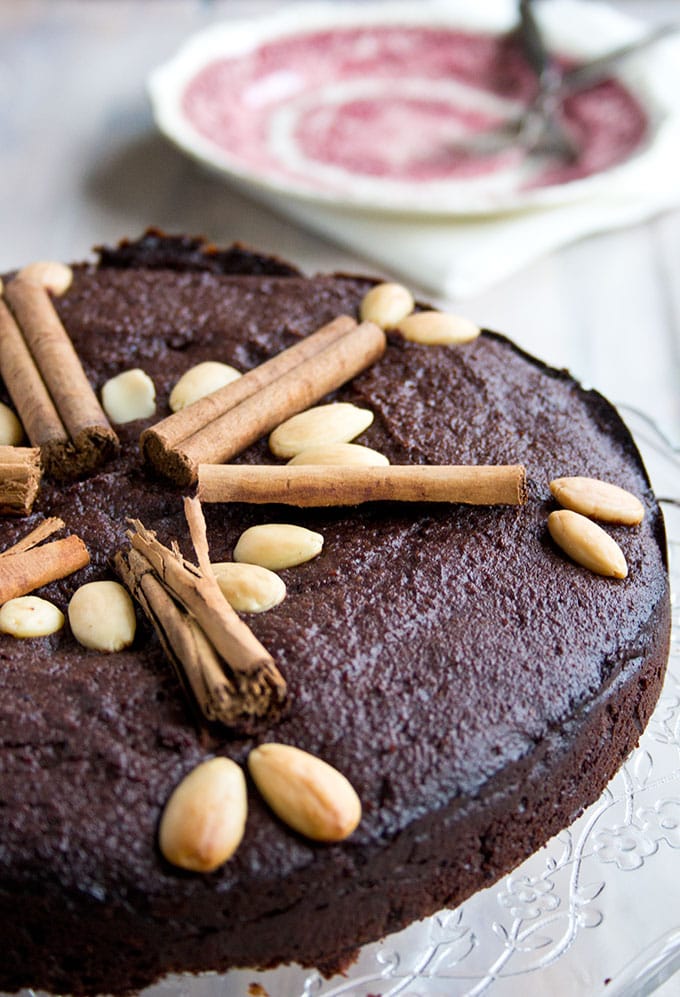 One of my favourite parts of the Christmas season are the festive scents that fill the house. The fresh pine aroma of the tree, the warm vanilla-spice scent of my favourite winter candle and all the wonderful smells that happen in my kitchen.
December is the month where most of us don't mind giving it a little bit extra in the food department. It's the end of the year. Christmas is around the corner and January, with its new gym membership, healthy resolutions and lean green salads is still eons away. And frankly, with it being mostly dark and wet outside, it is the perfect month for gathering friends and family round the table for big knockout feasts.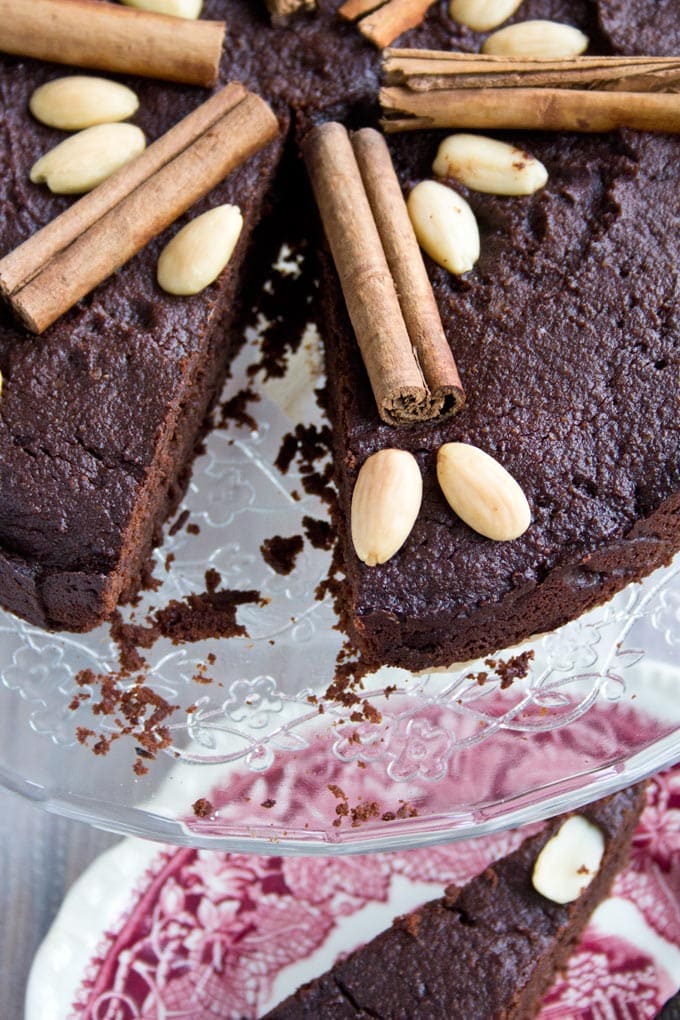 If you're in for a rich, indulgent treat, this spiced chocolate torte is your best friend.
Tortes are naturally gluten free, because they are made with ground nuts instead of wheat flour. This recipe uses ground almonds. Because it contains a motherload of dark chocolate, butter and single cream, it is deliciously dense.
I used chocolate with 90% cocoa solids, so the sugar content of the chocolate calculated per slice is very low. If you want, you could use a sugar free chocolate instead. The recipe is sweetened with a mixture of dates and erythritol. I haven't used dates in a while because they do have a high sugar content, but let's not forget that this is a natural sugar which absorbed less rapidly than table sugar. Dates also have plenty of other health benefits, which you can read about in this post on my sweet potato brownies. They also give the torte a delicious caramel note. The cake provides 16 portions as it is very dense, which works out at 1/2 a date per slice (I used 8 dates in total).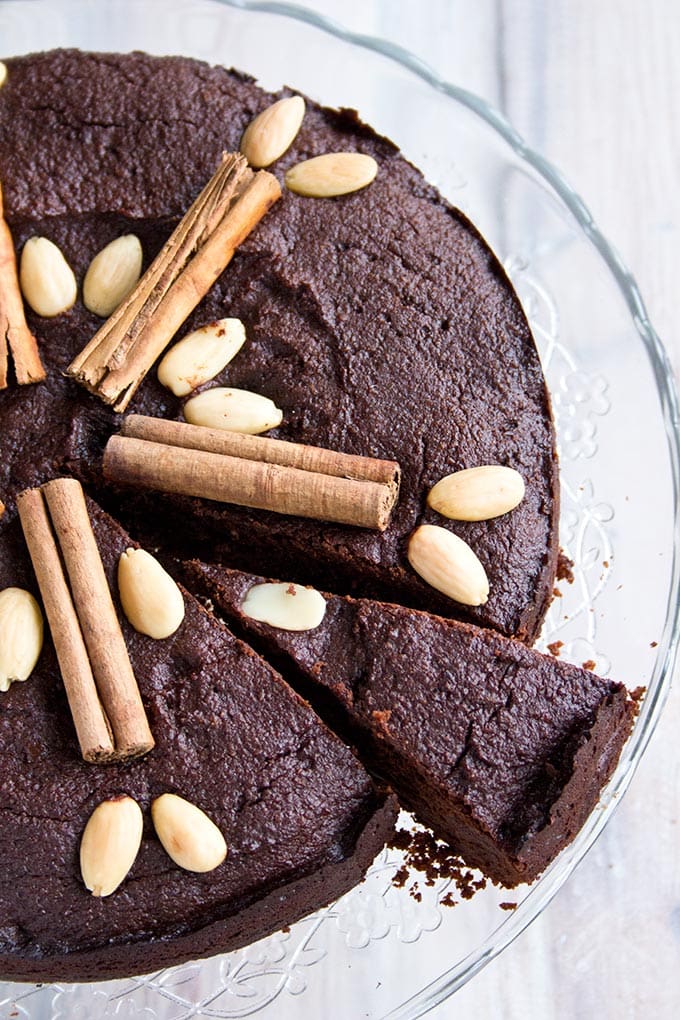 The best thing about this spiced chocolate torte are, as the name suggests, the spices.
The scent of cinnamon, cardamom and cloves that fills the house when you bake is just mouthwatering. I always find it incredible how such a tiny amount of cloves (1/4 teaspoon) can be so intense. These spices really are the heart and soul of the torte – don't leave them out!
I actually also added vanilla into my torte, but have not included it in the ingredients below. To be honest, I could not taste it at all – the chocolate and spices are just too intense. Let's save your vanilla extract for another beautiful dessert such as my healthy almond berry cake… or one that I shall present you with next week. Any festive favourites that could do with a sugar free makeover? Do let me know!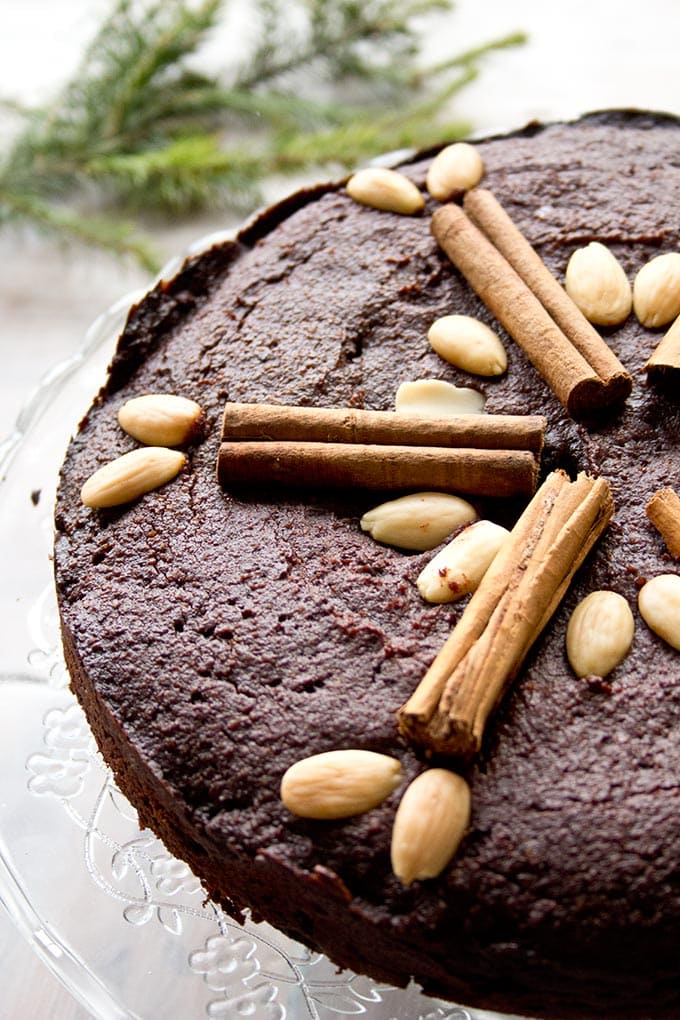 Sugar Free Londoner
Yields 16
Spiced Chocolate Torte
A festive treat without the sugar rush: This gluten free and moist spiced chocolate torte is sweetened with dates and erythritol. The perfect crowning glory for a special dinner with notes of cinnamon, cardamom and cloves.
15 minPrep Time
45 minCook Time
1 hrTotal Time
5 based on 2 review(s)
Ingredients
200g almond flour or ground almonds (1 2/3 cups)
250g dark chocolate (90% cocoa solids)
175g butter, unsalted (3/4 cup)
100ml single cream
150g dates (8 dates)
5 eggs
100g Sukrin gold or granulated erythritol (1/2 cup)
1 tsp baking powder
3 cardamom pods, outer shell removed
2 tsp cinnamon
1/4 tsp cloves (ground)
6 cinnamon sticks
20 blanched almonds
Instructions
Heat the oven to 160 Celsius
Melt the chocolate and butter in a non-stick pan or in the microwave.
Line the bottom of a 25 cm diameter round springform cake tin with baking paper and grease the sides with butter
Remove the stones from the dates and chop finely
Separate the eggs and beat the egg whites (they have to be room temperature) in a grease-free glass or porcelain bowl until stiff peaks form
Mix the egg yolks and sweetener, then add the dates, the black cardamom kernels (not the shells), cinnamon, cloves plus the melted butter-chocolate mixture.
Add the almond flour (or ground almonds), baking powder and cream and mix until you have a smooth dough.
Gently fold in the egg whites.
Pour into your springform, decorate with cinnamon sticks and almonds and bake ca 40 minutes until the cake is cooked but still a little gooey in the centre.
Remove from the oven and let the cake cool in the tin.
7.6.7
299
https://sugarfreelondoner.com/spiced-chocolate-torte/