Let me introduce you to Sugarwise, the brilliant UK-based international certification authority for sugar claims made by food and drink manufacturers. Sugarwise are on a mission to make it easy for everyone to reduce their added sugar intake and they are doing this by independently verifying products' sugar claims. Whenever you see the Sugarwise marque on packaging, it gives you reassurance that the product really is low in any of the sugars or sweeteners you need to limit in your diet, referencing World Health Organisation guidelines.
I've been working with Sugarwise for a while now and am excited to say that they have just certified the first ever quality controlled low in free sugars recipe book, which is available in the UK from July 25th. I'm handing over to Holly Philipps from Sugarwise, who will tell you more about Sugarwise and the recipe book "Sugar Free", which also features one of the most popular recipes on Sugar Free Londoner.   
Hello! I'm Holly from Sugarwise. Katrin has very kindly invited me to write this guest feature for Sugar Free Londoner to explain a bit more about Sugarwise and how it can help make it simpler to steer clear of the white stuff.
We all know we shouldn't be consuming too much sugar. But actually limiting our added sugar intake is more difficult than it might at first seem.
Sugar is everywhere – from the sweet snacks we treat ourselves to, to savoury, every-day products. In fact, it's in almost everything we cook. Lower sugar recipes are fab, but they aren't going to work if you can't find the ingredients to put in them!
It's normal to feel disheartened when you walk down a supermarket aisle only to be bombarded with high sugar products, along with items that boast a confusing array of sugar claims:
"47% Less Sugar"
"Refined Sugar Free"
"Reduced Sugar"
What do they all mean?!
Sugarwise tackles this confusion by independently testing and verifying sugar claims on products. These products carry the Sugarwise logo on their packaging along with a clear sugar claim, making it super easy for you to identify them.
According to our resident Registered Dietitian Nichola Ludlam-Raine,
"Without the Sugarwise label it is extremely difficult for consumers to tell at a glance if a product is low in 'free sugars' … I hope that the message gets through to consumers that 'refined sugar free' is not a health claim, and to look for the Sugarwise logo instead."
Sugarwise references the World Health Organisation's guidelines which state that no more than 5% of your calorie intake should come from free sugars. Free sugars are sugars added to food as well as the sugars found in honey, fruit juice, maple and other syrups. In the below diagram you can see the amount of free sugars in teaspoons in some popular sugar alternatives.
Don't be fooled by the 'natural' marketing technique! Anthrax, tobacco and cocaine are also all natural. According to cardiologist Dr Aseem Malhotra Sugar is the New Tobacco.
With the Sugarwise marque you don't have to change the kinds of things you buy, eat or drink. As Katrin demonstrates with all the recipes on this site you don't have to suffer to live sugar free: you can have your sugar free chocolate, biscuits, ice creams, cakes – and eat them too! These like-for-like swaps make it super easy for you to have exactly what you want, satisfying the sweetest of tooths.
To help you figure out exactly what to eat to reduce your added sugar intake, we've partnered with Aceville to create the first ever quality controlled and low in free sugars recipe book! Needless to say, it features an incredible recipe  from sugarfreelondoner.com.
The book contains over 100 delicious recipes for breakfast, lunch, dinner and, wait for it, a whole section on desserts. All the branded ingredients are Sugarwise certified. There are tips and tricks for reducing your sugar intake and expert opinions on the most confusing sugar advice around sweeteners and sugar alternatives.
The recipes give a range of options for everyone who wants to reduce their added sugar intake. Whether you are trying to lose weight, or just wanting your family to live more healthily, whether you want a one-off sugar free extravaganza or to learn how to cook without sugar every day, there'll probably be something in it that's got your name on it.
As if the recipes weren't healthy enough already, there are also low-carb options for those seeking the double whammy health benefit. Katrin has provided a mouth watering recipe for her Almond Cream Cheese Pancakes which is low-sugar, low-carb, and for me – like a hug on a plate.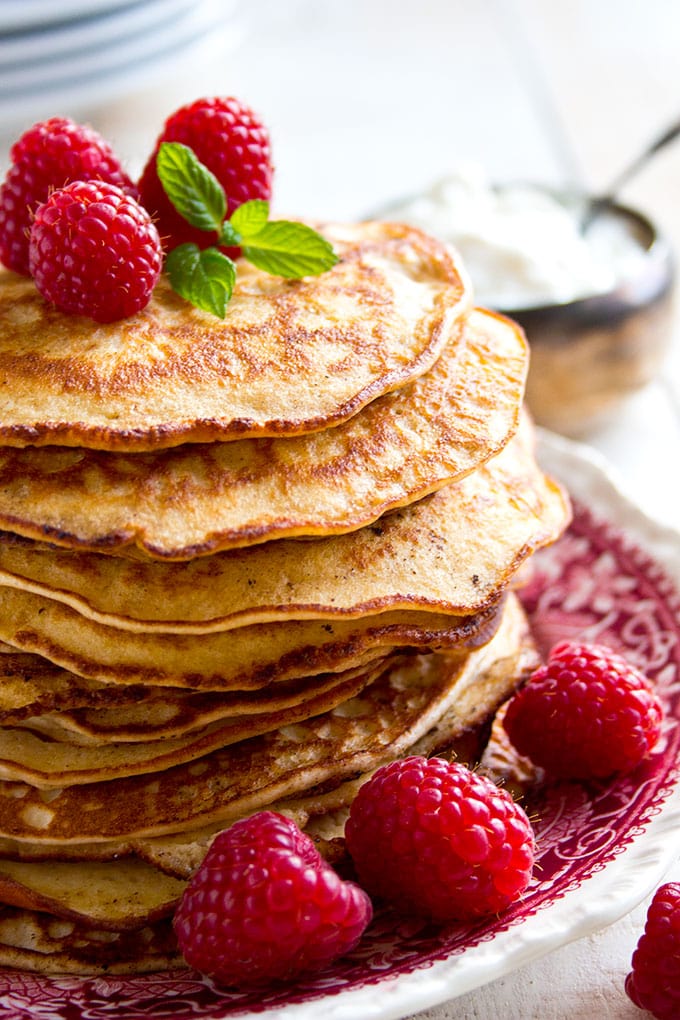 Be sugar-savvy when out shopping by following these three tips:
(1)                    Check the labels!
Look out for the Sugarwise marque to know that the product is truly lower in sugar. Otherwise, you can get a rough idea that the item is low in sugar if it has less than 5g of sugar per 100g or 2.5g per 100ml. Unfortunately, this does not indicate how many free sugars the product contains. The Sugarwise label is the only way to know for sure.
(2)                  Make smart swaps and stick to them.
Many of your everyday basics have lower sugar alternatives. Here are a few ideas to get you started: swap chocolate spread for JimJams or Diablo chocolate spread. Swap ketchup for Real Good Ketchup and buy Phrooti Fruit Infused Spring Water instead of fruit juice.
(3)       Download the FoodMaestro App and select the Sugarwise filter.
Use this app to scan food labels and discover which items are suitable for your dietary requirements. This lets you quickly find out if a product is low in the kind of sugars you should best limit.
Eating sugar-free doesn't need to be difficult. With the Sugarwise marque and sugar-free recipes, it will be delicious, nutritious and effortless.
Find the Sugarwise certified recipe book "Sugar Free" in Tesco, Sainsbury's and WHSmith or buy it online. Check out Sugarwise.org for a full list of certified products.