Ditch the chocolate bars and Doritos: Find inspiration for plenty of healthy and yummy sugar free snacks for kids (and adults) right here!

In our current food culture we often equate snacks with "treats" – muffins, biscuits, ice cream, crisps, crackers. Generally speaking, you could call them "tasty sweet and salty things you buy that are wrapped in plastic".
So when you're cutting down on sugar and are eating more unprocessed, whole foods, it can be difficult to imagine what snacking can look like.
The difference between snacks and treats
But first let's separate the "snack" from the treat":  To me, snacks are mini boosters in between meals. They are something nourishing (love that word) I eat when I am hungry.
A treat, on the other hand, is something pleasurable and not necessarily nutritious that I enjoy for the sake of it.
As you are all people interested in a healthy diet (otherwise you would have stopped reading already), you'll all know that when you eat unprocessed food and balanced meals, your blood sugar stabilises and you won't crave snacks that often anyway.
But what about the kids?
Get mealtimes right
I believe the key is to get the mealtimes right in the first place. The food writer Bee Wilson has summed this up really well in her book "First Bite: How We Learn To Eat":
Don't be clever and hide vegetables in other things. If the child does not know it is eating, say, a cake with beetroot, all this will do is reinforce a liking of cake.
Get your kids to try all different kinds of foods. Start with a tiny, tiny amount that does not scare them off. Once they have sampled a taste a few times like this, a dislike can quickly turn into a like. (In my house we've had a breakthrough with kale - crisped up in the oven, amazing - but might never get there with brussels sprouts)
Show, don't tell. If you want your children to eat better, show them you enjoy good food. There should be no talk of diets and guilt at the table. Vegetables should be not presented as the necessary evil, but as something delicious. Serving them as a starter when hunger is keenest might do the trick.
Talk less about "good" and 'bad" food and more about hunger and fullness. Being able to recognise and satisfy your own hunger is perhaps the most important eating skill anyone can learn. Many children aren't allowed to experience the mildest of hunger any more.
Don't treat sugar like love
Stop treating sugar like love. There are many other rewards or comforts we can treat our kids with as well, and sweets should not become the automatic go-to emotional prop.
Don't turn sugar into forbidden contraband. Everyone needs to find their personal happy with sugar. And there is always room for birthday cake.
Make room for sugar free treats
While I generally serve my children whole foods, I also make room for treats. Sometimes I make them myself, such as low carb chocolate chip cookies or Keto Brownies, the added benefit being I can put as many good ingredients in as I like.
There is an added challenge for parents with a healthy eating agenda: SCHOOL! Like they say, what happens in school stays in school. I don't ask my kids what they chose for their school lunch - whatever it was, they'll live.
Here are some ideas for nourishing (see, I used it again!) sugar free snacks that will help everyone bridge the time until food's on the table.
Sugar free snacks for kids
dinner leftovers
eggs any way - scrambled, boiled, hot, cold. Try scrambled eggs wrapped in a salad leaf. Invented by my son
salad with veggies and some protein (meat, cheese, nuts)
Veggies with yoghurt dip
rice cakes with cream cheese and/or smoked salmon
cheese and cold cuts plate
guacamole and veggies
avocado with salt and pepper (my personal go-to sugar free snack)
apple or banana slices with almond butter/tahini/peanut butter/cinnamon (EVERYTHING tastes better with cinnamon)
ham rolls, filled with cream cheese/veggies/salad leaves (my kids love these. Kids seem to like stuff that's rolled up)
cucumber "sandwiches" topped with cheese - using cucumber slices instead of bread somehow makes this snack "fun"
plain yogurt with almonds and berries/other fruit (and cinnamon) or Peanut Butter Granola
roasted nuts - make them in the oven with olive oil, salt and rosemary
smoothies: we make a LOT of those here. Try banana/blueberries/yoghurt/flax seeds/cinnamon for a filling combination, frozen banana/100% dark chocolate powder/milk for chocoholics or this Green Keto smoothie.
antipasto platter of olives, sliced mozzarella cheese and tomatoes
And last but not least, the granddad of all sugar free snacks: crispy kale chips. It's simple, and delicious. Even better: Leftovers can be sprinkled over dinner. What an all-rounder!
This is how you make the Crispy Kale Chips:
Wash and dry kale (I use a 200g bag)
Massage with olive oil, rub it in really well
Spread out evenly on a baking tray, add salt (optional cayenne/paprika). You might have to do 2 batches
Bake at 150 Celsius for 15-20 minutes until the kale has crisped but is still green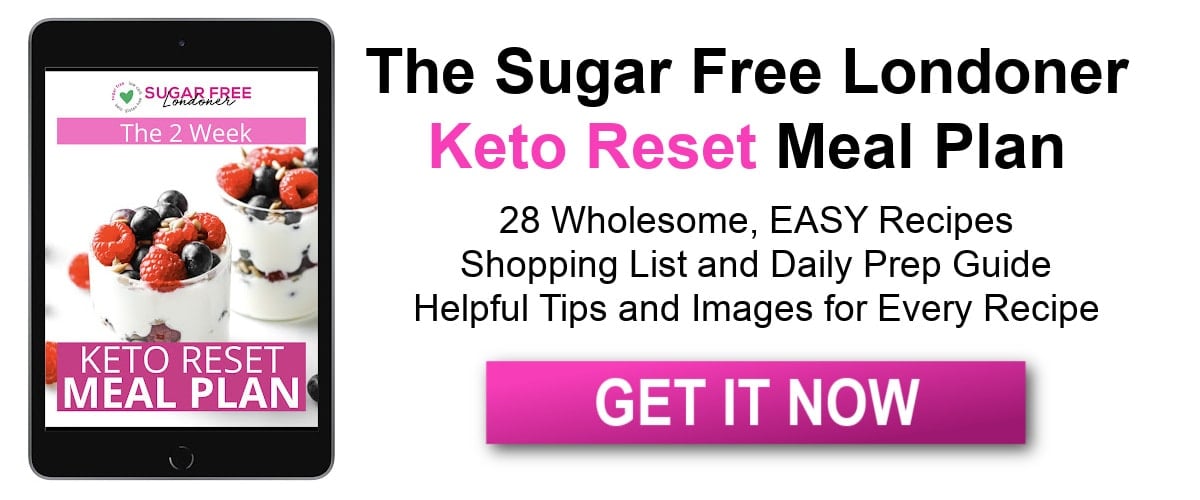 Rosemary Roasted Nuts
from Sugar Free Londoner
Rosemary Roasted Nuts is an easy and tasty snack! Don't miss this post about healthy sugar free snacks that will keep kids and adults happy. There's plenty of simple and quick snack ideas for when the hunger strikes.
Note: The servings slider only changes the first amount in each line and not any subsequent amounts. Please make your own calculations where necessary. ***As an Amazon Associate I earn from qualifying purchases.
Ingredients
100

g

almonds

100

g

cashews

100

g

walnuts

or any other nut you like

1-2

tablespoon

olive oil

1

tablespoon

fresh rosemary

chopped

1

tablespoon

thyme

chopped

salt

to taste
Instructions
Mix your nuts in a bowl with some olive oil, salt and the chopped spices

Roast in the oven at 180 Celsius for ca. 10 minutes.
Nutrition
Calories:
182
kcal
Total Carbohydrates:
6
g
Fat:
17
g
Fiber:
2.5
g