Combining two favourite breakfast spreads into one: This healthy sugar free peanut nutella is so simple to make and great on bread or waffles.
Remember Elvis' peanut butter banana sandwich? It was fried, sometimes with a couple of bacon slices in it; and it's so famous for its decadence it even has its own Wikipedia page.
Naturally, it's famous because Elvis is famous, but there is something to be said about combining two (or three) wonderfully tasty things and turning them into something new that's just an explosion of flavours.
Now, I know a kid that loves peanut butter with nutella. This kid is not famous and therefore there is no Wikipedia entry about peanut butter nutella. But when I was thinking about what to make with the peanut flour the kind people from Sukrin sent me, I thought of that kid's happy face and knew I'd follow his good example.
It's simple to make your own nut-ella with hazelnuts, cocoa powder and sweetener. So simple and so delicious, in fact, that I have made this sugar free nut-ella already and followed on with these no bake nut-ella bars.
Sugar free peanut nutella, friends, is even simpler. There's no roasting and grinding of nuts. It's you with a fork, a bowl and minimum elbow grease.
You mix the peanut flour with some almond milk (or milk), add cocoa powder, coconut butter and some sweetener. The result is a creamy spread that is, if I may say so, rather irresistible.
The nice thing about peanut flour is that it is not only high in protein, but also fat reduced and therefore less "sticky" than peanut butter. I always feel like my teeth are wearing little peanutty jumpers after biting into peanut butter. To add some creaminess to the spread, I added coconut butter, which you could sub with coconut oil if that's easier to get hold of.
Sugar free peanut nutella is definitely one of the new staples in our fridge.
It's great with waffles and on bread (I'm working on a grain free muffin recipe right now, so watch this space). And there is one more unexpected use I found: If you omit the two additional tablespoons of almond milk and add another tablespoon of coconut butter, it makes a delicious peanut nutella frosting to use on cupcakes or as a filling for cakes. Win-win!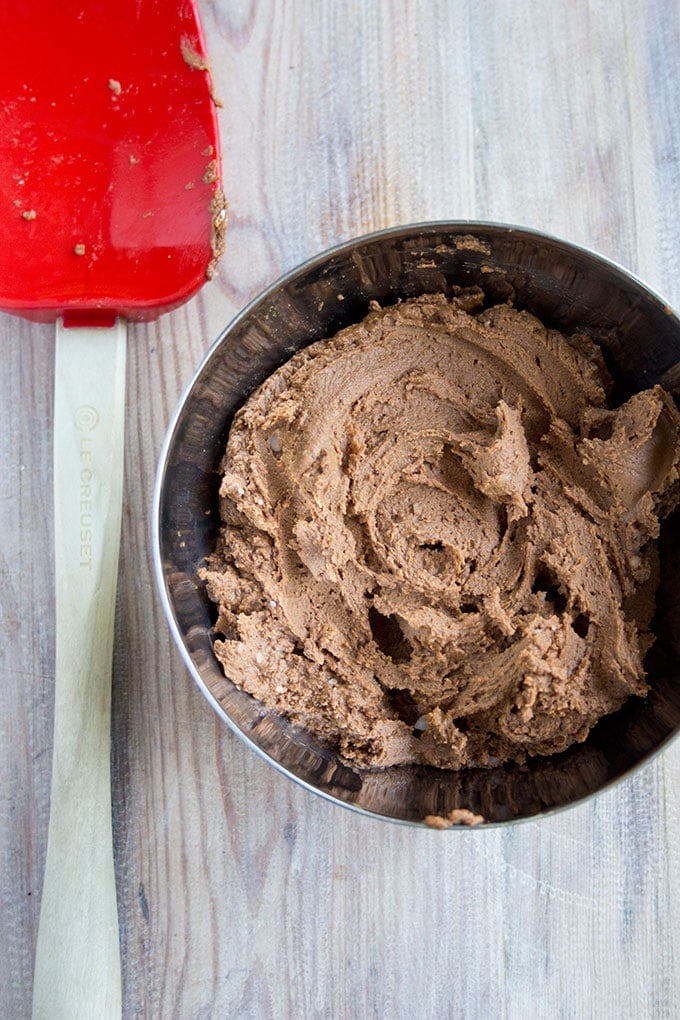 If you try out this recipe, let me know! I'd love to hear from you. Write me a comment on the blog or tag me on Instagram. And don't forget to like my page on Facebook to get many more great recipe ideas.
(This post contains affiliate links. If you click on one of these links and purchase a product as a result, I may make a small commission. This money helps me with the running costs of the site.)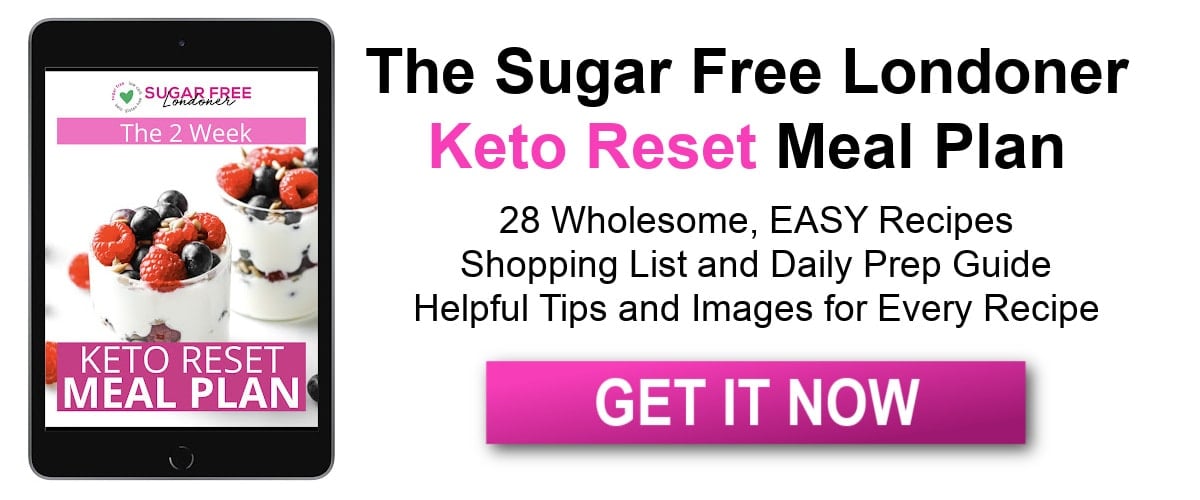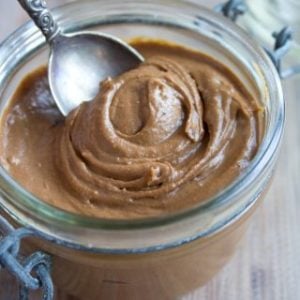 Sugar Free Peanut Nutella
from Sugar Free Londoner
Combining two favourite breakfast spreads into one: This healthy sugar free peanut nutella is so simple to make and great on bread or waffles.
Note: The servings slider only changes the first amount in each line and not any subsequent amounts. Please make your own calculations where necessary. ***As an Amazon Associate I earn from qualifying purchases.
Instructions
Combine all ingredients until smooth.

Store in an airtight container in the fridge.
Notes
You can get ca 10 tablespoons of peanut nutella per jar. I have calculated the nutrition for 1 tbsp. Enjoy!
Nutrition
Calories:
39
kcal
Total Carbohydrates:
1.5
g
Fat:
3.4
g
Sodium:
8.3
mg
Fiber:
0.8
g