Cleansing, fresh and simple: This fragrant spinach mint soup gets an added kick from the tangy, lemony spice sumac.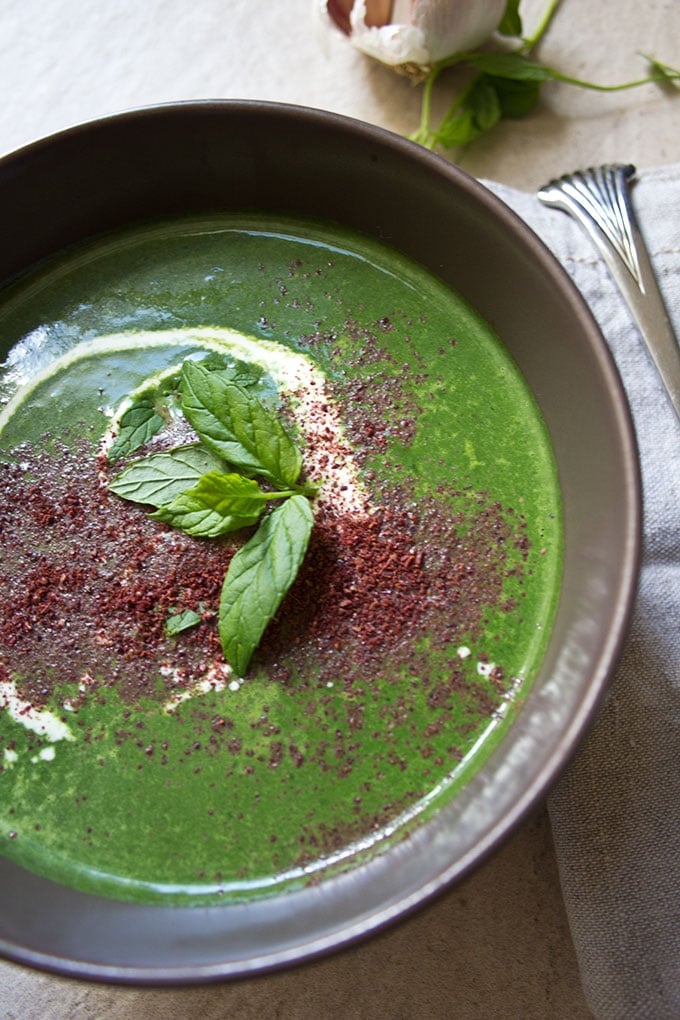 Friends, I am so excited. I am now getting my vegetables delivered by a local farm. And you know what? They taste so FRESH! After the shock of school restarting (you should have seen me: stepping into the car with bed hair and in man slippers at 7.30 am – "at least you're not in pyjamas", my daughter remarked drily) it felt like a well-deserved treat.
I am feeling quite smug about eating local, organic produce and about cooking with the seasons, though I am vaguely aware that it is probably a very middle class, middle-aged-thing to do. I look at it this way: Eating really good food is, apart from not caring any more how you look driving your daughter to school, another benefit of being beyond 40. Middle Age rocks!
MY LATEST VIDEOS
We received, amongst other stuff, the crunchiest red peppers, some delicious looking carrots with a lot of earth stuck on them, a bunch of wondrous yellow beetroot (I am thinking beet salad with goat's cheese and walnuts) and, on top of the lot, a huge bag with spinach leaves.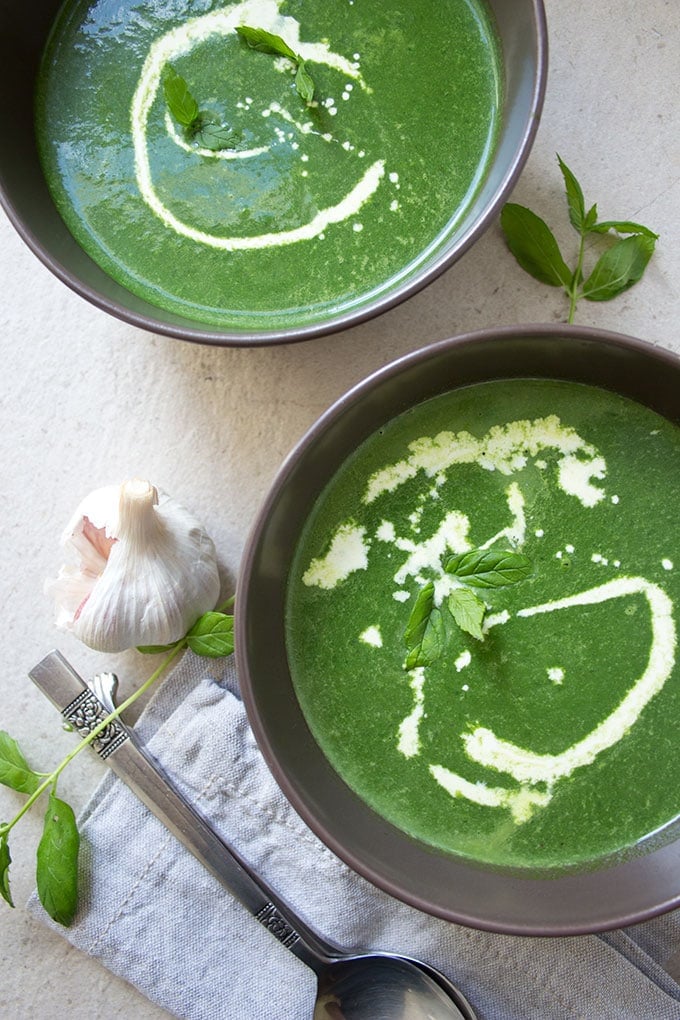 I love spinach. It's
And…
it is just brilliant as a soup.
For this spinach mint soup I paired the spinach with, you guessed it, a big handful of mint, which makes it taste super fresh and fragrant. If you can get hold of it, sprinkle the lot with sumac. It's a spice widely used in the Mediterranean and Middle East and has a tangy, lemony flavour with a smokey undertone that perfectly complements the freshness of the dish.
This soup makes a perfect light lunch. We paired it with some homemade coconut cheese crackers (up next!) to get some grain free bulk.

Spinach Mint Soup with Sumac
Cleansing, fresh and simple: This fragrant spinach mint soup gets an added kick from the tangy, lemony spice sumac.
Ingredients
400

ml

chicken stock

350

g

spinach leaves

handful of mint leaves

glug of olive oil

4

spring onions

chopped

2

garlic cloves

2

teaspoons

of cream plus more for serving

bonus ingredient: pinch of sumac
Instructions
Fry the chopped spring onions and garlic in a pot until soft

Add the washed spinach leaves. Put the lid on and wait until they are wilted

Pour over 500 ml good quality chicken stock. I find the taste of chicken stock richer and more interesting, but obviously vegetable stock would work fine as well

Add the mint leaves and blend with a stick blender or in a food processor until smooth.

Stir in 2 tablespoons of cream and add salt and pepper to taste

Serve with more cream drizzled on top and a pinch of sumac.
Nutrition Facts
Spinach Mint Soup with Sumac
Amount Per Serving (356 g)
Calories 119
Calories from Fat 60
% Daily Value*
Total Fat 6.7g 10%
Cholesterol 2mg 1%
Total Carbohydrates 12.7g 4%
Protein 6.6g 13%
* Percent Daily Values are based on a 2000 calorie diet.