Spiced Pear and Goat Cheese Salad. A starter with a wow factor or a super-sophisticated light lunch. You are so worth it.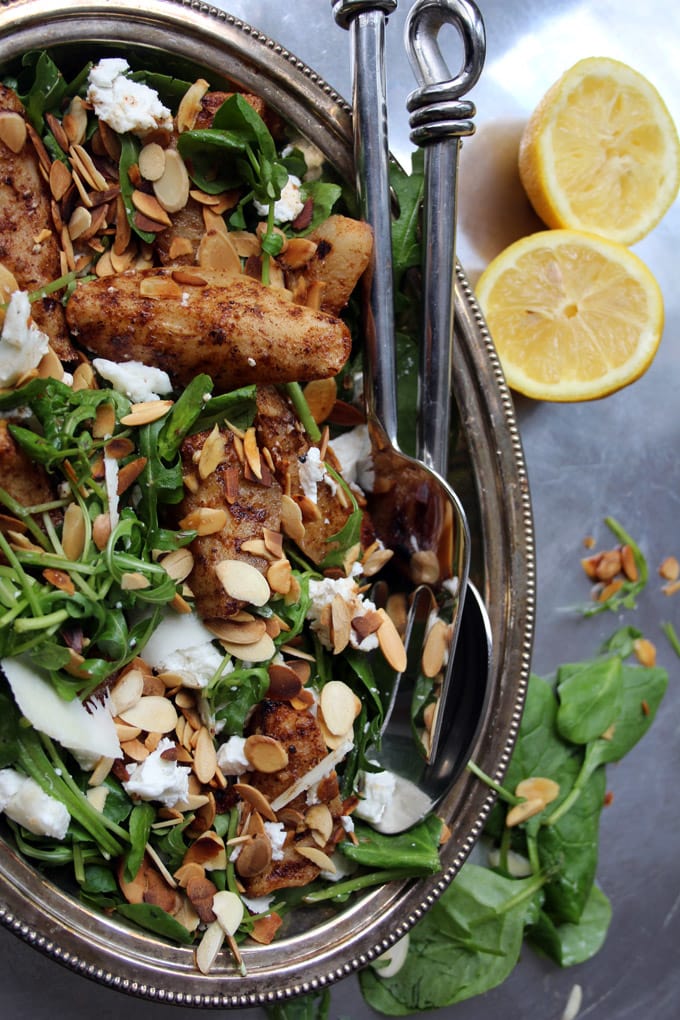 This is one of my absolutely favourite recipes and it doesn't matter how much of it I make… it disappears as quickly as I can say "spiced pear and goat cheese salad". See? It's gone again. Now I have to make some more.
Unlike apples, pears can be somewhat tired-tasting when roasted, even with the most generous amount of cinnamon. But this combination of crushed coriander seeds, cinnamon, orange and red wine vinegar turns the pear into the most sensational fruit ever. Combine it with the saltiness of goats cheese, the crunch of toasted almonds and a mountain of health-inducing rocket, spinach and watercress leaves and you have a taste explosion that's one of a kind.
Fun fact: I served this salad to good friends from up north a few years back and it's become a favourite dinner party starter in the village of Westoe, South Shields. You could say now, Westoe is tiny. It is. But this salad has also made its way to Berlin and Ibiza, with the same results. You see where this is going? Spiced pear and goat cheese salad is an awesome, refined and, I am just going to say it here, super-sophisticated taste combination that will make you very, very happy indeed. It's a feel-good salad! Whether you are in Westoe village or not.
It's the kind of salad you whisk out when your mind has gone numb from preparing spagbols, sheperd's pies and all the other meals other (smaller) family members have been shouting for. Or, like in my case, when you have to convince yourself that your mind is not numb, but you are indeed a sophisticated and refined person with sophisticated and refined tastes.
I went to a local quiz evening last night and our team only managed to avoid coming last by cheating. I am still in denial how this could have happened, especially since I had read through at least 5 magazines at the hairdresser and found out incredible new trivia like: Model Karlie Kloss has three sisters whose names also begin with the letter K! For reals? Move over Kardashians!
We did make up for the lack in points by being a very noisy bunch and I have to say, it still was fun. Maybe I'll prepare by reading newsweek next time.
Or I'll just make another spiced pear and goat cheese salad.
Oh no. It's gone again!
Sugar Free Londoner
Yields 4-6 portions
Spiced Pear and Goat Cheese Salad
A starter with a wow factor or a super-sophisticated light lunch. You are so worth it.
10 minPrep Time
12 minCook Time
22 minTotal Time
5 based on 2 review(s)
Ingredients
4-5 pears, cored and quartered
1 tsp ground cinnamon
1/2 tsp coarsely ground coriander seeds
1/2 tsp mixed spice
juice of 1 orange
2 tbsp red wine vinegar
3 tbsp extra virgin olive oil
juice of 1/2 lemon
100 g rocket/watercress/spinach leaves
150 g goat cheese, crumbled
50 g Parmesan, shaved
handful of parsley leaves, roughly chopped
50 g almonds, roasted until pale golden brown (pine nuts would also work here)
salt and pepper to taste
Instructions
Preheat a griddle pan and heat your oven to 200 Celsius.
Mix the pears in a bowl with a splash of olive oil, salt pepper and dried spices.
When the griddle is hot, grill the pears for 2 minutes on each side until they are beginning to caramelise.
Transfer them to a small roasting tray and pour over the orange juice and red wine vinegar. Roast in the oven for 8 minutes, then transfer into a large bowl and allow to cool.
Mix the extra virgin olive oil and lemon juice into the pear juices to make a dressing. Season, but remember that the cheese is salty!
Mix the leaves with the pear quarters, Parmesan and parsley and pour over the dressing.
Serve on a large platter and scatter over the roasted almonds (I brown them in a pan without oil on a low heat, but you could also do this in the oven) and the goat cheese.
Notes
The pears can be served warm or cold, but not so hot that they melt the cheese.
7.6.6
191
https://sugarfreelondoner.com/spiced-pear-and-goat-cheese-salad/