These oven roasted broccoli heads are stuffed with sage, halloumi slices and with caramelised leeks. A light and flavourful low carb main meal that is ready in under 30 minutes!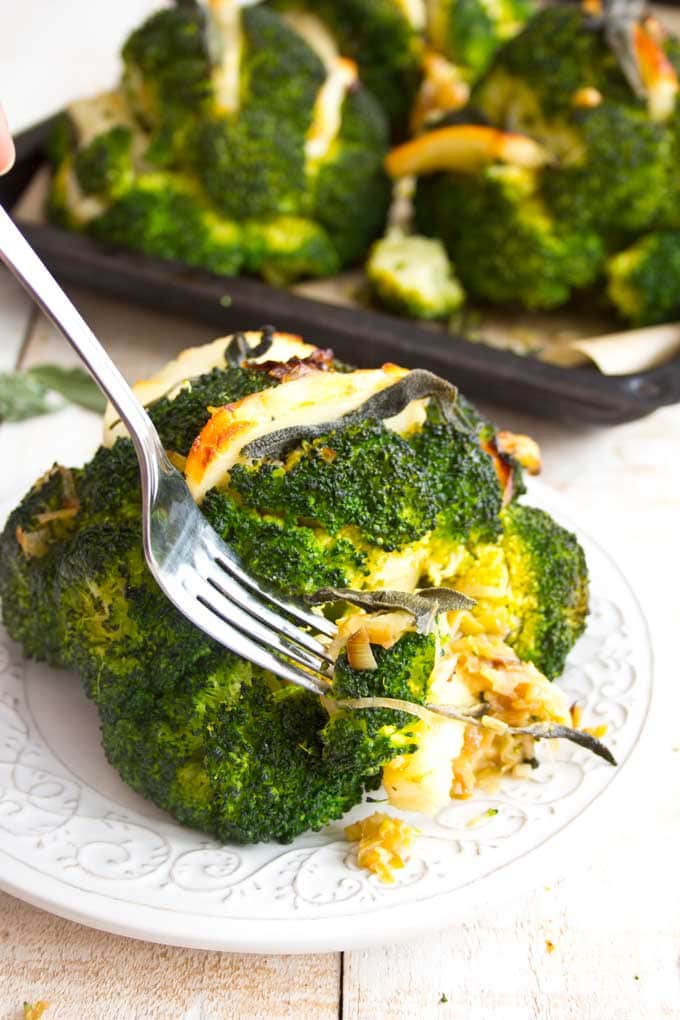 We're big broccoli eaters in this house. We're having it steamed, stir-fried and as a salad with nuts and seeds. I love this creamy broccoli pistachio soup. And of course, there's the weekly appearance of the good old broccoli and cauliflower cheese casserole, which my kids wolf down in no time.
Did you know that broccoli has been hailed as one of the world's healthiest foods?
It's naturally high in fibre, anti-inflammtory, detoxifying and packed with antioxidants. Only 80 grams of broccoli count as one of your 5-a-day!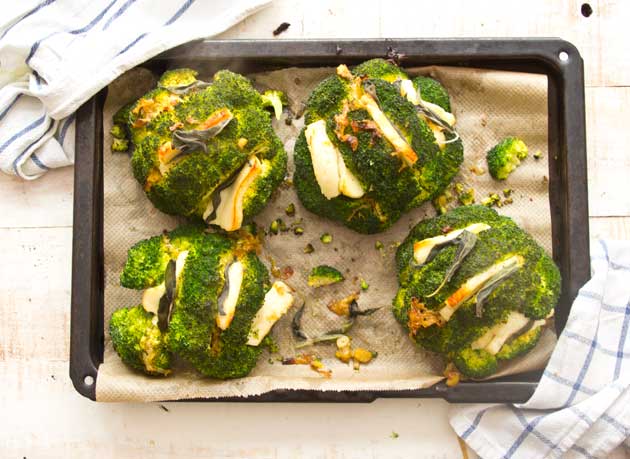 Friends, have I convinced you yet that we all should be eating broccoli, like, ALL THE TIME? Just imagine. Shiny hair, strong nails, radiant skin, an energetic bounce in our step...paired with enhanced focus and a life force so vibrant it's basically humming all around us. Yup. You're entering the room and jaws will drop. And that's after only ONE WEEK of broccoli. Are you with me? Life just gets BETTER WITH BROCCOLI!
I am seriously not getting paid by the International Association of Broccoli Appreciation. I just like the stuff. It's green, crunchy and my kids eat it without complaint. The same can't be said about Brussels sprouts, right?
And now we're taking the broccoli love another notch up.
We're going supernova.
Hello there, sage and halloumi oven roasted broccoli heads with caramelised leek!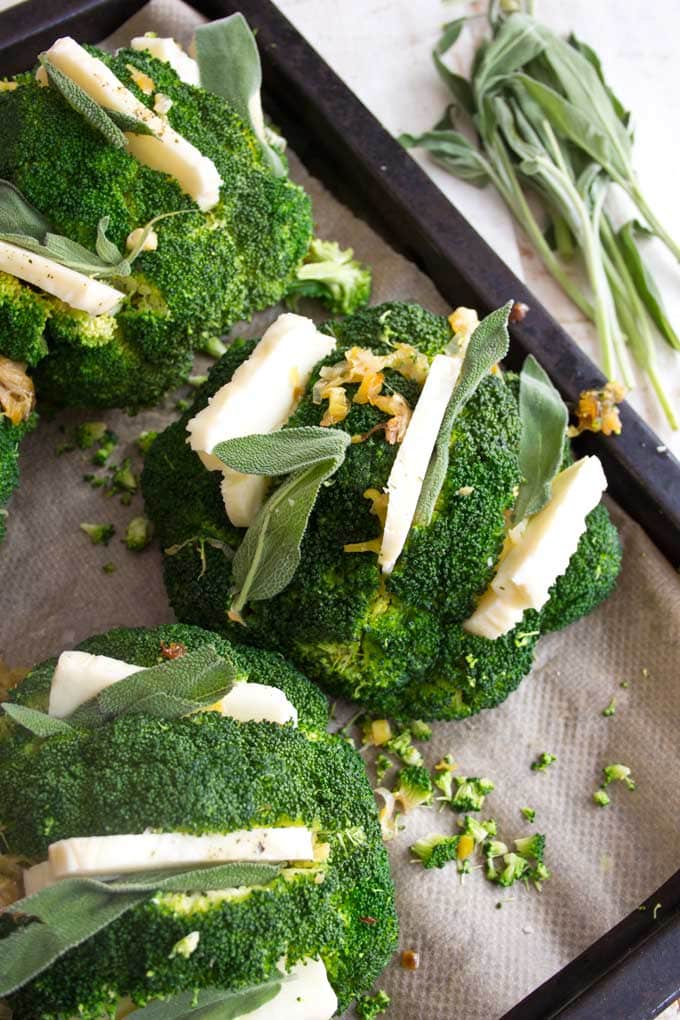 This is a recipe I have adapted from the brilliant cookbook Life in Balance by Donna Hay. The recipes in this book are not all low carb and sugar free. But it has the most beautiful photography and a mouthwatering selection of recipes that can be easily adapted to make them fit your diet. Every once in a while, I enjoy leafing through it just to get inspired. Or even just to make me happy. Am I nerdy reading cookbooks for pleasure? Probably. I can very much recommend it though. It's like a mini meditation.
Roasted broccoli has a wonderfully nutty flavour and in combination with the salty halloumi cheese and the tangy leek it becomes truly worthy of being the main star of the meal. On top of that, we all know that ANYTHING tastes better with fresh sage. Fresh herbs just rock.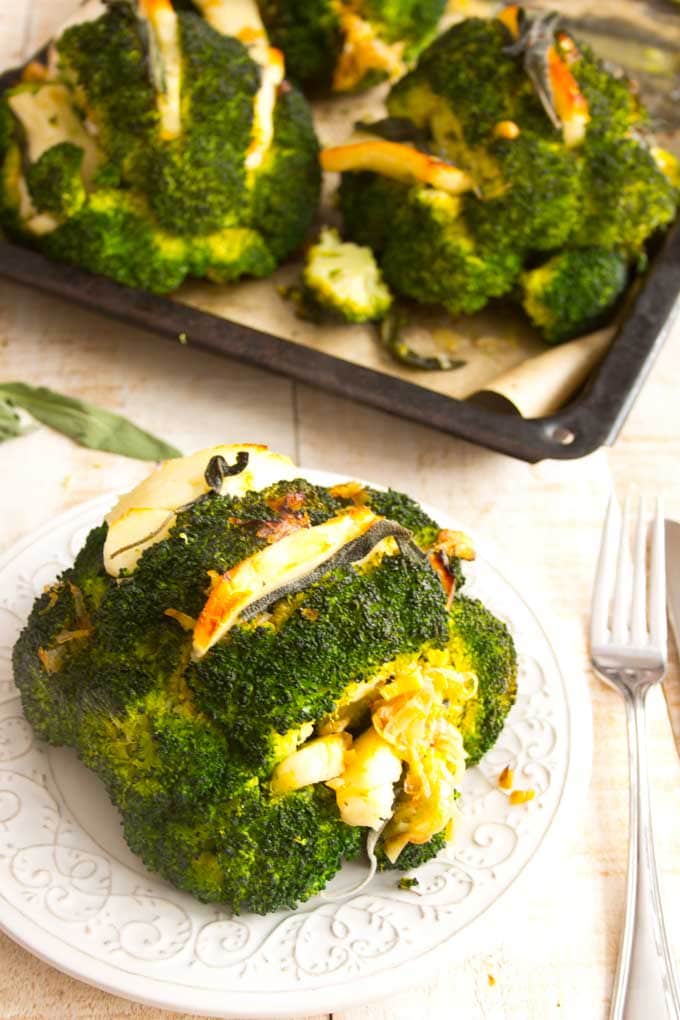 These oven roasted broccoli heads make a delightfully light lunch or dinner, for those days when eggs just don't cut it and you're not feeling like a big meat or fish dish. This dish comes together in 30 minutes and is definitely becoming a staple in our house.
I imagine this dish would also work well with feta cheese. The combo of halloumi, sage and caramelised leeks would probably be delicious in stuffed cauliflower heads. And last but not least, if you wanted to lower the carb count, you could replace the leek with spring onions/scallions.
This post contains affiliate links. If you click on one of these links and purchase a product, I may make a small commission, at no extra cost to you. This money helps me with the running costs of the site. Thank you for supporting Sugar Free Londoner.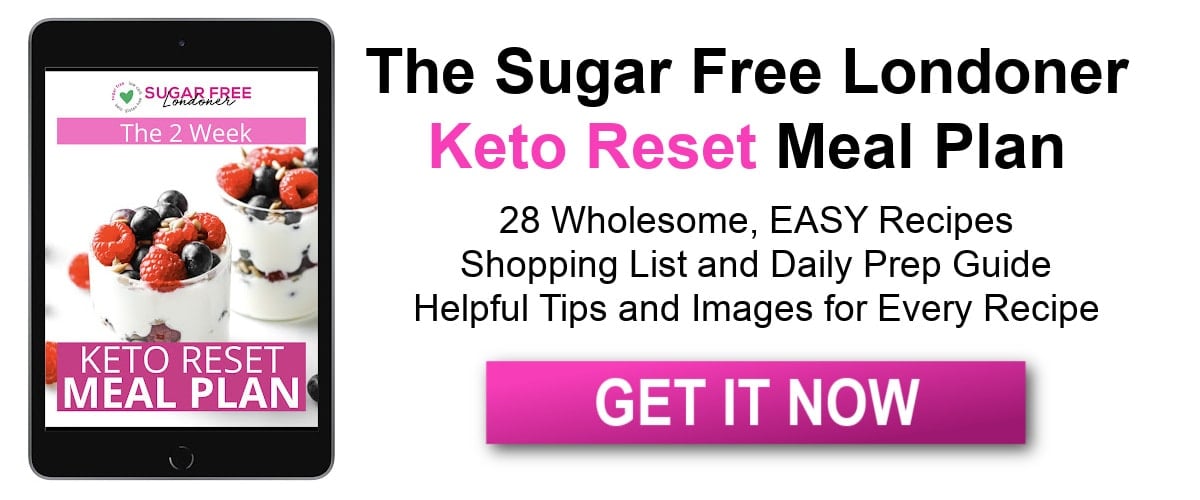 Oven Roasted Broccoli Heads With Sage And Halloumi
from Sugar Free Londoner
Sage and halloumi roasted broccoli heads with caramelised leeks is a light and flavourful dish. Ready in under 30 minutes!
Note: The servings slider only changes the first amount in each line and not any subsequent amounts. Please make your own calculations where necessary. ***As an Amazon Associate I earn from qualifying purchases.
Ingredients
1

litre

chicken stock

4

small heads broccoli

250

g

halloumi

sliced

12

sprigs

resh sage

olive oil

for drizzling

salt and pepper
For the caramelised leek:
Instructions
Preheat the oven to 220 Celsius/425 Fahrenheit.

Heat the butter and oil in a pan and fry the leek on a low heat until soft (ca 10 minutes). Add the vinegar and fiber syrup and cook another 5 minutes until the mixture caramelises.

Bring the chicken stock to a boil and cook the trimmed broccoli heads in the saucepan, lid closed, for around 4 minutes until just tender. Drain and cool.

Place broccoli on a lined baking sheet. Make 3 incisions each and stuff with the leek mixture, halloumi and sage. Drizzle with olive oil and season with salt and pepper.

Roast for around 10 minutes or until nicely browned.
Notes
If you wanted to lower the carb count, you could replace the leek with spring onions/scallions.
Nutrition
Calories:
397
kcal
Total Carbohydrates:
12.6
g
Protein:
19
g
Fat:
32
g
Saturated Fat:
5.4
g
Polyunsaturated Fat:
2
g
Monounsaturated Fat:
9.3
g
Cholesterol:
16.4
mg
Sodium:
46
mg
Potassium:
543
mg
Fiber:
4.9
g
Sugar:
3.4
g