A colourful feast for the eyes: Piedmontese roasted peppers make a delicious light lunch and are a perfect partner for chicken. Summer on a plate!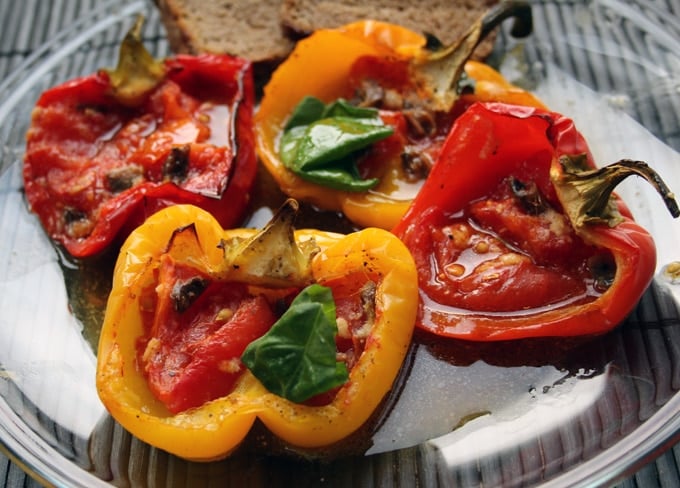 Aren't these roasted peppers a feast for the eyes?
There are days when you need a bit more colour in your life to cheer yourself up. Like today:
I looked outside: grey sky.
I looked at my outfit: grey jumper & black jeans.
I looked in the mirror: Let's not go there.
Time for some serious Italian food passion! The sweetness of the roasted peppers with their browned edges combined with the garlicky tomatoes and the saltiness of anchovies are a divine combination. Don't be put off by the idea of adding fish to a vegetable dish – the anchovies melt into the tomatoes and create a delicious sauce that is not fishy at all. As always, it is the quality of the raw ingredients that make or break a dish, so look out for really decent peppers and vine ripened tomatoes.
I found this recipe in an old Delia Smith cookbook I was leafing through in a cafe years ago and it has been one of my favourite happy dishes ever since. Every time I make it I can't believe how something so simple to make can taste so good! It is, frankly, summer on a plate. 
Together with some chunky sourdough bread to scoop up the garlicky juices – one of the yummiest parts of this dish – these roasted peppers make a great light lunch, but they also work well as part of an antipasti buffet or partnered with roast chicken or lamb for a weekend family feast.
Any leftovers can be cut up and used as a flavoursome pasta sauce or tossed into a green salad.
My tip: Make a large portion. This dish is so good it would be a shame if you do not get seconds.
Sugar Free Londoner
Yields up to 8 portions
Piedmontese Roasted Peppers
10 minPrep Time
1 hrCook Time
1 hr, 10 Total Time
Ingredients
8 red and yellow peppers (green do not work)
8 medium tomatoes
16 tinned anchovy fillets, drained
4 cloves of garlic
olive oil
black pepper
basil leaves, to serve
Instructions
Pre-heat your oven to 180 Celsius
Cut your peppers in half, leaving the stalks intact. They are not edible but help the peppers keep their shape. And of course, they also look nice!
Scoop/cut out the seeds and place the pepper halves in a lightly oiled, shallow baking tray. If the sides of the tray are too high, the veggies won't get those lovely toasted edges.
Now it's time to skin the tomatoes. This step is not 100% necessary, but not having the skins does make the dish more refined. It's easy: Lay the tomatoes in a pot and pour boiling water over them. After a minute, drain the water and the skins can be peeled off easily. I hold the tomatoes with a fork to protect my hands
Cut the tomatoes into quarters and place two quarters in each pepper
Peel and crush the garlic cloves and scatter evenly over the pepper halves.
Use one anchovy fillet per pepper half, snipped into little pieces
Pour 1 teaspoon of olive oil into each pepper and season with freshly milled black pepper (but no salt because of the anchovies!)
Roast in the oven for 1 hour
Depending on the size of the peppers, serve up to 4 pepper halves per portion. Mine were quite small, so I did manage all four on my plate
7.6.7
175
https://sugarfreelondoner.com/piedmontese-roasted-peppers/