This moist keto orange cake is made with almond flour and whole oranges - skins and all. It is low carb, gluten free and sweetened with stevia.
I am totally in love with this flourless almond and orange cake!
Can you have oranges on keto?
Oranges are relatively high in carbs and the internet will tell you that it is NOT a keto friendly fruit. One medium orange contains 12 grams of net carbs.
However, it will always depend on the AMOUNT of orange (or any other fruit) you will eat. I would definitely NOT eat an entire orange in one go. But eating ⅙ of an orange, as you would with this cake, is perfectly low in carbs!
Orange juice on keto
Note that you should never, ever drink orange juice on keto or on a low carb diet. It's basically all the sugar from the orange, without any of the fibre!
Think about it - you need to juice at least 3 oranges for a full glass of orange juice. That's 36 grams of net carbs. On a keto diet you generally eat between 20 to 30 net carbs per day. So, orange juice is NOT keto!
A flourless almond orange cake
Traditional orange cakes are normally very high in carbs, because they contain a lot of sugars due to the high fructose content. There's the table sugar, the sugar in the orange juice and of course, the sugars from the starch in the wheat flour.
The cool thing about this cake is that contains ALL of the orange, flesh and skin. You simply cook your oranges in water for 1 hour until they are nice and soft. This also makes the skin taste less bitter. Then you puree the whole orange until you have a fragrant, tasty pulp. You are literally using all of the fibre an orange has to offer, which slows the absorption of the sugar in the fruit. And you get all the taste.
On top of that, this is an almond flour cake. So, instead of wheat, we're using almond flour (or ground almonds, as we say here in the UK).
With my recipe, you can enjoy a slice of keto orange cake that will keep you on plan at only 3.5g net carbs per slice. That's because I'm using almond flour instead of wheat flour, a keto sweetener instead of sugar and WHOLE oranges instead of just orange juice.
I have made a keto banana bread that won't kick you out of ketosis - with REAL banana. The same goes for this "sugar free" orange cake!
How to make keto orange cake
Sugar Free Sweetener
I don't like my sweet dishes too sweet and have used only 16 drops of liquid vanilla stevia in this recipe. This amount is equivalent to 4 teaspoons of sugar. If you don't have stevia, you can use xylitol or erythritol instead.
Which oranges to choose
One important thing to note is that oranges differ greatly, depending on variety and time of year. Some are very sweet, some less so. Some have thick skins, some have thin ones. That's why you should always taste the batter and adjust the sweetness if needed.
My oranges were VERY sweet and had a surprisingly thin skin. A thick-skinned orange will result in a more bitter batter, therefore you might want to increase the sweetener to offset it.
If your oranges DO have a thicker skin, you can cut off the top and bottom before blending.
Almond Flour
This recipe is designed for ground almonds or coarser (regular) almond flour. If you want to use super-fine almond flour (the one that looks very similar to wheat flour) you would need less as it is more absorbent - about 2 cups plus 2 tbsp.
However, the amount of flour needed will also depend on the size of your oranges!
Separate the eggs
The other thing worth mentioning is separating your eggs and beating the egg whites until stiff peaks form. This might seem like a hassle, but it will result in a much lighter, fluffier cake texture. I'm actually doing this by hand with a whisk as I do not have a traditional mixer.
Don't attempt to whisk egg whites with a stick blender or in a food processor, by the way. I've tried. It does not work!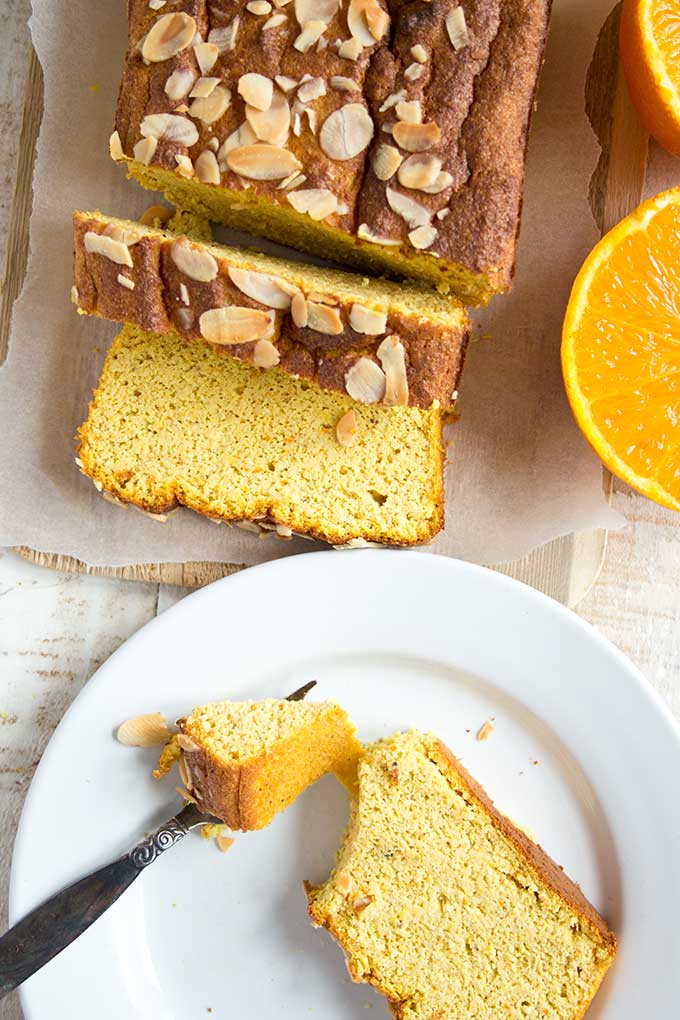 Lastly, I like to call this low carb orange almond cake a "breakfast cake" because it's exactly the kind of thing I like to eat when I feel all egged out. It is filling, nutritious and tastes great - just like my popular Grab & Go Low Carb Muffins or this moist sugar free banana bread, which are also made with ground almonds.
Nothing, NOTHING though should stop you from having your keto orange cake as a dessert. It certainly is perfect with a strong cup of coffee - any time of day.
More keto orange dessert recipes:
★ Tried this recipe? Give it a star rating below!★
★ STAY IN TOUCH on FACEBOOK, PINTEREST and INSTAGRAM for more great food and join my NEWSLETTER for the latest updates and a FREE EBOOK.★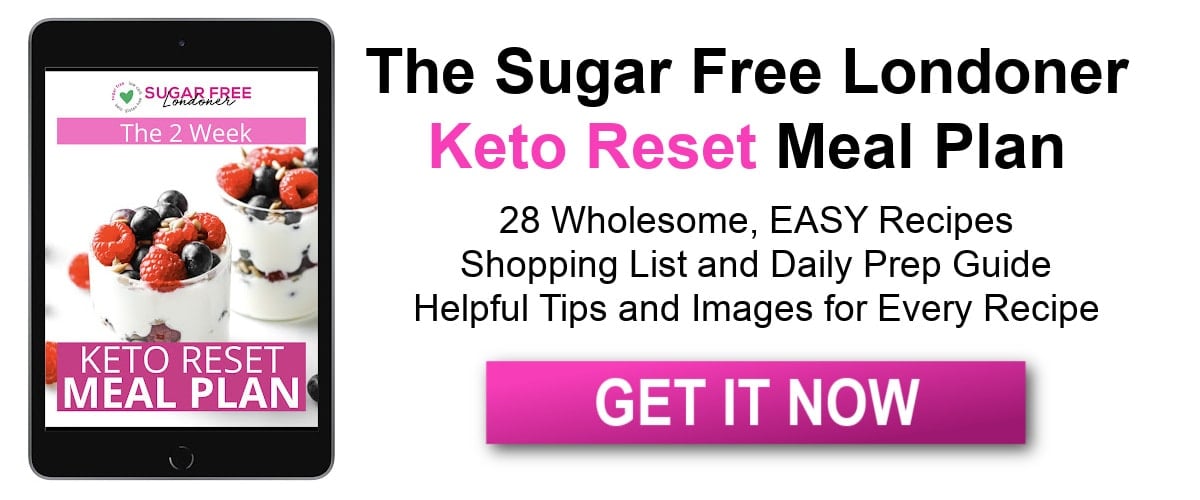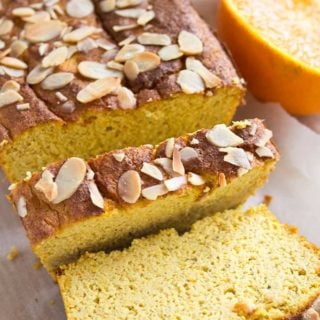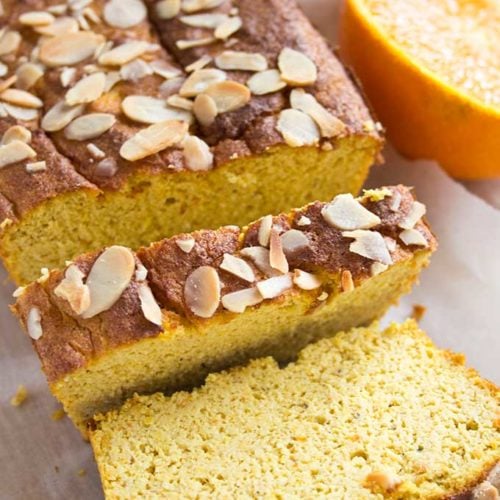 Keto Orange Cake
from Sugar Free Londoner
This moist and moreish orange almond breakfast cake is made with whole oranges - skins and all. It is low carb, gluten free and sweetened with stevia.
Note: The servings slider only changes the first amount in each line and not any subsequent amounts. Please make your own calculations where necessary. ***As an Amazon Associate I earn from qualifying purchases.
Ingredients
250

g / 2 ½ cups

almond flour

to my UK readers - ground almonds are fine here

2

oranges

unwaxed, washed

5

eggs

separated

1

teaspoon

baking powder

2

teaspoon

orange extract

1

teaspoon

vanilla bean powder

seeds of 6 cardamom pods

crushed

16

drops liquid

stevia

equivalent to 3 teaspoon sweetener

handful flaked almonds

to decorate
Instructions
Preheat your oven to 180 Celsius/ 350 Fahrenheit.

Line a rectangular bread baking tin with baking paper or use a well-greased silicone baking tin.

Put the oranges into a pot filled with cold water and cover with a lid. Bring to the boil, then simmer for at least 1 hour. Make sure the oranges are always submerged. This removes the bitterness.

Drain the water and let the oranges cool down.

Cut the oranges in half and remove any seeds, then puree in a food processor or with a stick blender.

Separate the eggs and whisk the egg whites until stiff peaks form. This will make the cake lighter in texture.

Add all ingredients except the egg whites to the orange pulp and mix. Lastly, fold in the egg whites until well-combined.

Make sure you test your batter for sweetness and adjust to taste.

Pour the batter into your cake tin and sprinkle flaked almonds on top.

Bake for 50 minutes or until a knife inserted comes out clean.
Notes
Net carbs: 3.5g per slice (assuming 12 slices). 
Oranges with thin skins work best for this recipe.
My oranges were around 10 cm in diameter.
Nutrition
Calories:
172
kcal
Total Carbohydrates:
5.9
g
Protein:
7.2
g
Fat:
12.9
g
Saturated Fat:
1.5
g
Polyunsaturated Fat:
0.4
g
Potassium:
64
mg
Fiber:
2.4
g
Sugar:
2.5
g
(This post may contain affiliate links. When you click on a link like this and purchase a product, I receive a small commission - at no extra cost to you. This money helps me with the running costs of my site.)