Looking to up your blending game? Here's all you need to know about the Froothie Optimum VAC2 Air Vacuum Blender.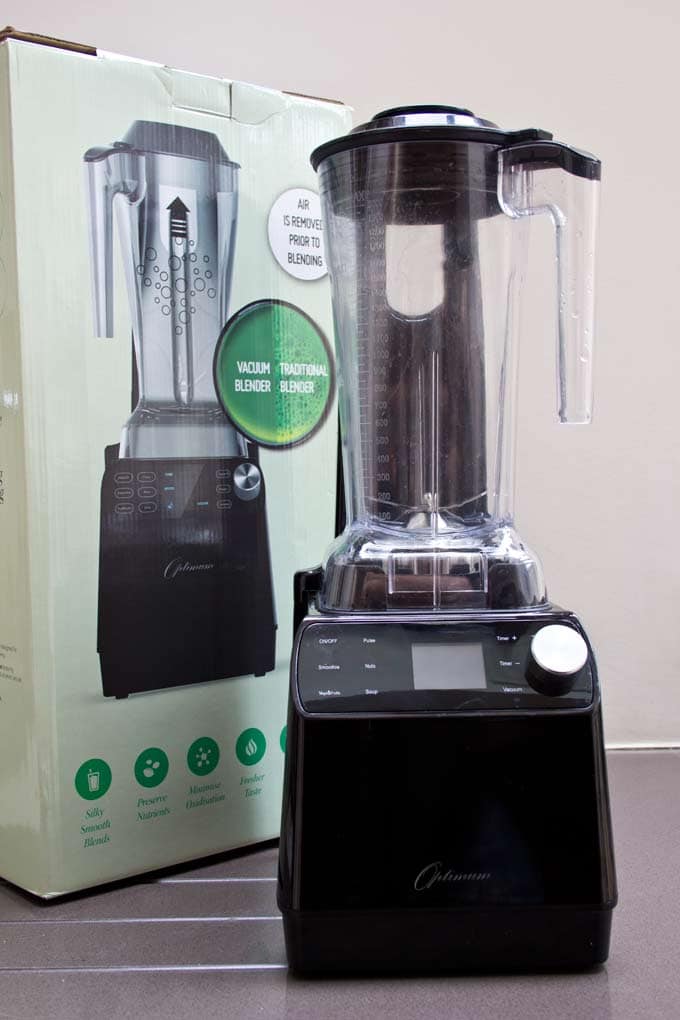 What would you say if a high end blender company contacted you and asked nicely if they could send you their latest piece of kit? So that you can make smoothies, soups and other yummy things to see how well it worked? And then write about it?
I know. This one was a no-brainer.
I've been moving up in the world of blending ever since I started this food blog a couple of years ago. I used to make everything with a basic stick blender, spraying walls with smoothie and never being able to produce a proper dough. When the blog launched, I upgraded to simple food processor and later to a power blender by a different brand.
So, what's the deal with the Optimum Blender?
Here are my first impressions:
It looks like a really impressive piece of equipment. The blender comes in three colours (black, silver and red), has a heavy, robust base and a tall 2 litre plastic jug (large enough to make soup!) with stainless steel blades.
You cannot remove the blades from the jug which means you'll have to rinse and clean it straight after using before food dries and sticks to the blades. This is common for most high speed blenders though – I guess it makes them sturdier.
The display lights up when you turn the blender on. There are timer buttons and a dial to regulate the blending speed. With a motor power of 2238W, grinding nuts and seeds or crushing ice should be a piece of cake.
The blender also has handy buttons for preset functions such as smoothies, nuts, fruits and veg and soup, taking all the guesswork out of the equation.
It's the vacuum function that sets the Optimum Blender apart from other blenders.
When you seal the lid into place with the vacuum outlet and press the vacuum button on the display, all air is being sucked out of the jug.
According to Froothie, by blending in a vacuum the nutrients of fruits and vegetables are fully preserved as no oxidation takes place. Especially vitamin C is destroyed by oxidation – it's the vitamin most easily lost during processing. On top of that, smoothies won't discolour and separate as they so often do after a short period of time.
This is how you do it: 
You have to place the lid onto the jug, aligning it with the arrow on the handle. Then you turn the removable inner lid until it is locked. (Inserting the inner lid is a bit fiddly, it took me a few times to get it right).
Lastly, you place the vacuum outlet on the lid and press the vacuum button. 70 seconds later all air has been sucked out of the jug and you're ready to blend.
I decided to stage a blend-off between my current power blender and the Froothie by making my favourite green smoothie (cucumber, celery, avo, lemon, spinach and mint).
The Froothie produced a smoother result with smaller bubbles. I was really impressed at how silky the smoothie was.
And what about the oxidation? After one hour the "vacuum smoothie" still looked like it had just been poured, while the regular smoothie had a slightly darker, less vibrant colour. Had I had the patience to wait another couple of hours, the difference might have more pronounced.
(Note – this difference was not as dramatic as I had thought. There might be other ingredients such as banana or fruit juices where oxidation is more visible. As I avoid these being low carb, that's for others to try out.)
Next, I tested how well the blender can make nut butter. This is something cheaper blenders often fail at – their motors are just not powerful enough.
The Optimum blender makes nut butter effortlessly.
All you need to do is choose the "nuts" preset function, get your tamper ready and watch the magic happen. The nuts first turn into a crumbly paste. Then, due to the high heat the blades generate, they start releasing their oils. The end product is smooth, creamy and absolutely delicious.
I'm looking forward to using this nut butter in my almond butter waffles.
The blender comes with an instruction manual, two spare air valves, the aforementioned tamper to help along veggies and fruit that might have gotten stuck and a small recipe book containing mainly vegan recipes – some of these I'll definitely try.
Also good to know is that there's a warranty for up to 10 years and a 30 day money back guarantee. For orders over £299 Froothie offers a 0% finance deal.
Discount Code!
As an ambassador for Froothie, I can offer an exclusive £20 discount for Sugar Free Londoner readers.
If you decide to purchase the Optimum VAC2 Air Vacuum Blender, simply add "ambassador code 5458"  into the comment box online. Alternatively, mention the code if you're ordering by phone. This way Froothie knows you're coming via my website. For the £20 off offer, use the code AMB20 at checkout.
Please note – the link above is an affiliate link. If you click on this link and purchase a Froothie product, I make a small commission, at no extra cost to you. The money I earn through affiliate links helps me with the running costs of this website and keeps my recipes free. Thank you for supporting Sugar Free Londoner.