I often get asked which kitchen tools you REALLY need when you decide to start a low carb and sugar free diet. Here they are - my all time favourite low carb kitchen utensils!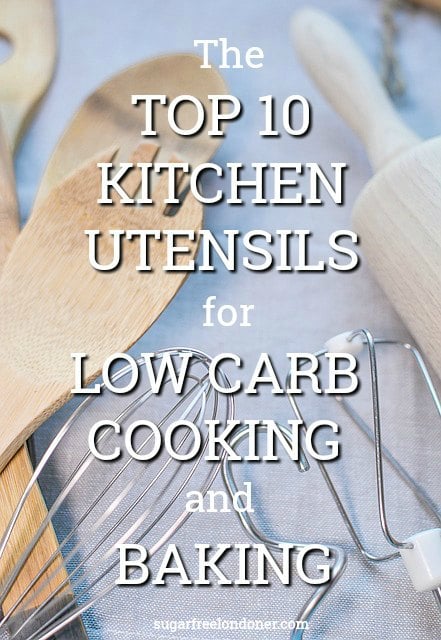 1. Silicone Bakeware
Using silicone moulds over traditional tin bakeware has kind of changed my life. Low carb baked goods are generally a little fragile, especially when warm. This is because nut flours such as almond or coconut flour lack gluten. Silicone moulds are flexible and you'll have no problem releasing bread or muffins. No more paper cups either!
My silicone mould came in very handy for these mini low carb raspberry cheesecakes. I also love using silicone moulds for fat bomb recipes such as these cacao nut butter bombs.
2. Kitchen Scales
So handy for measuring ingredients. Kitchen scales take all the guesswork out of cooking and baking. For some recipes it's absolutely essential that you stick to the correct amount of ingredients. I use mine for every single recipe (it's the one one right - supercheap and still going strong after 2 years!).
3. Measuring Cups and Measuring Spoons
The next best alternative to kitchen scales. In the UK ingredients are typically measured in grams and litres, but in the US cups are widely used. There are zillions of awesome low carb and Keto recipes on the net. Many of these are by US based bloggers, so even if you're in the UK, get yourself a set of US cups so you won't miss out! And if you think spoons - how many different sizes of teaspoons and tablespoons do you have in your drawer? Those are for eating, not for cooking with 🙂
4. Spiralizer
I never thought I'd say this, but a spiralizer is a seriously useful gadget. You can spiralize all kinds of vegetables into noodles, from courgettes to kohlrabi. No, it won't make zucchini taste exactly like spaghetti - but it'll transform them into a delicious and much healthier alternative. If you add a sauce such as my low carb bolognese sauce, you have an awesome lunch or dinner. I went for an electric spiralizer (the one on the left). Handheld versions like the one on the right are even cheaper.
5. A Decent Non-Stick Frying Pan
In a low carb kitchen we're not afraid of frying stuff - fat is our friend! I've tried expensive stainless steel frying pans (made everything stick) and cheap coated supermarket pans which got scratched straight away. Finally I went out and bought a quality non-stick frying pan, which has been my best friend ever since. I use it for so many dishes, from low carb crepes to this chicken green curry recipe. And for eggs - virtually every day.
6. Stick Blender
Hand immersion blenders are easy to use and don't take up much space. I'd say they are the minimum blending equipment in a low carb kitchen and have to admit, I take mine even on holidays. Sometimes, a fork will just not do!
7. Glass Storage Containers
Eating low carb has made me become more organised in terms of meal prep. Nipping out to the supermarket to get a ready meal or ordering in a takeaway is not an option. Instead, I'm now making double and triple portions of everything and sticking the surplus in the freezer. I'm trying to use less plastic and use glass containers for storage instead.
8. Food Processor
Amazing for making dough, cauliflower rice, slicing and shredding vegetables. No more teary eyes from chopping onions! Invest in one. It doesn't have to cost the earth - I have the one on the left and it's so useful. If you're in the US, the one on the right is a great option. One of my friends owns and adores it.
9. Baking Mat
If you want to upgrade from baking/parchment paper, a baking mat is invaluable. You can make low carb pizza on it, bread or cookies - nothing, nothing, nothing will ever stick. Invest in a good quality one is well worth it. I started off with a specimen from China which disintegrated after a couple of times.
10. Power Blender
If you can afford to invest a couple of £££, you should definitely consider a power blender for your low carb kitchen. I've got the Optimum Vac2 Vacuum Blender by Froothie. It's a beast. It makes nut butter and soup effortlessly and it produces the smoothest of smoothies.
The one thing that makes this blender absolutely stand out is its vacuum function. Before blending it sucks all air out of the container and prevents fruit and vegetables from oxidising. This means all nutrients are preserved, there's no layer separation and your smoothies don't change colour after a couple of minutes.
I'm so impressed with it that I've become an ambassador for the brand. If you purchase through my link above there's an extra £20 off offer if you add the code AMB20. 
(This post contains affiliate links. If you click on one of these links and purchase a product as a result, I may make a small commission - at no extra cost to you. This money helps me with the running costs of my site. Thank you for supporting Sugar Free Londoner.)