Need a present for someone who's eating sugar free or low carb? Or how about treating yourself? I've got you covered with awesome low carb and Keto gift ideas for all budgets - from kitchen equipment to cookbooks! Check out my Keto holiday gift guide 2020.
With Christmas only a few weeks away, it's high time to think about foodie presents!
People on a low carb or keto diet tend to spend more time in the kitchen than others. That's because we're cooking from scratch, with natural ingredients.
When I decided to put together a holiday gift guide with my ultimate selection of low carb gift ideas, it was clear that I had to include my favourite kitchen tools and equipment. Because with a good high speed blender, a spiralizer or a food processor cooking low carb becomes as much a pleasure as eating low carb!
For those of you after keto gifts for a smaller budget, check out my favourite books around the subject - some of them have been absolute game changers for me. There's also a selection of the yummiest low carb snacks, my favourite sweeteners plus the best meal plans and ebooks.
I've even talked some of the companies into giving special discounts just for Sugar Free Londoner, so don't miss the coupon codes below! 
I hope you'll find inspiration in this Keto gift guide. Happy holidays!
This post contains affiliate links. If you click on one of these links and purchase a product, I may earn a small commission, at no extra cost to you. Thank you for supporting Sugar Free Londoner.
My first ebook with 33 amazing recipes for homemade bread, rolls, flatbreads, wraps and more. It's been getting great reviews, so if you haven't got your copy yet, check it out now!
I released this ebook only in November. If you love cookies or you know someone else who does, this book is for you. Think pure indulgence without the carb load!
My absolute favourite keto cake delivery company, straight through your letterbox. Deliciously Guilt Free owner Dan and his wife bake gorgeous cakes, brownies and blondies. I cannot quite decide which I like most but if I HAD to choose, it would probably be the peanut butter brownies. Use the code SUGARFREE at checkout for 15% off!
I've had this blender for 4 years and it is an incredible work horse. I use it literally every day - for soups, dough, dips and for making the smoothest nut butter ever. It is super sturdy and really powerful.
If someone loves you A LOT, you could hint you might like one 😉
Great Keto stocking fillers! Fattbars are packed with super fats, sweetener free and and high in prebiotic fibre.
Get 25% off this sample pack throughout November and December with the code SUGARFREE.
This type of waffle maker produces thin and crispy waffles and I prefer it over the square Belgian or American waffle makers. I grew up with a waffle maker like this and still love the little hearts that you can tear off. I used it in my low carb waffles and for my almond butter coconut flour waffles. 
I have this cookbook and have tried many recipes from it. It's written by a mother whose young son was diagnosed with Type 1 Diabetes. She has put him and the whole family on a low carb diet with great success.
There are two meal plans in the book, one with summer and one with winter recipes. The recipes are kid-friendly and yum. I developed my almond cream cheese pancakes based on a recipe from this book.
Great when you're cooking for 2-4 people and don't want to use the oven and brilliant for speedy dinners.
Fat is our friend when eating low carb, but too much fat does not agree with me. I like the idea of needing 80% less fat when frying and enjoying perfectly crispy foods without feeling uncomfortably stuffed afterwards.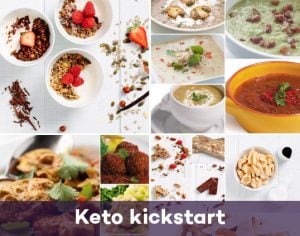 Do you know anyone who wants to go Keto but doesn't want to to any of the planning and prep? They would love this 7 day food box by the  Natural Low Carb Kitchen. All food is fresh and without artificial preservatives - it's pressure cooked and sealed airtight.
I've tried some of their dishes - they are delicious and prepared using quality ingredients. Delivery within UK and Europe only.
Use the code SUGARFREE for a 10% discount on ALL products on the Natural Low Carb Kitchen website throughout November and December!

I love this idea! There are a few rolling pins like this out there - I've also seen one with cats. This would make a great festive present for home bakers.
I know it looks boring, but this gadget is amazing. I really, REALLY want a dehydrator! It's so easy to burn thinly sliced veggies in the oven when you try to roast them.
I'd be making perfect vegetable crisps, like, EVERY DAY.
This book is on my Christmas wish list and I can't wait to see what recipes are in this book! Fung is THE world expert on fasting. Watching his lectures on Youtube actually inspired my husband to go on a 12 day fast himself, followed by a regular intermittent fasting regime ever since.
Intermittent fasting means you follow a cycle of eating with a cycle of fasting, all within 24 hours. For example, you eat between 12 and 8 pm, then fast until 12pm the next day and only have black coffee or tea for breakfast. That way you give your digestive system a rest and burn fat more effectively. My husband has lost 20 kilos (and he still gets to eat all the cakes I bake for this blog!!).
Spiralizers are fantastic when you're eating low carb. Yes, I used to think they were a faddy gadget, but ever since I own one I'm a total convert. I have an electric spiralizer just like this one and it's so easy to use, much easier than the handheld ones.
I mainly use it for zucchini, but sometimes I spiralize carrots, too. It's a sure way to get my kids eating vegetables.
Not strictly a low carb present, but in my opinion a book every woman should have on her book shelf. It's like a bible for all stages of womanhood, looking at health from a holistic point of view backed up by plenty of hard science.
There are lots of actionable tips and advice in this book. Such an interesting read.
A super interesting book about why modern wheat is harmful to our system. I enjoyed reading this book immensely (and I normally ONLY read novels).
Davis is a brilliant, witty writer and the book is a real eye-opener. Great for anyone interested in learning more about a grain free / low carb diet.
You get a selection of 12 sugar free, low carb chocolate bars in this gift box. I've tried them - they are gluten free, wheat free, sweetened with erythritol and yum. Nick's is a Swedish company - guess what the first name of the owner is!!
If you use the promo code sugar3london at checkout you get 15% off any item in the Nick's Amazon shop.
(Available in the UK and Europe only)
It's the simple things in life that give that extra bit of pleasure, right? This silicone splatter guard will save you HOURS of cleaning over time!
Do you know I look forward to my morning coffee when I go to bed? Seriously, it's true. This little machine makes the most awesome frothy coffee. If you haven't got one yet, consider it. It will better your mornings exponentially.