Buttery and totally irresistible: Keto sugar cookies taste just like traditional sugar cookies, only without the carb load. This easy sugar free cookie recipe requires only 6 ingredients and is gluten-free, grain free, low carb and suitable for diabetics. 1g net carbs per cookie!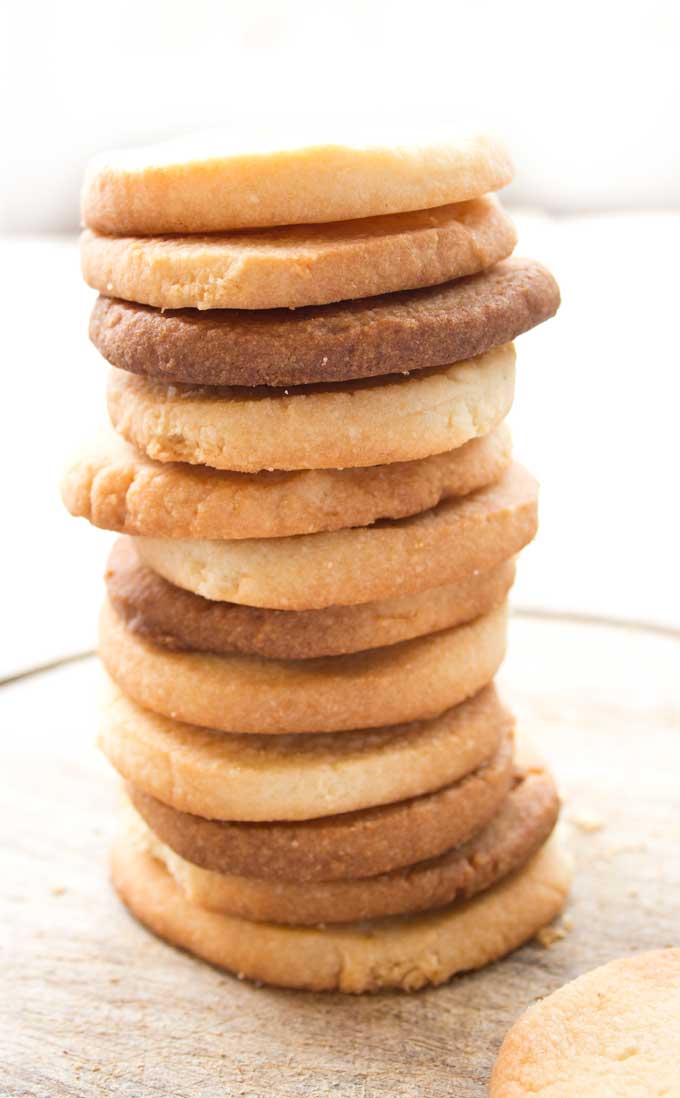 Table of contents
If you're looking for an easy and yum cookie recipe, you are reading the right post. These low carb and sugar free cookies are the perfect buddies for your afternoon coffee or tea. You can enjoy them plain, decorate them with sugar free icing or dip them in sugar free chocolate.
I've been wanting to make sugar free sugar cookies for a while now. One reason for this is that I love simple, no-nonsense cookies and these almond flour sugar cookies totally fit the bill.
The other reason is that "sugar free sugar cookies" just sounds so nutty it's kind of fun.
In fact, I've replaced the wheat flour in the traditional sugar cookie recipe with a mix of almond flour and coconut flour. I find that a mixture of these two grain free and gluten-free flours gives a texture that resembles "real" cookies.
There are recipes which include cream cheese and egg in sugar cookies (I have done this with my Low Carb Sugar Free Raspberry Thumbprint Cookies), which results in a softer, chewy texture.
For these Keto cookies I was after a gently crispy texture, which I achieved by using butter (plenty of butter!!).
You can roll the cookie dough into a log and slice them into circles or you can roll the dough out and use cookie cutters - the choice is yours!
How to make easy keto sugar cookies
1.) Mix your dry ingredients - almond flour or ground almonds, coconut flour, powdered sweetener, baking powder and xanthan gum, if using.
I've used an erythritol monk fruit sweetener blend for this recipe. Erythritol works great in sweet Keto Recipes because it sets hard.
Xanthan gum gives the cookies a better crumb structure, it is often used in gluten free baking. The recipe works without, but your cookies will be a little more brittle.
2.) Add the wet ingredients. In this case, that's just the room temperature to softened butter and the vanilla extract. If you want cookies to taste utterly buttery, you need a decent-sized amount of butter 🙂
TIP: To elevate the taste of these low carb sugar cookies, scrape out the seeds from 1 vanilla pod and use this in place of the vanilla extract. This is not the cheapest option, but will taste AMAZING.
3.) Aaaaand mix! I like to use my trusted old food processor for this, but you can use a stick blender or an electric mixer.
TIP: The dough will be soft in the beginning - let it sit a couple of minutes and wait until the coconut flour absorbs some of the moisture.
4.) Now get yourself some cling film and roll the sugar free cookie dough into a log that's roughly 6 cm in diameter. Wrap the log in cling film and place in the freezer for 15-20 minutes or twice as long if you put it in the fridge instead. It's much easier to handle when it's cold.
If you prefer to make sugar free cut-out cookies, separate the dough into 2 balls. Roll the dough between 2 sheets of parchment paper until it's the desired thickness and place the whole lot into the freezer for 10-15 minutes. Again, cooling the dough before using the cookie cutters is an absolutely essential step.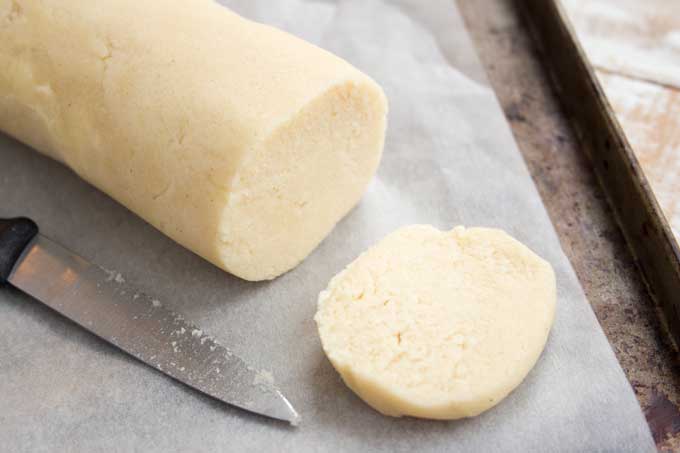 5.) It's a doddle to cut nice round shapes now! If the log gets flat at the bottom due to the knife pressing down, just give it another quick roll.
If you would like your cookies to be thinner, simply flatten them with your hands after you place them on the baking tray. Space them out a bit - they spread a little while they bake.
Tip: I always line my cookie sheet with parchment paper. If you haven't got any, you can spray your tray with a bit of coconut oil to ensure the cookies won't stick.
6.) And this is how your Keto sugar cookies will look like after 8-10 minutes in the oven - lightly browned on the edges.
Ovens do vary in temperature and how long your cookies will take to brown also depends on how thick you cut them. Check in on them after 8 minutes and take it from there. Super-sized cookies may need up to 15 minutes until they're ready.
IMPORTANT!!! Do not attempt to handle these cookies until they're cooled down. Keto cookies are VERY FRAGILE when hot. PATIENCE!! They firm up once cool and will be fluffy and light, gently crispy and simply delicious.
Recipe variations
It's easy to add different flavors to this basic sugar free cookies recipe. Here are some ideas:
For low carb almond thins - substitute 1 teaspoon of vanilla with 1 teaspoon of almond extract
Low carb gingersnap cookies - add 1 teaspoon of ground ginger, ¼ teaspoon of nutmeg and ¼ teaspoon of cloves
Keto cinnamon cookies - add 2 teaspoon of cinnamon and 1 teaspoon of ground coffee
Keto chocolate chip cookies - add ¼ cup of sugar free chocolate chips.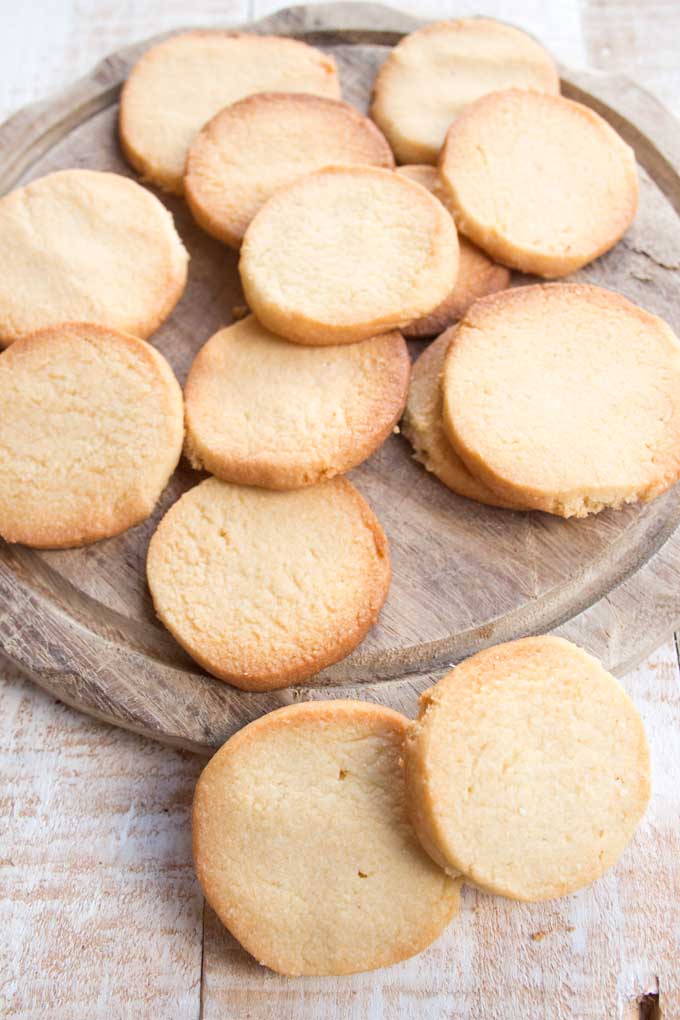 Serving suggestions
If you're a purist, you can eat these sugar free sugar cookies straight up as they are.
To take it up a notch, dust them with powdered sweetener after baking. Alternatively, reduce the sweetener amount stated for the recipe to ¼ cup and dip the cookies in granulated sweetener BEFORE baking. That should add a nice crunch.
Another idea - melt some sugar free chocolate or 90% dark chocolate and dip the cookies or drizzle them with chocolate.
Or how about a cream cheese frosting? Mix ½ cup of cream cheese with ¼ cup soft butter, ½ teaspoon of vanilla extract and ¼ cup powdered sweetener.
Last but not least - ICING! Use ¼ cup of powdered sweetener and mix with 1 tablespoon water. Add food colouring, if desired, and brush over cookies or simply dip them into the icing mix bowl. Let dry on a cookie rack.
More sugar-free cookie recipes
I love sugar-free cookies so much that I have published an entire cookbook with Keto-friendly cookie recipes. Here are some more recipes to check out: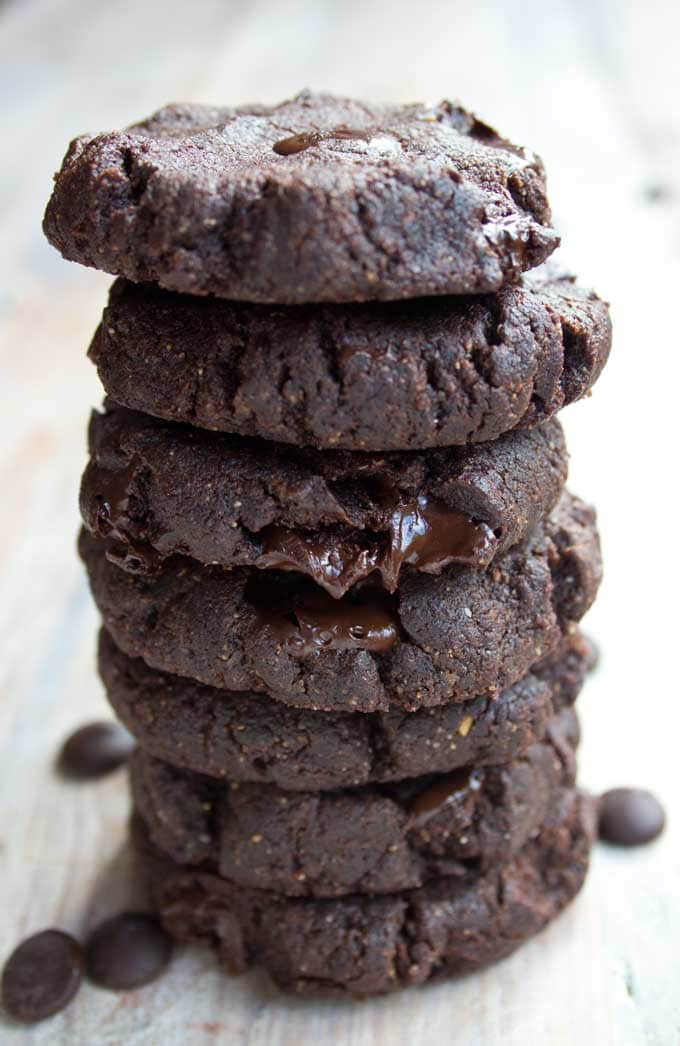 Keto Almond Butter Brownie Cookies - so chewy.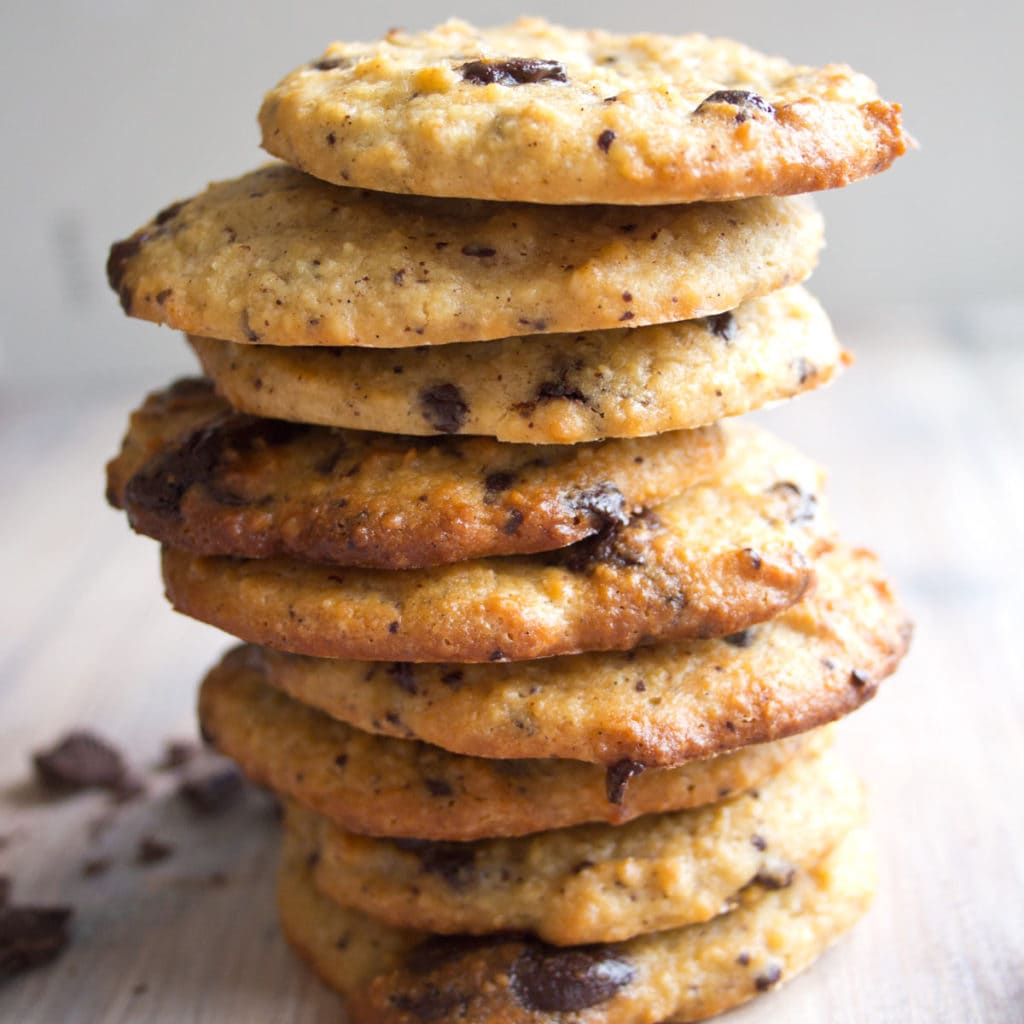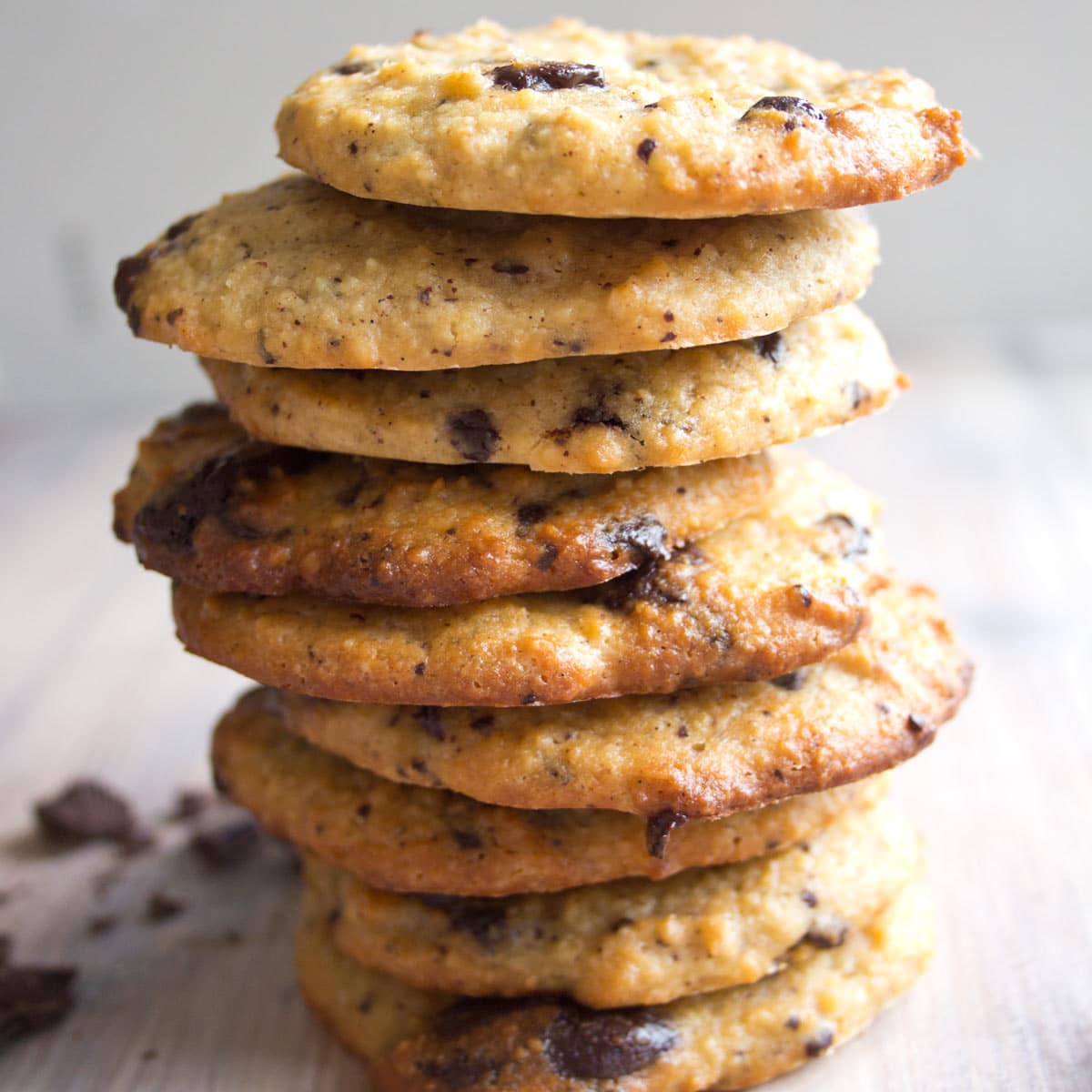 The Ultimate Low Carb Chocolate Chip Cookies - because everyone needs a good sugar free chocolate chip cookies recipe in their life!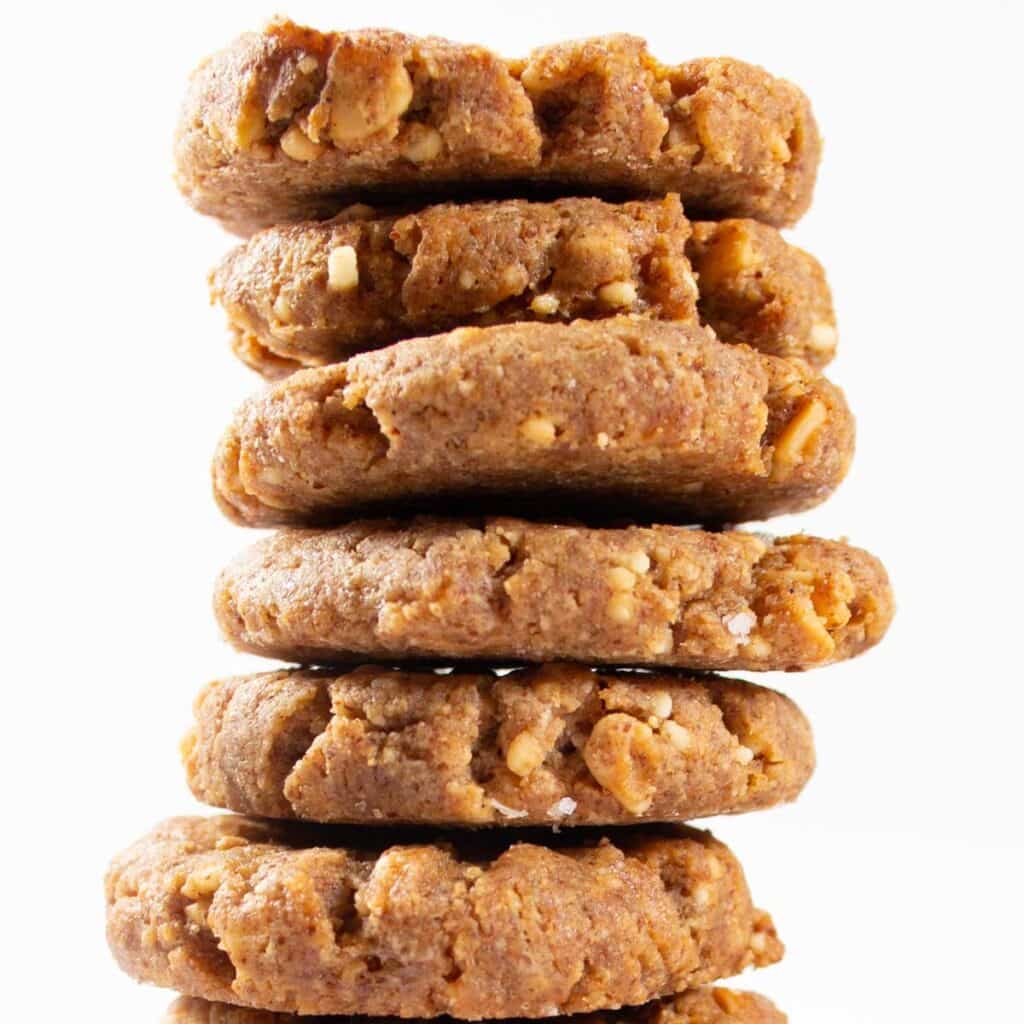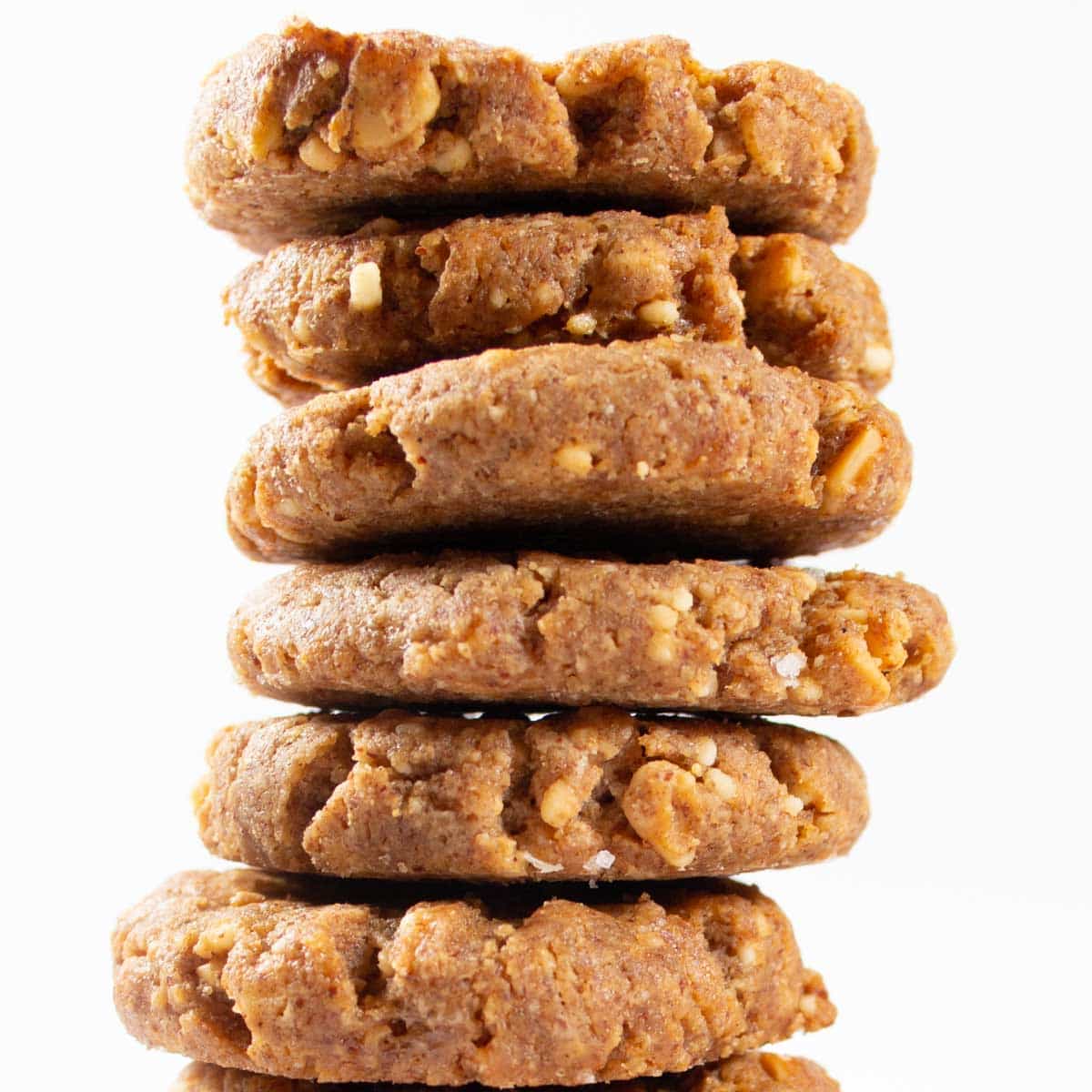 Keto Peanut Butter Cookies - because I love anything with peanuts.
Tried this recipe? Give it a star rating below!
★ STAY IN TOUCH on FACEBOOK, PINTEREST and INSTAGRAM for more great food and join my NEWSLETTER for the latest updates and a FREE EBOOK.★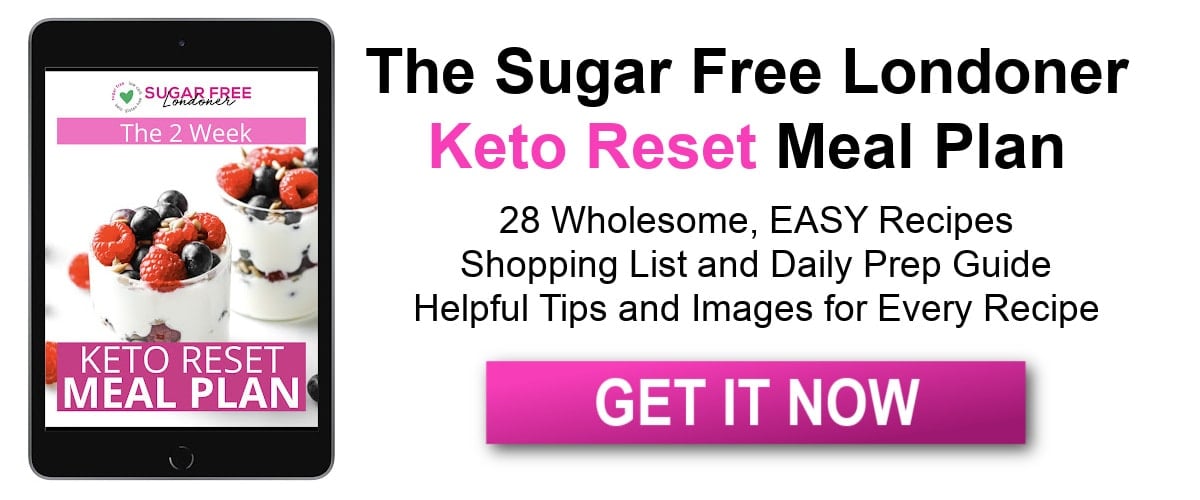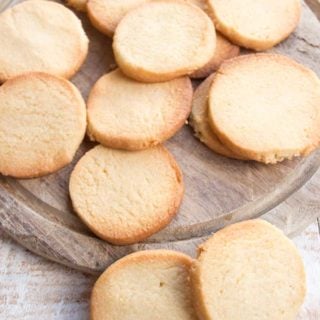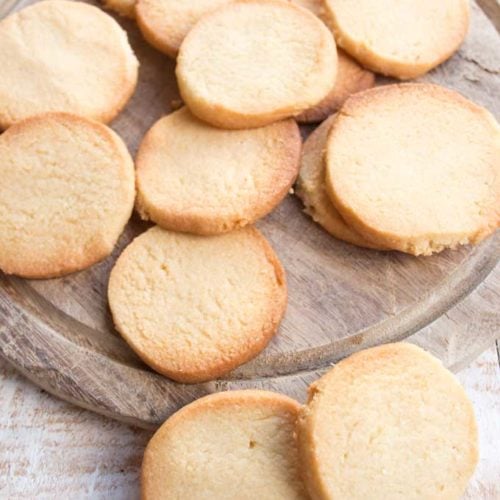 Keto Sugar Cookies
from Sugar Free Londoner
Are you ready for some sugar free sugar cookies? These super simple Keto sugar cookies are only 1 g net carbs per cookie. Enjoy them with or without icing!
Note: The servings slider only changes the first amount in each line and not any subsequent amounts. Please make your own calculations where necessary. ***As an Amazon Associate I earn from qualifying purchases.
Instructions
Mix all dry ingredients - almond flour, coconut flour, sweetener, baking powder, xanthan gum (if using).

Add the butter and vanilla extract and blend until you have a smooth dough

Place dough on cling film and roll into a log, about 2 inch in diameter. Chill in the freezer for 15-20 minutes (or in the fridge for 30-40 minutes).

Preheat the oven to 175 Celsius / 350 Fahrenheit.

Remove log from the freezer and cut off cookies. Place on a baking sheet lined with parchment paper and flatten with your fingers. Leave some space between the cookies - they spread a little.

Bake for 8-10 minutes or until the edges of the cookies are browned. Baking time will depend on the thickness of cookies. Rotate the baking sheet if necessary.

Remove from the oven and let cool completely before handling. Low carb cookies are VERY soft when hot. They crisp up once cooled.
Notes
1g net carbs per cookie.
My cookies weighted between 12 and 17g. The mix makes 18 cookies in total. 
If you want to use cookie cutters, roll out the dough between 2 sheets of parchment paper and place in the freezer/fridge to cool. Remove the top parchment and cut out shapes. 
See directions in the post for sugar free icing. 
This recipe works best with regular almond flour. Super fine almond flour can result in crumbly dough. If you only have super-fine almond flour, either reduce the amount of almond flour by 2-3 tablespoon or reduce the amount of coconut flour to ¼ cup. 
Nutrition
Calories:
92
kcal
Total Carbohydrates:
2.1
g
Protein:
1.5
g
Fat:
8.7
g
Fiber:
1.1
g
Sugar:
0.2
g
This post contains affiliate links. If you click on one of these links and purchase a product, I may earn a small commission, at no extra cost to you. Thank you for supporting Sugar Free Londoner.
First published in December 2018. Updated in November 2021.