A feast for the eye and super-tasty: this halloumi and pomegranate salad is easy to prepare and packed with flavour.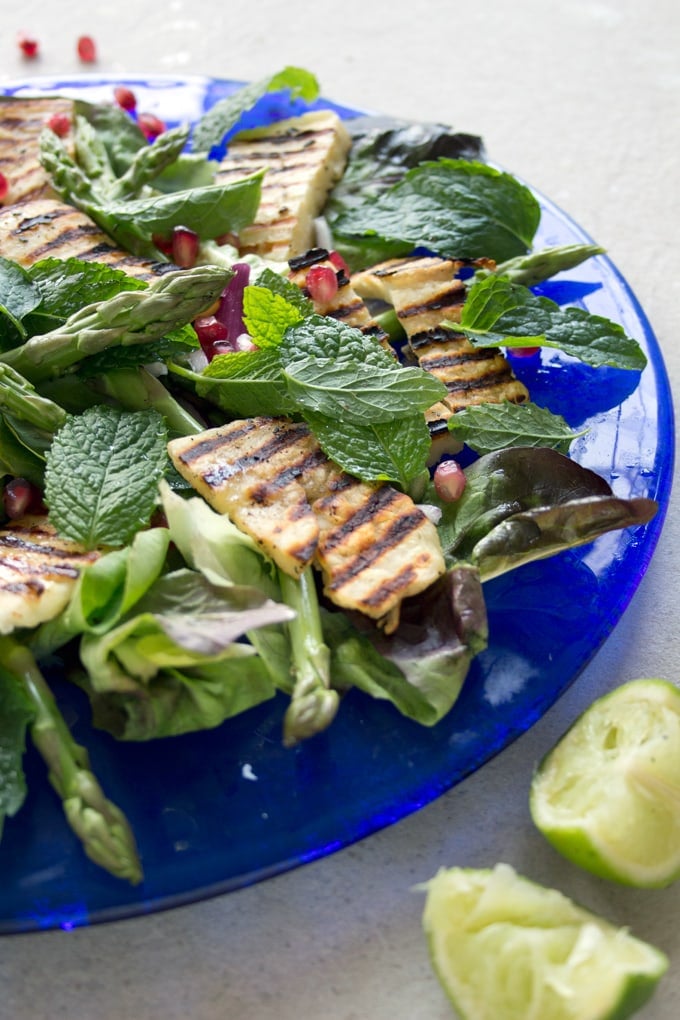 Don't you love halloumi? I adore its chewiness, its mild salty flavour and that you can grill or fry it in a griddle pan without it losing its firm texture. Thank you for this incredible invention, Cyprus! It is just perfect in salads, best served still warm. Paired with asparagus, which is in season and so fresh and delicious at the moment, it becomes pure heaven. And if you then add thinly sliced red onions, butterhead salad leaves plus a sprinkle of pomegranates and mint? Friends, I am starting to run out of superlatives here.
I made this Halloumi and Pomegranate salad for a very dear girlfriend who was visiting from abroad the other day.
We had such a brilliant time – laughing our heads off, sharing secrets and generally putting the world to right. Which made me think about how central close female friendships are to happiness, no matter how old you are. Some people think these intense friendships stop being important when you enter that perfect mini-world that is a partnership. Let me tell you – partnerships, no matter how brilliant and wonderful they may be, are like houses. They need regular airing! And that fresh air? That's your girlfriends.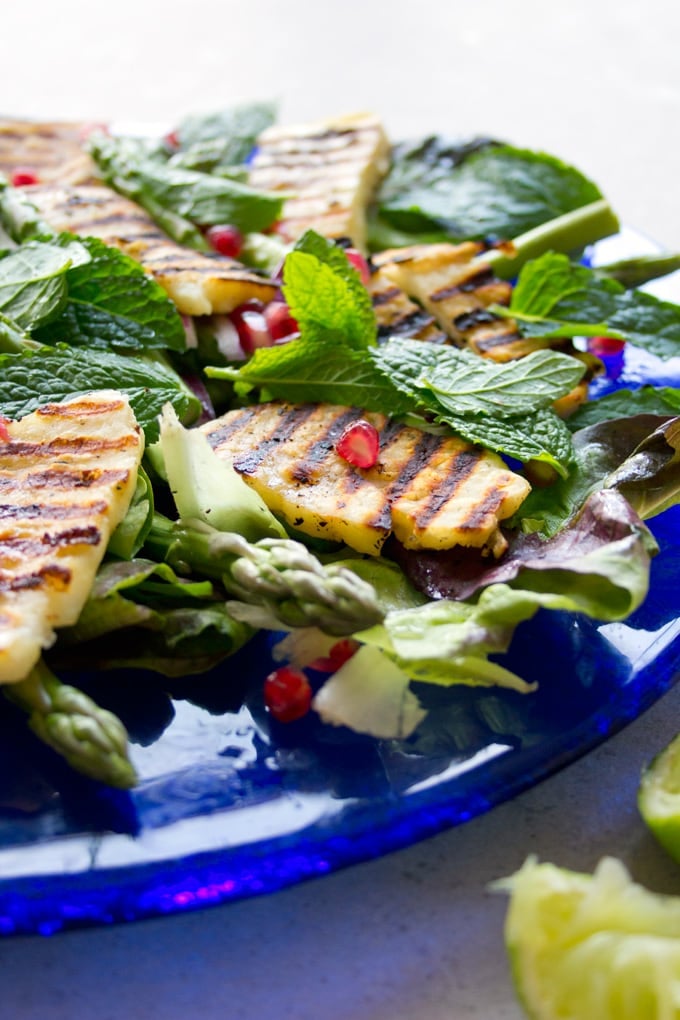 We all lead busy lives. When you have to juggle work, running a household, possibly children AND organising sufficient couple time, it's so easy to neglect your really good, old friends. You might be at home and socialise with the neighbours. You might be working on your career and start hanging with colleagues. Of course, there are other reasons. What about the one that chose the really boring partner? The one that produced the offspring your kids just don't get on with? The one that moved far, far away? Or the one you kind of had a disagreement with and never bothered to talk it over? If you don't put some tender loving care into it, these once wonderful friendships will wither and eventually fizzle out.
And who are you going to call when one day you feel down and need some really good honest advice? Surely not all your convenient aquaintances. You wouldn't feel comfortable to bother them with matters that are too personal. That's the kind of talk you can only have with a true girlfriend. Call them. Facebook them. Instagram them. Look after them. Give some girlfriend love. Right now!
And serve them a delicious halloumi and pomegranate salad like this.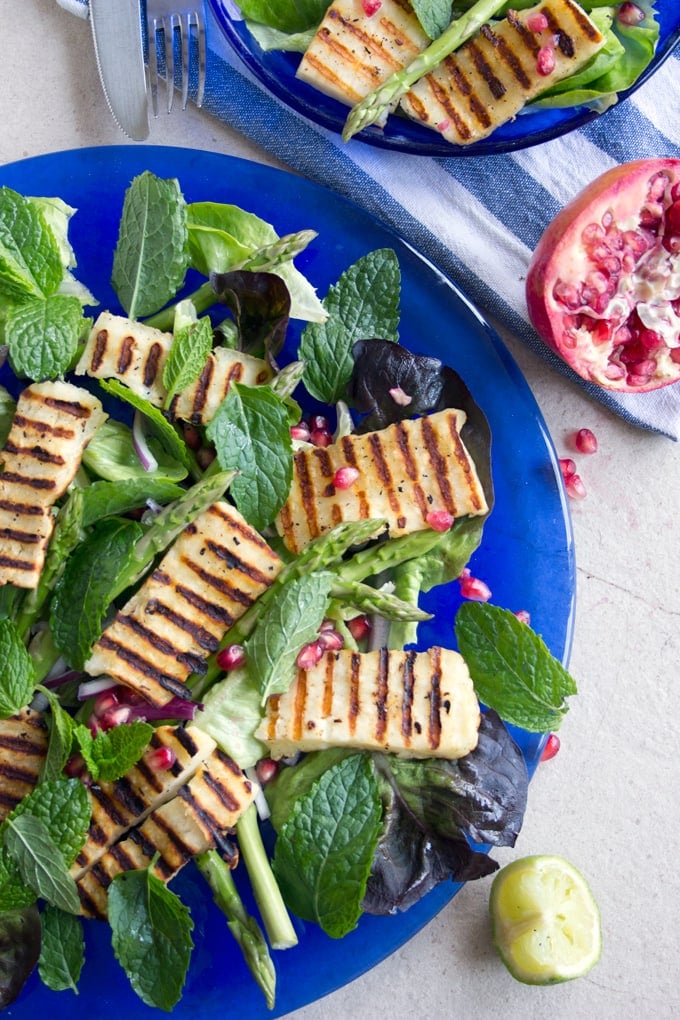 Tried this recipe? Give it a star rating below!
★ STAY IN TOUCH on FACEBOOK, PINTEREST and INSTAGRAM  for more great food and join my NEWSLETTER for the latest updates and a FREE EBOOK.★ 
Halloumi and Pomegranate Salad
Light, salty, tangy, crunchy, crispy, fresh: halloumi pomegranate salad rocks.
Print
Pin
Rate
As an Amazon Associate I earn from qualifying purchases.
Ingredients
250

g

halloumi cheese

sliced

150

g

asparagus

100

g

butterhead salad or other tender salad leaves

washed

1/2

red onion

thinly sliced

handful of mint leaves

seeds from 1/2 pomegranate

3

tsp

olive oil

1

tbsp

lemon juice

salt and pepper
Instructions
Soak your red onion slices in a bowl of cold water while you prepare the rest of the ingredients. Amazingly, this removes the bitterness and sharpness of the onion and you are left with a mellow, slightly sweet flavour (plus your breath won't be as smelly afterwards!)

Boil/steam your asparagus tips for 1 minute and drain.

Heat a griddle pan until it is smoking. baste your halloumi slices in oil and grill them for a couple of minutes on each side until they get those pretty brown stripes. If you don't have a griddle pan, you can also cook them under a hot grill

To remove the pomegranate seeds, roll the pomegranate on the kitchen counter a few times to loosen the seeds. Then cut in half and bash the skin with a wooden spoon. This will make the seeds fall out. Stubborn seeds will unfortunately need to be removed manually :).

Arrange the salad leaves in a bowl or on a large platter, add the halloumi slices, your red onions and sprinkle over the pomegranate seeds and mint

Mix the olive oil, lemon juice, salt and pepper and pour over your salad.
Notes
This salad works well with chicken. For a feast, add a sugar free dessert!
Nutrition
Serving:
166
g
|
Calories:
288
kcal
|
Carbohydrates:
5.6
g
|
Protein:
14.9
g
|
Fat:
22
g
|
Cholesterol:
49
mg
|
Potassium:
293
mg
|
Fiber:
1.4
g
|
Sugar:
1.9
g