Perfect for those moments when you WANT CAKE NOW - this chocolate pumpkin microwave cake bakes in only 90 seconds! Moist and fudgy yet surprisingly light, this low carb mug cake is a lovely afternoon or post-dinner treat.
I'm in the middle of my annual pumpkin baking craze. Over the last couple of weeks, we have devoured Fudgy Pumpkin Brownies and this Sugar Free Pumpkin Pie and my freezer is filled with an XL batch of scrumptious pumpkin soup which will be lunch over the next week.
If you've been following this blog for a while, you know that I'm a huge fan of quick and easy. And this is the reason why I just HAD to add a pumpkin mug cake to my ever-growing collection of microwave cake recipes.
Guys, it's GOOD! You can make it in 2 ramekins or cups or, to up the wow factor, microwave it in a dessert bowl like I did. It is literally ready to eat 5 MINUTES after you think, "wouldn't it be nice to eat a sugar free chocolate pumpkin cake"!
The recipe is sugar free, gluten free and low carb. Incidentally, it's also very low in fat – the pumpkin is so lovely and moist it just does not need any butter to make it yummy. So, if you are after a "light" low carb dessert, this may be just what you're looking for!
How to make a chocolate pumpkin low carb mug cake - step by step: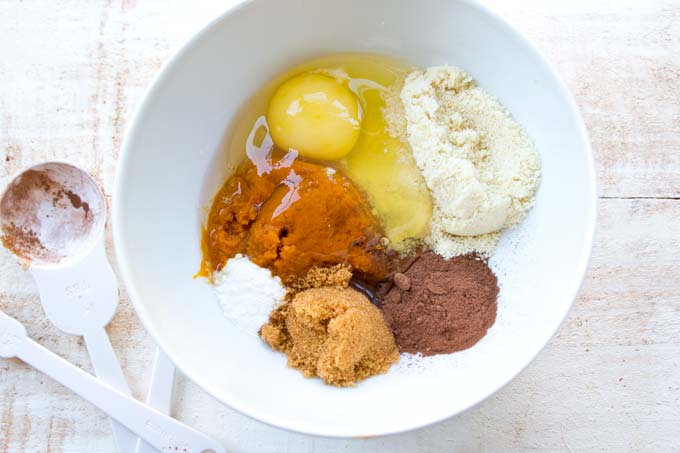 1.) Combine all ingredients in a bowl and mix with a fork. I used a granulated "brown sugar" erythritol, but regular granulated erythritol works fine too.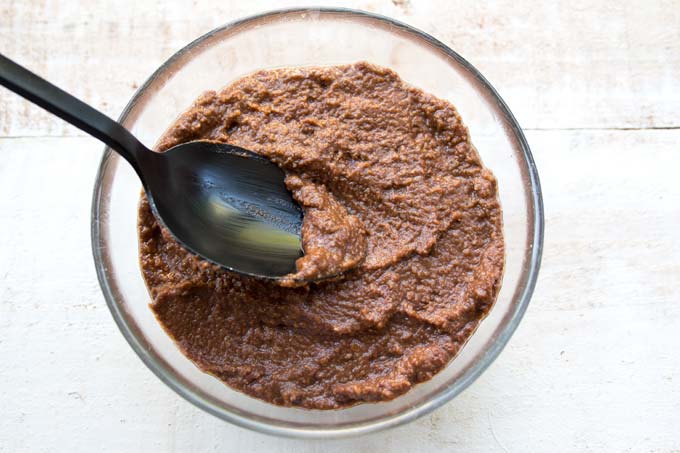 2.) If you want to turn your cake out onto a plate later, grease a dessert bowl with coconut oil or butter so the cake won't stick. Then fill in the chocolate pumpkin cake batter and smooth the top. Press down the batter so there aren't any air holes.
If you're planning to eat your cake straight out of your bowl/ramekin/mug, you can skip this step. Simply get yourself 2 mugs / 2 ramekins or 1 dessert bowl and fill in the batter.
3.) Microwave on high for 1 ½ to 2 minutes.
Tip: Don't fill your mugs/ramekins right to the top. The cake will rise during baking and you don't want the batter to overflow and create a mess in your microwave. I recommend to check after 1 minute and again after 1 ½ minutes. Only if you then see that the cake does not seem fully cooked continue with the last 30 seconds.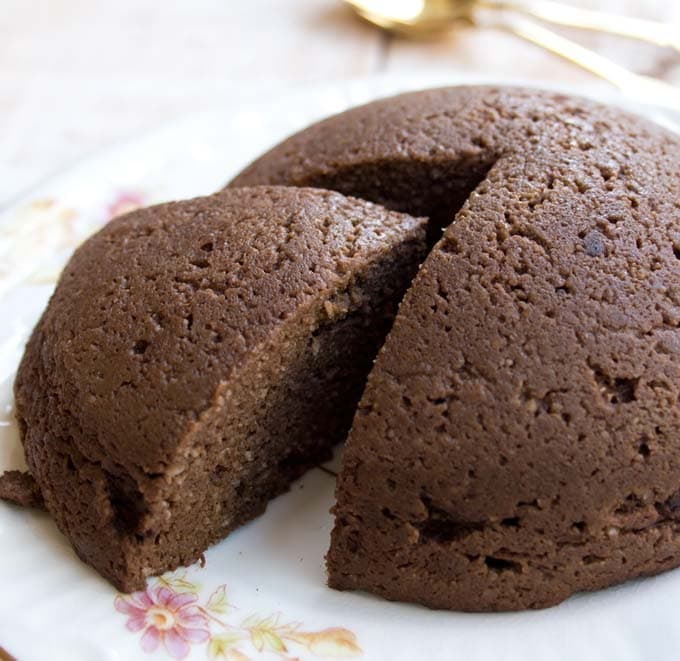 4.) See how nice and moist this low carb mug cake turned out? Wait until it has cooled before you release it onto a plate. Of course, this step is only necessary if you want to make it look wow. If taste only is what you're after, enjoy warm - with or without the chocolate glaze.
Quick low carb chocolate glaze
The glaze is entirely optional and I can vouch that the cake tastes absolutely amazing without it. But if you want to go the whole 9 yards, simply melt about 2 squares of chocolate and 1 tsp of butter or cream or coconut oil in the microwave (do this slowly and gently so the chocolate does not seize).
The ratio should be roughly 3 parts chocolate and 1 part butter/fat.
I used 30g 90% Lindt chocolate and 10 g butter and it was WAY too much. A third of this amount would have been plenty. Wait until is has cooled to lukewarm and has a thicker texture before you drizzle it over the cake.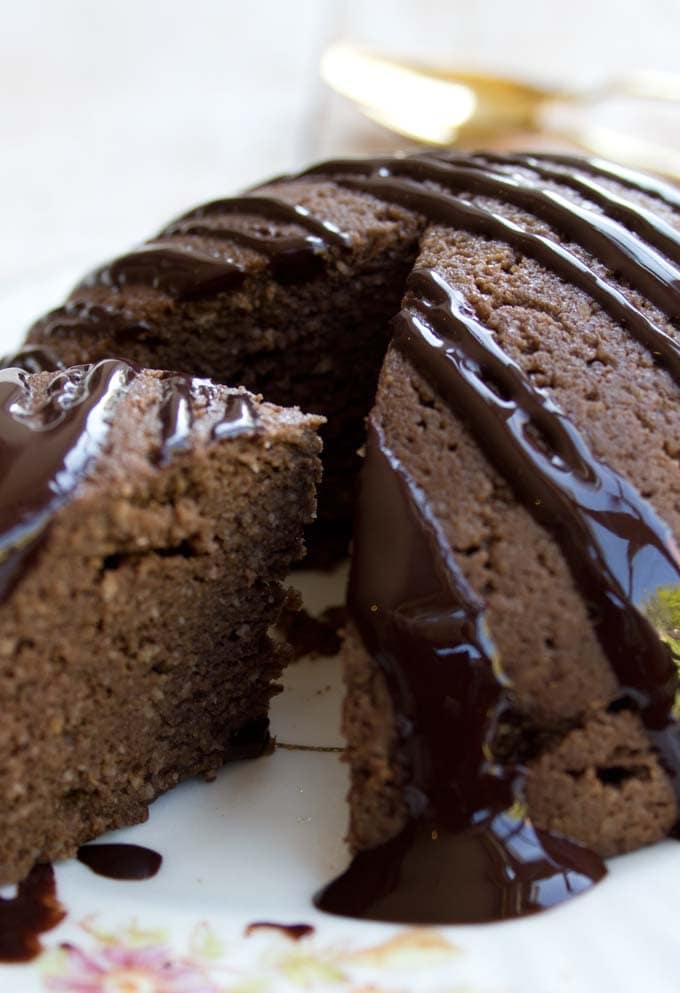 If you love pumpkin spice / mixed spice, you could add a teaspoon in place of the vanilla. I tried both versions and decided I preferred the vanilla variant - but, as ever, this is a personal preference.
You could also use sugar free chocolate chips inside the cake - check out this post on how to make your own. It's a really cool trick! Alternatively, you can buy a brand such as Lily's or simply chop a couple of squares dark chocolate (minimum 85% or 90% cocoa solids). I imagine that chopped walnuts or pecans would also taste great.
I used ground almonds, which is equivalent to regular (coarse) almond flour in the US. Almond meal would also work. If you want to use extra-fine almond flour, I recommend to reduce the amount to 3 tbsp, as it is more absorbent.
If you don't have a microwave, you could make this recipe in the oven. I would bake at 180 Celsius / 356 Fahrenheit for about 12-15 minutes (depending whether it's 1 larger or 2 smaller containers).
Don't miss these low carb mug cake recipes: 
Tried this recipe? Give it a star rating below!
★ STAY IN TOUCH on FACEBOOK, PINTEREST and INSTAGRAM  for more great food and join my NEWSLETTER for the latest updates and a FREE EBOOK.★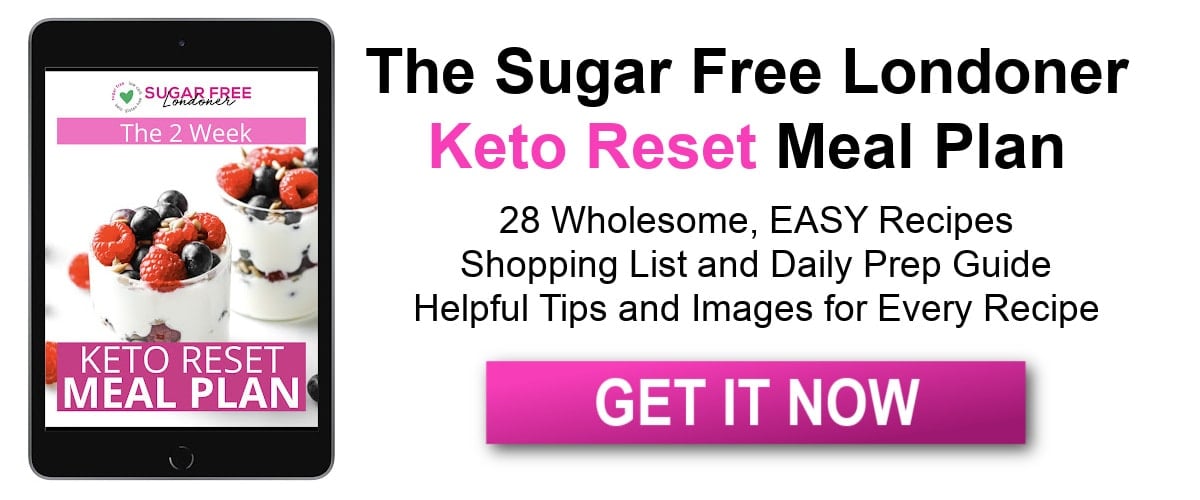 Low Carb Chocolate Pumpkin Mug Cake
from
Sugar Free Londoner
Did you know that adding pumpkin makes a chocolate cake extra moist and fudgy? This chocolate pumpkin mug cake is sugar free, low carb and gluten free. Enjoy it with or without the chocolate glaze!
Note: The servings slider only changes the first amount in each line and not any subsequent amounts. Please make your own calculations where necessary. ***As an Amazon Associate I earn from qualifying purchases.
Instructions
Combine all ingredients in a bowl and mix with a fork.

Fill batter into 2 small mugs or ramekins or into 1 microwavable dessert bowl.

Microwave for 1 ½ - 2 minutes.

Enjoy straight out of the cup/ramekin/bowl or turn over onto a plate. Drizzle with optional chocolate glaze (3 parts 90% or sugar free chocolate and 1 part butter or cream, melted)
Notes
The chocolate glaze is optional – simply mix 3 parts 90% or sugar free chocolate with 1 part butter or cream and drizzle over the cake. You could also use sugar free chocolate chips inside the cake.
The recipe yields 2 generous portions at 3.9 g net carbs each. 
Nutrition
Serving:
80
g
Calories:
138
kcal
Total Carbohydrates:
7.8
g
Protein:
7.2
g
Fat:
10.2
g
Saturated Fat:
1.8
g
Sodium:
38
mg
Potassium:
185
mg
Fiber:
3.9
g
Sugar:
1.8
g
This post contains affiliate links. If you click on one of these links and purchase a product, I may earn a small commission, at no extra cost to you. Thank you for supporting Sugar Free Londoner.