So simple. So creamy. So extremely delicious. This cashew vanilla sauce takes just a minute to whizz together and will make you happy for hours. Paleo, vegan, low carb and sugar free.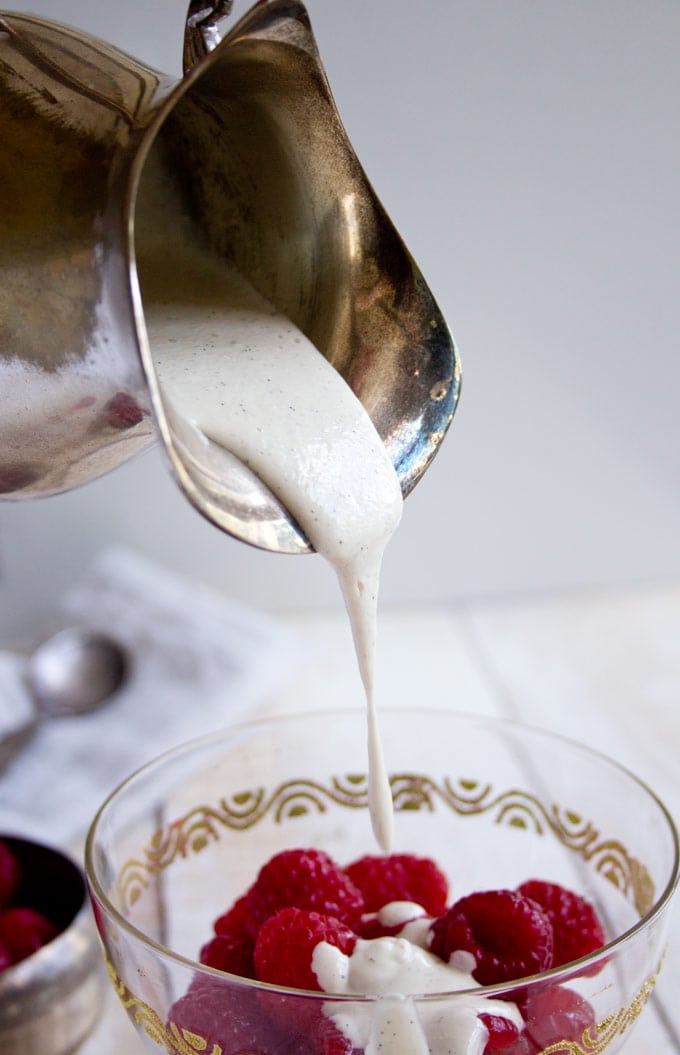 "The moments of happiness we enjoy take us by surprise. It is not that we seize them, but that they seize us" (Ashley Montagu, anthropologist). This is exactly how I felt when tasting this cashew vanilla sauce for the first time. It was just the easiest thing to put together. How could something so simple be so incredible? You should have seen my face. I was smiling from ear to ear, standing there all alone in my kitchen, spoon in hand.
I love Montagu's quote because it's so true. Whether it's a beautiful blue sky despite the forecast of rain, getting the giggles with your friends, stroking a cat (this might not work for everyone, insert your favourite animal) or relaxing with your feet up in the middle of the day - suddenly it's there, that great feeling, and it does not have to cost a penny or be a big effort. These moments are small and perfectly formed and have the power to transform a dull day into a perfect one.
Of course, this does not mean we should always wait for happiness to surprise us. It's always a good idea to take things into your own hands. That's why I've had a little think and came up with some easy ways to help lift up your spirits and refresh your perspective: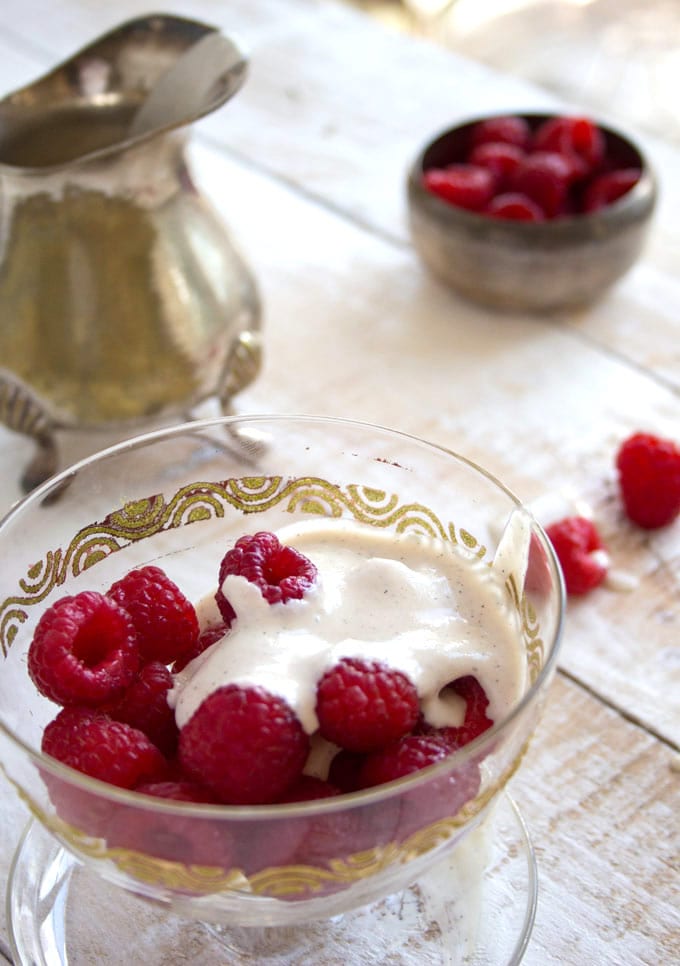 1. Exercise regularly. One of my favourite mood lifters. It's simple science. When you work out, your body releases endorphins. Endorphins are natural painkillers and create a sense of euphoria. Even a short walk each day can reduce stress, depression and anxiety. So get sweating!
2. Sleep more. How good do you feel when you allow your body to rest properly? Exactly. Turn off the TV when you know you should. I know it's not easy when you are watching the Games of Thrones box set. But that way you also make your favourite series last longer!
3. Be kind to others. Pay somebody a compliment even though you don't know them. Let another driver in during rush hour even though you don't have to. Leave a big tip in a restaurant. Help the old lady next door. That kind of thing. Random acts of kindness feel wonderful. Whether you give or receive them.
4. Take an afternoon off. And instead of cleaning the house, doing your accounts or racing to IKEA, just do something "unimportant". Go to the cinema, have a long bath, read a book. Get some real me-time. And don't check your emails!
5. Call a friend. Think you are too tired/not in the mood for a chat? Once you have that old friend on the phone, you will perk up and wish you'd dialled their number weeks ago. It'll make you feel all warm and fuzzy and energised. Always works for me.
6. Laugh. Laughter releases endorphins just like exercise, so it's the perfect mood booster. Watch a comedy, hang out with a friend you can goof around with. When you laugh, you let go. And problems suddenly seem less significant.
7. Do something you love. We all have our commitments and a long list of things that need to get done. Make sure you set some time aside to do the things you feel passionate about. No matter what other people think. Only you decide the purpose and meaning of your life. You should always be true to yourself.
8. Go outside. There is more to being outside than just getting some fresh air. The beauty and tranquility of nature is a great way to remind ourselves that there is a world outside our own little struggles and problems.
9. Make that cashew vanilla sauce and have it with some fresh berries. We had it on raspberries, but I also can't wait to try it on an apple and blackberry crumble once it gets colder again - definitely something to look forward to in autumn. Basically, it is a brilliant vegan alternative to custard with a sweet, nutty taste and it is, of course, sugar free. Let me insert another quote from another wise man here: "Thousands of candles can be lighted from a single candle, and the life of the candle will not be shortened. Happiness never decreases by being shared" (Buddha).
So make a double portion cashew vanilla sauce. Or a triple one. And share it. Spread that happiness, friends!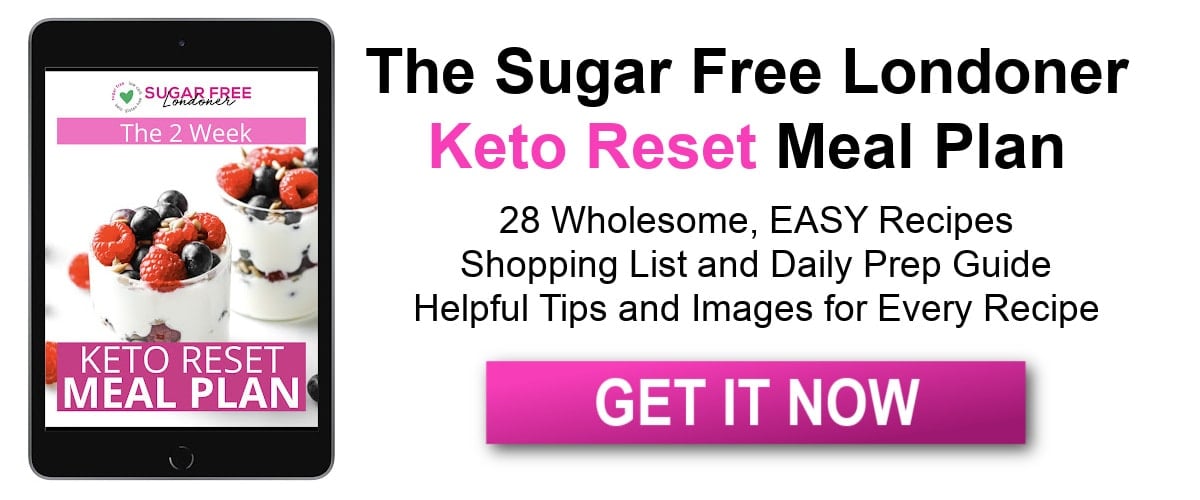 Cashew Vanilla Sauce
from Sugar Free Londoner
So simple. So creamy. So extremely delicious. This cashew vanilla sauce takes a minute to whizz together and will make you happy for hours. Paleo, vegan, low carb and sugar free.
Note: The servings slider only changes the first amount in each line and not any subsequent amounts. Please make your own calculations where necessary. ***As an Amazon Associate I earn from qualifying purchases.
Instructions
If you have the time, soak the cashews in the milk for 2 hours.

If you don't, just put everything in your blender and blend at high speed until very, very smooth and creamy.
Notes
You can also sweeten this recipe with stevia drops.
Nutrition
Calories:
125
kcal
Total Carbohydrates:
5.7
g
Fat:
9.8
g
Fiber:
1.5
g
Sugar:
1.3
g