Bolognese sauce – a family favourite loaded with hidden veggies. This sauce is the essential ingredient in a variety of dishes from vegetable lasagne to chilli con carne!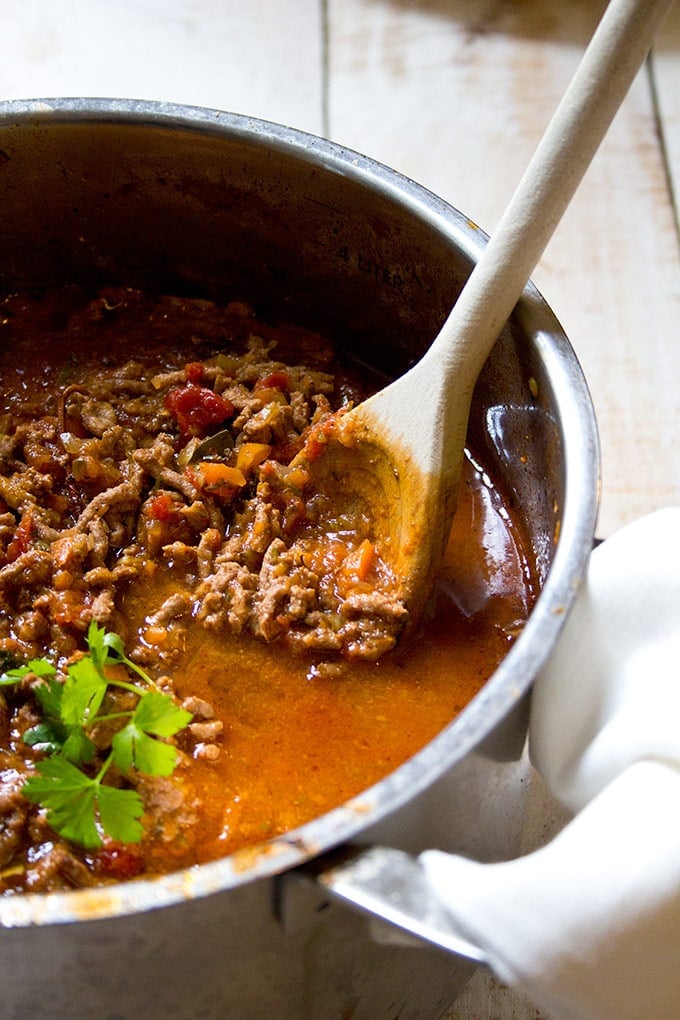 In the name of all people who cook, eat (and like meat), I'd like to thank the amazing person  who invented Bolognese sauce.
I make a huge batch at least every other week. Even though Spaghetti Bolognese is pretty much off the menu here, Bolognese sauce plays a central part in so many other dishes we eat that we require absolute masses of it. It's right up there with my other secret favourite, the meatloaf.
After a bit of research on Google, let me enlighten you about this wonderful kitchen staple. The Italians don't actually call it Bolognese, but simply ragù – meat sauce. And despite its name, the true origins of the sauce are thought to be in the town of Imola, situated west of Bologna. The first recorded version featured in the eminent cookbook La science in cucina e l'arte di mangiar bene (The Science of Cooking and the Art of Fine Dining) in 1891. It included truffle, chicken liver and cream.
I've got two hungry kids in the house who do still need to be reminded that vegetables are an essential part of a healthy human's diet. Therefore, my version of Bolognese sauce is packed with veggies: carrots, celery, onions, red pepper and courgette.
Family feeders, it's this sauce or you sounding like a broken record ("Can you please eat your *insert vegetable*"). You decide which one is preferable!
Making Bolognese sauce does take a little while to make, but after you've done the chopping and browning of the meat, it just bubbles along on the stove, minding its own business. The longer you cook it, the softer the meat becomes. It's one of those dishes that always improves in taste on day 2, when the flavours have had more time to mingle.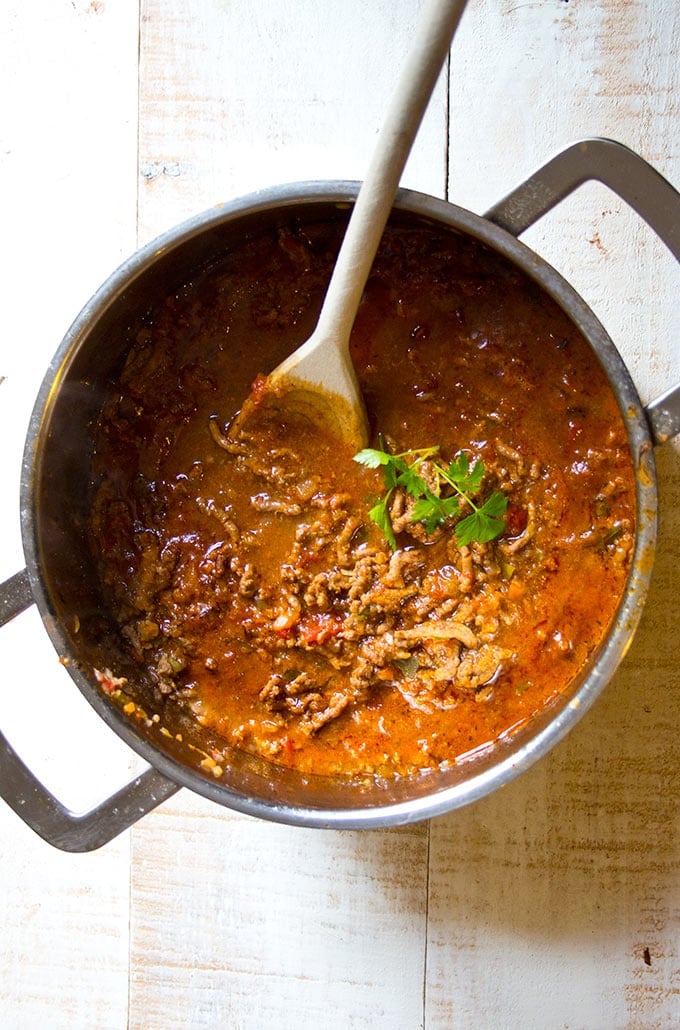 Here are some of the dishes we make with Bolognese sauce:
Low Carb Cottage Pie – with a cauliflower and cheese topping instead of potatoes
Stuffed aubergines or zucchini
Chilli con carne
Vegetable Lasagne – with layers of zucchini instead of pasta
Meat Feast Pizzas, using the famous "fathead" pizza base
Meat Pies
Tacos
I'll post some of these recipes in the coming weeks, so keep on checking in!

Sugar Free Londoner
Yields 10
Bolognese Sauce With Hidden Veggies
Bolognese sauce - a family favourite loaded with hidden veggies. This sauce is the essential ingredient in a variety of dishes from vegetable lasagne to chilli con carne!
20 minPrep Time
2 hrCook Time
2 hr, 20 Total Time
5 based on 4 review(s)
Ingredients
2 onions, chopped
1.5 kg ground beef
optional: 8 rashers smoked streaky bacon, cut into small pieces
2 garlic cloves, chopped
3 medium carrots, chopped
1 red pepper, chopped
3 celery sticks, chopped
2 large courgettes, grated
2 tins plum tomatoes (400 g each)
250 ml good quality beef stock
150 ml dry white wine
2 tbsp tomato paste
3 bay leaves
1 tbsp thyme
1 tbsp basil
handful of chopped fresh parsley
olive oil, for frying
pepper and salt, to taste
Instructions
Fry the onions and garlic on a low heat until soft. Set aside
Brown the mince in batches from all sides, seasoning with salt and pepper as you go along. You'll need to do this in batches
If using streaky bacon, fry until crispy
Combine the meat, onions and garlic, tinned tomatoes, wine and beef stock in a big pot. Add the carrots, zucchini and celery and season with thyme and basil.
Bring to the boil and simmer for at least 1 hour (2 if possible!)
Should the sauce become too thick, add more beef stock.
Notes
I calculated on the basis of 12 servings. If you use the sauce as a base to another meal, you'd have to adjust the nutritional info.
7.6.6
305
https://sugarfreelondoner.com/bolognese-sauce-hidden-veggies/