Sugar Free Keto Pecan Cookies are deliciously chewy and moreishly nutty. Perfect with a cup of coffee (adults) or a tall glass of milk (kids)!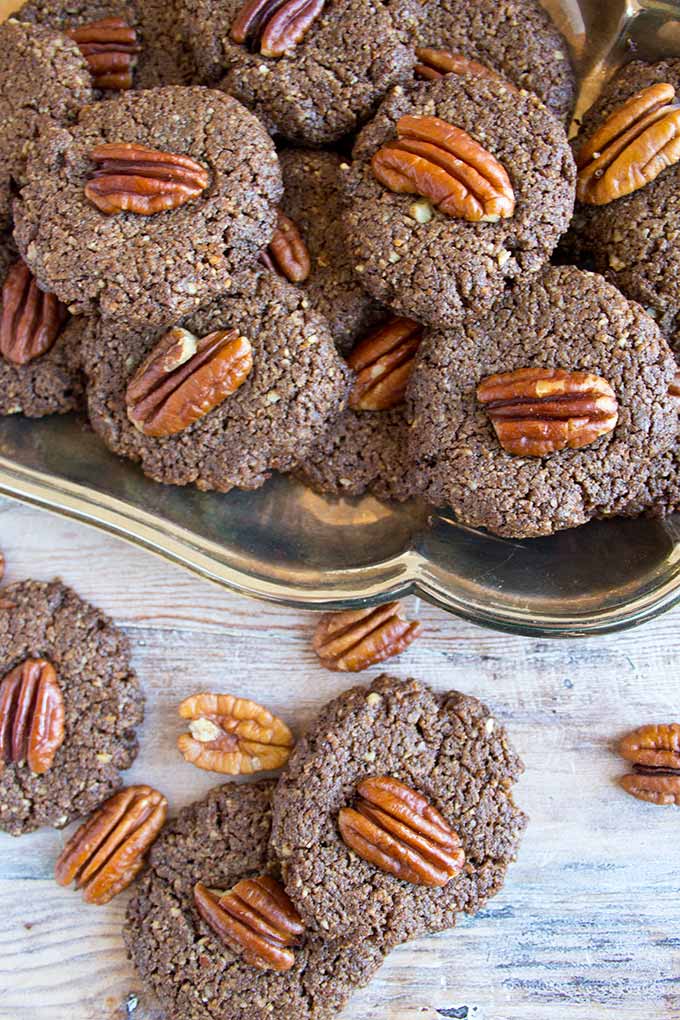 Guys, I know you'll love these cookies!
I know that because they disappeared AT AN ALARMING RATE in this house.
These sugar free Keto pecan cookies have A LOT going for them. Let me give you a lil' summary:
They are:
chewy
nutty
sugar free
Keto
so quick to throw together
keeping well in a cookie jar
keeping you company
perfect for getting you in the mood for autumn!
I am a bit of a cookie monster, you know. For me, cookies bridge that gap between dessert and snack. We don't want a dessert every day, do we? A full-blown, complicated cake or pudding?
As for snacking. Cucumber and celery sticks are great, as are a quick handful of nuts or a hunk of cheese. All are available in this house at this very moment. Easy, yum and enjoyable in a familiar kind of way.
But. Cookies are just that little bit more exciting.
And because these particular Keto Pecan Cookies are not only packed with healthy ingredients, but also supercharged with taste, they are like a Triple A Snack. A Five Star Deluxe snack. A SINK BACK IN YOUR CHAIR AND CLOSE YOUR EYES SNACK!
See? You need cookies in your house! Urgently!
For the recipe and nutrition details just head over to the popular low carb blog I Breathe I'm Hungry, where I'm guest posting today. IBIH founder Mellissa Sevigny asked me to publish one of my recipes over on her site as she's busy writing her latest cookbook – so there's lots to look forward to!
I'm heading to the kitchen now. I think there's another Keto pecan cookie at the bottom of the jar…..